Heresy-Online Fiction Competition 2010
---
Greetings my fellow Heretics!
Its that time of year again folks! Time to begin the:
Heresy-Online Fiction Competition 2010
This is a great year for the Heresy Fiction Competition. This will be the third year we've done the Fiction Competition, the second year I have judged it, and the first year we've got prizes to give away! That's right folks, you heard me right, For the first time in the History of the Heresy-Online Fiction Competition, I've got a wonderful batch of prizes to give away.
However, with the inclusion of prizes, there will be a new set of guidelines in place. the new guidelines will be:
Warhammer 40k or Warhammer Fantasy short story: you will need to writer either a 40k or Fantasy based short story. The subject matter of which does not matter. But the overall setting must be in either the 40k or Fantasy universe. we are a 40k forum after all.
4000-5000 word requirement: In the past two competitions we have had word count requirements of 1500-2000 words. This competition is a serious 40k/Fantasy short story competition and with the inclusion of prizes will therefor demand a more serious effort on the writers part.
No Public Voting: with the rampant cheating found in this years painting and conversion contests i have decided that there will be no public voting this year. Instead, i will be judging this years competition. After the end of the submission window, i will read through the entries and shortlist three finalists. I will then choose a winner from the three finalists. That winner will then be awarded the corresponding prizes (see Prize Breakdown).
Public Submissions: Last year for the fiction competition we had a secret submission policy. Writer's posted their stories in the Heretic Ezine/Blog Submission forum. This year we will not be doing that. On the day the submission window opens, there will be a submission thread posted in the Original Works forum titled: "Fiction Competition 2010 Submission Thread". You will be able to post a link to your story in this submission thread. Your actual entry will need to be posted in the Original Works forum using the title "Heresy Fiction Comp 2010: [Insert title here]". Then, you can post the link to your story in the submission thread. I will then compile a list of the submitted stories in the OP of the submission thread, and they will be viewable by the public.
New Works only: do not submit something that has already been posted here on Heresy in the Original Works section. In order to increase the fairness of the competition, you will be required to write a new piece of fiction. It can include characters that you have already used in the past, but cannot be a story you have already written.
No Staff Submissions: Heresy Staff members will not be allowed to participate in the competition.
Please feel free to PM any questions you have about the guidelines to me.
Thanks to a very generous donation from a very dear friend of mine, I've got the following prizes to give away: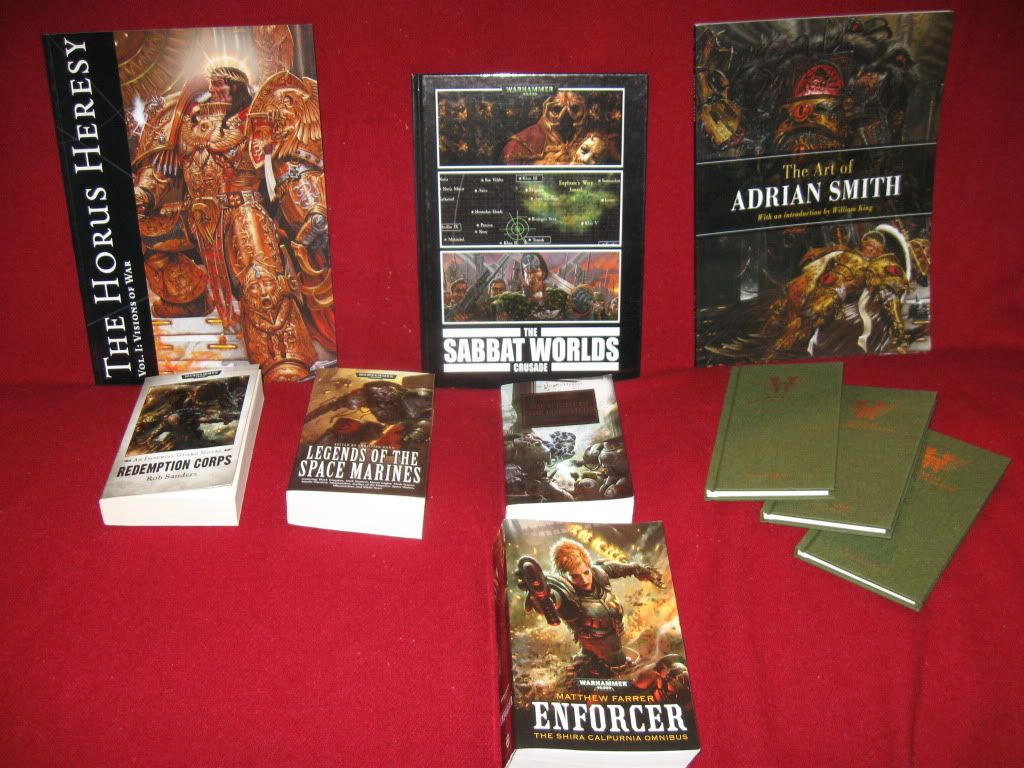 (all prizes)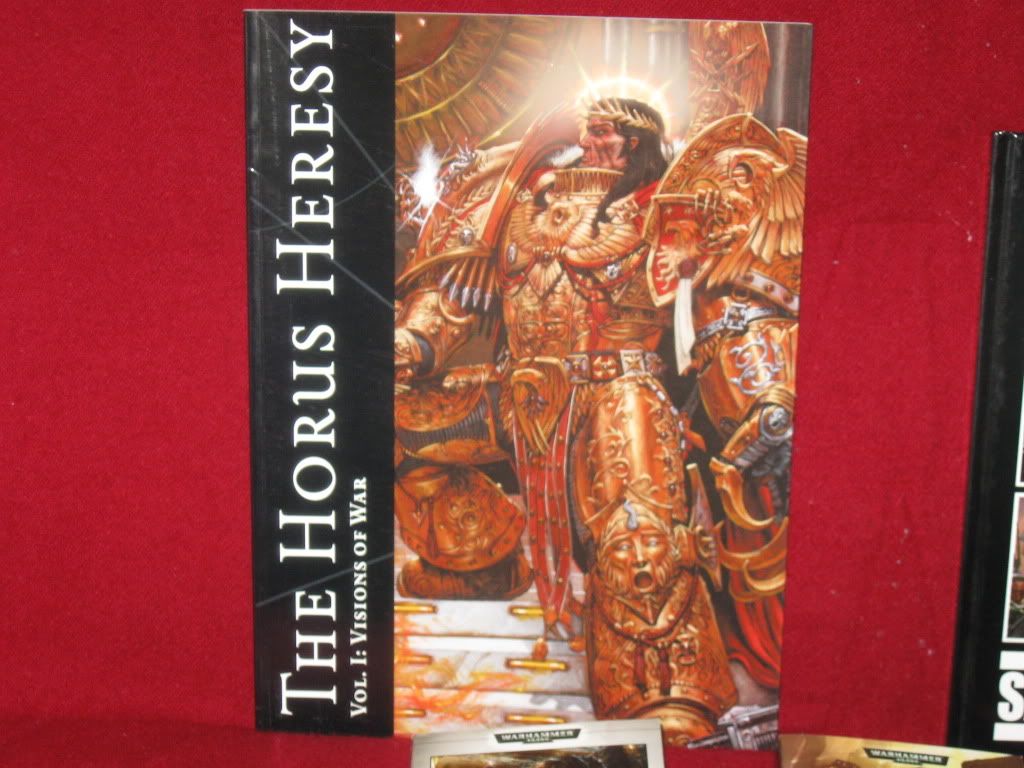 The Horus Heresy
Vol. I: Visions of War
(currently OOP Art Book)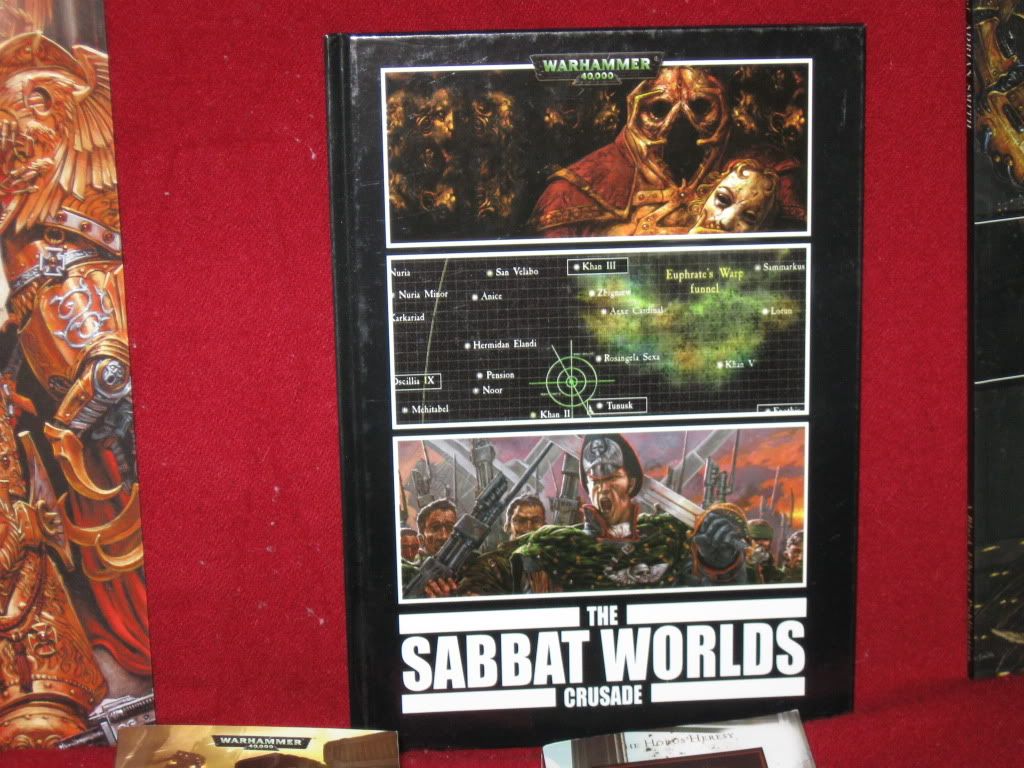 The Sabbat Worlds Crusade (hardback)
by: Dan Abnett
No. 284/300 (numbered, with internal certificate of authenticity)
The Art of Adrian Smith
With an introduction by William King
(currently OOP Art Book)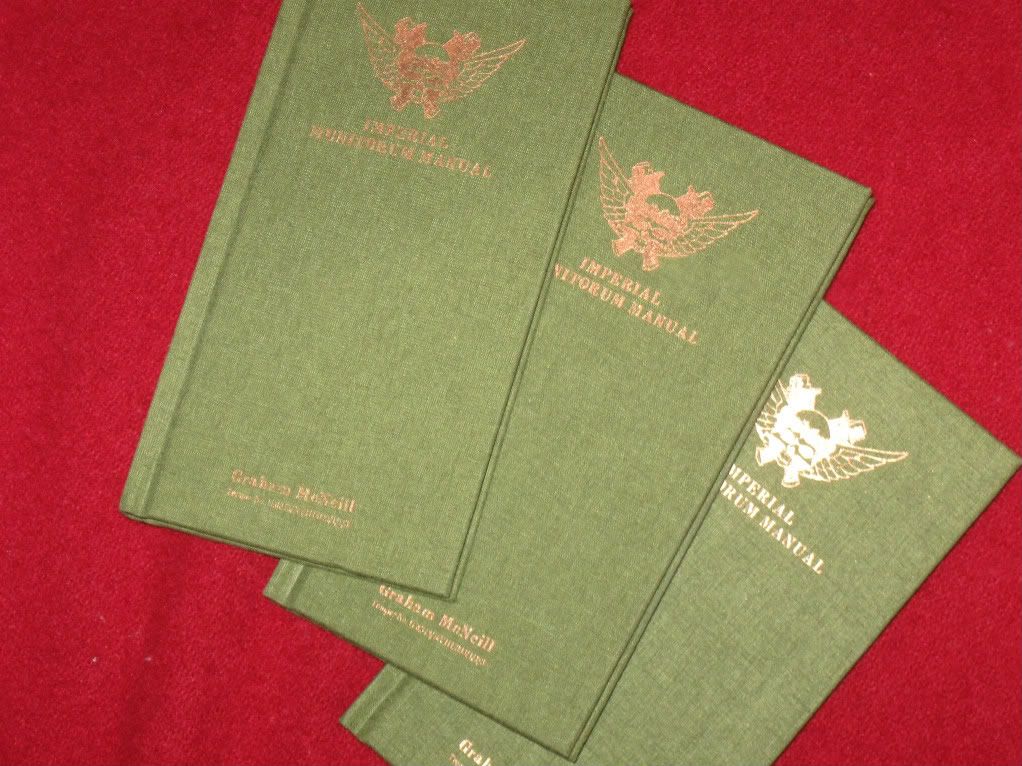 Imperial Munitorum Manual
by: Graham McNeill
Enforcer
The Shira Calpurnia Omnibus
by: Matthew Farrer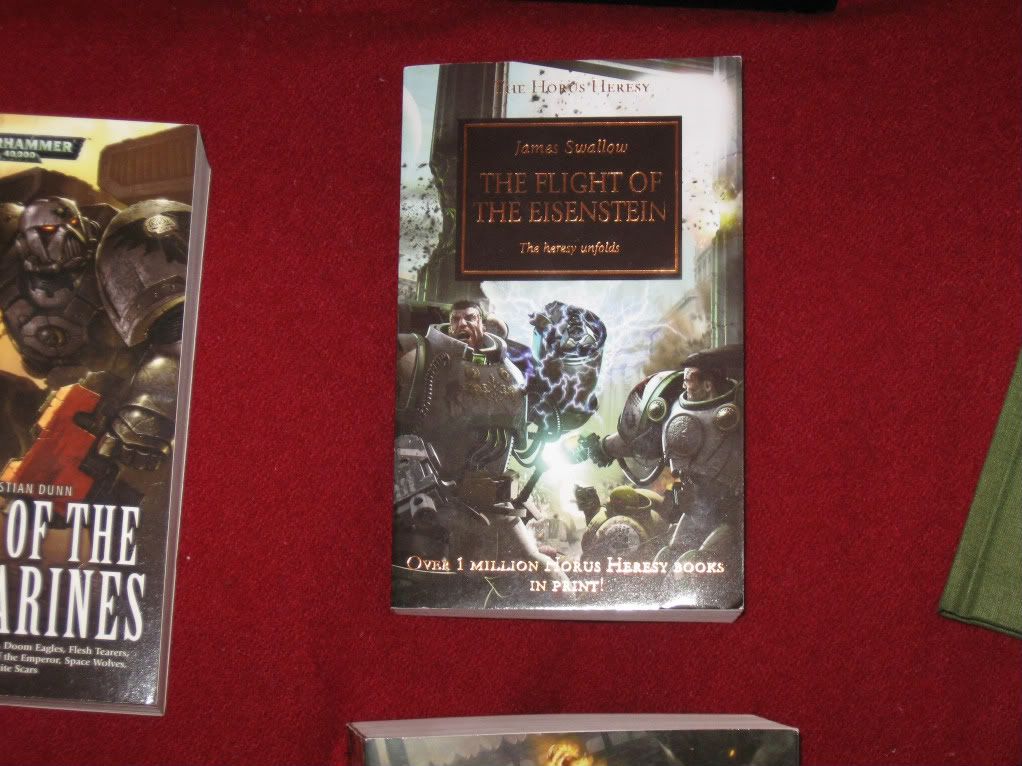 The Flight of the Eisenstein
by: James Swallow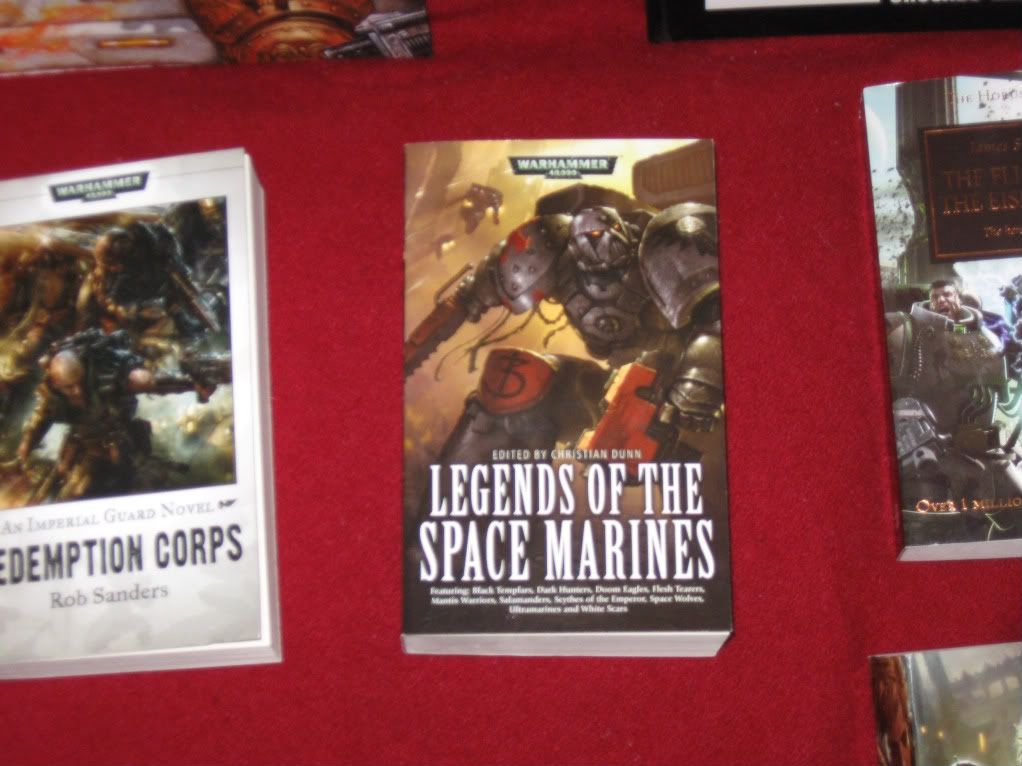 Legends of the Space Marines
edited by: Christian Dunn
Redemption Corps
by: Rob Sanders
************************************************** ***
Prize Breakdown
The prizes will be awarded as such:
Finalists:
Each of the three finalists will be awarded:
Imperial Munitorum Manual
Winner:
from the three finalists I will choose a Competition winner. He/she will also receive:
The Horus Heresy (art book)
The Sabbat Worlds Crusade
The Art of Adrian Smith
Enforcer
The Flight of the Eisenstein
Legends of the Space Marines
Redemption Corps
There will also be a special prize for the most original piece of fiction. Just because you didn't make the shortlist doesn't mean you are out of the prize running! The most original story will be awarded:
from my personal collection:
The Corrupted
by: Robert Earl
a Warhammer Fantasy Roleplay novel
(not available for purchase)
************************************************** ******
Submission Window
submission window will open: August 1st, 2010 and close on August 31st, 2010..
so grab your laptops, netbooks, paper and pens and get to it! Can't wait to see what everyone comes up with.
Here's to a great competition!
Write on,
Commissar Ploss
---
Last edited by Commissar Ploss; 07-08-10 at

05:31 PM

.
---
This Has My Attention!

I Am Very, Very Psyched For This.

I May Or May Not Be Near A Heart Attack After Having Viewed Those Prizes (of which the only one I currently own is the Flight of the Eisenstein).

(Yes, I Am Using Pratchettesque Golem-Speak)
---
CSM Plog
,
Tactica
What sphinx of plascrete and adamantium bashed open their skulls and ate up their brains and imagination? Imperator! Imperator!
---
Last edited by Mossy Toes; 07-06-10 at

10:16 PM

.
---
Hmmn. I think I shall enter this.

*readies the typing engine*
Great Unclean One
Join Date: Jun 2008
Location: cavorting among Grandfather Nurgle's entrails
Posts: 2,611
Reputation: 42

---
posting from work

Hmm. Now I have a little more free time available at last I'm tempted to concoct a little something for this myself...
---
Quote:
Pip I shall rip out your entrails and use them to floss my teeth!
Sounds like fun!
D'you want me to eat some hardening glues or otherwise to make them tougher, or is your plaque relatively easy to dislodge?
Senior Member
Join Date: Jul 2008
Location: In the darkest recesses of your mind....
Posts: 304
Reputation: 1

---
Sabbat Worlds Crusade....Sabbat Worlds Crusade!......SABBAT WORLDS CRUSADE!!!

*Cracks neck* Time's up...let's do this!

L.
---
"Heresy Fiction Competition 2009 Winner"
Lower Navigation
Heresy-Online Fiction Competition 2010
Posting Rules

You may not post new threads

You may post replies

You may not post attachments

You may not edit your posts

---

HTML code is Off

---