Slave to Heresy!
Join Date: Oct 2006
Location: Essex
Posts: 8,803
Reputation: 26

Member of the Month April 2009 - MaidenManiac
---
MaidenManiac
This month we'd like to award MaidenManiac. He's a helpful poster and is active all over the site, to always seems to make constructive posts and goes out of his way to help people.
Quote:
Real name: Martin Larsson
Heresy Online user name: MaidenManiac
Main Army: Emperors Children(40k) Vampire Counts(Fantasy)
Location: Borås Sweden

What motivates you when choosing to buy or build an army? Variation. When I get a new army I try to get something that's quite different from what I allready play. Playing the same things gets boring in the long run.

What motivates you to keep playing or participating in the hobby? Building and playing are the 2 sides of the hobby that I enjoy the most. I dont despite painting though, Im one of those periodic painters. Once I actually do paint I tend to get fairly much done, then it takes a while before I even touch the brushes again

Do you play for fun or victory? More for victory then fun, though I try not to tailor my army too specifically against what I play against

What is your all time favourite Game System? 3d ed Blood Bowl, easily

What are your thoughts on the Grand Tournament scene? IS it good for the hobby? Yea. The game is competitive in its design so why shouldn't there be tournaments? Tournaments in general brings out both the best and the worst sides of persons, but are also damn fun. Playing against new opponents and thereby new "kinds" of armies is always (IMHO) more interesting then the average game against your normal club opponents

What are your plans for the future? Hit the road! Towards the end of May Ill start working again. Up till them I'm trying to save the Tau army I bought 2nd hand from its thick paint and mouldlines.

What gaming clubs do you belong to or have you been a member of? A club called Armageddon, a roughly 25 years old club that I've been a member of for far to long.

Which Race is your toughest opponent to face on the game table? My EC is currently a bit weak against hard hitting mechs, something that will be changed though. My Taus worst opponents are nightfights with a bad 2nd shooting phase

What do you do when you're not online? Work out and drink a beer or 10
Favorite sports team? Frölunda Indians, Swedish Hockey League. Still haven't picked myself an NHLteam(which is a bit bad) but I'm angling towards San Jose Sharks(whose choketastic playoff trend can be red about in an off topic thread here)

What armies do you play? For 40k I play Emperors Children and Tau and I also got a Space Wolf Army that's sleeping the days away while awaiting the new Codex...For Fantasy I play Vampire Counts, Dwarfs and Warriors of Chaos. I also have models to make a Daemons of Chaos/Chaos Daemon army, which will be done to work in both systems to annoy my fellow gamers

Which system do you prefer and why? I actually prefer Fantasy but havent played it in over a year now. 40k is alot more casual in its nature thanks to freer movement and so.

How long have you been playing GW games? I started out in the late RT era, so its closing in on 20 years(it aint felt that long)

What's your favourite movie, book and song? No film, the Wheel of Times series by Robert Jordan(R.I.P) and Hallowed be thy name - Iron Maiden

Occupation? Unemployed a few more weeks, then Im hitting the road again. Working as a stage technician for Scandinavias biggest Staging Company during the summers. This summer looks like 7 festivals and 2 other gigs for our scene, gonna be a blast!

Any pictures you'd like to share? (40k, family, work etc) Sorry folks, not much of a picture guy. There might come a few, but dont count too hard on it

What is your greatest achievement that you're proud of? Lifted 140 kg in bench press this monday, new PB! Gonna try to beat that next week for even phatter numbers.

How did you come up with your username? Invented this one while I was playing Warcraft3 online alot of years ago, and have stuck with it ever since

How did you find out about Heresy? What made you stay? Google be thy friend! I was looking for a 40k forum, and didn't wanna end up @ whineseer so this looked promising, and that's proven trueFavourite mini of any range ever? The older Dwarf Daemon Slayer. Huge Ace, huge crest and beard and a "Immagonnakillyousodamndeadnow" attitude

What was the first ever model you bought or were given? Uhm good question. I think it was the good old Space Ork Raiders RT box(36 plastic multipose models), but that can be wrong. Was an Ork at least. Orks was my first army, but that's long gone now
---
Congrats on this great honour. Thanks for everything you've done for this wonderful site.
DarknessWithin
---
Fear the Darkness Within yourself, for there is no escape, there is no Mercy. Be afraid of the Dark, for it's here...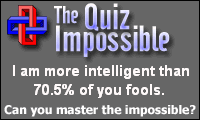 Impossible Quiz 2
Please, I am hungry for mouse. Please let your mouse feed me with it's clicks
Senior Member
Join Date: Oct 2008
Location: Scotland, just north east of aberdeen
Posts: 678
Reputation: 1

---
Once again I have been cheated out of my rightful position as memeber of the month. But on a more serious note, Well Done MaidenManiac
---
Do not disallusion yourself brothers, today we die, our bodies broken and our souls shattered, we will be remembered as corpses on a battlefield.Raise hell my brothers for one day our great Father will hear of our struggle, and he will be honoured to call us his Sons. In death our Glory shall become eternal.' Karik Farron, 1st Lord of the Dark Scorchers at the Fall of Kempar.
'like a blind man in a dark room trying to find a black cat that isn't there'-imntdead
---
Its really nice to see that ones posts are appreciated. I am honoured!
Personally Id like to thank the staff and moderators for keeping this site running as smoothly as it is, you guys and gals are doing a really good job!
Thanks for providing a place where one can spend an hour or so to get by the average days of the week
---
Win/Draw/Loss(5th ed results)
EC: 45/2/12
Tau: 28/3/7
Quote:
Common sense and wargamers are like oil and water
Quote:
'Alessio is to 40k what impotence is to rape.' - Jezlad
---
Last edited by MaidenManiac; 05-03-09 at

02:52 PM

.
---
Congrats MaidenManic well deserved!!!
As for an NHL team might I suggest the Oilers
---
Virtutis gloria merces

The major difference between a thing that might go wrong and a thing that cannot possibly go wrong is that when a thing that cannot possibly go wrong goes wrong it usually turns out to be impossible to get at or repair. - Douglas Adams

It's a knife for gods sake, what you been useing to keep your fork company all these years, sharp side, blunt side, what you want a lesson? - Bullet Tooth Tony
---
Congratulations MaidenManiac! Congratulations indeed for a well deserved award!
---
Regards,
Jake.
---
---
Quote:
It's not a black and white question really, there are different shades of anal probing,
a rectum spectrum, if you will
Great Unclean One
Join Date: Jun 2008
Location: cavorting among Grandfather Nurgle's entrails
Posts: 2,611
Reputation: 42

---
Congratulations! Always nice to see someone who appreciates decent metal
Lower Navigation
Member of the Month April 2009 - MaidenManiac
Posting Rules

You may not post new threads

You may post replies

You may not post attachments

You may not edit your posts

---

HTML code is Off

---