Slave to Heresy!
Join Date: Oct 2006
Location: Essex
Posts: 8,803
Reputation: 26

Member of the Month March 2009 - Chaosftw
---
This month we decided Chaosftw was our best member. His contributions and efforts throughout March were top draw.
Congratulations Fab and thanks a lot for your insights in the rumours forum!
We took a few minutes to learn a little bit about him.
Quote:
Real name:
Fab
Heresy Online user name:
Chaosftw
Main Army:
Pre-Heresy Death Guard
Location:
Canada

What motivates you when choosing to buy or build an army?
The models looks and the armies play style defiantly are certain aspects that sway me towards Armies.
What motivates you to keep playing or participating in the hobby?
The Crowd that comes along with the hobby.

Do you play for fun or victory?
Depends heh! Always for fun but pushing hard for the Victory never hurt anyone!
What is your all time favourite Game System?
40K I don't play any others at this time.
What are your thoughts on the Grand Tournament scene? IS it good for the hobby?
Oh definitely there is nothing wrong with a large group of people bringing together amazing models and throwing down. Its a great selling point for the hobby as well as a form of motivation to keep playing/ collecting.
What are your plans for the future?
As far as gaming goes it is unknown at this time I will continue playing 40k hopefully have one of every army. But I guess as far as immediate plans go Chaos Dwarfs are what I would love to get rolling.
What gaming clubs do you belong to or have you been a member of?
Well When living in Italy I was isolated but then I moved to Manitoba (Canada) and am just with the local GW here in Winnipeg. I mean have a group of guys that we all go to one gents house hang out and play a few games on weekends. Nothing hardcore by any means.
Which Race is your toughest opponent to face on the game table?
I have actually found the Tyranids to be the one opponent that you really cant make any tactical errors. They are overwhelming if mistakes are made and an abundance of bad dice rolls land on your lap all at once.
What do you do when you're not online?
Spend time with the Wife and Kids, In court, or at the office.
Favorite sports team?
AC Milan is my favorite football team
What armies do you play? 40k: Chaos, Necrons, and Orks.
Which system do you prefer and why?
Warhammer 40k. The models I find a lot more appealing, larger 40k crowd then Fantasy crowd where I am at, I like ranged shooting much more then CC which 40k can cater to a lot more then Fantasy. I mean there are many reasons why but those are a few key ones.
How long have you been playing GW games?
10 years
What's your favourite movie, book and song?
Favorite movie...Hmm as of late I would say Iron Man. He was a Childhood Hero so the movie was just a good blast from the past so to speak. Otherwise Scarface was a classic and of course the bond movies were always a treat! I dont read a whole lot of books to be honest, being a lawyer the amount of reading I do on a daily basis is enough I could not stand the thought of leaving a day of reading to come home and pick up a book. I did read the Da Vinci Code however more for the way they twisted it. I found that to be amusing.
Occupation?
As stated I am a Contract Lawyer.
Any pictures you'd like to share?

I share all my 40k images with you all as it is CHECK OUT MY W.I.P!! as for the Family I would rather not for my own reasons. Here is one of myself a year and a bit ago
What is your greatest achievement that you're proud of?
Defiantly becoming a Lawyer and having a great Family.

How did you come up with your username?
Simple Chaos F=For T=The W=Win

How did you find out about Heresy? What made you stay?
I was just browsing the net one evening and came across it. Rather Random really. As for what kept me coming back that would have to be the amount of activity on the site, people not afraid to voice opinions and just the over all amount of chatter that has to do with the hobby that I enjoy!
You can take three things with you to a deserted island, name them?
A Boat, Food, and Paddles.
Other Usernames we may know you by?
Bartertown and Rogue-Market my screen name is Fabsta. I am not on any other sites.
If you could change something about heresy what would it be?
TBH nothing. I am quite content with the site the way it is.

Favourite mini of any range ever?
OMG... this is a BS question.. Umm well if I had to choose I would toss these bad boys up: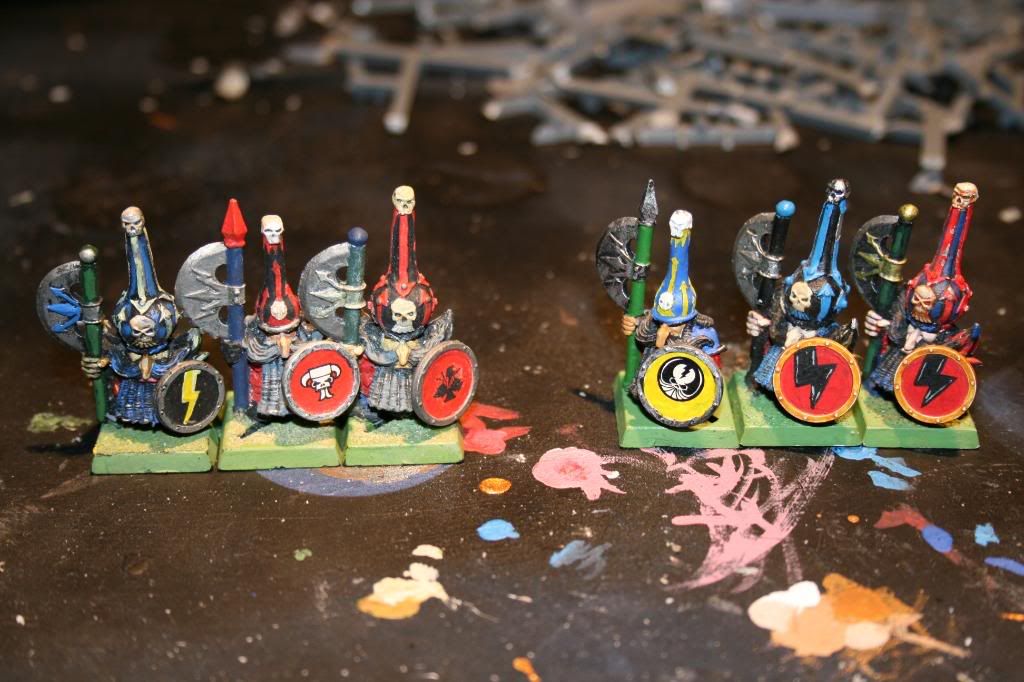 P.S IF ANYONE HAS ANY OF THESE I WILL BUY THEM FROM YOU!!!!
What was the first ever model you bought or were given?
2 Boxes of Thousand Sons.
---
Last edited by Viscount Vash; 04-05-09 at

01:23 PM

.
---
Congratulations Chaos FTW, you deserve it.
---

Quote:
We don't need to use any military force to defeat the imperium, we'll just send GW legal at them. As soon as they see the first sign of a thunderhawk gunship, their IP infringement addled brains will go into meltdown - they'll smash everything out of the sky with cease and desist letters.
---
Congrats from me as well!!!! Well deserved.
---
Virtutis gloria merces

The major difference between a thing that might go wrong and a thing that cannot possibly go wrong is that when a thing that cannot possibly go wrong goes wrong it usually turns out to be impossible to get at or repair. - Douglas Adams

It's a knife for gods sake, what you been useing to keep your fork company all these years, sharp side, blunt side, what you want a lesson? - Bullet Tooth Tony
---
Woot! Let's give Chaosftw a round of applause! You deserve it, man, congrats!
Good luck winning member of the year!
---
CHAMP!! march 2009 pinup lad of the month....wooot gratz mate
---
Senior Member
Join Date: Oct 2008
Location: Scotland, just north east of aberdeen
Posts: 678
Reputation: 1

---
Yeah, good for you mate; well-deserved recognition for your hard work!

:congratulating cyclops:
---
"Well it's Forty-one Thousand Nine Hundred Sixty-nine OK -
Gotta war across the Milky Way - "
Iggius Popiscus and the Stoogii, "41,969"
---
Very much deserved for just being a cool member on the boards.
---

Red Orc
"Ahh, isn't Morfang sweet, like a great big 350-pound (that's 25 stone, UK users!) ball of cuddly death...?"


God, gives children to people so that death won't seem so disappointing.
---
Congrats Choas. Definity well earned mate. Hope all your goals turn out well in life (how lame sounding is that? lol, but is meant!).

Dusty
---


Again thanks!!!!

Cheers,

Chaosftw
Lower Navigation
Member of the Month March 2009 - Chaosftw
Posting Rules

You may not post new threads

You may post replies

You may not post attachments

You may not edit your posts

---

HTML code is Off

---