Chaos Space Marine Cosplay
---
Sup, first post etc.
I've been looking around the cosplay/larp/derp section and I was somewhat unimpressed that there weren't any attempts of making Astartes power armour by any members of this forum. Shame on you, heretics!
So, I thought it'd be nice to sign up and announce:
I'm making Chaos Space Marine armour - it's true!
Here's the progress so far: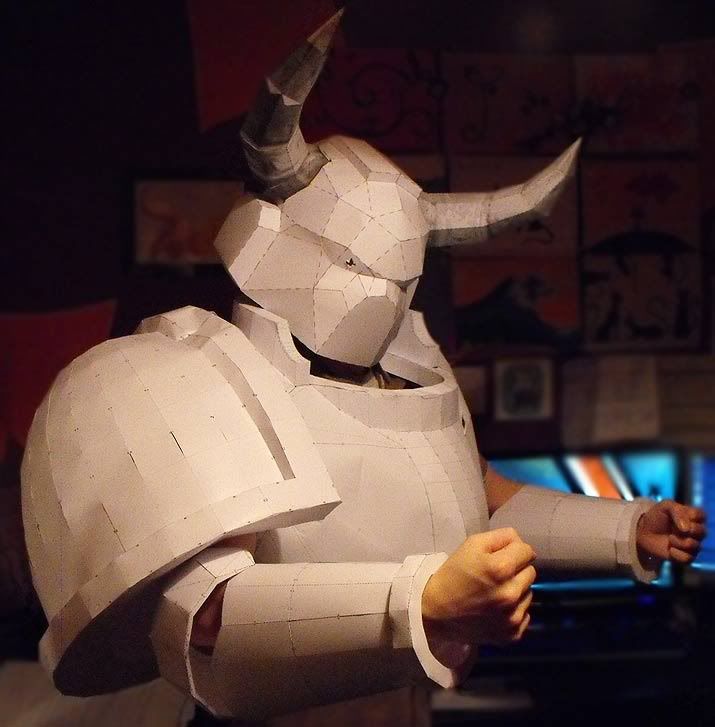 In fact I've gotten a little further than that, I've got two shoulders done, and working on the bolter.
But it's made of paper!
- That's right, paper. Heard of papercraft? Made my own on 3D editing software Blender and imported it into
pepakura designer
, which essentially breaks the 3D model down into 2D plains with tabs and numbers, stick tab 43 to tab 43, tab 20 to tab 20, fold this line, fold that line, and turns this: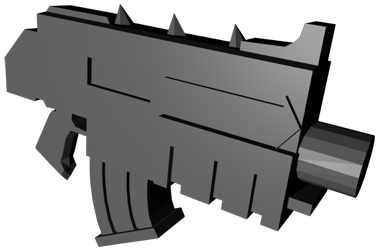 into this: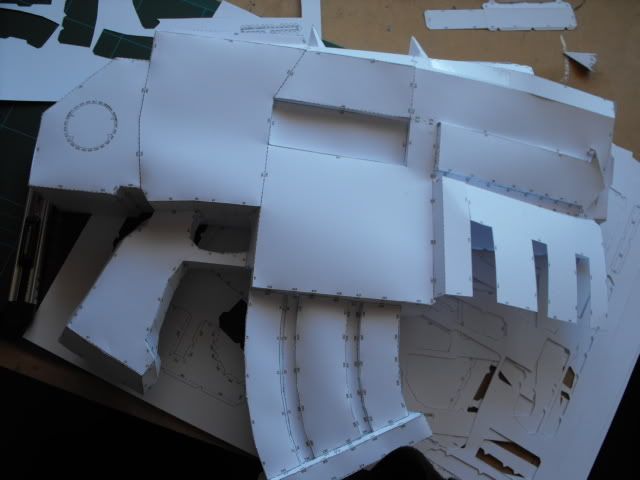 That's my bolter so far, incomplete obviously, but coming along nicely I think.
Some of you may be wonder why paper? Well, the idea is to coat it in resin and fibreglass to make it solid, and then apply automotive body filler to the outside, smooth it off and start painting. I can tell you I'm no expert at this, I'm getting my lessons over at 405th.com, who do the same but with Halo and other costumes (including a few other Space Marine costumes).
I'm not just here to show off, I'm here to get advice, as many of you are enthusiasts and would know what looks awesome on a chaos space marine and what doesn't, so I'll be coming here every so often to update and post my pepakura files for your professional opinion. Which is a point: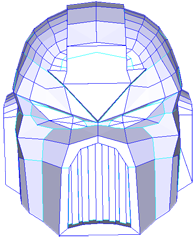 Just finished this helmet, this is the version without the horns (obviously), and I'll do the horned version later, but what can you suggest? Smaller grill? Different eyes? Pipes were purposefully left out so they can be added once the fibreglass/body filler was done, but should I add them anyway? Any feedback, criticism, encouragement, discouragement,
anything
would be helpful.
Oh and if you want to make the armour yourself, just ask, and if the request is popular enough I might have to make another topic.
---
Absolutely awesome! To think of the shape as paper thats still to be moulded cant wait to see more!
Senior Member
Join Date: Apr 2010
Location: Chamber Of Solitude, Aboard The Mortifer Umbra
Posts: 626
Reputation: 1

---
lol very small hands.
Any plans for a warp blade or chainsword?
---
I think I'll just have a bolter and a permanently sheathed blade on the outer thigh.
Powered by Squig Tea
Join Date: Jan 2007
Location: In da Toolz cupboard in da Mekshop
Posts: 7,589
Reputation: 53

---
Sorry that there's not much in this forum we only just got it set up.
I'm very glad we did because now we get to see CSM power armour from start to finish.
Oh and hey if this is the quality to show show off as much as you like!
Looks good on the scale Vs practicality front.
Which chaos Chapter or Legion are you thinking of doing?
We can defiantly bombard you with the right symbols etc.
If you have not decided, let us know and we will try to help with that.
Excellent intro to the site I look forward to seeing more and helping in any way possible.
Vash
---
Well I'm thinking either Black Legion or Word Bearers... but I might go for Red Corsairs. I might finally decide when I've got the whole thing basically set up, then I can decide and start to customise it.
---
This looks fantastic so far. I was going to suggest pepakura but you're one step ahead of me :D
The most important advice I can give is to take your time with it. If it takes you three years to make a perfect suit of armour it's better than knocking out a cheap, shitty version in a week. The fact your using pepakura already suggests you will take your time but its worth mentioning anyway lol
Now there are several ways you can go about an undersuit. The easiest way would just be to wear a one piece black bodysuit, much in the same way stormtroopers do. But, for a more acurate look you could try to replicate the ribbed look that the inner elbows and knees of power amrour has.
Off the top of my head, the best way to do this would be to get a square piece of black, elastic like material, big enough to cover the gaps and also overlap into the armour.
Once you've got a piece that covers the gap with some overlap, you'll want to add velcro strips to the inside of the armour ( A note here, use the loop velcro, not the hook velcro for this part, as it wont snap on any clothes you are wearing beneath). Use industiral velcro as it will last longer and it's self adhesive is far superior.
Next you'll want to sew the hook velcro onto the material so it wont come loose. Once this stage is done, you'll have something that closes the gap and also joins the plates, keeping them more secure.
Now for detailing. Measure out the area of exposed material. Then take strips of leather, cut about 1cm wide and to length. Sew these to the material to give the exposeda area that ribbed look. It should look good, offer good flexability and also serve as a way to fasten your armour plates together.
Another tip I have is that the suit will get HOT!. This is a really important thing to take note of. If your out at an event all day with no way to cool down, it could end up being real nasty lol. There is an easy way out though :D
First, once the helmet build is finished, you may way to carefulyl cut out sections of the gril, to allow airflow into the helmet. You can cover the holes with black screen mesh from behind.
Next you want to get hold of some 12v computer fans to mount in the helmet. There are a couple of videos on youtube on how to mount fans in helmets that will help. I reccommend searching for costumebot for a really good one.
Once you have sorted the air con, it may be time to consider some sort of voice projection. There are countless ways of mounting speakers in the chest piece, linked to a mic in the helmet that will give your voice that voxx sound. It's best to experiment and see what suits you best.
I hope at least some of this helps, and if I think of anything else, I'll be sure to swoop in an mention it lol.
Cheers
Reaper
Senior Member
Join Date: Apr 2010
Location: Chamber Of Solitude, Aboard The Mortifer Umbra
Posts: 626
Reputation: 1

---
Maybe after this you could even make a Terminator suit, with twin lightning claws
---
I cant wait to see this finished, it will be awesome, just, whatever you do, do not make the back pack to small, seen many a good costume ruined by a under (or over) sized power pack. If you make it and its to heavy put a helium balloon in it, as it will help lighten it.

theirs my mini rant done, but seriously traitor back packs are large, and probably heavy.
---
---
Looks badass!
Now out of morbid curiosity, as I've never really had experience with this type of thing...
Let's see if I understand the process:
You use the program to digitally design a 3D image which is then printed onto paper. Is there a certain type of paper you have to purchase (I presume so) and if so, where do you get it from?
Once you build the suit, you mentioned coating it with resin, etc. How well does the paper-material hold up to the additional weight, and do you remove it once it has dried? (Yes I know, I'm getting way ahead!)
Great work so far though, look forward to seeing more
---
Heresy-Online's Expeditious Stories Challenge 13-06: "Serenity" has started, get your stories in by July 11th!
Quote:
Originally Posted by
spanner94ezekiel
View Post
3. Nothing Boc said should ever be taken seriously. Unless he's talking about being behind you. Then you run like fuck.
Lower Navigation
Chaos Space Marine Cosplay