hi there
---
i need a space marine armor
---
lolupdate
well not much, but here goes:
Okay, so as I'm at university now obviously I can't spare that much time to work on my suit, plus the suit itself is in a garage about 20 miles away from where I currently live, so updates are going to be rare.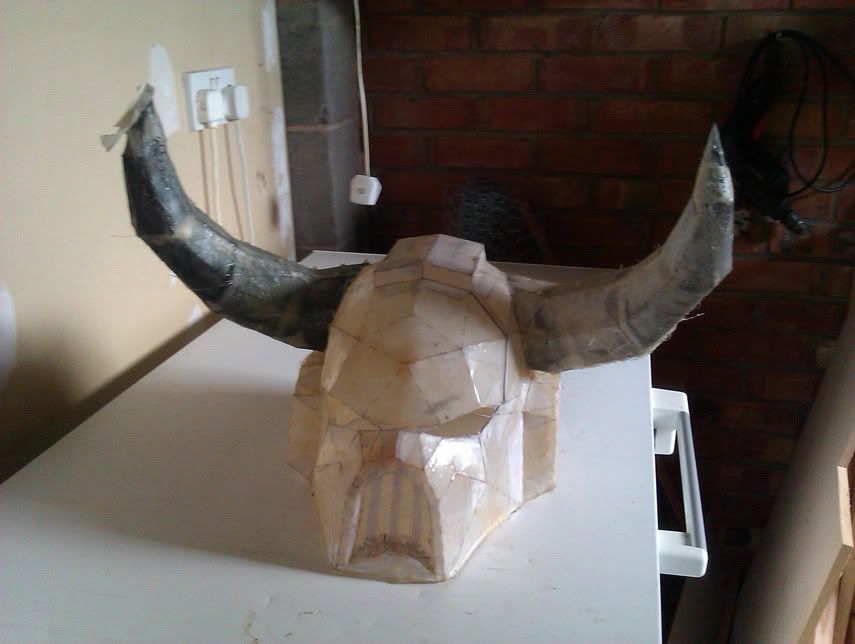 Here's what's going on; I've been thinking about my helmet and my horns on the helmet for a while. Because of the shape of the horns, it's extremely difficult to work on the structural integrity of them (fibreglass the inside for strength), so I remembered something a few of the 405th guys used to do. What they did in situations like this, or as a lazy/excellent alternative to fibreglass was to mix bodyfiller and resin together.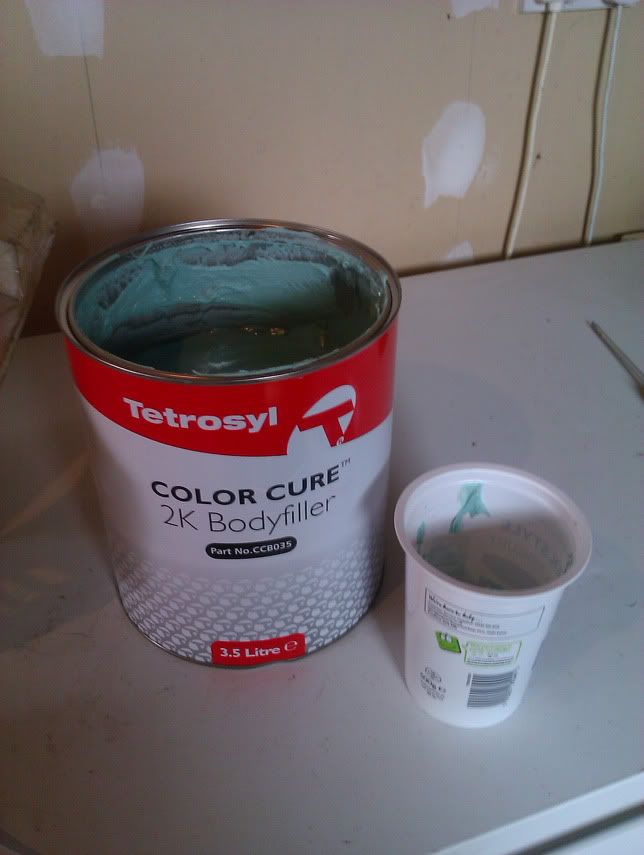 I'll be honest, I don't know the mixing parts, but I get it to a fair liquid consistency - not too runny so it won't stick to anything, and not too thick so it won't flow, but
just right
. The idea is to pour the mix (they call it Rondo) into the
thing
, be it a horn or the whole helmet, swirl it around so the Rondo covers all the walls of the shape, and leave it to dry. It solidifies pretty quickly because of the body filler mixture, which dries very quickly anyway, but the whole drying process should take about 24 hours.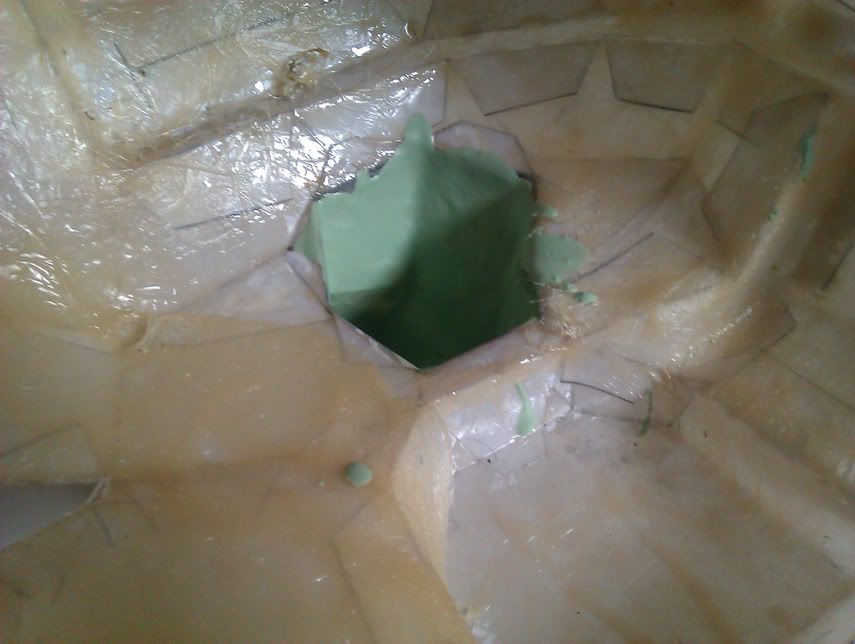 Much to my delight, the result is exactly what I needed for the horns and a couple of other places on the suit that would be otherwise really difficult to get to with fibreglass, like the inside ridge of the shoulder pads.
The only things to be cautious about this process are
A) Having enough body filler for the rondo mix
and
the the suit exterior for smoothing. I may need to buy another tin because of this, but well worth it.
B) Small holes in the papercraft. Because the mix is obviously liquid, it'd be horrible if it started leaking everywhere, so it's good to make sure the pieces are properly constructed and stuck together with no small holes, but also going around with masking tape to just seal parts off.
C) Weight difference. There is a difference in weight if you compare this method to just fibreglass. This method does increase the weight significantly, but as long as the dried rondo mix isn't something stupid like an inch thick, and your bones aren't made of crepe paper, I'm sure you'll be fine.
---
I AM A MESSIAH OF SORTS.
PROBABLY.
Making my CSM suit, topic is
here.
---
olol hi guise
so I worked on the head today for a bit. You know the body-filler stuff? I slapped that onto the helmet a few days ago and left it to cure, came back to it today and fuck me that stuff is
hard
.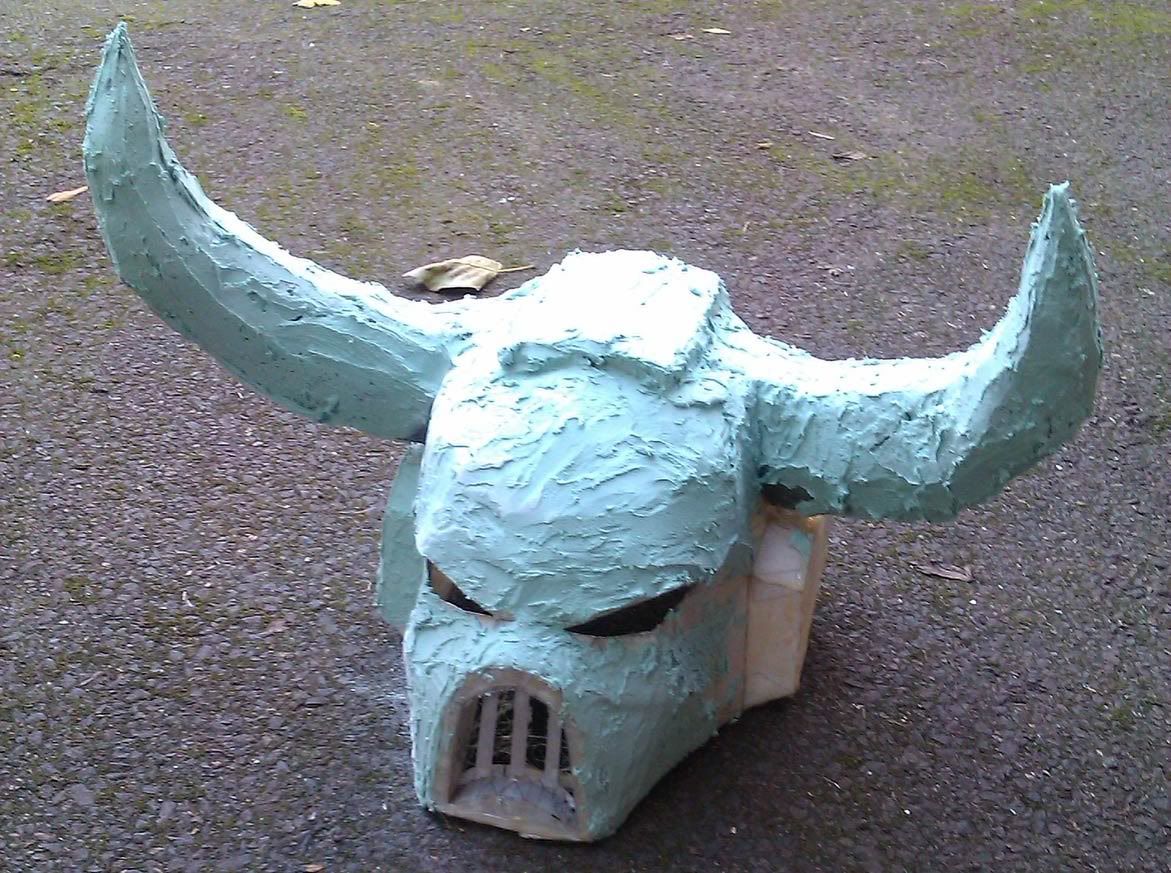 First, notice how it's all.... crinkly. It's messy and spikey, and I wish I had smoothed it all before I left it. Mental note to all who are thinking of doing this themselves - smooth as much as possible before leaving it to cure, it'll save so much sanding. Before you sand though, if you have left it in that god-awful state like I did (shameshameshame) you should get a stick-scrub thing and work around it. One of these: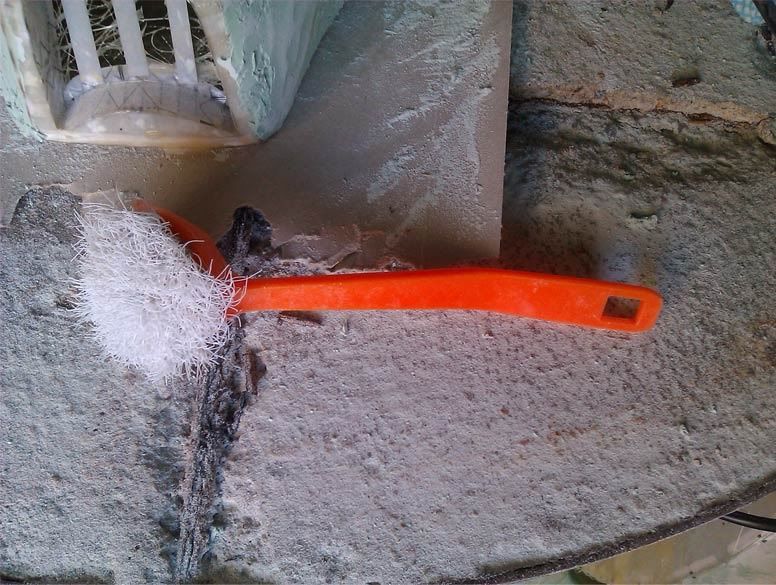 Just get that and work it really hard around the head and break off some of the spikey crap you left behind. It saves sanding again. Anyway, once you've got rid of some of the crap, you take your mouse sander and BBBBZZZZZZZZZZZZZZZRRZZZZZRZRZRZRZRZZZZRZZZZZ for a while. That stuff is damn resilient! And lol be sure to wear long sleeves and jeans you don't like, as well as protective fashion facial accessories, this dust shit gets everywhere.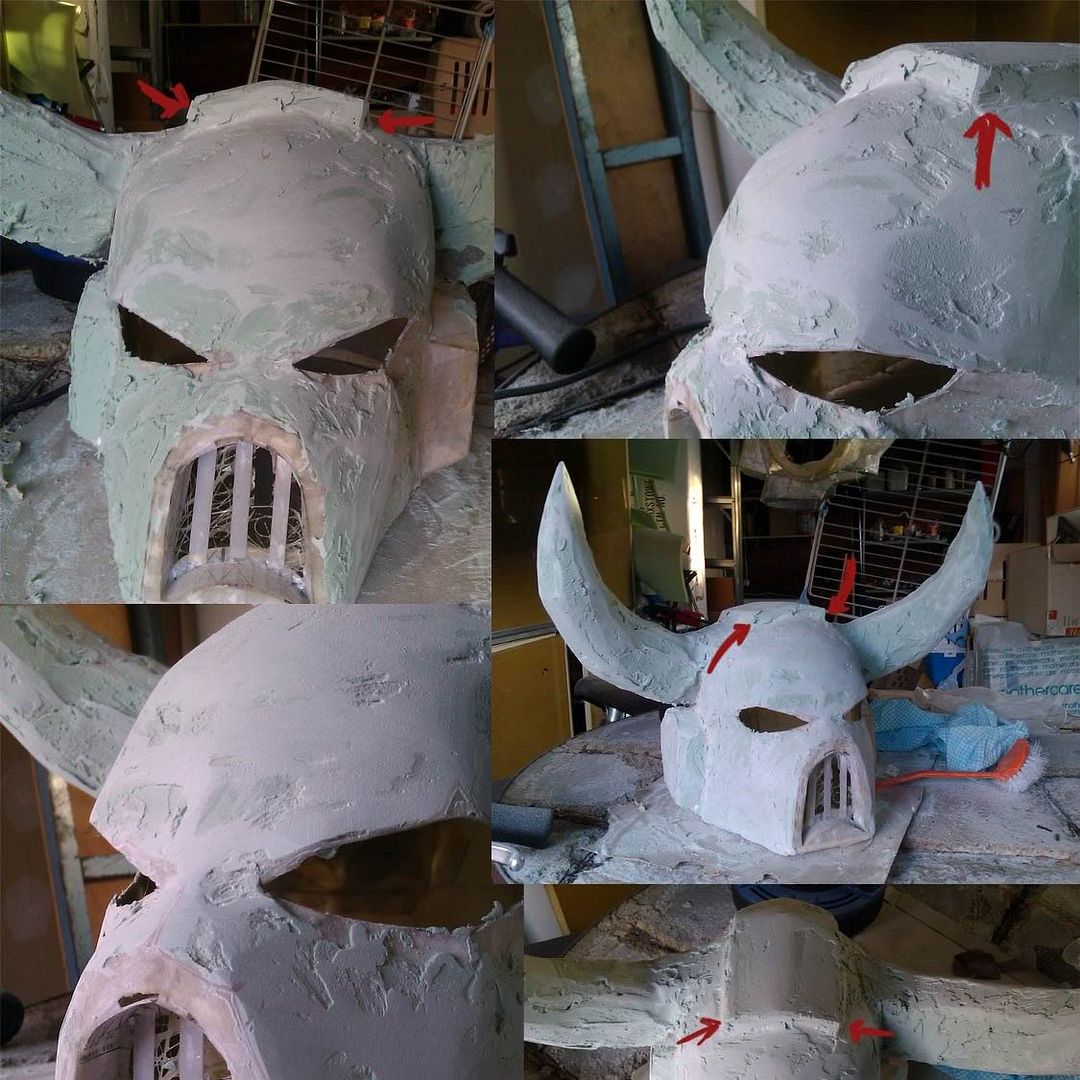 Um, yeah, it's really not done yet as you can see, but it's a pretty good start, it's nice when you compare it to the slick low-poly mess it was a while ago. The red arrows indicate the hard 90 degree corners you won't be able to get to with a mouse sander (easily, at least), so I'll be using some fine file to get it good.
Anyway - once you've paused sanding, it's good to get the brush thing again and just go and hard-scrum it all again to just get rid of some of the dust, especially if you intend to put in more body filler or paint it. I'll add maybe another
smooth
coat of filler to just even it all out and then I'll start thinking about painting it. Then I've got to work on the rest of the armour.
---
I AM A MESSIAH OF SORTS.
PROBABLY.
Making my CSM suit, topic is
here.
Powered by Squig Tea
Join Date: Jan 2007
Location: In da Toolz cupboard in da Mekshop
Posts: 7,589
Reputation: 53

---
Great to see another update and how well the suits shaping up.

Once again many thanks for posting this thread.
---
due this looks so awesome. i made a profile just so i could see this.
---
Keep up the good work, its looking all good.
This is very good work. I like how the helmet turned out.
---
"In the embrace of great Nurgle, I am no longer afraid, for with His pestilential favour I have become that which I once most feared: Death."
-Kulvain Hestarius of the Death Guard
---
Impressive. Most impressive. +rep
---
[Flerden] 9:05 pm: Why the hell can't he just go offline if he goes to watc tv?
[dark angel] 9:06 pm: It is Doelago, we will never know
Lower Navigation
Chaos Space Marine Cosplay