Junior Member
Join Date: Jun 2010
Posts: 12
Reputation: 1

---
I have something that may help you in resizing parts of armor.
I found it on 405th, it's for Corvus Armor but I believe it will help to resize parts properly to your height.
Here's the link
http://www.4shared.com/file/13819440...lingSheet.html
The only problem is that there is just scale. I think the easiest way to make it good will be to download parts of corvus armor from here
http://www.405th.com/showthread.php/...ighlight=beaky
resize them with the table of scales and put the sizes into your project in mm.
Oh BTW, my friend decided to make the Deathwatch Champlain so the skull you showed will be the great front part of helmet ;)
---
Last edited by el_gringo_dado; 06-20-10 at

10:20 PM

.
---
How are you, heretics?
Working on the suit for a few days now, first time fibreglassed in my life (fucking messy business) but I feel it's going well.This is how far Iíve managed to get so far: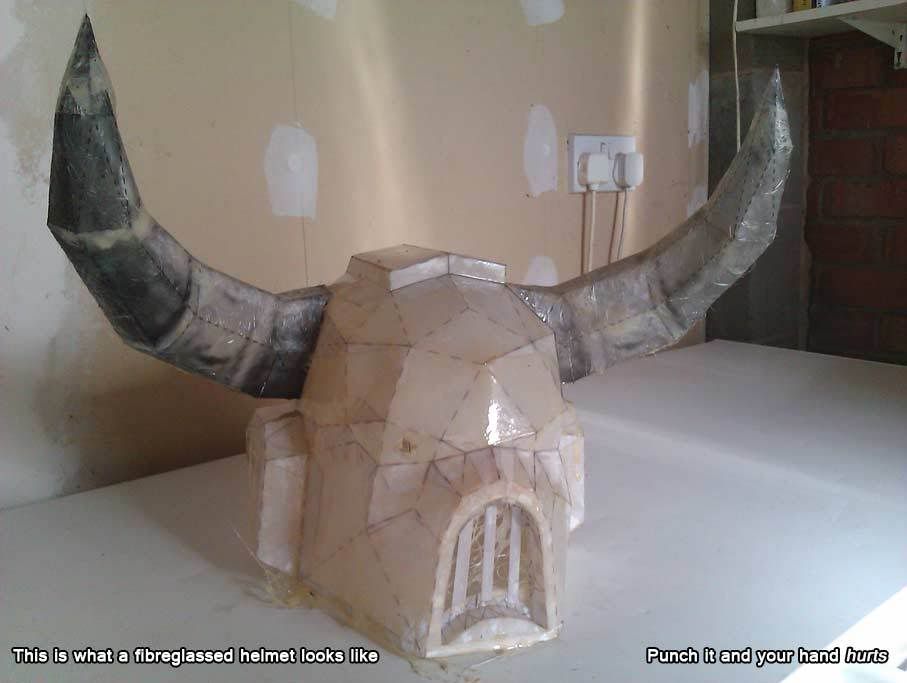 The helmet is pretty much done, just need to add a little more fibreglass to the horns and maybe the inside top. After that, Iíll take a dremmel to it and just kinda tidy it up. The little bits of fibreglass sticking out over the flaps and edges? Theyíll be sawn off and ground down to make it relatively flat. After that, Iíll be able to start doing the next stage Ė bondo.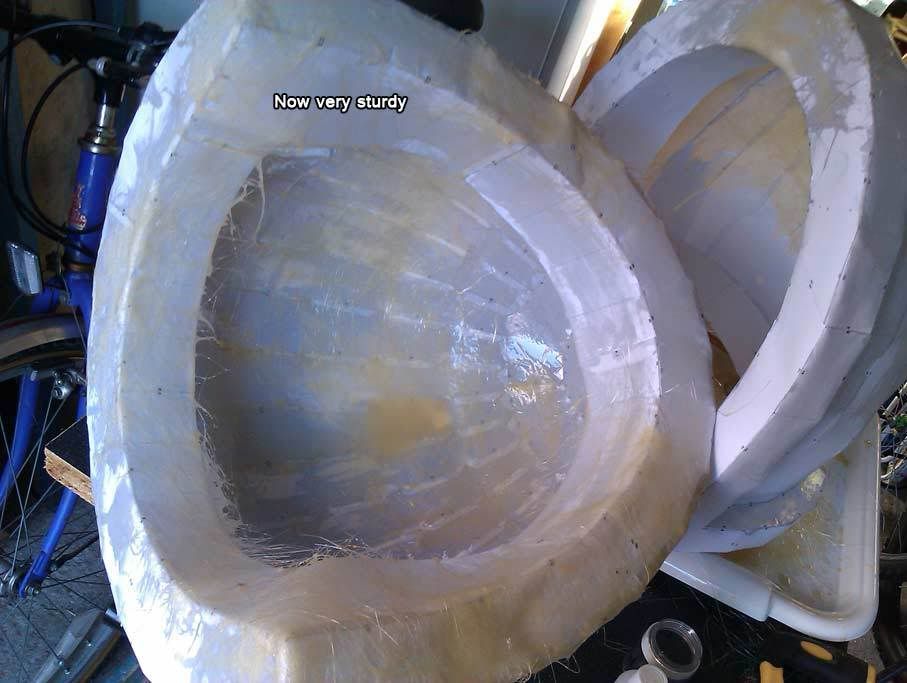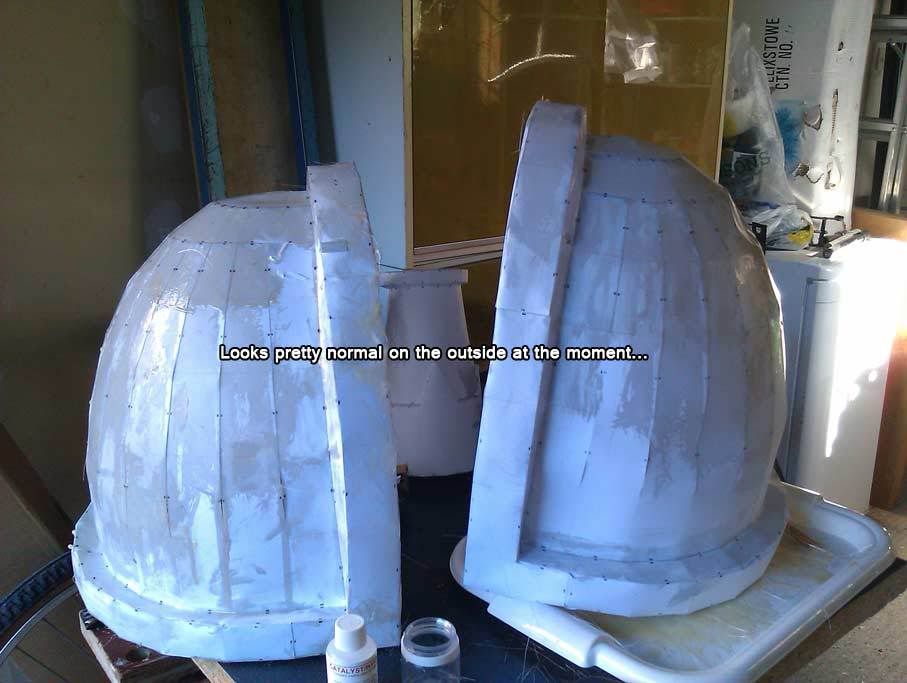 The shoulders have been frustrating. Itís been difficult to keep their shape, and as a result minor depressions have occurred around the surface. Iíll have to fill it in with the bondo, or pass it off as battle damage, or just cover it in skulls. For future reference, when fibreglassing the inside of the shoulders, put it in a suitably sized bucket so itíll keep its shape, rather than putting it on a flat surface and letting it deform slightly.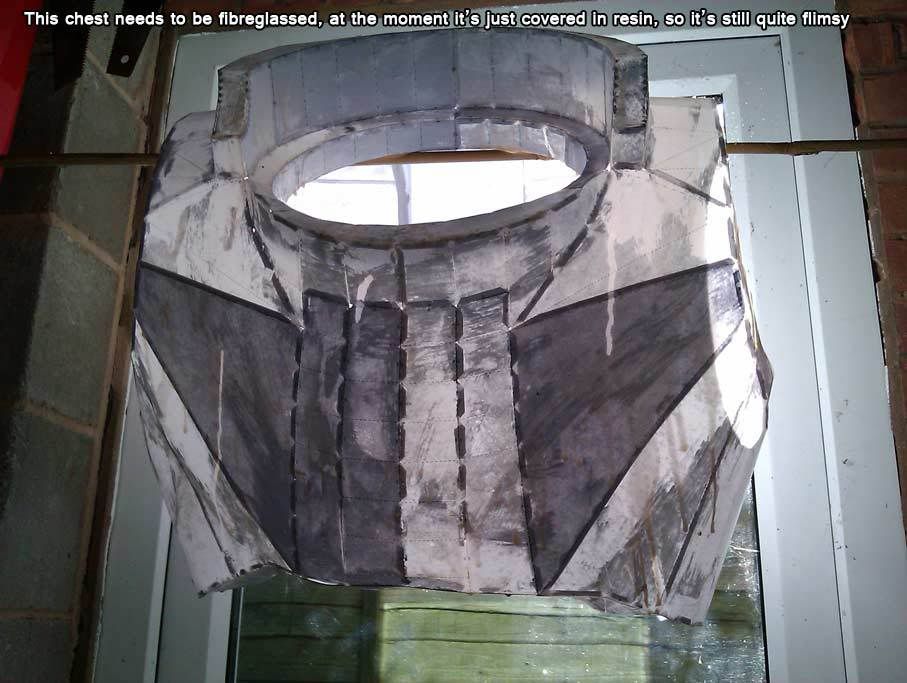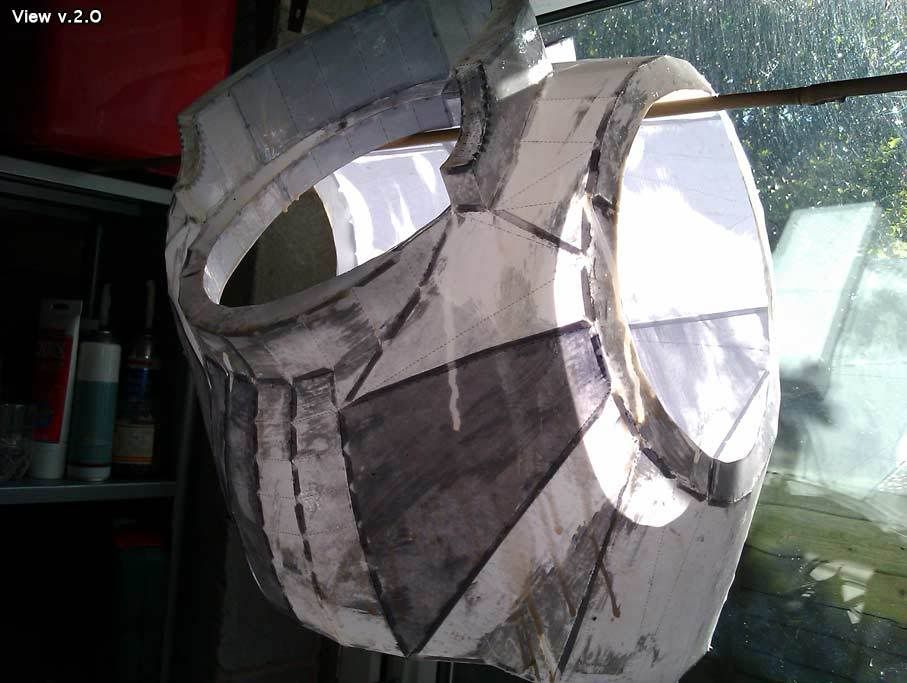 This bad-boyís next. Iíve got to fix a slight tear at the back (probably with duct tape) and then Iíll start fibreglassing the inside. This will probably be quite difficult, itíll be the largest (and most unstable) thing to fibreglass yet. Not sure how Iíll manage this.
Tonight, however, Iíll finally start building the legs and see how they fit. Then Iíll fibreglass those, start building the cardboard backpack (epic project alone). Wish me luck, daemon spawns.
---
I AM A MESSIAH OF SORTS.
PROBABLY.
Making my CSM suit, topic is
here.
Angryman
Join Date: Aug 2009
Location: A wretched hive of scum and villany. Actually PNG. Goddamn this place is a shithole.
Posts: 4,304
Reputation: 22

---
Fine work. This is a considerable undertaking. Looking forward to seeing how it turns out.
---
Sanity is for the weak.
'Evil will triumph because good is dumb.' Dark Helmet,Spaceballs
According to LUKEVALENTINE's test i am a diciple of khorne. Figures really.
Junior Member
Join Date: Jun 2010
Posts: 12
Reputation: 1

---
My advice if you want to keep shape of thing.

Use hot glue. Stick the second layer of paper inside the part by hot glue. I tried it, it work's.
---
holy crap geif so i can wear that playin dow!!!!!!!!!!!!!!!!!!!!!!!!!!!
++++++++++++repsreps!!
---
Quote:
Originally Posted by
ghazghkull-killyork
View Post
did you know the bermuda triangle was the bermuda square untill chuck norris round house kicked one of the corners off
---
This is very good work
Any more updates :3
---
Senior Member
Join Date: Aug 2010
Posts: 365
Reputation: 1

---
My only suggestion would be wire armatures, something custom-made that supports your parts in all the critical spots. Even if you bought a dozen metal coathangers and bent them to shape, it would be better than hanging them on a single dowel like your torso, or in the top of a bucket.

Regarding the minor collapses in your armour, with a thick enough coat of bondo and some patient sanding, you can work those out. With enough time and patience you could smooth out the 'polygons' of the papercraft model.
---
No exciting updates, I'm afraid. I'm just working on the fibreglass, and smoothing shit up. I've got to complete my bolter, which shouldn't be too hard to at least complete the cardboard base. And then I've got to do the whole legs and the backpack. It's going to be a slow process from now on because I'm starting uni soon :/
---
I AM A MESSIAH OF SORTS.
PROBABLY.
Making my CSM suit, topic is
here.
---
this is too legit and simply too freakin epic to describe in mere words.
that's awesome, can't wait to see it done
keep us updated!
+rep!
---
bump bump bump
Lower Navigation
Chaos Space Marine Cosplay