---
Awesome costume, that's really inspiring to me to start on a space marine hard suit.
---
OMG we made you into a model in a game. After seeing the pic of your face with the fluer de lis and before i registered here.
Very good pics, costume is great and the attitude too.
My daughter is now collecting sisters as a result of us using this sisters model.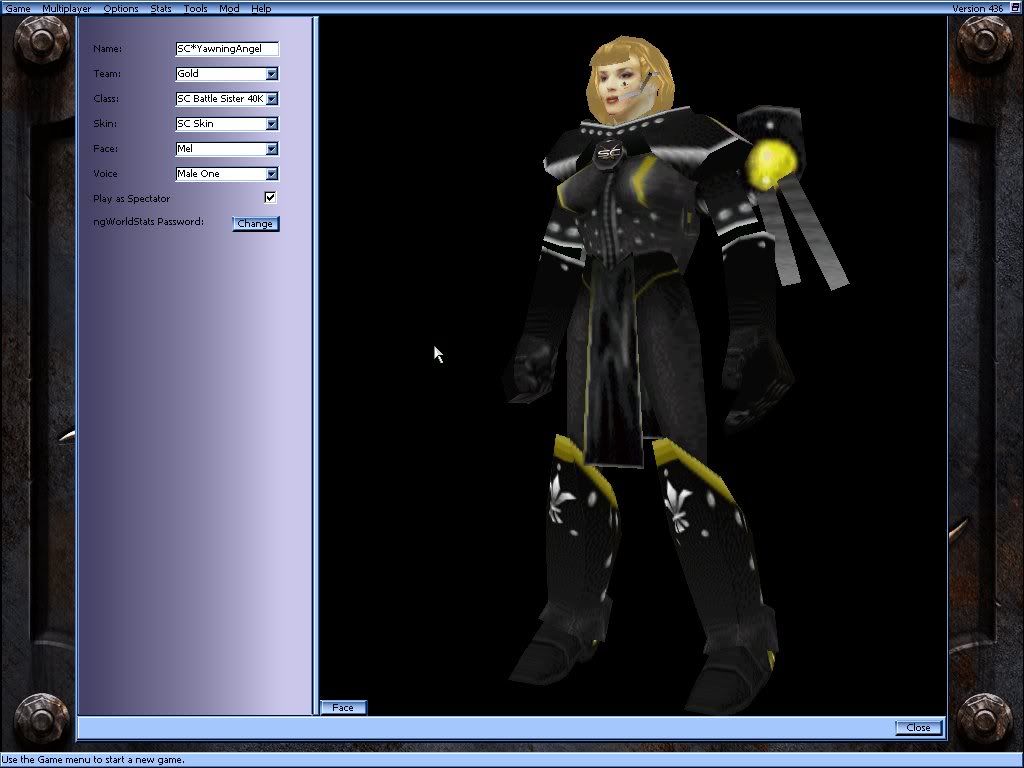 A guy in our clan has undertaken something similer . He has a Marine costume from the Movie Aliens, made his own pulse gun and armour...
All i can say is that if the powers that be , create a war hammer movie i hope you get a part, even as an extra in the fight scenes. You have totaly earned it! I thought the image was a new G.W marketing weapon.
---
Last edited by LimitingFactor; 01-15-09 at

06:49 PM

.
Join Date: Nov 2008
Posts: 31
---
wow, I'm flattered, LimitingFactor
Good job recruiting your daughter, too!
Funny thing about the hair, I thought you'd seen an old picture of me without the costume, since you saw the beginning of the project. I actually had hair just like that at the time. My fringe is gone and it's considerably longer now though, but I used to have hair like a Sister once! :D
A lot of people have sent me e-mails and PMs regarding making a costume of their own. I'm so happy this inspires people, that was exactly my intention! If anyone has any questions about costume-making which isn't already answered in the first post, I'll be happy to help as best as I can.
---
great job kaede
---
"From the darkness we strike: fast and lethal, and by the time our foes can react... darkness there and nothing more."
— Raven Guard saying

Join Date: Sep 2009
Posts: 1
wow
---
holy smokes. nice job.best costume ever.im thinking of making chaos space marine costume.
---
Looks pretty awesome. Its probably just me but only one picture was loading ><. But it is definitely a top notch costume! Really like the gun and LED.
---
Great work there some + rep for you for sure!!!!!
---
We are charged with the reunification of mankind, throughout the stars, in the name of the Emperor. We seek to establish compliance amongst all the fragmentary and disparate strands. Most greet us like the lost brothers we are. You resisted.'
---
From a Guardsman to a Witch Hunter: Awesome costume, really nice done. =D
---
Awsome Costume. Basically I agree with what everyone else has said!
I would love to do an Imperial Commisar outfit but then I would probably look like I belonged to the SS.
Lower Navigation
Battle Sister Costume