Chaos Twin-Linked Bolter
---
I absolutely suck when it comes to making those one-shot rolls for combi-weapons. So on my unit of Chaos Terminators, I'm going for Twin-linked bolters. Granted, not great for taking out tanks, but sooooo mean to use on Guard and the like. An extra bonus of this process was that I wound up with the extra Melta Gun I needed for my Plague Marines. So here we go.
Supplies and tools:
1 Chaos Terminator Combi-melta
1 Bolter
Here are the tools I used.
Plastic Glue
Hobby Knife
Razor Saw
pair of tweezers (not shown)
Step 1:
Take the Terminator Combi-melta. Using the Razor saw cut down along the back of the melta barrel at the head of the weapon body (shown in green). Once you have that cut complete, take the hobby knife and slice along the bottom of the meltagun barrel along side the chain-blade. Try to be careful and avoid gouging the chain blade. If you do, it's not a big deal and it can be addressed later. The objective is to separate the Melta-barrel from the weapon body.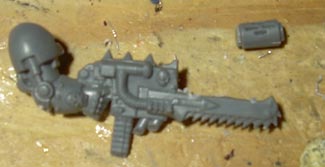 Step 2:
Now, take the bolter and cut off the barrel from the front of the weapon. Be
VERY
careful not to loose the barrel once you cut it off.
Next, cut off the bolter magazine.
Step 3:
Once you have the pieces of the bolter cut off, they can be attached to the body of the combi-bolter. The bolter barrel simply replaces the barrel of the meltagun. On body of the combi-bolter there it a flat space that is perfect to glue the bolter magazine to.
Lower Navigation
Chaos Twin-Linked Bolter