Member
Join Date: Jun 2008
Posts: 30
Reputation: 1

Hull Point Markers for Rhinos
---
This is a fairly easy conversion. You'll need a sharp hobby knife, 6 magnets(1/4 inch diameter), and 3 markers. For this I chose the radar dish bits. Chances are you've already got a couple lying around but you can grab more off of Ebay too. Whatever you use just keep in mind it should be low enough that it doesn't get in the way of any weapon turrets as they rotate.
Step 1
Use your hobby knife to clear spots for you markers here:
and here: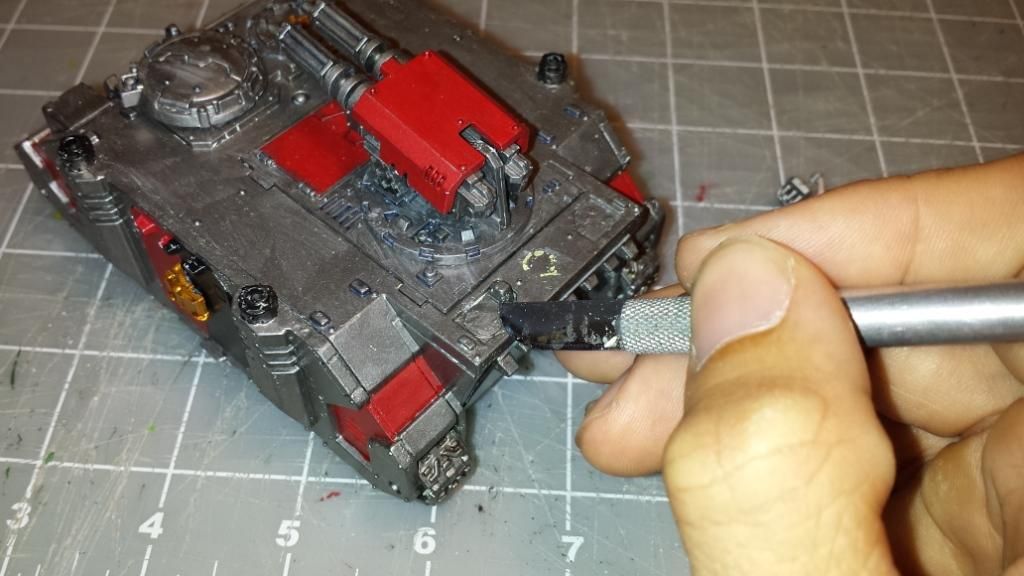 Step 2
Glue 3 magnets to the inside of the Rhino hull like so: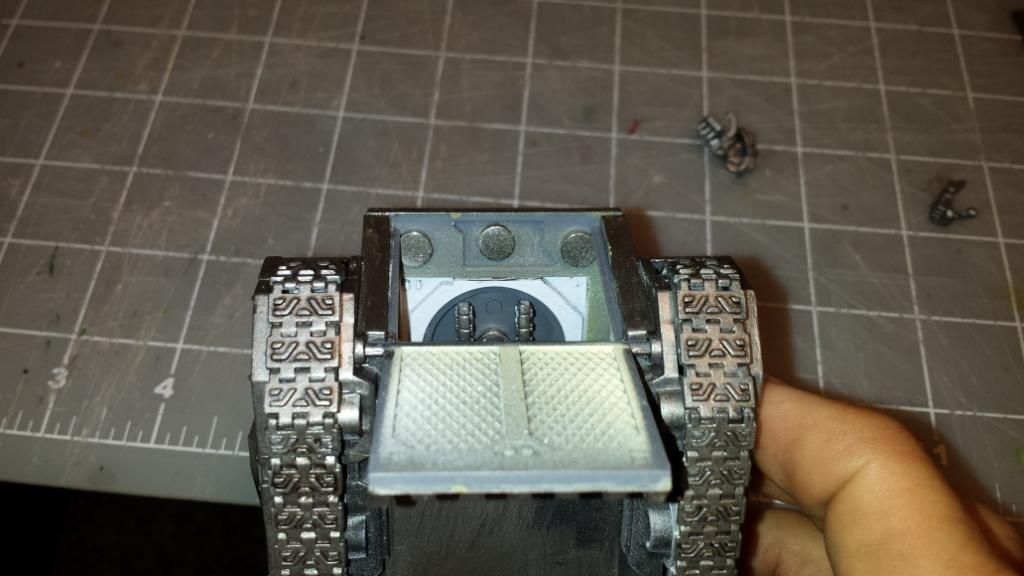 Pro Tip:
Make sure your magnets are polarized in the same directions so that all 3 of your markers will fit on any of the 3 positions.
Step 3
Place the remaining 3 magnets onto their respective positions and glue your markers to the top of them.
That's it! Enjoy.
---
Last edited by Cypher871; 10-23-13 at

12:14 PM

. Reason: Layout
Innovative Forge-Lord
Join Date: Aug 2009
Location: Doncaster, South Yorkshire, UK
Posts: 2,579
Reputation: 9

---
Nice little tutorial there mate, thanks for sharing.
Do you find that the size of the magnets give a good 'grab' through the plastic?
---
cool idea, man. thanks for the tutorial!
---
The Legion of Perfects Project
Quote:
The calls of Slaneesh stir so deeply within me, as if I was birthed from the very essence of it. For my ambition to infinitely ascend above all is never ending, like fire within it burns me to ever cindering ash. Lord of light and ascension is who I am, realities burn to ash at my very passing. My luminescence is unparalleled for I am luminosity itself, all light is but a shadow of my silhouette
Member
Join Date: Jun 2008
Posts: 30
Reputation: 1

---
Thanks. Cypher871, yes you might be about to go down one more size and still have decent "grab" but I haven't tried it. That size is also the perfect diameter for the radar dishes as well.
---
That is a brilliant idea that i may well use!
---
magnets + miniatures = winning.

Good call man.
---
I tend to put tin strips along the rim of the rhino for magnets to adhere to. It works better for me, but you have to hide it more.
Member
Join Date: Jun 2008
Posts: 30
Reputation: 1

---
Thanks all. Creon I've used tin strips too. If you're willing to do the work it comes out cheaper and you don't have to worry about matching the polarizations but I'm lazy so I pretty much stick to magnets now.
Lower Navigation
Hull Point Markers for Rhinos