Making dynamic Space Marines (and other models) without Greenstuff
---
I decided to make a tutorial since people have asked about the posing process for my models in my project log.
A lot of the earlier models were "Let's see if this works". There have been quite a few failures too. I'm going to have to pull apart a lot of the old models when I upscale the legs. The inability to ever consider the modeling process "finished" is why they aren't painted. I'm too concerned I'll want to make changes to them, or create some fundamental new process for the construction. Plus eventually I want to correct some of the minor flaws. When I pull apart some of the models, I can show a bit more of the process.
Here's a picture of the "before" on one of my most recent figures, so you can see what the model is reduced to. Though I hadn't done the second cut on those legs when I took the picture, and you can't see the torso modification. This was for a conversion challenge on another site, where they just wanted to see the "before" picture of it.
Every model I make, from Librarian to Tactical Marine, needs to tell a story, just looking at him. It doesn't have to be a long story. But you need to know something about: Who he is, what he's doing, and where he might be doing it. Now, there's a lot of work that goes into making your Space Marines stand out from the crowd, I won't lie. It takes me a minimum of an hour to create each one of these guys, which is a lot for a model which is basically a nameless grunt. If you do the disassembly and arm cuts in waves, you can save time though. But in the end, you'll have more than just a cookie cutter trooper. Because, honestly, no matter how well you paint it, a cookie cutter pose Space Marine is pretty boring.
Part 1: Arms
But any good posing tutorial will start with arms. The arms create nearly all of the action in any given model. When you consider your arms, the key points are: natural range of movement, practicality, and comfort. I find it is helpful to try to mimic the pose. It may be fairly obviously from the start what you're thinking about doing isn't something anyone would do in real life.
Now, in part, I cheat. I was a Marine, and not only that I taught weapons and infantry tactics. So I know how I would stand, or hold weapons, and how my buddies did. But there is a wealth of great military images out there for anyone to access. Militaryphotos.net is a great place to start. They even have daily picture threads of military members from all over the world and different countries. Look up pictures from the invasion of Iraq, or the Battle of Fallujah, or even modern actions in Afghanistan. There are a ton of photographers out there with more balls than sense, heh.
Anyway, here is one of the more popular models I get a lot of comments on. Games Workshop even stole him for their LE Imperial Fists cover. And he's a really simple conversion. I added red lines to show where the cuts were made to achieve that pose.
The soft armor on the right wrist was cut free at the wrist ring, and behind the hand. Once free, it was rotated, and then reattached to the arm to create a downward angle instead of the upward one. Thus the original soft armor sculpt is retained, and there's no need for green stuff. The right arm itself is cut just under the "under shoulder". This way the arm can achieve a different angle. This one was rotated about 70 degrees so that it sits parallel to the ground across the chest. This angle is great for creating better looking "aimed" poses too, which I shall go into in a later post. The left arm is cut at the wrist (behind the wrist ring is easier, but either way works), and then rotated so that it matches the new angle of the weapon.
Examples of "aimed" poses using this same technique.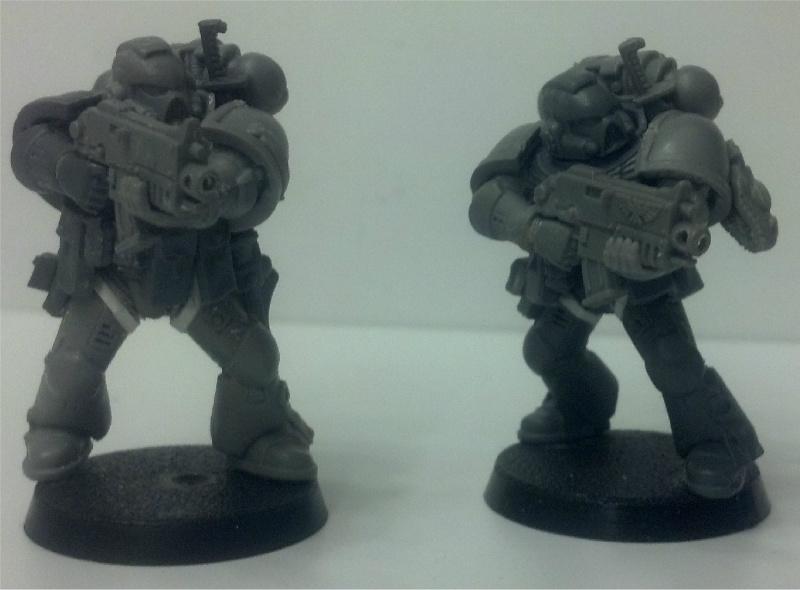 I'll follow this up with some more tutorials on popular models I've made.
---
If Marneus Calgar is supposed to be "one of the Imperium's greatest tacticians" and he treats the Codex like it's the War Bible, but the Codex is garbage, then
how bad is everyone else
?
True Scale Space Marines: An odyssey in posing, tall scaling and other madness.
The Brief and Humorous History of the Horus Heresy
---
I go and make this tutorial, then those jerks at GW release a Tactical kit that has aiming poses. Well, you can still use this to fix the bolter cradle poses that it still comes with.
Here's a mini-tutorial for one of my more popular figures:
The Horatius Pattern Bolt Pistol.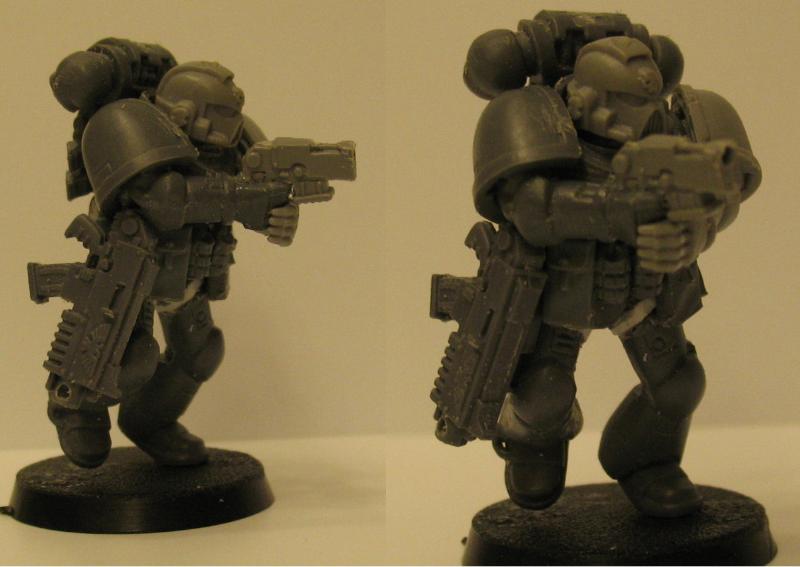 So have you ever wondered why the bolt pistols don't fit in the holsters that are on the Marine sprues?
The answer is Games Workshop doesn't care. However, the
new
answer is because they are holding the Horatius Pattern Bolt Sidearm. A defensive weapon, it was named after a legendary Space Marine hero whose troops held a bridge for a day and a night against an onslaught of Orks before reinforcements could arrive.
The Horatius pattern bolt pistol has been sliced down the center, with the inside faces filed down to make the weapon skinnier, the front sight trimmed off, and the magazine shortened. It's not a perfect fit in the holster, but it is close enough for heroic scale work, lol. I still need to decide how to give it a stubby barrel protruding, but I thought you guys might like the new figure.
Tha barrel doesn't actually flare. That's just a trick of the camera angle.
How's it made?
1. Clip the grip, magazine and magazine well, top sights, barrel, and targeter nub off.
2. Like so.
3. Slice evenly down the middle. Following the mold line does the trick.
4. File the middle down to slim the pistol's bulk.
5. Glue halves together.
Obviously the pose is up to you, but the pose above was made as such:
1. Gunner arms from vehicle sprue. Cut right arm free.
Carefully
cut the thumb off the top, then reattach on the side of the hand.
2. Take a bent elbow support hand. Slice the hand off, rotate, and reattach. You may need to cut the arm under the shoulder pad too and rotate.
This pistol also makes an excellent weapon for Imperial Guard characters since it actually looks like something they could lift in one hand.
---
If Marneus Calgar is supposed to be "one of the Imperium's greatest tacticians" and he treats the Codex like it's the War Bible, but the Codex is garbage, then
how bad is everyone else
?
True Scale Space Marines: An odyssey in posing, tall scaling and other madness.
The Brief and Humorous History of the Horus Heresy
---
Last edited by Veteran Sergeant; 10-10-13 at

02:46 AM

.
---
This is very cool, i love posing SM but i'd never thought of just cutting the arms without going into the hassle of GS.

For some reason i've also never thought of just giving one a pistol and slinging his bolter...this provides infinitely more options for my next tactical squad.

Keep up the good work!
---
My Salamander Logs & Army Showcase:
The Ashbringers 3rd co.
:::
Into the fires of Battle
:::
Army Showcase

Currently Painting:
Landraider Redeemer
---
cool thanks for this!!!
Lower Navigation
Making dynamic Space Marines (and other models) without Greenstuff