Member
Join Date: Jan 2009
Location: Edmonton, Alberta
Posts: 96
Reputation: 1

LED Rhino
---
For this example I used:
1 – Rhino kit
2 – 3mm Blue Super Brite™ LEDs (not required, higher current draw)
4 – Surface mount LEDs, again of the blue variety
1 – large 10mm red LED (I had it lying around, I wanted to use two red LEDs but did not have the room)
2 – 24mm coin cell battery holders (Diji-Key BH1000-G-ND)
4 – 3 Volt coin cell batteries (may have to order from an electronics supply company, I had these lying about. They are 3 Volt 500 mA/h cells. Two fit nicely in the 7mm deep holders)
1 – Small slide switch
2 – 1/4" nylon spacers
A bit of wire (30 gauge solid core)
Some shrink tube
Soldering station
Flux
Solder
Needle nosed pliers & clippers
Patience
In this I will present interior lighting (surface mount LEDs), view port lighting (10mm LEDs) and headlights (3mm LEDs).
I intended for this to go a bit farther than just an on/off lighting tutorial, but for matters of simplicity I'm presenting the KISS method (Keep It Simple Stupid). Otherwise I may scare away people who have cool ideas. By no means restrict yourself, perhaps correct for realities sake, but if you got a good concept go for it. (I've also done a dreadnought and a monolith)
Here is the basic circuit: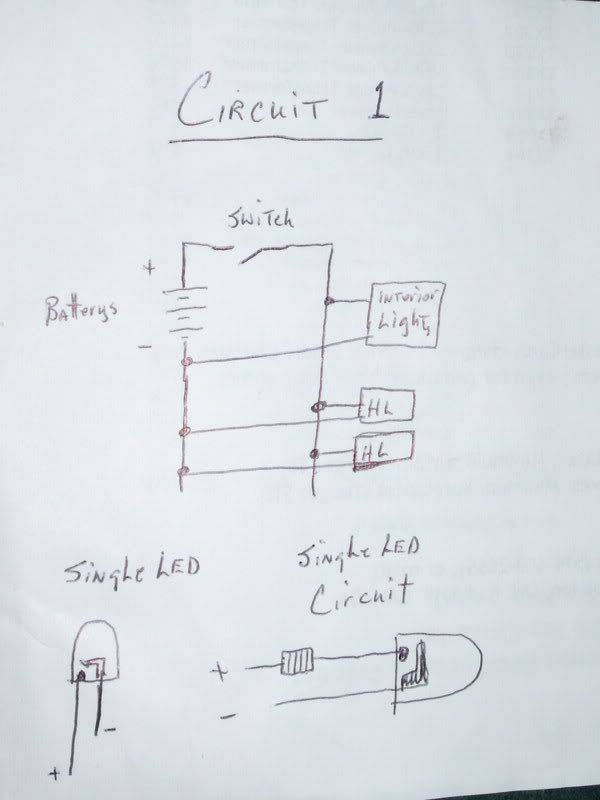 It gives the basic outline for the circuit involved. Switch batteries, and lighting. I drew out a fairly standard LED. To power a resister must be in series with the LED if your voltage source is more than the LED can handle. (It does not matter whether it is on the positive or negative lead). A quick note of resistors: think of a water hose, if you restrict the water flow (adjust the tap or pinch the hose) less water flows. A resister acts much the same on current, the larger (value) the resister the less current will flow.
You could put a LED across an 'AAA' or even a 'D' battery with almost no worries without a resister. These batteries usually supply 1.5 volts which the LED can dissipate with ease. Most LEDs can handle voltage up to 2.5 volts some can handle more some less please check specs if worried.
Sample specs: average orange/red/yellow LED will require 1.3 - 2.5 Volts (V) and will use 20 - 35 milli-Amps (mA) of current. Greens are in the neighborhood of 2.5 V and 30 mA. Blues are hogs 3 - 3.9 V at 25-35 mA.
I'm powering the circuit with a 12 volt source (4 coin cell batteries) a resistor will be required to be in circuit with a LED string, but more LEDs on one circuit would be safe if I had 4 or more in the circuit. In this case the most I have is two, so resisters will also be needed.
The resistor I have chosen is a 1K0 1/4 watt resistor (1000 ohm 0.25 watt resister), the colour code for this resister is brown black red (there will be a metallic colour after these three on most standard resistors it will be gold or silver. it just represents +/- 5 to 10% error of the printed value). Experiment with other values to determine the brightness that you want.
Back to the fun:
The main components: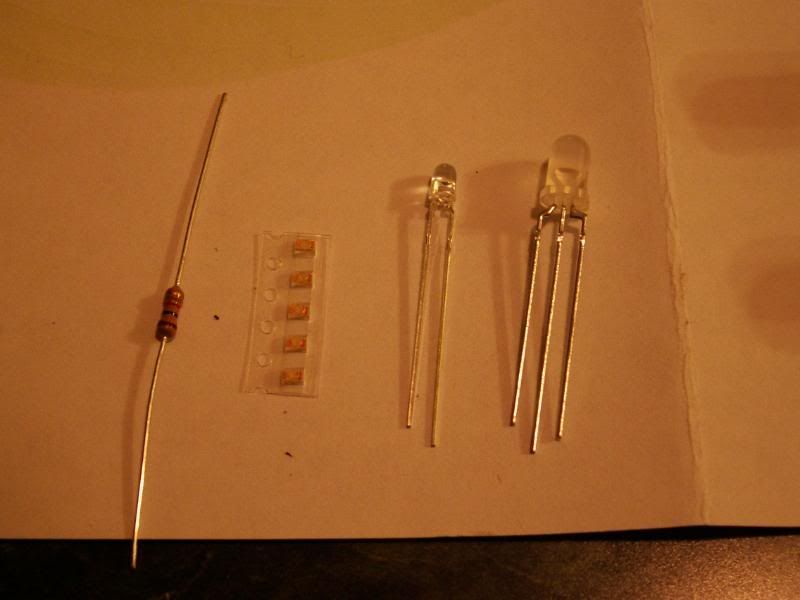 Resister, 5 pack of surface mount LEDs, 3mm LED, 5MM bipolar LED (sub in a regular 5mm LED and wire same as 3mm. the bi-polar is a LED that emits two different colours depending on which side is activated. in the case it is a red/green.)
The before shot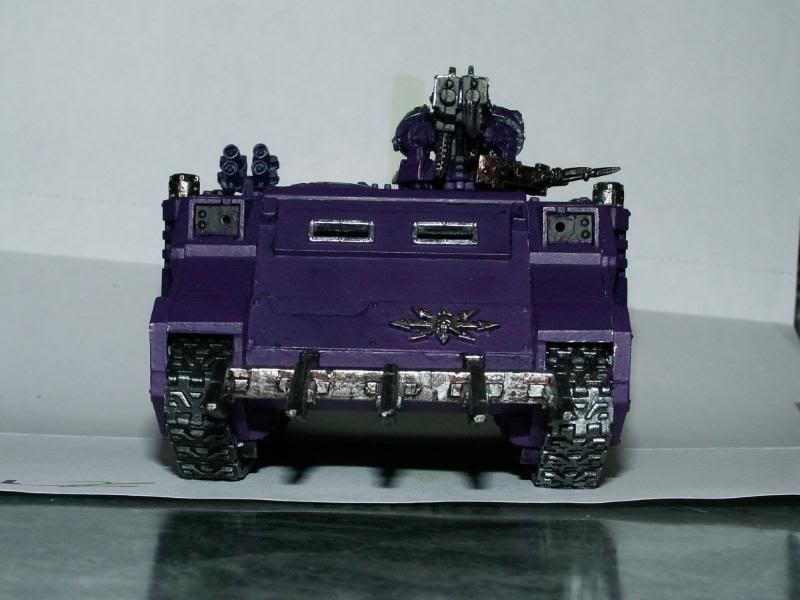 I've left the Lid loose as I wanted to mess with the tank.
The inside of the rhino's passenger compartment was painted black as well as the 'roof' area. (Unfortunately I glued the top hatch). drop the top of the rhino back on for a moment and take a smallish screwdriver, score the 'roof' on either side of the interior to show where the top of the walls meet the 'roof' (I intend to use surface mount LEDs that I wanted ceiling mounted)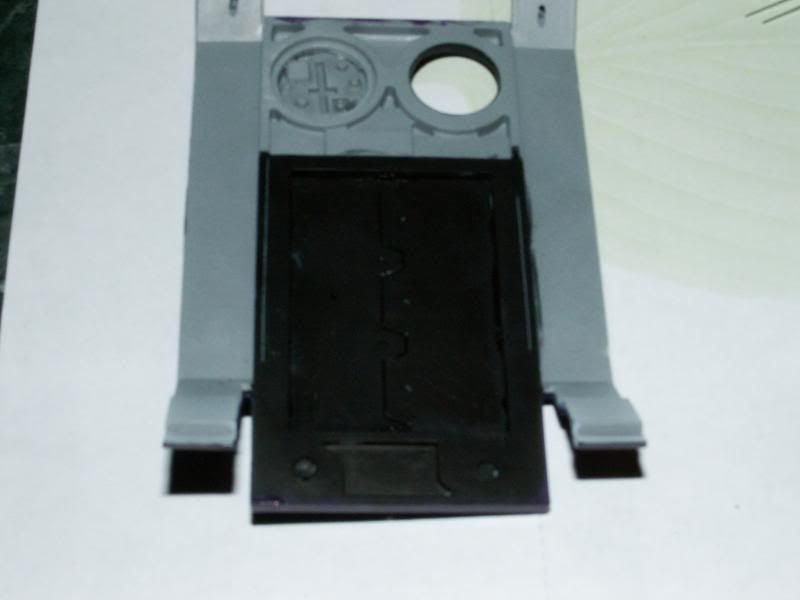 Sorry of the quality of this picture but you can just make out the score marks.
If it isn't too late and you have not mounted your headlight assembly, you can take out the sculpted light with your hobby knife. If it's mounted all is not lost, take your hobby knife and make a divot with the tip in the center.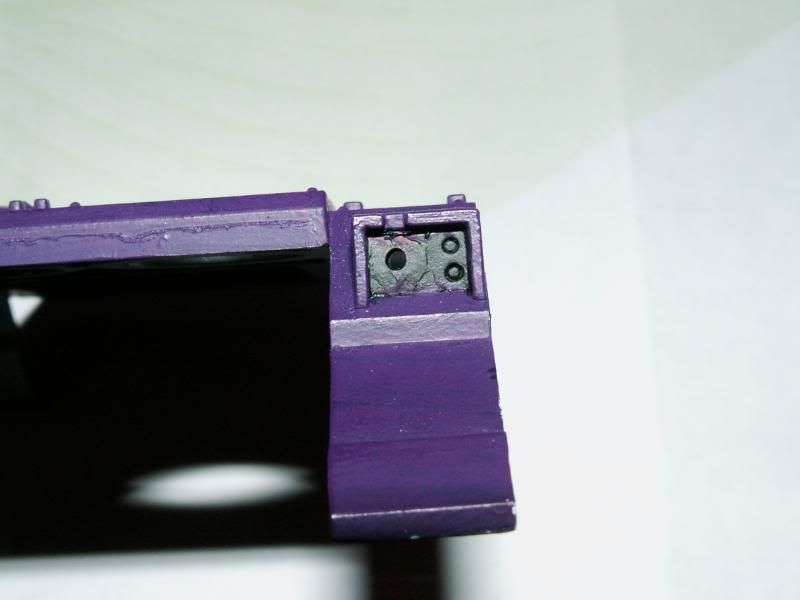 Start small work out to 3 mm.
Note: the right one got a little mangled as I was not paying attention, TV is a distraction....... <_<
A little green stuff and some black paint and all will be well.
Repaint the interior of the holes black as to hide the plastic.
Next I subset the ceiling lighting: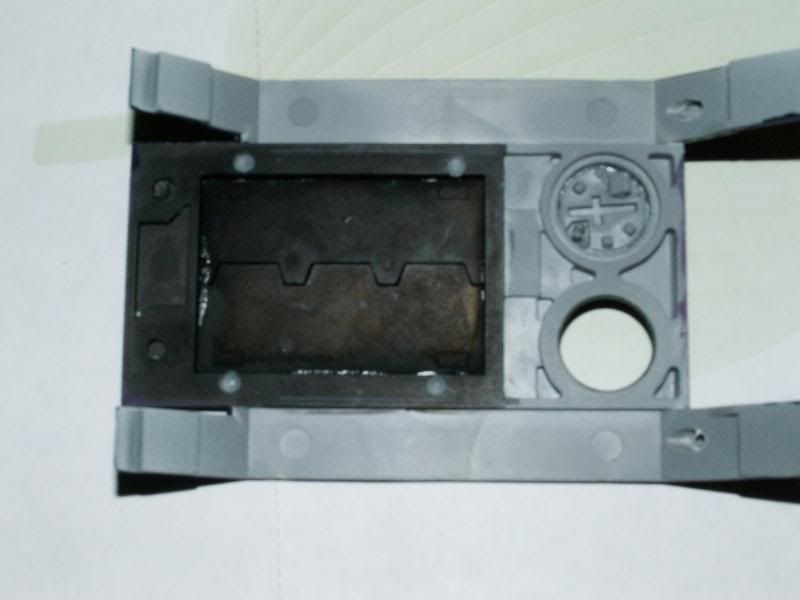 Then I cut out channels for the wires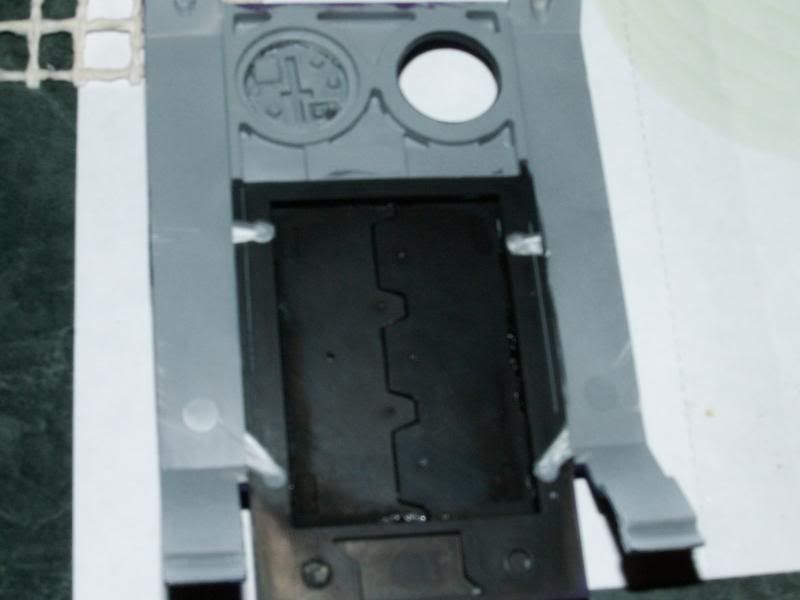 I intend to glue the wires to the top of the rhino and have them drop down into the driver's compartment. For sanity's sake get larger surface mount if it is your first time soldering these things.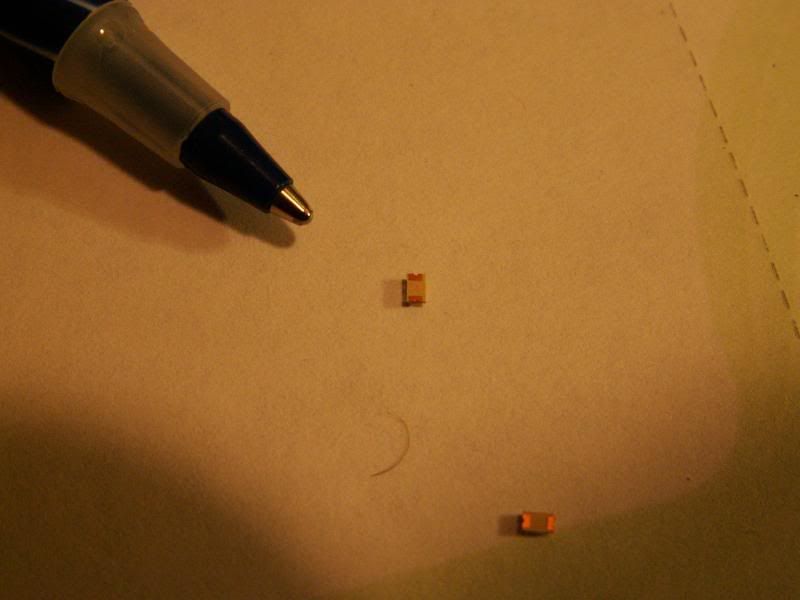 After getting the wires on them I am relieved, slightly warmed fingers holding wires.... (The splotches on the paper are flux residue. flux is maybe the only reason the wire finally stuck to the LEDs. Side Note: surface mounts are polarized as well. Refer to data sheet for proper polarity, or have an 'AA' for a quick reminder which is which.)
Got to paint this but it is not going to be in the way before finishing the lighting project.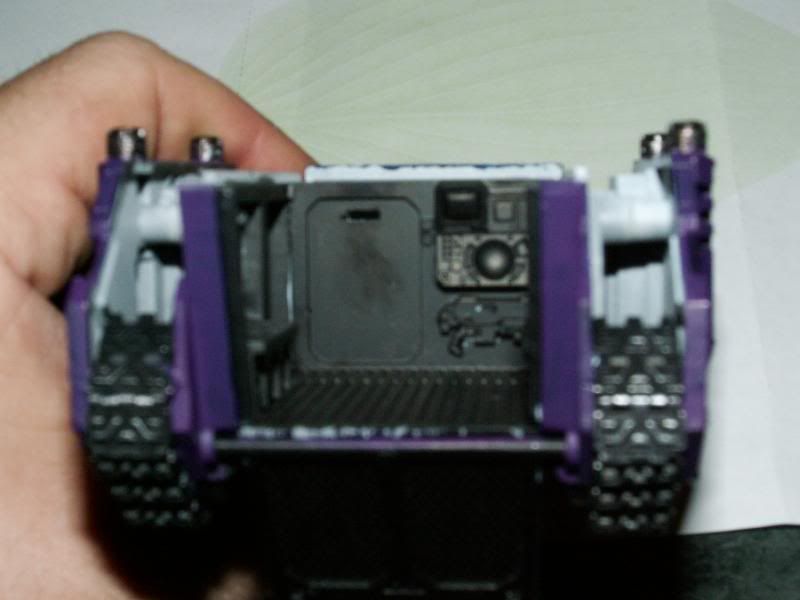 The mad scientists mess. Make sure that you clean up before the wife gets home.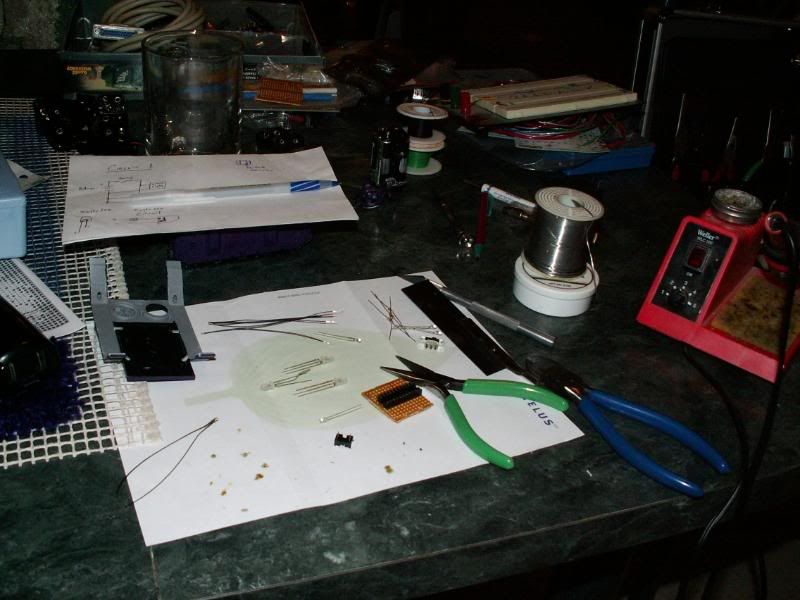 First of all I was embarrassed to have something I'm going to show off unpainted so I painted the interior. The plate with the emanating face covers a mistake/modification I had to do
(they happen)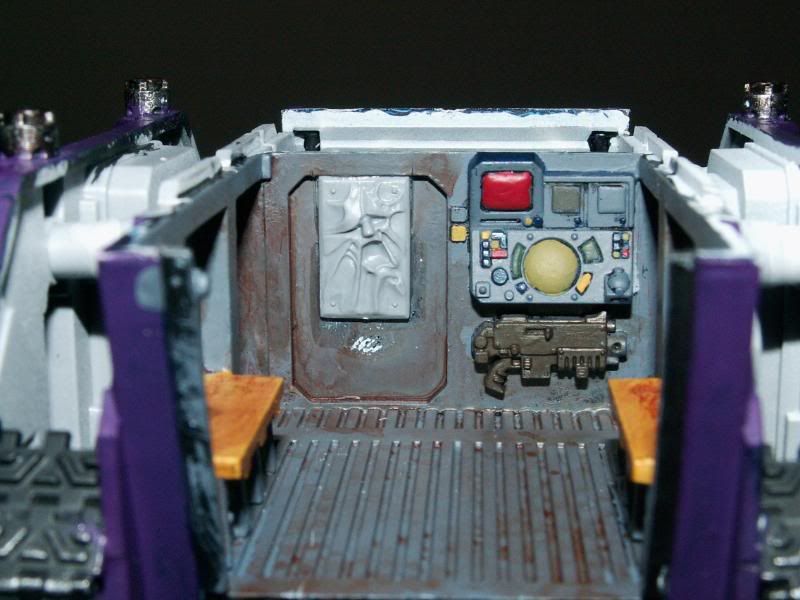 All of the LED work is on the lid of the rhino kit.
I took a standard small slide switch (on/on) and figured the best way to mount it would be under the removable pintle mount gunner.
I did an oops here as the way I mounted it covered up the interior view port and may have covered up one of the front ones (I lucked out. Note this is why I had to go to one LED.) I used nylon standoffs cutting into it a third of the way up and about halfway in.
Top view
Then I installed the LEDs (headlights and interior lighting)
I then mounted the coin cell holders.
And ran the power up to reach the top
Started working on the 'meat' of the project.
The big red LED I pulled from my electronic bits box, I pulled it from a circuit some time ago...
I tied all the negative poles together I used a silver wire to keep my negative side of the circuit marked.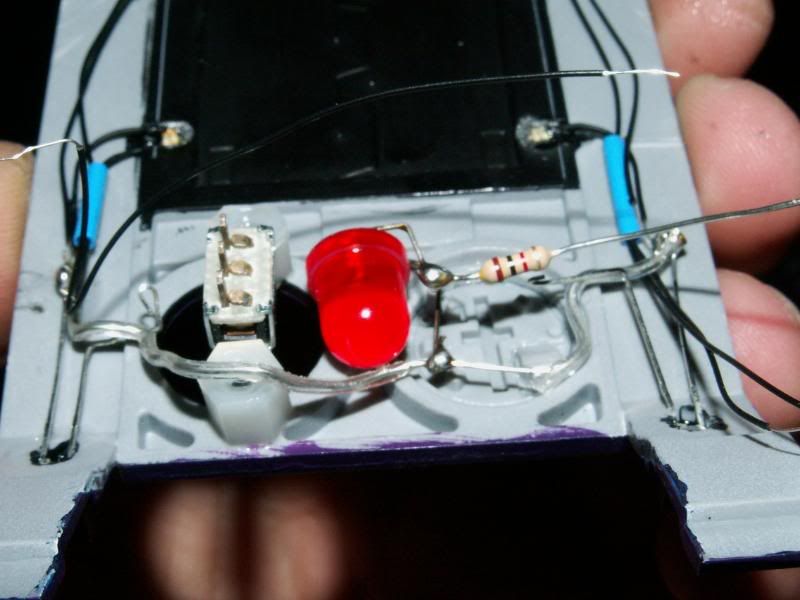 Looks like a total mess but it is a totally sound free form circuit, nothing touches. The resistors are the positive pole I took a few shots from different angles to give you a better view. The resisters are crimped off before soldering. This gives them a mechanical as well as an electrical connection.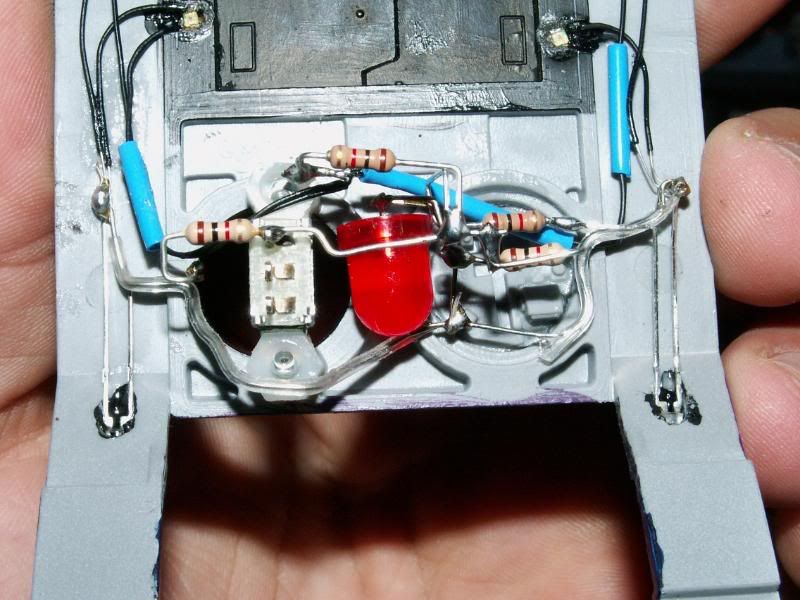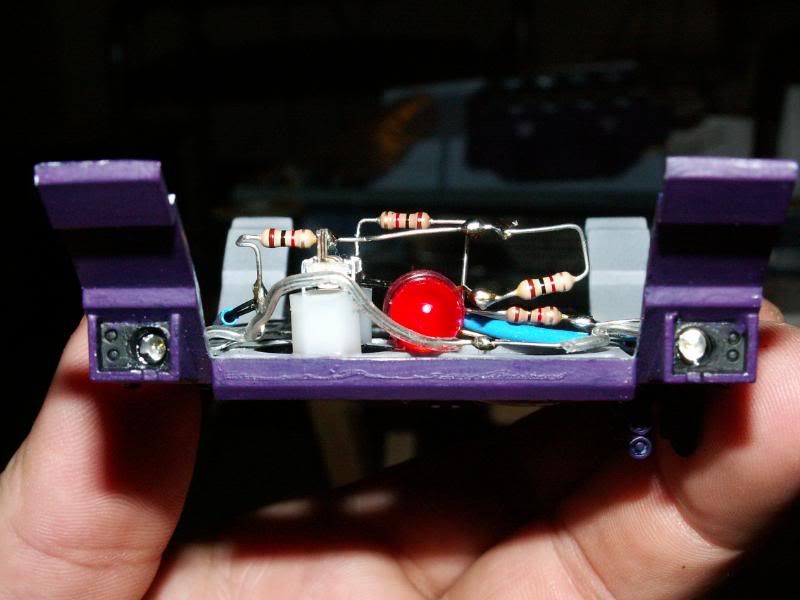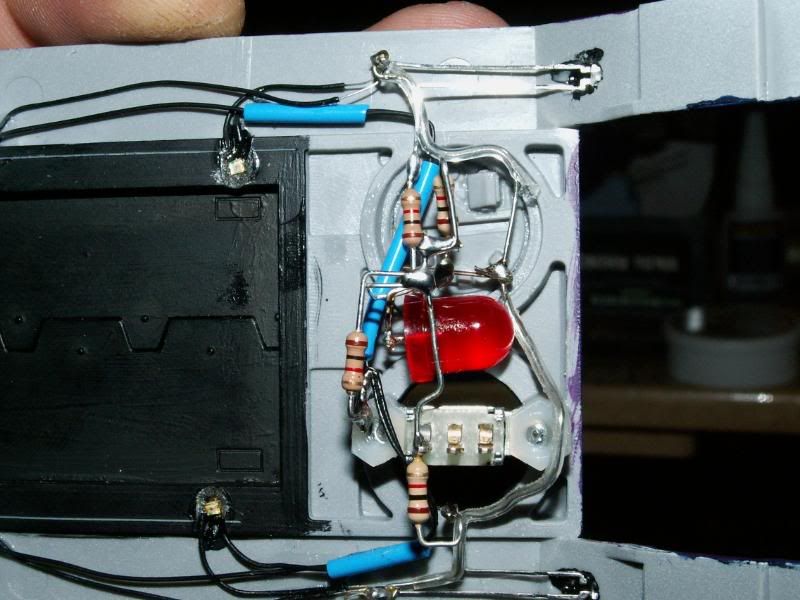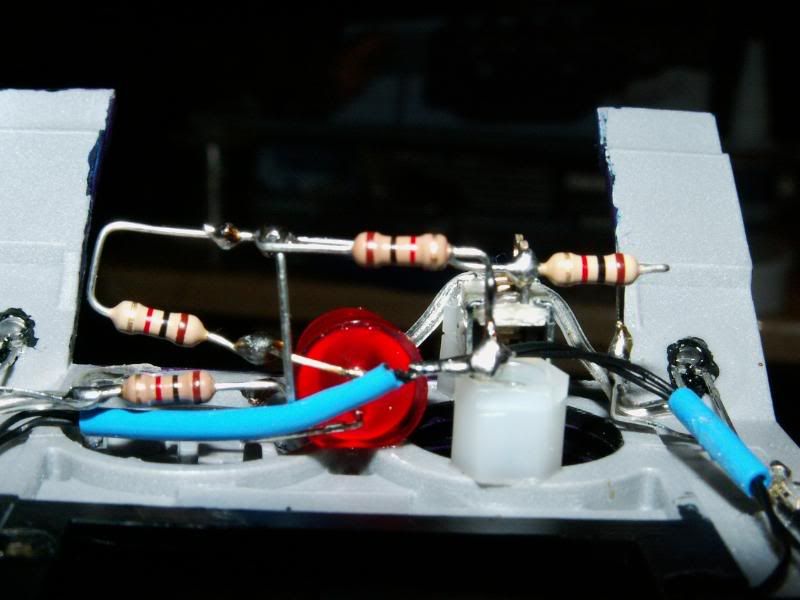 Attach the battery ground to the ground wire/bus and the battery positive to the center switch position and the circuit is complete.
And now all you have been waiting for..... Lights!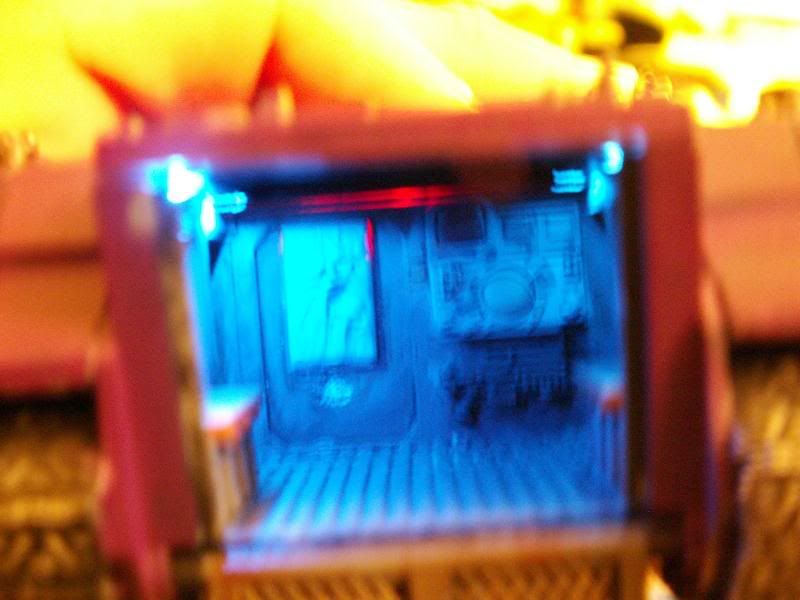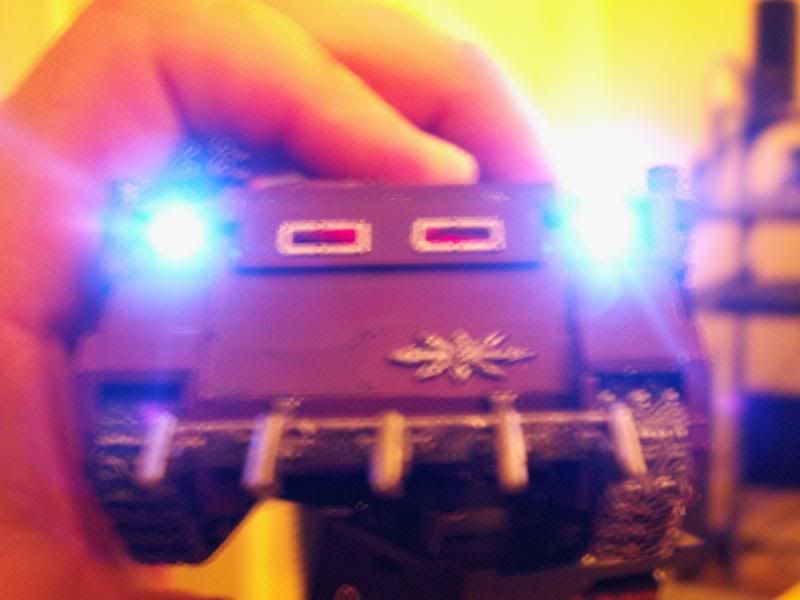 And at an angle so the blues don't flood out the camera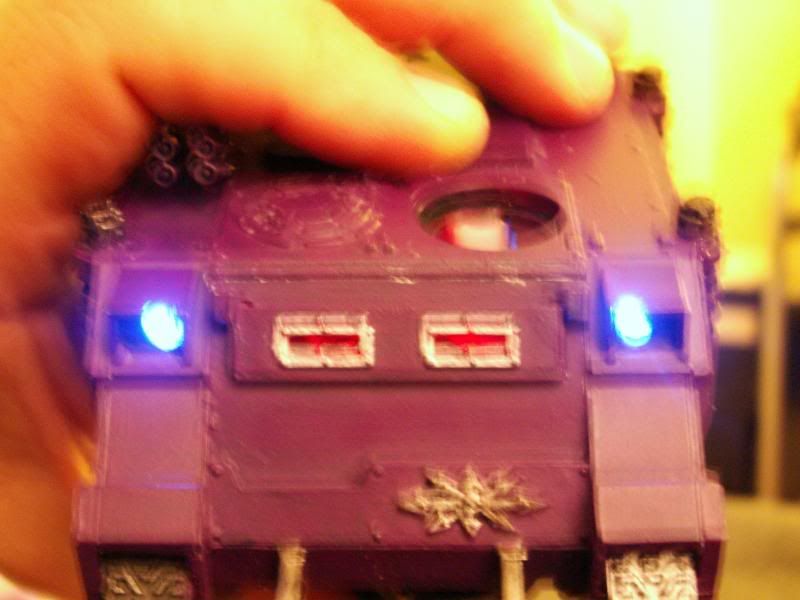 This was a fun project, although trying at times as the surface mounts were a pain to solder (I destroyed one just trying to solder it.)
I like the result and will proudly light it up at tourneys for the army display. (After I paint the plate covering the hole I had to make to allow the switch mount to settle in place)
Hope this helps everyone out. If you have a question I'll try to help the best I can.
---
-Chris
I've tied more than i've won and still had fun every time I've lost

Chaos Undivided
Daemons
Red Scorpions
---
I love this stuff!
---
That is AWESOME!
I would love to do this but I don't have access to half the stuff you used
---
thats so awsome. id love to do that to mine but im electricly retarded
---
That is amazing! I've actually got some LED'slying around. I might give that a go.
---
This thread is going to be a huge help, I am getting ready to add LEDs to a customer rhino I am making right. BTW yours looks great.
---
now, im curious, would two red LED's in the top cab (above the rear door) work as well as your surface mounted micro's? i've never had to play with those and being my dad is an electrician and myself being in the army playing with electrical equipment, i have a good handle on them but i dont know too much how much output it would need to lightly "flood" the area
---
Member
Join Date: Jan 2009
Location: Edmonton, Alberta
Posts: 96
Reputation: 1

---
sorry folks, been ages but will pop back again....

@Sloan, just sent you back a pm hope it helps

@Otep, i had to drill in to the underside of the rhino top to make it seem more like pot lights (just a couple mm roughly the thickness of the LED). a regular LED will take room and may seem odd. blue tac one to where you think they will go and you'll get a better idea on looks.

As i mentioned to Sloan in the PM, all the LEDs were superbrights, they suck down a lot of current. i used to use 4 smaller coin cells for power (the coin holders were for thicker cells) but the circuit will chew through them in about 45 min or so.... thinking of switching to three cr 2477 (1Ahr) coin cells, but will pretty much have to cut away the bottom of the crew compartment and make some sort of hatch or keep the cells from dropping out... it will be a chore (taping three together and stuffing them in, might have some velcro tape around here....)

quick note on brightness: the resistors used were 1K ohms, you could got to as low as 470 ohms per LED (or series of LEDs) but they will chew through your batteries that much quicker :D
---
-Chris
I've tied more than i've won and still had fun every time I've lost

Chaos Undivided
Daemons
Red Scorpions
---
Last edited by ChrisW; 02-21-11 at

05:49 AM

.
Lower Navigation
LED Rhino