---
thinking of cutting out the Spawn and finding more room to fit a soul grinder in with the anti air missiles he can take
---
if you want anti air in a nutshell, take the hellblade. or better, take two...
---
The Legion of Perfects Project
Quote:
The calls of Slaneesh stir so deeply within me, as if I was birthed from the very essence of it. For my ambition to infinitely ascend above all is never ending, like fire within it burns me to ever cindering ash. Lord of light and ascension is who I am, realities burn to ash at my very passing. My luminescence is unparalleled for I am luminosity itself, all light is but a shadow of my silhouette
---
Quote:
if you want anti air in a nutshell, take the hellblade. or better, take two...
Hellblade?
---
Imperial Armour (Forgeworld) flyer.
Basically you have a Hell Blade what is a 10-10-10-2 flyer costing the same as a helbrute and comes with 2 rending twin linked autocannon with 3 shots each. Oh and it teleports... AND it can also select a target at the start of the game (even one not currently on the board) and can then reroll any to Wound or Pen rolls of 1.
http://www.forgeworld.co.uk/Warhamme...S-FIGHTER.html
The other was a Hell Talon what was the much more expensive bomber version.
http://www.forgeworld.co.uk/Warhamme...ER-BOMBER.html
---
im interested but that means that model is $110 canadain then I have to buy the $50 book as well. I hate Forge world prices lol
Critique for da CriticGod
Join Date: Aug 2010
Location: Philadelphia, PA USA
Posts: 3,351
Reputation: 43

---
Yeah, there's a pretty slick conversion method out there. Here's an example, not my work. More photos if you follow the
image link
.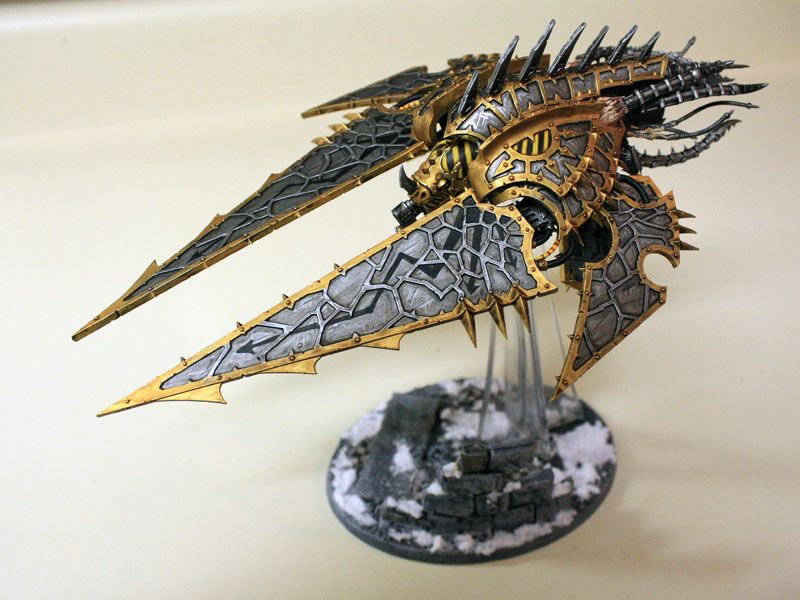 ---
Quote:
I was unable to cast shrouding on himself so that was basically his downfall, 24 twin linked S6 shots killed him pretty good (2 Flyrants shooting at him)
Yeah, that's still probably going to put a good number of wounds on him, but he doesn't have to cast Shrouding on himself--he already has Shrouded, so can jink for a 2+ cover save. Shrouding helps other units around him, that's all, in his case. Still, I've failed 5 2+ cover saves vs 2 Flyrants shooting with him before, so I know that feeling--I think the key is hiding him out of sight the first turn, if possible...
Quote:
no point in making my thisters fly and only get D3 shots with the one, and 1 shot with the other.
Well, ideally you get D3 AP2 Vector Strike hits first, and then another 1 or D3 lash hits. Still nowhere near a Flyrant in terms of shooting, agreed, for a model with same T, same armor, and only 1 more wound.
---
CSM Plog
,
Tactica
What sphinx of plascrete and adamantium bashed open their skulls and ate up their brains and imagination? Imperator! Imperator!
---
Last edited by Mossy Toes; 04-07-15 at

04:20 AM

.
Lower Navigation
Khorne Daemonkin 1850