Bookage! Show us your BL collection!
---
how does this work? post up pics of your BL collection! this is mine, not huge yet, but not bad for a collection i started in 2009! well except for the first 3 Ragnar novels, i got them in 2008. but all the rest is this year. and yes, i know i have some double ups with owning omnibus' and the original novels but i lilke to collect. all books are professionally contacted so they last and i only buy new, mint or once read. cant get enough BL at the moment!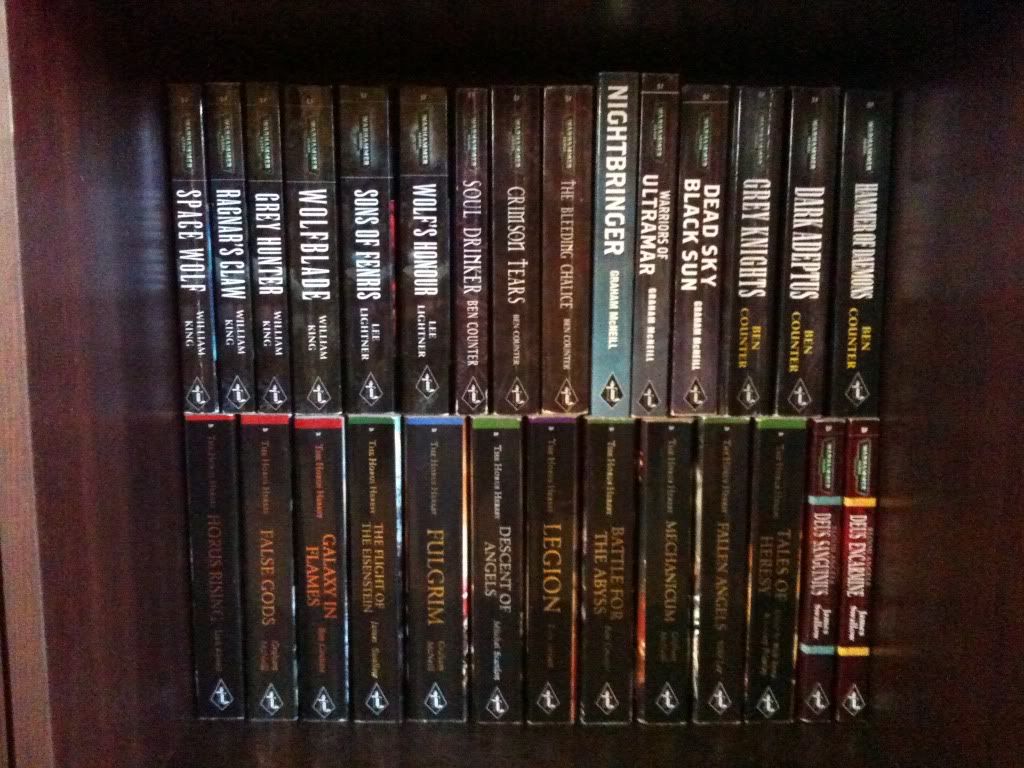 ---
---
I have no pictures of my collection however I will tell you what I have-
-Ultramarines Omnibus
-All of the Horus Heresy novels thus far.
-Two Gaunt's Ghosts Omnibus's and the rest of the novels till Only In Death (Hardback) and am now awaiting to get hold of Blood Pact.
-All of the Soul Drinker Novels.
-All of the Space Wolves Novels in two Omnibus's.
-All of the Imperial Guard Novels, bar Gundogs.
-Emperor's Mercy.
-Heroes of the Space Marines.
-The two Rogue Trader Novels.
-The Blood Ravens Omnibus.
-All the Blood Angels Novels.
-The two Deathwatch Novels by C.S.Goto.
-Ravenor Rogue.
-Visions Of Heresy.
-Storm of Iron.
Thats all I can remember at the moment sadly, due to most of my novels currently being in storage, shall update if I remember anymore.
---
Nyctophobia- Fear of the Dark Angel.

"No one ever spoke about of those two absent brothers. Their separate tragedies had seemed like aberrations. Had they, in fact, been warnings that no one had heeded?"

'Killing a man is like fucking, boy, only instead of giving life you take it. You experience the ecstasy of penetration as your warhead enters the enemy's belly and the shaft follows. You see the whites of his eyes roll inside the sockets of his helmet. You feel his knees give way beneath him and the weight of his faltering flesh draw down the point of your spear. Are you picturing this?'
'Yes, lord.'
'Is your dick hard yet?'
'No, lord.'
''What? You've got your spear in a man's guts and your dog isn't stiff? What are you, a woman?'
---
I dont own to many also dont have any photos.
I own:
- All the HH books
- All Cain Books
- Grey Knight omnibus
-Soul Drinkers omnibus
-Storm of Iron
-Lord of the Night
-Eye of Terror
-Ravenor Omnibus
-Eisenhour Omnibus
-Visions of Heresy
-Liber Chaotica
---
heres my small but growing collection
---
my favourite so far have been the ultramarine omnibus + the next 2
and the first three hh omg!!!!!!!!!!!!!!!!!!!!!!!!!!
---
No pictures but heres what ive got.

Ultramarines Omnibus
Grey Knights Omnibus
Space Wolves 1st Omnibus
Ciaphas Cain Omnibus
Eisenhorn Omnibus
Ravenor Omnibus
Blood Angels Omnibus
Warrior Brood
Warrior Coven
Dark Apostle
Dark Disciple
Daemon World
Fulgrim
Lord of the Night

Gonna get some more soon. Planning to get the rest of the Cain series, Helsreach, Soul Hunter, Rynn's World and some more HH series, definitely Prospero Burns and A Thousand Sons. Got 20£ to spend assuming I dont get anymore, in which case im buying Final Fantasy XIII, but if I dont im buying some more BL literature.
---
https://www.heresy-online.net/forums/...red-souls.html
- The Kabal of Shattered Souls Project Log
http://www.talkwargaming.com/search/...Book%20Reviews
- Check out Talk Wargaming for reviews by Lord of the Night.
---
I started to collect BL books only a month ago therefore, I have very few books.

The Ultramarines Omnibus
Brothers of Snake
The Flight of Eisenstein
Fulgrim
Descent of Angels
Legion
Fallen Angels
---
There is only the Emperor!
---
Warhammer

Malus Darkblade Vol.1
Knight of the Realm
Reiksguard
Gotrek & Felix Omnibus 1,2, & 3
Elfslayer
Vampire Wars Omnibus
Witch Hunter Omnibus
Ancient Blood
Blackhearts Omnibus
Genieve Omnibus
Knights Errant
Liber Chaotica
Guardians of the Forest
The Ambassador Chronicles
Savage City
Time of Legends

Heldenhammer
Empire
Nagash the Sorcerer
Malekith

Warhammer 40,000

Blood Angels Omnibus
Red Fury
Ciaphas Cain: Hero of the Imperium
Duty Calls
Death and Glory
Cain's Last Stand
The Founding Omnibus
The Saint Omnibus
Traitor General
The Armour of Contempt
Only in Death
Blood Pact
Hammer of Daemons
Imperial Guard Omnibus Vol.1
Cadian Blood
Gunheads
Eisenhorn Omnibus
Ravenor
Ravenor Returns
Ravenor Rogue
Scourge the Heretic
Innocence Proves Nothing
Brothers of the Snake
Heroes of the Space Marines
All the Space Wolf novels
Salamander
The Soul Drinkers Omnibus
Chapter War
Hell Forged
Nightbringer
Warriors of Ultramar
Dead Sky, Black Sun
Killing Ground
Storm of Iron
Dark Apostle
Dark Disciple
Angels of Darkness
Daemon World
Emperor's Mercy
Lord of the Night
Inquisition War
Deathwing
Dark Imperium
Planet Killer
Faith and Fire
Grey Knights
Dark Adeptus

Horus Heresy

All of the Books


There's alot missing from here but I can't remember all the books, the ones in blue are the books I've lent from the library but don't own.
---
Last edited by Baron Spikey; 12-22-09 at

04:42 PM

.
---
Lacking my camera atm, and they're all just kinda in random spots anyway, no bookshelf, here is my list!

Warhammer

Oathbreaker - Been really looking forward to reading this, got it for christmas so will probably start reading soon.

Warhammer 40k

Faith & Fire - Probably my favorite overall so far.
Relentless - Surprisingly my second favorite. Would love to read a sequel.
Angels of Darkness - Pretty good read, favorite space marine book so far.

Haven't read these yet, more christmas gifts.
The Soul Drinkers Omnibus - Sounds pretty interesting.
The Blood Angels Omnibus - Probably will be the last one I read, but still looking forward to it.
Eisenhorn - Collection(Xenos, Malleus, Hereticus) Looking forward to this one more than most, will probably read after Oathbreaker.

Horus Heresy

Horus Rising - First 40k book I ever read, was a little slow at first IMO but the last half of the book was fantastic.
False Gods - Just Finished, not terrible but not my favorite so far.
Tales of Heresy - Another Gift, have a lot of others to acquire first.
---
i wish i had a working camera...oh well
Gaunts Ghosts:
all, hardcover, including the new Blood Pact
gosh...Everything out since...oh...2001? i guess? too much to name individually...and my memory sucks...yeah, thats about right.
including all currently OOP stuff. mmm...i work in a library so finding the stuff isn't that hard. you just need to know who to ask.
CP
---
Warhammer:
Two gotrek and felix omnis then the following novels
all Malus Darkblade omni and books
Blackhearts
the vampirewars omni
the adventures of florin and lorenzo
heldenhammer

Warhammer 40k:
all the ghost novels except blood pact
the space wolves omni and books
soul drinkers omni and novels
blood angles omni and blood fury
blood ravens omni
ultramarines omni and two novels
gray knights books
cain omni
let the galaxy burn
storm of iron
titanicus
salamanders
empeors mercy
dark apostle
brother of the snake
imperial guard omni
eisenhorn omni
ravenor omni
last chancer omni

all the heresy books

I think thats it
Lower Navigation
Bookage! Show us your BL collection!