Vaults of Terra: The Carrion Throne (Limited Edition)
---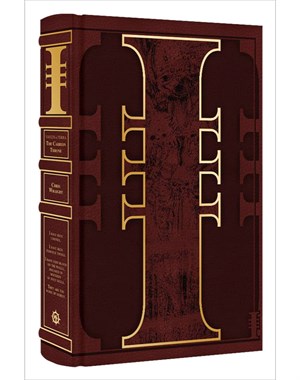 >>>
Black Library - Vaults of Terra: The Carrion Throne LTD
<<<
Inquisitor Crowl, who serves on Holy Terra itself, follows the trail of a conspiracy that leads him to the corridors of the Imperial Palace itself…
READ IT BECAUSE
It's a novel that gets into the seedy underbelly of the Throneworld, Terra itself, at the end of the 41st millennium!
THE STORY
In the hellish sprawl of Imperial Terra, Ordo Hereticus Inquisitor Erasmus Crowl serves as a stalwart and vigilant protector, for even the Throneworld is not immune to the predations of its enemies. In the course of his Emperor-sworn duty, Crowl becomes embroiled in a dark conspiracy, one that leads all the way to the halls of the Imperial Palace. As he plunges deeper into the shadowy underbelly of the many palace districts, his investigation attracts the attention of hidden forces, and soon he and his acolyte Spinoza are being hunted – by heretics, xenos, servants of the Dark Powers, or perhaps even rival elements of the Inquisition itself. Soon they discover a terrible truth, one that if allowed to get out could undermine the very fabric of the Imperium itself.
Written by Chris Wraight.
-----------------------------------
Pre-order is available and I will surely get mine.
---
Last edited by Entarion; 05-22-17 at

03:40 PM

.
---
Ordered that sucker up straight away. Noticed they have put up pictures with releasing the pre orders which is great. It felt completely wrong buying without even a photo of the book.
Jain Zar has my attention too.... I'm leaving it for now. It's that or Perturabo. Primarchs are very short and Gulliman was crap so the eldar have me so far. Toss up!
Senior Moderator
Join Date: Apr 2008
Location: New Jersey, little ways out of NYC
Posts: 6,993
Reputation: 25

---
Can't even remember the last time I was excited for a new book, to bad I'll have to wait a bit longer for the non limited edition version.
---
Damnation is paved on good intentions; subtle and sugar coated or blunt and honest
A hero is someone who steps up when everyone else backs down.
Popularity is what people strive for when they lack the strength to be themselves.
Seriously, is it really
that
hard to write reviews without spoilers?
Reporting Posts - read this
---
Regarding the Primarchs series..I was thinking about starting my collection for about two weeks, now. I have actually never bought any limited book from BL before.

And when I start collecting something I intend to finish it. And yesterday I completely lost it. I pre-ordered Perturabo and bought Magnus for double price on Ebay. Now I need to get Guilliman and Russ. There's no way back for me now...
Senior Member
Join Date: Apr 2011
Location: Denmark
Posts: 2,003
Reputation: 13

---
Finished it, very atmospheric. Terra in 40k is a frightening place. As for the plot itself, its ultimately related to a certain lorebit as I suspected it was. Though it feels like the author ran out of pages and had to wrap it up.
---
I opened the LE last week and it looked like below. I actually think it is even a bit worse now. Spine and back looks fine. Should I ask for change ? I have it wrapped in original paper. Opened it only once. I am worried it might get worse.
Senior Member
Join Date: Apr 2011
Location: Denmark
Posts: 2,003
Reputation: 13

---
Use
[email protected]
Black library has always been super helpful to me about replacements and stuff. mail them all your info and shots.
---
I've had this happen to Dante, Warlord and Carrion Throne. Not straight away it's worn badly while I've been reading them. Each time I've sent off an email and been supplied with a new copy, well I'm waiting on the new carrion copy but it's been promised. So now I have a reading copy and a pristine shelf copy!
It's pretty poor though. They are expensive books. If they weren't so pretty I would have given up on them at the first one.
I'm also assuming this is a recognised problem and they are sorting it out behind the scenes, so while they continue to replace the faulty copies I'm not going to complain.
So yes I would send off an email pronto
---
So I contacted them but they told me none is left. So I choose to take Warlord LE as a replacement. But they managed to find one last for me! So I am fine but I hope they sort this out soon. Horusian Wars LE has a lot of gold on it. I don't want to ask for replacement again.
---
woah, some have had some rotten luck with these LEs!
Do think they should look at putting some kind of protective layer/varnish over the gold leaf parts
Lower Navigation
Vaults of Terra: The Carrion Throne (Limited Edition)