---
Quote:
Originally Posted by
Lord of the Night
View Post
We do NOT needs another reprint of Gaunt's Ghosts.
I would buy a hardback re-release in this limited edition format without a seconds doubt. And I already own the originals, the omnibus versions and the new re-prints. Best series Black Library has published.
---
[Flerden] 9:05 pm: Why the hell can't he just go offline if he goes to watc tv?
[dark angel] 9:06 pm: It is Doelago, we will never know
---
Quote:
...... well, time to see if 'but limited edition hardbacks,' is a good excuse for canceling a date.
Sent from my SM-N910V using Tapatalk
I saw your post in the venting topic. It clearly wasn't a good excuse. Hahaha
---
Well mine arrived today. And what a clusterfuck. UPS left it outside my back door because I wasn't in, then it rained. Managed to remain ok inside, but either due to the packaging BL used and/or the handling of it by UPS, this is how by boxset has ended up.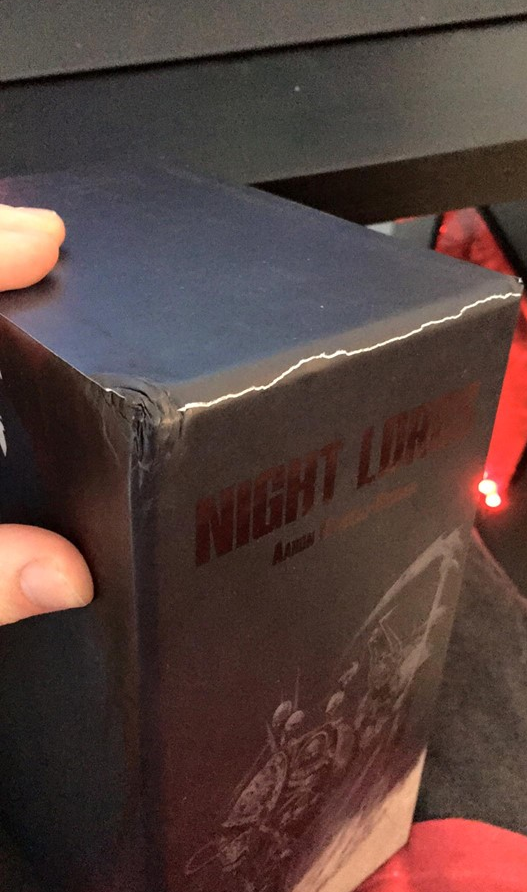 Can't say I'm too impressed. On to complaints now. BL have been pretty damn good with complaints in the past, so see how this goes.
---
Ooohhh I would be spittin teeth ragin if that happened!
Mine hasn't arrived yet and I got the email telling me it was dispatched on Thursday, not as keen on ups as I was with good old Royal Mail. I'm a farmer and so live on top of a mountain which these private delivery firms just hate and they let you know it! My friendly postman is great knows which shed to leave packages in and to blast the horn in the farm yard if he needs me!
---
I actually asked for Royal Mail, but UPS delivered it anyway. Same thing happened with my Eisenhorn set.
---
Mine came just minutes after I wrote the last note! Maybe they are listening....... Thankfully it didn't get wet as I spied his van and raced over in the tractor to get him! The books are however somewhere between slightly and badly dinged at the top of the spine. Pretty annoying. I don't think it's anything to do with the delivery guys I think they are badly packed in a box with no cushioning and far to tight. Mine wasn't one of the signed copies either gggrrrr.
---
Quote:
Originally Posted by
Angel of Blood
View Post
Some of them are signed?
Five copies were signed and randomly sent out from both the boxed sets.
---
[Flerden] 9:05 pm: Why the hell can't he just go offline if he goes to watc tv?
[dark angel] 9:06 pm: It is Doelago, we will never know
Lower Navigation
Limited Edition Night Lords Hardback