---
Okaaaaay. This is indeed a surprise. Which ones are anthologies?
Senior Member
Join Date: Apr 2011
Location: Denmark
Posts: 2,003
Reputation: 13

---
I know Eye of Terra is an anthology, cant speak for the others.
---
Hmmm. I reckon Silent War is gonna be an anthology of the Garro stuff.
Member
Join Date: Aug 2012
Posts: 74
Reputation: 1

---
One book a month pleases me greatly.

Knowing our luck, it will probably mean no more releases for the rest of the year though.
---
Can't wait!

I always like the anthologies so I'm looking forward to Eye of Terra this month!! Please give me some Alpha Legion, World Eaters and/or primarchs
---
Quote:
Originally Posted by
Angel of Blood
View Post
Hmmm. I reckon Silent War is gonna be an anthology of the Garro stuff.
From what i've read it's actually an anthology of new Silent War stuff, so stories about Malcador, Severian, the Knights Errant and perhaps even the other characters the silent war arc has introduced, like Nagasena or Khalid Hassan, maybe even Amendara Kendal.
What we know;
Eye of Terra: Nothing concrete, but the cover suggests this will be a Great Crusade-era antholgy, given that it depicts the Big E and Horus fighting the Orks at Ullanor.
The Path of Heaven: Return to the White Scars, the Legion makes its way towards Terra to join the Legions stationed there.
The Silent War: See above.
Angels of Caliban: Apparantly this will explain exactly why the Lion wasn't around in Pharos, and why he refuses to answer questions about what he's been doing in Imperium Secundus since he arrived. Confirmed characters include Astelan, Belath, Zahariel, Luther, the Lion, and Lord Cypher. Also the Dreadwing will appear for the first time.
LotN
---
https://www.heresy-online.net/forums/...red-souls.html
- The Kabal of Shattered Souls Project Log
http://www.talkwargaming.com/search/...Book%20Reviews
- Check out Talk Wargaming for reviews by Lord of the Night.
---
Last edited by Lord of the Night; 03-02-16 at

10:55 PM

.
---
I was expecting to see " Master of Mankind " on that list but I guess not yet? The only that really intrigues me is eye of Terra.
---
I've never heard of the Silent War. Can't find it on wiki, either. Any stories published yet?

Edit: Nevermind. I see it's an upcoming anthology.
---
Last edited by Vitarus; 03-04-16 at

02:28 AM

.
---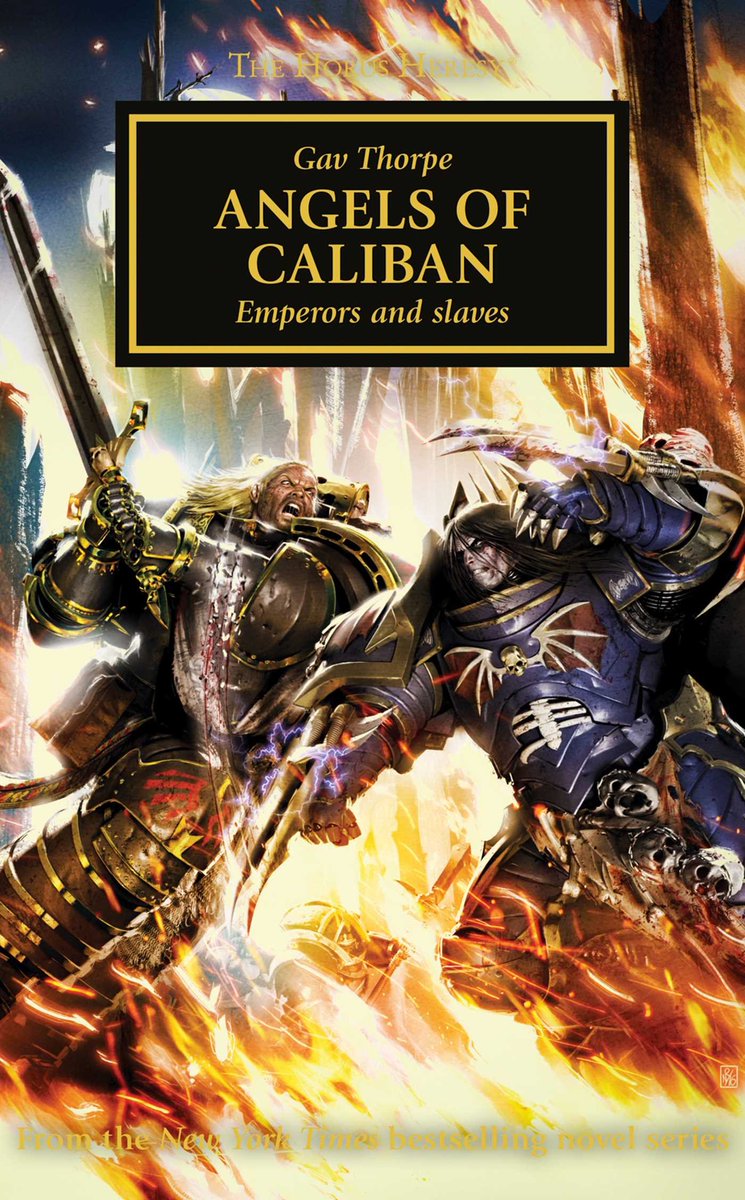 We have a proper fronct-cover with the sub-title for the novel
Angels of Caliban
.
Lower Navigation
Horus Heresy book teaser for the next 4 months