HH Novella reveal - Brotherhood of the Storm
---
Rather than having a limited run, as has been done before, instead it will be a week long limited run, where everyone who buys a copy is guaranteed to receive a copy. They also seem to have abandoned the idea of a silver or gold edition, with only gold editions being available.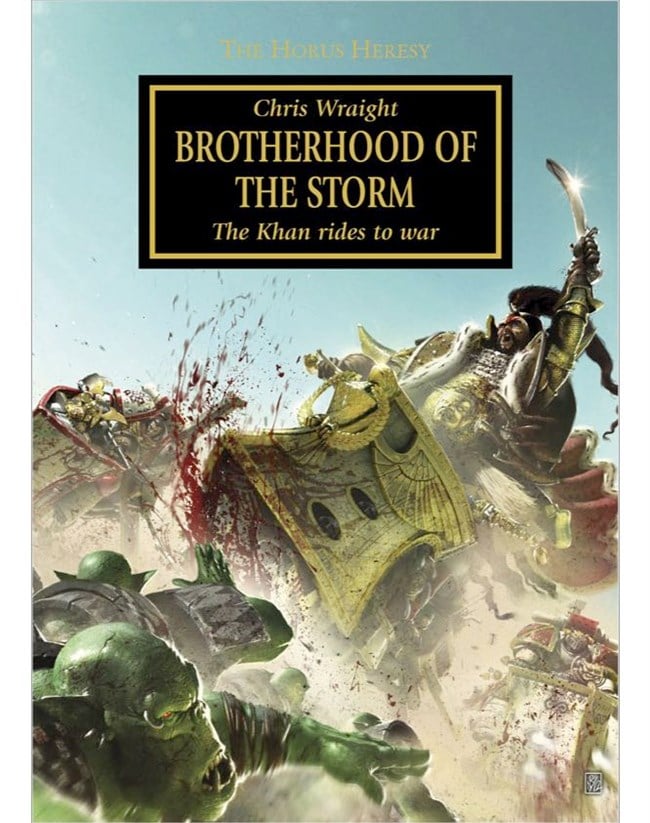 http://www.blacklibrary.com/horus-he...han-rides.html
---
Nice idea about having it running for a week, but... don't like the cover art, at all. Promethean Sun and Aurelian were much better, in my opinion.
---
I'm also not a fan of the cover art. Looking forward to the White Scars though.
An extract can be found here.
As expected, it is set (at least in-part) on Chondax, with the V Legion hunting down the remnants of the Ullanor Empire.
---
Quote:
I do love how we don't even need CotE to comment anymore, chances are he has already said something intelligent before that can be re-applied to the current situation.
Heresy's Background FAQ.
(Fluff Project)
CotE Reviews:
Prospero Burns
(HH Review),
Age of Darkness
(HH Review).
---
Last edited by Child-of-the-Emperor; 09-07-12 at

03:30 PM

.
Senior Member
Join Date: Sep 2008
Posts: 443
Reputation: 1

---
My reaction: Fuck Off BL.

I want ebooks - and I've been screwed out of the other limited HH books,and now they do a time limited one and STILL I don't get to read it. I read while I travel, i have a kindle as its easier by far. BL support ebooks and I buy lots from them, but they keep screwing me on stories I really wanted to read.
---
It only loses them money when we are 'forced' to look elsewhere for them. Hell they could probably ask for £15 for the ebook version and we would still pay for it. yldespite it being anthology short priced normally.
On second thoughts, release the previous LE version as an ebook upon release. Ive yet to 'locate' a copy of aurelian so am behind on that, and it is apparently a revelations book as opposed to Space Marine battles like Promethean.
100% free webcam site! | Awesome chicks and it is absolutely free! | Watch free live sex cam - easy as 1-2-3
---
Quote:
It's not a black and white question really, there are different shades of anal probing,
a rectum spectrum, if you will
---
Last edited by Vaz; 09-07-12 at

04:03 PM

.
---
Not a big fan of the cover art, but whatever. I will buy it, if for no other reason than that its Khan riding to war on a bloody jetbike.
---
[Flerden] 9:05 pm: Why the hell can't he just go offline if he goes to watc tv?
[dark angel] 9:06 pm: It is Doelago, we will never know
---
Agreed I also do not like the cover art that much, though the scene the cover is trying to depict does look epic! Can't wait to read it.
---
Can't wait to get it, wanna see how Chris Wraight can capture the Khan. And now that it will be up for a week no pressure on hoping im home that day.
---
I do not know with what weapons World War III will be fought, but World War IV will be fought with sticks and stones.-Albert Einstein
---
I'm probably being moronic, but is it actually being released as a normal, £10 book sometime in the future? Or do I have to preorder the £30 one in order to get it?
---
---
I REALLY want to pick this up, because I am really interested in the White Scars and up until this there has been jack in the way of HH info for them, but I am afraid that $50 plus shipping is out of the question for a less than full length book. It's just silly that they cost so much.

As far as the cover art goes, not the best they've ever done, but still very cool.
---
The Website kept telling me that my profile was only 80% complete without creating a signature. Ain't no website going to tell me I was a lazy shit, no sir.
Lower Navigation
HH Novella reveal - Brotherhood of the Storm