Member
Join Date: Jan 2011
Posts: 80
Reputation: 2

Lupe reviews Void Stalker by Aaron Dembski-Bowden [Replies contain tagged Spoilers]
---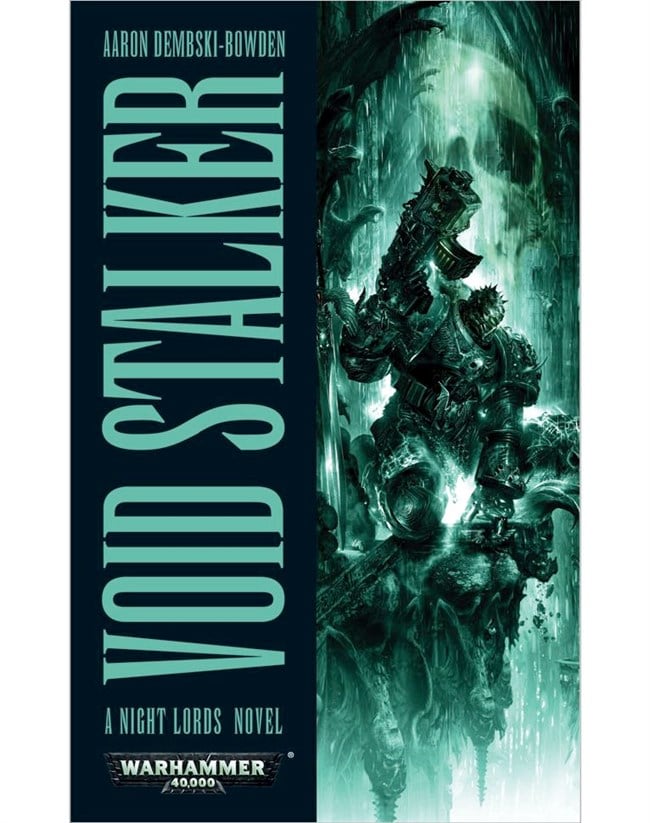 So… How are you?
For those of you even remotely familiar with Aaron Dembski-Bowden's work, Void Stalker should need no introduction.
For the remaining few of you who have spent the last couple of years cut-off from the rest of the world, let's just say that Void Stalker is the final installment in the Night Lords 10th Company saga. Let's also add, for the benefit of the latter, uninformed minority that this might actually be the most anticipated book in Black Library's history. Does it live up to the hype? Does it manage to live up to the absurdly steep expectations set by Aaron's previous works?
DESPITE MY BEST EFFORTS, THERE IS A POSSIBILITY THAT INFORMATION CONTAINED BELOW MIGHT BE CONSIDERED SPOILERS. PROCEED AT YOUR OWN RISK
The term that could best define the plot is a homecoming – 10th Company's return to the legendary Legion stronghold, Tsagualsa, following the events of Blood Reaver. Upon returning, First Claw are confronted by memories of the fall of Tsagualsa, under the combined might of the Ultramarine successors, in the years following the Night Haunter's demise. As is befitting of the 41st millennium, a homecoming is not cause for celebration, but for conflict, strife and painful memories. To that end, Talos must face not only two powerful armies – the Craftworld Ulthwe and the Genesis chapter – but also the painful realizations that his body is failing him, and that his view of the 8th Legion is fundamentally flawed.
Under these premises, the stage is set for Aaron to once again demonstrate his penmanship skills, and live up to the build-up of momentum gathered over two books, two short stories and an audio book.
Now, the author has gone on record before, saying that his original intention for the trilogy was to have all the characters die by the end, but has since toned down his charactercidal tendencies slightly. Still, we were warned in advance to prepare for the prospect of some of our favorites not surviving the last book. I suppose I could tell you exactly who dies and how, and it still wouldn't spoil the book a great deal, because the real power of the book lies in the way the death scenes are written, the last words delivered, and the context in the greater plotline of the series. I'm not going to do that, however, and just say that every character death is deep, meaningful and likely to draw tears even from the most hardened, soul numbed, cynical fans of chainsword evisceration techniques.
As the story progresses, we have a multitude of powerful, touching character scenes, as well as some breath-taking moments that just bring the whole Warhammer 40000 setting to life. Among the latter, I'd mention the 13th Legion successors fleet mustering in orbit above Tsagualsa, or the shocking description of the kind of wounds a thunder hammer inflicts upon the unfortunate soul at the receiving end, or just why Xarl's reputation as a fighter is enough to intimidate even his most savage brothers.
As for the character build up, let's just say that everybody gets ample screen time. For instance, we see just how much Variel and Deltrian fit into the sadistic coterie of Night Lords, or (slightly) more of Uzas' moments of clarity. All in all, the balance of inter-character dynamics progresses along the lines of mutual distrust and uneasy brotherhood already established in the previous books, but this time there are considerably more moments where characters are actually sympathetic towards each other, as if some perverse sixth sense they know they might never get another chance to say the words that really mean...
To be honest, I could just list every single awesome moment in the book in alphabetical order instead of reviewing the book, and it would still be enough to justify the score (no peeking yet!), without it diminishing your reading experience in the slightest. However, coming up with broad words that do the book justice somehow seems far less daunting than simply listing every moment that made me go 'Wow!'. Let's just say that I'm surprised that any writer could pack a book with so many brilliant moments, while still managing to advance the plot to the satisfying conclusion of a superb series.
Impressions:
In my honest opinion, Void Stalker surpasses all my ridiculously high expectations, and may just be the best book I've read in my life. Not merely the best 40K book, or the best Black Library book, or the best science-fiction book, but THE absolute best work of fiction that has ever been laid before me. It's innovative, it's rich and characterful, and, fantastically enriches the Warhammer 40K setting with a plethora of events, both in the 41st millennium, and in the tumultuous years following the Heresy. In the purest ADB style, the text alternates seamlessly between fast paced action, deep character scenes, insightful dialogues and breathtakingly fluid descriptions, all of which makes reading it an absolute delight. The final chapters and the three epilogues manage to provide the series a bittersweet conclusion, both tragic and yet filled with hope, while still managing to tie up every single loose end throughout the series. If you've not read First Claw's saga yet, I would strongly suggest doing so now. The first books are real treats by themselves, but the series deserves to be read, even if purely for this magnificent ending. If the words poetry and grimdark are ever used in the same sentence, THIS will forever be the reason why.
I hate you, Aaron… I hate you for making maybe two score other great books seem like utter rubbish in comparison… And I know you're going to be reading this...
High Points:
The entire book, in my opinion, is just one quick succession of great moments, averaging at one every couple of pages. It's really hard for me to narrow it down to a few. However, all I can say is that a lot of things from the earlier books and stories are either becoming significant or put into context now. I'm only going to list a few of these below, because there's just too much awesome to present it all. So... here are some of the random tie-ins from the rest of the series instead, since I'm a big fan of continuity and self-referencing
• The Titan Princeps captured by First Claw in Soul Hunter
• The Shriek, used to great effect in Blood Reaver makes a return
• The hololithic orb recovered from the Calidus temple in the Throne of Lies audio drama
• The spoils from the space hulk incursion from The Core short story, in Fear the Alien
• The prophecy that Talos tried to prevent all throughout Soul Hunter
• The fate of the Void-Born's father
Low Points:
• The Void Stalker doesn't seem to be in the least affected by having the muscles and sinew in her leg slashed, especially considering that the main reason she was a threat, and why this gesture was necessary in the first place, was her speed and mobility.
• Epilogue Secundus, while creative and very satisfying could have included a few more transmissions, just to further appreciate the scale of the events set in motion
• It's the end of the series
Rating: 10/10.
I was actually tempted to do something ridiculous, like break the scale and give it a 40000/10, but, on reflection, a simple 10/10 seems more appropriate because it's the perfect score for a perfect book.
---
Last edited by Lupe; 04-13-12 at

09:05 AM

. Reason: Minor formatting, typos and phrasing
Senior Member
Join Date: Apr 2011
Location: Denmark
Posts: 2,003
Reputation: 13

---
Void Stalker was an amazing read, delving so deeply into the nature and history of the Night Lords that it was hard to accept the book had ended once concluding the epilogues. Aaron have cemented himself as the premier 40k writter, even eclipsing Dan Abbnet.
Regarding the Void Stalker
---
Last edited by Brother Lucian; 04-12-12 at

05:42 PM

.
Member
Join Date: Mar 2011
Posts: 73
Reputation: 1

---
Agreed. An awesome conclusion to one of the best Black Library series out there. I will truly miss the characters Aaron so brilliantly built up. Looking back I could go in depth and analyse every detail that made it good, but to be honest I'd be here forever. Instead I'll simply say this. Reading Aaron's work is utterly effortless, he is an incredibly balanced author. Black Library's other writers all have some flaws in their style whether it's character development or rushed endings etc. Aaron's work on the other hand seems perfectly balanced. His plots, settings, descriptions and subsequent developments are well thought out, and there are very rarely any scenes you feel could have been skipped, or were too rushed. He is notoriously bad with deadlines but to be honest with results like this you can see why. He appears utterly ruthless with his own work, and does not seek to simply churn our books at the same rate (and quality) as other authors. In my opinion he is a cut above the rest, including Dan Abnett, whose own writing flaws are becoming more and more apparent with each ADB novel released. I simply cannot wait for The Emperor's Gift, Prince of Crows and Betrayer. Congratulations on an astounding book that will surely be the benchmark for all other releases this year.
Member
Join Date: Jan 2011
Posts: 80
Reputation: 2

Senior Member
Join Date: Apr 2011
Location: Denmark
Posts: 2,003
Reputation: 13

Member
Join Date: Jan 2011
Posts: 80
Reputation: 2

---
Quite my point, mate.
Still, considering everything else I've said so far, this is an insignificant nitpick, in no way meant to cheapen or diminish a simply breathtaking book.
Senior Member
Join Date: Apr 2011
Location: Denmark
Posts: 2,003
Reputation: 13

---
Quote:
Quite my point, mate.
Still, considering everything else I've said so far, this is an insignificant nitpick, in no way meant to cheapen or diminish a simply breathtaking book.
Member
Join Date: Jan 2011
Posts: 80
Reputation: 2

---
Oh, without a doubt.

Maybe in an upcoming Heresy book, though? *cough, cough*
---
Since im a sucker for spoilers can anyone tell what happens to Octavia? what does happen to the void born's father?
Member
Join Date: Jan 2011
Posts: 80
Reputation: 2

---
Quote:
Since im a sucker for spoilers can anyone tell what happens to Octavia? what does happen to the void born's father?
Ok, fine. As I've mentioned before, these make a lot more sense in context, though.
Lower Navigation
Lupe reviews Void Stalker by Aaron Dembski-Bowden [Replies contain tagged Spoilers]