---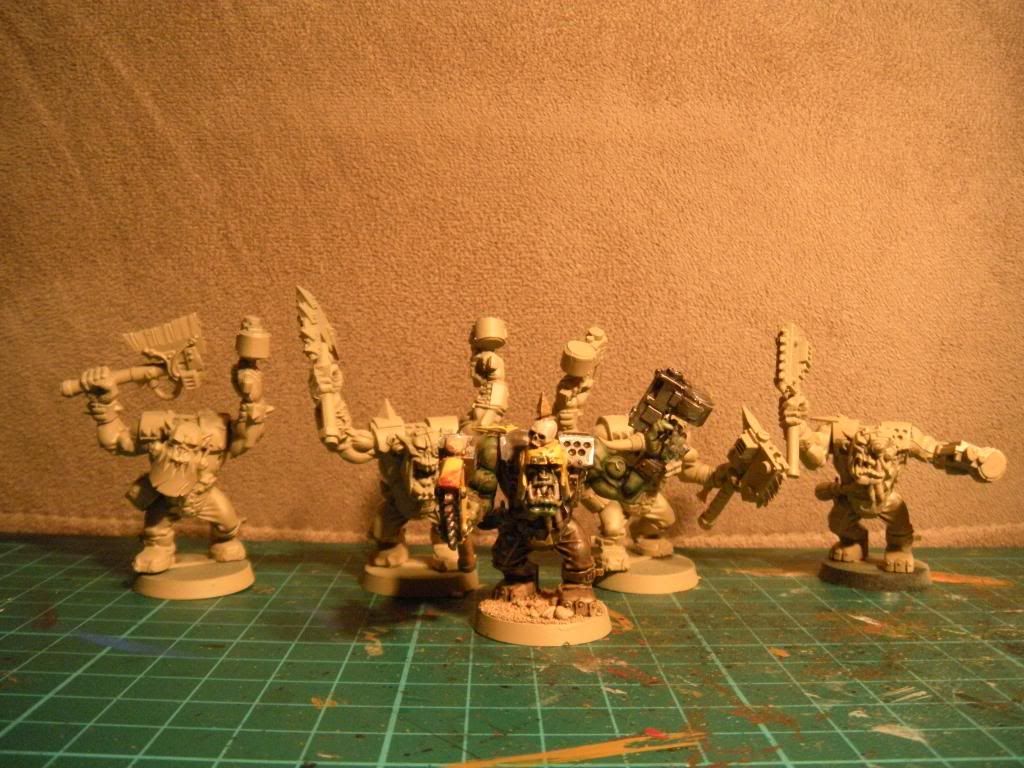 for the month of jan-o-hairy
click on my siggy bad moonz link to follow the log
---


Quote:
I wore my first dress about 15-16- no reason for it, I was just sat in the props room at school writing an essay and decided to try on the leopard print top and mini-skirt, even threw on a blonde wig, and I must admit the breeze to my gentlemen was a rare delight.
---
Here is a quick WIP of my 2 of my boyz. Not a great photo to be fair.
Going to finish the other 8 skins and teeth tonight. Then its on to the leather stuff
Edit: Forgot to say, nice looking deamon ChaosFTW, and that in a very nicely finished predator Sgt Pasanius. Did you use army builder base coat?
---
Your toast has been burnt and no amount of scraping will get rid of the black bits.

---
Last edited by humakt; 01-05-11 at

03:58 PM

.
---
Very nice Humakt! I would show you my Possessed, just the don't look like anything decent, just primered and one is almost blacked out where I want the details.
---
Nice to see some good looking models so far
I thought we were'nt allowed to post pics of WIP :S
WIPish
---
Everyone started putting dtuff up so I jumped on the band wagon, got 6/10 marines done (minus basing).
paint squad.jpg
Flash
half fin (2).jpg
Non-Flash
Chaosftw: Great DP, I like the base and isn't Chaos random?
Varakir: Love the Sgt Conversion from the AoBR.
Jonkey: I love the ork painting that wagon very clever.
Sgt Pasanius: Awesoem job with the red on the pred very very crisp and clean.
Humakt: Those are some sweet toofs on the orcs.
Fynn: Nice squad of guard they look rough and tumble.
Linked the signature image ot my project log if you want more detailled shots.
Keep up the good work all.
---
Life is all anatomy lessons and paint brushes
---
I paint on the sprue so here is my start
Should become a sang priest and maybe a 3 man dc.
---
thanks varakir for the sig!
---
Quote:
First one of four done.
Hope you like.
Sgt Pasanius,
Really fantastic Predator you got there, and it only took you a few days to complete? Amazing... just curious, are you basecoating your tank w/ a spray gun or is the whole thing hand painted? I'm having problems w/ my tanks b/c I hand-paint them and although the finish is smooth, it attracts finger-prints really easily.... I want to find a matt varnish (maybe purity seals) that can help protect the paint from prints......
Looking at your tank, there's almost a slight shine to it.... which is phat.... just want to ask a fellow BA bro..... thanks!
Lower Navigation
Army Painting Challenge 2011 - January
Posting Rules

You may not post new threads

You may post replies

You may not post attachments

You may not edit your posts

---

HTML code is Off

---