March Painting Deathmatch: Vehicle/Monster
---
March Painting Deathmatch: Vehicle/Monster!
Hello everyone! Welcome to the thread for the

Rules
The category is decided upon and posted in the Painting Deathmatch Calendar. This month's category is:


Vehicle/Monster - Any vehicle or monster from any company. Any miniatures on 60mm+ bases not classed as monsters are included in this category.



To enter the painting deathmatch, the miniature/s you are painting must not be painted before starting and picture proof must be shown of the miniature/s 'pre-painted' (primed is allowed) otherwise your entry will not be eligible. Picture proof qualifies as part/all of the miniature shown in front of a screen with the image of this thread on it OR a picture with a time stamp taken after this thread was created.


You may join the painting deathmatch in progress at any time, but must submit photographs of the completed miniature by midnight GMT of March 31st, 2013. WIP images are welcomed and encouraged.


Miniatures that are completed in time will be eligible to win the deathmatch. The deathmatch winner will be decided in a separate voting thread by the Heresy Online community. Votes should be cast not simply on painting skill, but on merit, including creativity, application of painting techniques, individual artist improvement, etc. The winner of the deathmatch will be awarded with the Mark of Slaanesh award.


Winners from the previous month are able to participate in the next months painting deathmatch, but they are not eligible to win in consecutive months.
This is not the year long Army Painting Challenge run by humakt but a separate Monthly event run by myself. Though entries in one can also be entered into the other (assuming it fits into the category chosen for this deathmatch).
Good luck to all participants!
PS - If you have any feedback on the running or structure of the monthly deathmatches throughout the course of the next month, please let me know as we will take into account any feedback.
---
Heresy-Online's Expeditious Stories Challenge 13-06: "Serenity" has started, get your stories in by July 11th!
Quote:
3. Nothing Boc said should ever be taken seriously. Unless he's talking about being behind you. Then you run like fuck.
---
Last edited by Boc; 03-01-13 at

02:28 PM

.
Tzeentch laughs at likely
Join Date: Dec 2009
Location: Inside my Head, Bristol, UK
Posts: 8,556
Reputation: 44

---
Quote:
Vehicle/Monster - Any single miniature from any company up to 40mm size base.
Do you mean
at least
40mm base size?
Powered by Squig Tea
Join Date: Jan 2007
Location: In da Toolz cupboard in da Mekshop
Posts: 7,589
Reputation: 53

---
Quote:
I've edited the rules to allow primed models into the deathmatch.
Which is good or otherwise I would have had to build a new vehicle lol.
Bout time I started trying my hand in the Painting DeathMatch and as Vehicles are my favourite thing it's the perfect month to start.
My Entry will be a scratch build 40K scale BowelBurna.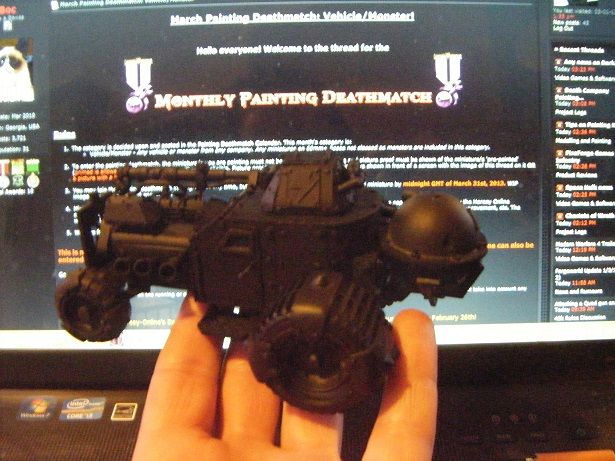 ---
---
current win rates;
csm 3/1/1
daemons 1/0/0
---
Demios is a bit cluttered if you ask me, harder to do xenobotic level freehand. Although knowing your paint style and its high battle damaged effect i say it would work.

KHORNE DEMANDS YOU PAINT A DEMIOS PREDATOR.
---
current win rates;
csm 3/1/1
daemons 1/0/0
---
Quote:
Nice DP, I'm torn between yet another contemptor or a deimos predator executioner... decisions, decisions
Quote:
KHORNE DEMANDS YOU PAINT A DEMIOS PREDATOR.
Deimos for sure.
---
Last edited by ntaw; 03-01-13 at

08:30 PM

.
---
Been needing an excuse to paint my last Spyder...
---
---
Okay... long shot here and no guarantee that it will be completed but the daughter wants a challenge while I'm away on a business trip this month (leaving tomorrow afternoon and back on 29th so cutting it close for final submission)!
So here's HER (not mine) first attempt at this and her Monster entry: Skaven Rat Ogre.
---
Don't leave us engineers with too much free time on our hands...
we WILL tinker around and build something!!!
Wookie's Wolfies - A Space Wolves Project Log
Lower Navigation
March Painting Deathmatch: Vehicle/Monster
Posting Rules

You may not post new threads

You may post replies

You may not post attachments

You may not edit your posts

---

HTML code is Off

---