Tzeentch laughs at likely
Join Date: Dec 2009
Location: Inside my Head, Bristol, UK
Posts: 8,553
Reputation: 44

Monthly Conversion Deathmatch - January Entries
---
It is the start of a new month, so welcome again to the Heresy Online:
Monthly Conversion Deathmatch
A valid entry is a picture before the conversion and a picture after the conversion plus an optional description of the conversion, posted in this thread. The full current rules and FAQ can be found in the
Rules
thread.
Work in progress photographs or descriptions are also encouraged.
Although this thread has only gone up today, any conversion started in January 2013 is eligible.
Entries must be submitted by
midnight GMT
on
31 January 2013
.
If there is anything that you think unclear or needs reviewing, however trivial, please post it in the
Discussion
thread.
Without further ado, Heretics, ready your parts, raise your tools, and start converting.
ZOMGZOR CUSTOM USER TITLE
Join Date: May 2011
Location: Finger Lakes Region of NY
Posts: 6,195
Reputation: 56

---
If I can get the new DA codex in a reasonable time I will be doing a counts as Belial this month. If not it will be next month.
---
---
I'll post pics here as soon as my building on my P47 "dakkajet" begins.
Before:
These old model planes and the spare bitz from the bommer kit shall become my Dakkajet.
---
Good to be green
Barks Dakka Ladz
: W3-D2-L3
Altansar Eldar
: W3-D0-L2

---
Last edited by Moriouce; 01-10-13 at

04:35 PM

.
---
This month im going different tack, 5 guard for my medusa lady (I will get one of her up too) using Dark elves and tombking sprues!!!
WP_001938.jpg
good luck the rest of you
---
WAAAAGH Dragblud
W: 22 D: 6 L: 13
Space marines: Krakens Fury! (TBF)
W: 0 D: 0 L: 0
Senior Member
Join Date: Oct 2011
Location: Gdynia, Poland. Sometimes Evesham, Worcs UK
Posts: 726
Reputation: 11

---
I decided to enter the 'who has the weirdest Ork army competition' with a very small Empire conversion. I normally take ages with converting stuff (if you've seen my plog then you'll have seen the wizard I started a year ago that still isn't finished) but this one is only small and it's nearly finished already.
I wanted a banner top for my Knights Harlequin and no ordinary banner top would do! I took a spare banner top from the State Troop sprue and with a little imagination and green stuff will have made a Jester head banner top.
How it started:
WIP shots are in my plog, finished shot will be once the liquid green stuff has dried over the holes in my bad green stuffing ;)
Senior Member
Join Date: Oct 2011
Location: Gdynia, Poland. Sometimes Evesham, Worcs UK
Posts: 726
Reputation: 11

---
Well, I forgot to take pics before I painted it and realised halfway through so here's the final WIP pic instead. The shape is the same, it's just smoother.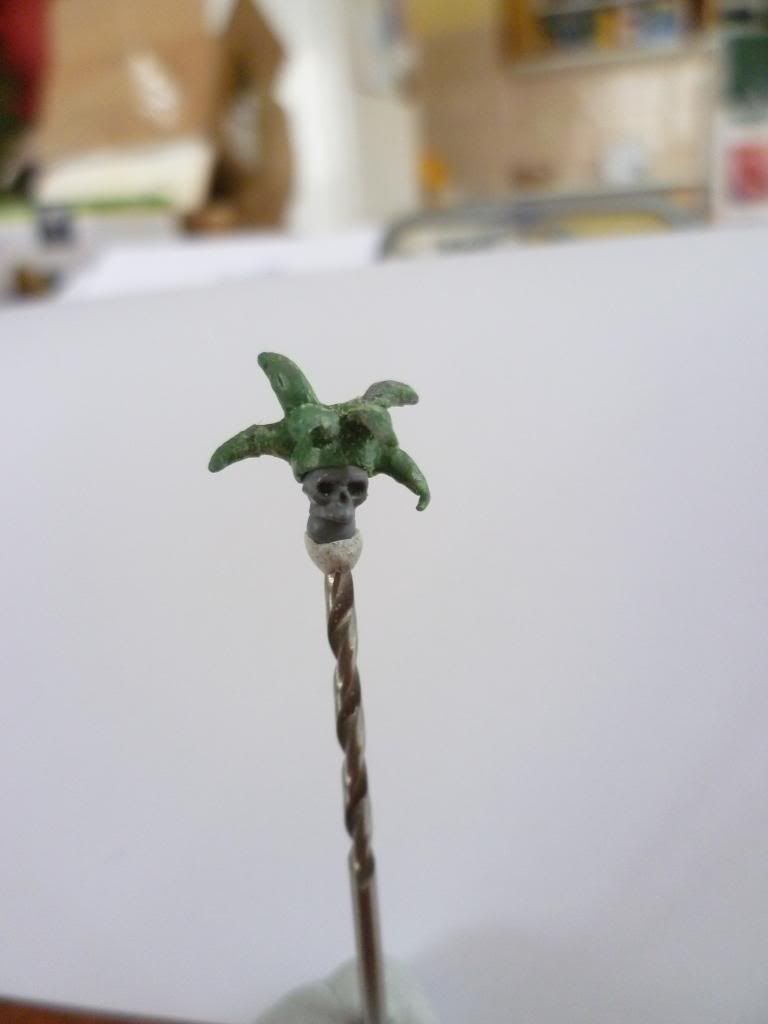 Senior Member
Join Date: Jan 2013
Posts: 197
Reputation: 1

---
Not sure if it counts, I'm new, but all the extra pieces from my daemon prince sets feel really left out so I'm trying to make him a back and tail. Here are my before pictures...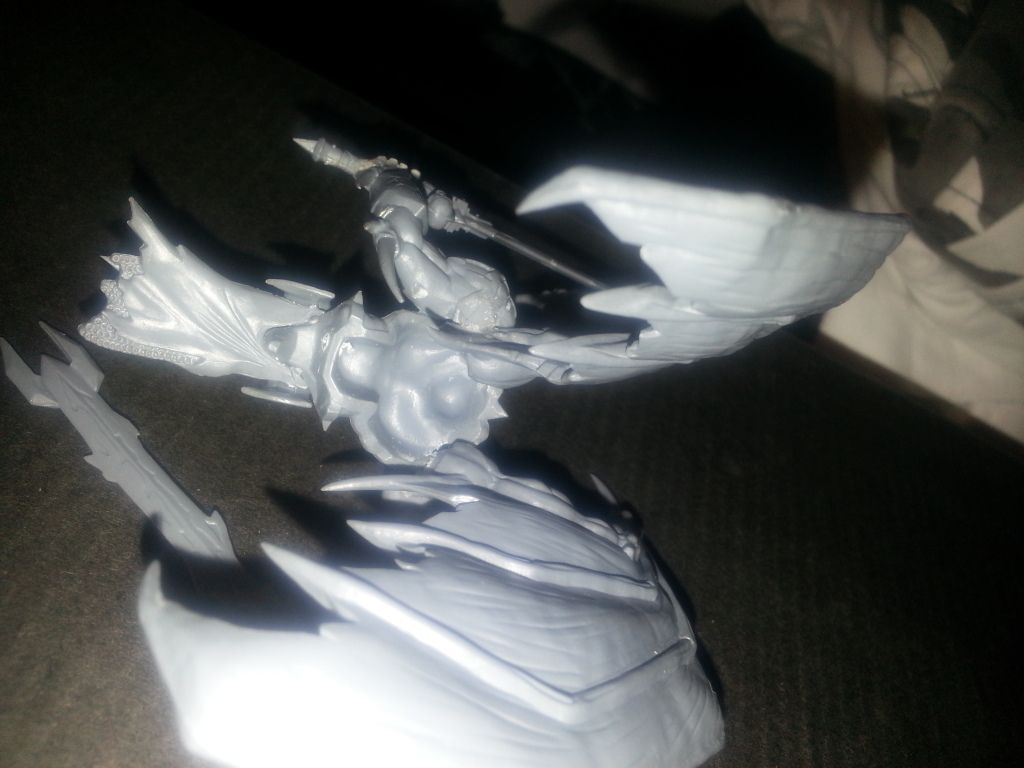 Senior Member
Join Date: Jan 2013
Posts: 197
Reputation: 1

---
Here is a few update pictures. I just have a little bit of green stuff work to do on some small gaps. I thought I had him done but got thinking about d&d and one of my favorite 'bosses' from it, the marilith, and how this conversion reminded me of one. So, back to adding more extra pieces on. I should have it done tomorrow, minus painting, which I think I'll take my time on.
Edit: I agree with the comment another made about the model being too busy. If I had planned it from the beginning, it would be another story, but I didn't have the room to add all six arms and still make it look natural. I am happy with this result. Now just getting it painted.
Old pictures with six arms:
---
Last edited by Iniquity; 01-29-13 at

09:49 PM

.
Lower Navigation
Monthly Conversion Deathmatch - January Entries
Posting Rules

You may not post new threads

You may post replies

You may not post attachments

You may not edit your posts

---

HTML code is Off

---