---
the more i see of this release the more i like it, in all honesty it feels like fantasy 40k so in essence i dont see why traditional fantasy battle and AOS couldnt co exist ? fluff is just that, this could be "other realms" and warhammer fantasy could just ignore the end times and carry on as it was with an updated set of rules?
if this is going to be the "new" warhammer, its a balls out trousers down move by GW and without a kick starter in site !!
Never pay again for live sex! | Hot girls doing naughty stuff for free! | Chat for free!
---
HUGE BITZ RESTOCK NOW ON
---
---
Quote:
It's not a black and white question really, there are different shades of anal probing,
a rectum spectrum, if you will
---
Wow, seriously?

Because these things take time. The kind of deep and intricate fluff that the previous world had was developed over time, across rulebooks, army books, novels.

You're comparing all that to a page that was primarily meant to display colour schemes?

How about for once you wait to read, I dunno, some actual officially released fluff?
---
If you want to read a page about colour schemes, try reading Bretonnia 6th edition. Or Empire 6th. On Empire, you got a page detailing the different state troop colours, or those of well known Regiments. There was no fluff, because it was elsewhere in the book.
Bretonnia had the fluff, and showed off heraldry for what 24 different knights, 6 of each dukedom, and gave some background on the race more than 'they attack badguys' or 'they are heroes'.
As for waiting to read some fluff, I will be. And I will be first to hold my hand up and say 'this is good', but given GW's track record recently? (as in since 8th ed), it has become a damp squib.
I'm struggling to read abook about two of my all time favourote characters, belakor and abaddon, and very little strikes me as Warhammer other than the odd throwing in of a vague reference. Lets not get onto Armybook stuff; luminark, and hurricanum, basically giant magnifying glasses and snowglobes.
This is not my warhammer. Letting the game die is bad enouhh, but this is pissing on the grave, and I am sad and angry and loath to give GW any of my money.
100% free webcam site! | Awesome chicks and it is absolutely free! | Watch free live sex cam - easy as 1-2-3
---
Quote:
It's not a black and white question really, there are different shades of anal probing,
a rectum spectrum, if you will
---
@
Vaz
i think GW is no longer trying to target your (and mine) kind of gamer. Basically the veterans of fantasy are a dying race. We are the fucking old ones and that was clearly seen when the game was snuffed. Not enough sales, no game anymore.
Now, GW is luring in new gamers: the fresh bloods that swarmed to play warmahordes or confrontation (when that was a thing). It is no longer WH fantasy, because for once, it's GW copying other companies and not the other way around.
Also, abou the lack of fluff, i hope that this is just a VERY basic version of the game, just a taste of what's to come. I hope. A lot. Then there's the issue that young people (and mark my words) don't fucking care about fluff, and less than anything they don't want to read long pages of fluffy blabla. This is sad and disheartening (is this a word??) but it's true, and i've witnessed it many times with younger players. They want visually "cool" models, shiny colours and simplified mechanics.
So let's say this: we are not the audience for this game, and altough i can't say that some of the Old Ones might like and buy and play AoS, we simply are not intended to. GW wants fresh blood and want to have back his former customers that are playing warmahordes or kings of war.
---
The Legion of Perfects Project
Quote:
The calls of Slaneesh stir so deeply within me, as if I was birthed from the very essence of it. For my ambition to infinitely ascend above all is never ending, like fire within it burns me to ever cindering ash. Lord of light and ascension is who I am, realities burn to ash at my very passing. My luminescence is unparalleled for I am luminosity itself, all light is but a shadow of my silhouette
---
One of the sprues: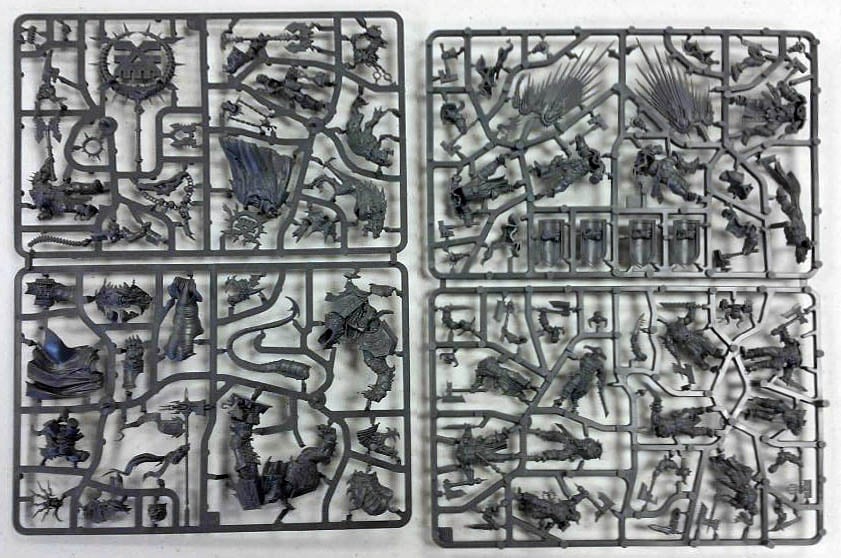 ---
Someone got a head start on their new 40k army. Looks like a nice fit.
---
Awesome. A very ornate honor guard feel to it.
---
Quote:
Just call them Grey Knights, GW, just call them Grey Knights.
I hope you aren't implying a lack of thought on GW's part? :lmao:
Quote:
Actually I would say that these are more Grey knights than the ones in 40k. They are knights - Who are Grey.
Which one is Sir Robin......?
"Ni!"
Quote:
Didn't Johnny cash have a song about A God Emperor Named Sue?
Life sure ain't easy for a God-Emperor named Sue.....
---
Quote:
Originally Posted by
Jace of Ultramar
View Post
I think Tawa is a temporal entity that exists outside of the hobby/modeling timeline. Essentially, he's the Heresy Online equivalent of a Time Lord... which is kinda hilarious and frightening all at the same time.
"God-Emperor? Calling him a god was how all this mess started."
---
Quote:
Life sure ain't easy for a God-Emperor named Sue.....
My name is Sue. How do you do? Now you gonna die!
AGE OF SIGMAR IS LIVE
.
Lower Navigation
The Age of Sigmar is Nigh.