---
Sweet. Thanks.
I already re-modeled my chaplain with a lightning claw and he looks Bad @ss. I am not going to change him again.
My normal space marine chaplain costs 176 points and has:
Plasma Pistol, Artificer Armor, Frag Grenades, Melta Bombs, Jump Pack,
Terminator Honors
So a cheaper Chaplain that has terminator armor, Lightning claws, and Terminator honors totalling 170 points is actually a nice break.
---
Wisdom means having the ability to admit what you do not know. - Me

Mother nature does not give do overs. - Me too
---
I had the same issue, so I modeled his second LC into his base. It was ripped off while he assaulted a tank, apparently ;-)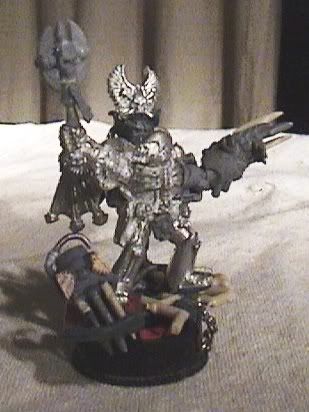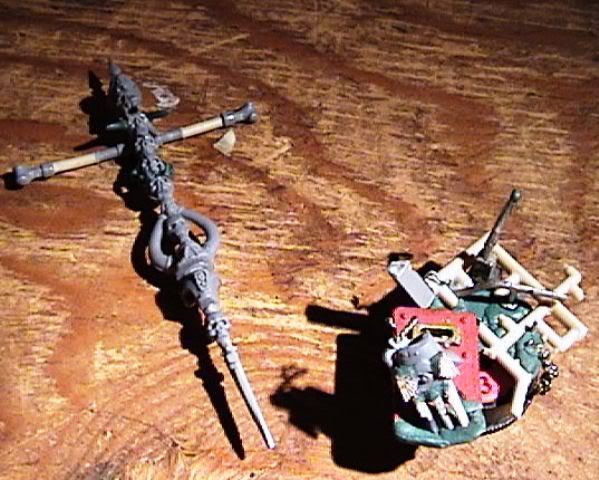 ---
-=============]xxxxo Galahad oxxxx[=============-
Check out the Heresy Combat Calculator -- MathHammer Made Easy!

Codex: Angels Errant. Read it, please.
Heresy Forum Rules -- Read them, damnit!
Reporting: When/How/Why -- Read that too!
"...remember the Golden Rule: Chill out, they're only plastic spacemen!" -Brother Jazzman
"Galahad is 100% correct in his explanation. Anyone who says otherwise to [him] is vastly mistaken." -The Wraithlord
"
You know what? Fuck DC comics."
-Robert Downey Junior

Join Date: Dec 2006
Posts: 677
---
Ohh, the old LotD veteran sergeant w bionic arm? The base is kind of cluttered which takes away from him as a whole, but it's remarkable how fast those apothecaries throw new arms on their men! Still stumped around their feet!
Damn good choice for a chaplain model though.

-Khaine-
---
Here's Chappy (with lightning claw):
---
Wisdom means having the ability to admit what you do not know. - Me

Mother nature does not give do overs. - Me too
---
I always did like LC's myself. Something about being able to reroll missed wounds with a power weapon just give a fellow the tingles
---
one thing I want is the ability to split my fire everywhere, it makes no sense that a squad of 10 guard or marines or whatever all have to fire at 1 target with everything, is the guy with the lascannon not smart enough to realize maybe he would be better off firing at the massive tank looming overhead instead of the little man no bigger than a squat running at him, or is that far too complex for the 10yr olds?
My Thousand Sons Project Log
My Warriors of Chaos Project Log
My Cryx Project Log
My Necron Project Log
---
I actually thought about doing that. As long as I pay the points for the extra lightning claw (and tell my opponent) that's all that matters.
---
Wisdom means having the ability to admit what you do not know. - Me

Mother nature does not give do overs. - Me too
Join Date: Jan 2007
Posts: 14
---
I agree with Galahad
telling your opponent you have twin lcs and not have them on the model in a tourney could gte you into wysiwyg hell and thats not worth it

i love the hollowed out lc idea nice touch i do that with all my marines that dont have helmets i hollow out a helmet and hang it from the belt
Lower Navigation
Chaplain and lightning claw