I Am Such A Dumbass (Playing Ruins Wrong)
---
I suppose I really have no excuse to have been playing the game this way, because in the rulebook when you look up shooting attacks, it says you need a line of sight (with the exceptions that specify you don't).

For some reason, when my friends and I play we've been saying that if a model is in ruins it can both shoot out and be shot at regardless of LOS. Where did I get this notion? I'm not sure, but we've been playing it that way since 6th.

So, just to clarify things for this blood-addicted dumb-dumb: unless the weapon type says you don't need line of sight, you ALWAYS need line of sight to shoot at something, correct?
---
In a Rules as Written situation, you cannot shoot what you cannot see. Ruins do not permit line of sight exceptions in this way. Many players I've seen have a house rule that ruins are so "porous" that even if intact walls block line of sight, true LOS is ignored, so that people don't "cherry pick" certain ruins. But this is a rules decision that they come to despite what the RB says.
---
So you can move through them, charge through them -- both using rules for difficult terrain -- but just can't shoot through them if LOS is obstructed. And in addition, vehicles receive a 4+ despite not being 25% obscured.
It seems so simple, but I guess I never paid close attention to the rules for them because we thought we were doing it right.
Well, this is great news for me. How many games would I have won if my poor little cultists and CSM squads didn't get shot through walls?
---
Last edited by venomlust; 05-20-15 at

06:06 PM

.
---
In my gaming circle it tends to depend on the ruins themselves. If it is feasible that the model could prop themselves right up against the wall and hold their gun over the top of it (like a trench or a man sized rock) then we allow them to do so. BUT equally we tend to try to use markers to show either that the unit is doing something like that, or that maybe they are ducking fully behind the cover so as not to be seen. So if you had an Aegis Defence line, you could press against it and shoot over. Or you could all be laying flat out on the ground to show none of yourself unless the person shooting at you is either throwing something over the top that explodes or is of course at a height in which they could clearly see you on the ground.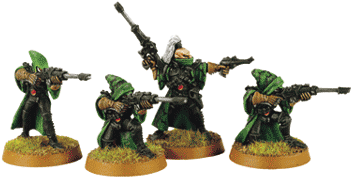 Otherwise I would have to get loads of models like these, so I have one in crouch and 1 standing in case I wanted to hide or stand up
---
Was it fourth ed where you'd get 2 inches LOS into area terrain? We tend to play you can 'see' 2 inches into and out of the border of ruins and area terrain, any further back and you cant shoot or be shotat
---
'If you fail to prepare then you'd better prepare to fail'
---
Quote:
What is this "shooting" you speak of, devotee of Khorne?
The thing that kills half my army as we charge across the field to engage the cowards in personal combat.
---
Quote:
What is this "shooting" you speak of, devotee of Khorne?
Quote:
The thing that kills half my army as we charge across the field to engage the cowards in personal combat.
this has been great.
---
But yes, clumping a squad out of sight on an objective so they can't get shot and the enemy ideally just forgets about them is the best case scenario for them.
Critique for da CriticGod
Join Date: Aug 2010
Location: Philadelphia, PA USA
Posts: 3,350
Reputation: 43

---
What is this cover you speak of!
Khorne cares not from where the blood flows!

. . . Which is appropriate, because more death = more Khornate bonuses.
Lower Navigation
I Am Such A Dumbass (Playing Ruins Wrong)