Favourite and Least Favourite First Founding Chapters
---
Rank or state which you like, dislike or are ambivalent towards. List numerically, rank them in tiers, separate or combine the loyalist and traitors however you like. Maybe just state your favourite/s and least favourite/s leaving the other ones out. Whatever you want. I'll do mine
Tier One
Thousand Sons
Alpha Legion

Tier Two
Raven Guard
Tier Three
White Scars
Luna Wolves/SoH/Black Legion
Iron Warriors
Blood Angels
World Eaters
Death Guard
Tier Four
Word Bearers
Night Lords
Dark Angels
Imperial Fists
Iron Hands
Salamanders
Tier Five
Emperor's Children
Ultramarines
Tier Six
Space Wolves
I have a general preference for the Chaos legions because they were my first and third armies and the bad guys are usually more interesting. AL and TS are the chapters I always root for in the fluff because they both have interesting backgrounds, both turned traitor for justified reasons, they're both underdogs in a way. I like their primarchs. Part of the reason I hate the Space Wolves and Ultramarines because they've done over my favourites in the past
Raven Guard are inoffensive, one of the least significant of the first founding chapters, have a tragic back story (the Istvaan thing), are rarely used by 40k players, I like Corax, like how they look and their playstyle etc.
Tier three are the legions I like and tend to root for depending on who they face. Tier four are similar but slightly lower. Word Bearers were my third major army but they're a bit twisted for my liking. Night Lords have a cool back story, colour scheme and play style but are also pretty evil. The loyalists here are chapters I neither like nor dislike.
Tier five. Ultramarines are boring, always irritatingly heroic in the fluff and the army every beginner chooses. The Alpha Legion thing doesn't help. I sort of liked EC before they fell to Slaanesh but after falling they're hard to empathise with.
Space Wolves turned on my poor Thousand Sons- nice job forcing an entire legion to turn against the Imperium. Their wolf fluff is lame and the Viking thing is a bit cliched and over the top for me. To hell with them. Part of the reason I have the World Eaters in tier four is the fight they had with the SW pre heresy
Anyway- thoughts? Who do you like and hate?
---
Favs
Salamanders and A Legion

burn stuff and be sneaky/ dragons/hydra

Least Fav
Ultrasmurfs and Luna Wolves
Nothing Unique
---
Favorite? Thousand Sons. Why? 'Tis odd, but it was love as soon as I saw this guy back in the 90's...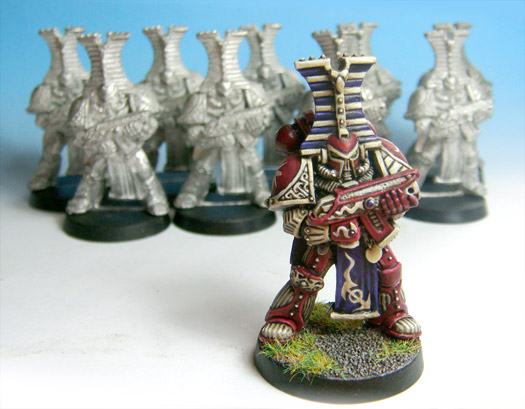 Even stranger? I also like Space Wolves, but in the "grimgrod" Ork way ("Favorite Enemy").
As for a Legion I hate? Meh... Don't really mind any of them, as they all have their own perks and quirks.
---
Favorite legions are Space Wolves and Imperial Fists, The Space Wolves for being the rebellious spanner in the works working for Empy while the Imperial Fists always were the boring yet pragmatical warriors that got the job done.

I don't care much for most of the Space Marines as most feels overrated, but a special notion there goes to the Ultramarines (a bunch of fucking Mary Sues, or U2 in space I would have liked to see them save the day with the cams off, no i wouldn't they still doesn't hold a candle to the Imperial Fists), and there are the issue of their fans that has completely soured my relations with the chapter. They are worse than the fans of Manchester United, and more retarded people are difficult to find anywhere (I have found one or two Manure-fans that are good, so I hope there can be some Ultramarine-fans that are okay and not total idiots).

At the evil side I like the Word Bearers. It's the Phoenix Coyotes-thingy. Nobody likes them, so I do. Who I don't care about is the Alpha Legion, everyone is the same and all that meh. I don't mind the Thousands Sons either despite the hatred from Leman Russ.
---
Last edited by Beaviz81; 07-20-13 at

07:21 AM

.
---
I've never seen this discussed before, I like seeing people's opinions.
Any fans of Ultramarines out there?
Quote:
Favorite? Thousand Sons. Why? 'Tis odd, but it was love as soon as I saw this guy back in the 90's...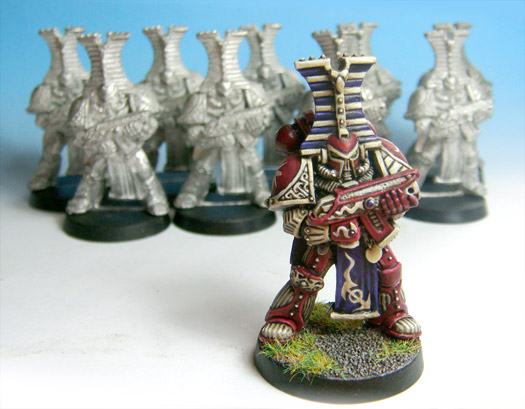 Even stranger? I also like Space Wolves, but in the "grimgrod" Ork way ("Favorite Enemy").
As for a Legion I hate? Meh... Don't really mind any of them, as they all have their own perks and quirks.
Huh. I've never seen that model, I always thought the Thousand Sons boxed set that came out around the time of the 3.5 codex were the first TS models (not counting Ahriman)
---
Favourite is unsurprisingly Dark Angels. Least favourite would be the Iron Hands or Salamanders. Imperial Fists are a close second most awesome, with World Eaters being my favourite Chaos dudes and Death Guard being my least favourite renegades.

Midnight
---
Favorites:

I used to really like the Raven Guard, but this has kind of been soured since McNeill got his hands on them. It seems pretty much every damn Raven Guard character he decides to put in a novel is some kind of uber-ninja, nigh-unstoppable melee monster. It was bad enough in the Ultramarines novel where they featured, but it got even worse in Angel Exterminatus.

Don't get me wrong, I enjoyed reading the actual fights between Lucius and Sharrowkyn, but it seems kinda off to me that one random Raven Guard, who doesn't even seem to be as well renowned as the CC specialists like Kharn, Raldoron, Sigismund etc. utterly annihilates Lucius, who is supposed to be the best swordsman in his entire legion.

I get that stealth is their specialty, but McNeill just goes over the top. I mean if every friggin' Raven Guard is so awesome they should never lose any battles.

One legion who I've grown a soft spot for is the World Eaters, especially since Betrayer. They went from a legion of honourable warriors who valued martial prowess and brotherhood, to a group of savage berserkers who killed simply for the sake of spilling blood. And all just because they wanted a connection to Angron, to forge a bond with their primarch when all the other legions seemed to effortlessly bond with theirs.

Least favorite:
Easily the Emperor's Children. They seemed like mostly a bunch of arrogant dicks even before they were corrupted. Pretty much Vespasian, Tarvitz, Demeter and Rylanor were the only likeable characters in that whole legion.
---
The human appendix. Proof of a higher power. A divine kill switch so to speak.

No one really likes a smartass, but people tend to like a dumbass even less.
---
Favourite- Space Wolves first then Emperors Children or World Eaters. Surprisingly I do have a lot of time for the Thousand Son, mainly due to HH fluff.

Least favourite- Ultramarines, boring, dull uninspiring!!
Senior Moderator
Join Date: Apr 2008
Location: New Jersey, little ways out of NYC
Posts: 6,993
Reputation: 25

---
Quote:
Any fans of Ultramarines out there?
Yeah, I'm a fan of them.
However is this supposed to be the first founding chapters or the founding legions? Because there is a difference of nine if we just go by the chapters.
Going with founding legions, my favorites would have to be the Ultramarines and the Word Bearers. Least favorites are the Night Lords and White Scars
---
Damnation is paved on good intentions; subtle and sugar coated or blunt and honest
A hero is someone who steps up when everyone else backs down.
Popularity is what people strive for when they lack the strength to be themselves.
Seriously, is it really
that
hard to write reviews without spoilers?
Reporting Posts - read this
---
My favorite Loyalists are the Blood Angels and Space Wolves. Their Primarchs were touched by Chaos a bit more than the others when whisked from Terra, yet they are among the most loyal. As for the Traitors, I like Word Bearers, Thousand Sons and Alpha Legion.

My least favorite Loyalist would be the Dark Angels. Pick a side! For the Traitors, I would say Emperor's Children. A Marine fallen to unbridled excess is a contradiction.
---
"Fetch me another plaything. This one seems to have broken." -Urien Rakarth

Space Marine- "This planet is ours, witch."
Eldar- "No ... This planet is theirs ..."
Lower Navigation
Favourite and Least Favourite First Founding Chapters