Tanks.... to many Tanks... ie Marines vs Guard Apoc
---
I'll get my pictures up in a day or two, when I remember to get them off my camera.

So it was me and Son of Horus vs 3 Imperial Guard players.
10,000 points per side (I had 6k and Son had 4k)

Brief desc of armies:
Son had a Lions Rampant Battle Company, so LOTS of marines. I had Masters of the Chapter, a Warhound Titan, a Terminus LR and then my usual array of Aesir Knights. Lions had a Baneblade also.

The Britney Spears worshiping Imperial heretics had some special tank that had a turret mounted mega-bolter... don't ask me the name.. it starts with a M I believe. I thought it would have been a greater threat, but honestly after watching it the first two rounds I wasn't really that worried about it. And then they had LOTS of tanks. I mean LOTS of tanks. I believe 2 were using Armored Company formations. And they had some marine allies (mainly as point fillers).

We only got 2 rounds in, so can't fairly call a win/loss/draw.

The Britney Spears worshiping Imperial heretics won the choice of deployment zones and took the larger side (of course). But they bid 20 minutes to setup, while we only bid 10 minutes. And since Son was using the Battle Company formation he didn't even take half that time to setup. I got alot of my stuff down, enough to start with. But I did have 2 Termie squads, 1 Vet, 1 Assault and my command squad with a LR still to field. Oh yeah.. and my Terminator Chaplain with the Holy Hand Grenade of Antioch (ie Vortex Grenade).

So I'm gonna try and remember what happened probably each round... which should be easy considering there were only 2 rounds... but my old age is getting to me.

Marines, Round 1:
The Lions battle company deploys, alot on the right flank where we were light. The Imperials had some disruption array that gave them a chance to screw up reserves, but it didn't work against the majority of the Lions. Only one squad got hit by it. I moved some of my stuff up, but as we had a number of juicy targets right away I didn't have to move much.

The Baneblade seriously weakens the left flank, nearly wiping out a marine devastator squad and doing some damage to other squads which didn't even live long enough for me to remember what they were. Small arms fire around the table takes out some of the Imperials, but nothing big except some of the Imperial foot troops on the right flank. My Terminus opens fire on one of the Commissar squads, leaving only a junior officer surrounded by smoking husks of his former comrades. My Warhound uses it Megabolter to finish off the devastator squad on the left flank and the turbo laser destroyer to take out a Lemun Russ near the middle. Taking out the Lemun Russ created a wreck that blocked many of the other tanks from coming down that side.

Imperials, round 1:
Their remaining right flank foot troops move in to assault, their left flank was already wiped out for the most part. The tanks in the rear fired and took out half of my second devastator squad, but I believe that was the core of the harm done. In the assault phase the Lions did loss a number of proud Astartes, but were definitely holding the ground. I could have easily missed stuff for the Imperials since I was on the left side and already had little to give me a real threat.

Marines, round 2:
My command squad comes from reserve and the LR gets stuck in difficult terrain... blah. Thats my luck with dice though, I swear. I bring in some other reserves, but nothing major. We both succeeded on our Orbital Bombardment rolls. I placed mine on top of some troops on top of a building with heavy weapons, killing a number of them. Son did take out the disruption array with his, which would have proven a MAJOR advantage if we had gone another turn.

The left flank was rather quick to deal with since there was very little Imperials left. But I knew that one of the Armored Companies was still in reserve and was likely waiting for the defense around the titan to lighten so they could move in and blow it to bits.

The Warhound takes out another commissar squad and fires the turbo laser destroyer at the special imperial tank. Quite impressively out of 15 shots from the megabolter, 14 hit and 13 wound. That will ruin any comThe special titan tank the Imperials has takes 2 weapon destroyed hits, but makes the 4+ save each time...

Between my Knights shooting and the Lions assault we wipe out the imperial foot troops on the right flank.

Imperials, round 2:
The majority of the imperial tanks begin to back behind a massive piece of terrain in the middle, out of line of sight of the Titan. So this limits their shooting greatly.

My command squad got wiped out due to Imperial fire, and I know the Lions took some fire. But I can't honestly say there was alot of impressive fire.

I believe they went quick cause at this point one of the guys had to go and since he had the majority of the Imperial forces (at least on the table at that time) we called the game.

Overview
I do believe we would have won had the game continued. I was ready to deep strike my chaplain in termie armor with the holy hand grenade near the titan tank. And with the disruption array destroyed it was pretty much a sure thing. Would have been better had my bike squad with The Herald not died due to my poor placement already. I probably would have used the extra speed on the Warhound to move it near the terrain in the middle, and within LoS the following turn.

I know the second armored company was planning to Flank March us on the left flank, but we had relatively good placement and he didn't have many choices and probably would have screwed himself in trying it.

Players Notes
I like the FW models. I love the fact they had some diversity to the existing line of tanks. But I'm no fan of all their optional rules. Particularly the imperial shell rules. The primary armored company apparently all had inferno shells and could fire them all day long. This ended up becoming an issue at one point in the game when a debate came up about their effect on a Fearless unit that he was trying to knock off the table.

So I think in the future if I arrange to play against Imperials I'm gonna make it clear I don't mind the special tanks.... I mean I want to design a special Marine tank or two myself. But the special shell rules I don't agree to since they arn't GW rules. I mean the guy was a nice guy and all, but the attitude that they were more powerful due to out-of-date rules and that since it was FW rules, it was the same as if it was GW rules, even though we hadn't agreed to their use before hand.

I just think its easier to stick with rules EVERYONE is familiar with. Using the optional rules like that just seems like power gaming to me, and Apoc games are meant to be friendly affairs.

Thats just my 2 credits on the matter though.

All in all, I had fun. I'm still unsure if I'd sign up for an Apoc game at Origins though to play with people I've never met though.
---
My 40k Deviant Art Gallery
Index Astartes: Aesir Knights
with Battle Blog
Ongoing Projects Thread
Aesir Knights W13 - L4 - D3

---
That sounds pretty awesome Rindaris; shame you couldn't have kept the game going a bit longer. From a couple of the reports I've read, it seems you really do need all day to play!
As for FW rules, I think you're right that it's best to sort it in advance, before you commit to playing. In the old days most codices had "opponents' consent" characters and what-not; we all had to work out who was using what. Maybe there's a justification for going through that pre-game stage if people want to use non-standard rules. Not just saying no, but reading them and talking over what they can and can't do...
My advice (for what it's worth) is give it another go... go on... you know you want to...

---
"Well it's Forty-one Thousand Nine Hundred Sixty-nine OK -
Gotta war across the Milky Way - "
Iggius Popiscus and the Stoogii, "41,969"
---
Yeah, a couple of hours is definitely not enough time. One the imperial players was late getting there (we knew he was going to be). I just didn't know ahead of time that the imperial player with the special tank and using the special rules was going to have to leave early. When I do play again I'd want to try and make sure everyone can get there on time and won't have to leave early.

Well, and also in the old days most of the special stuff wasn't really all that powerful or game altering. But when every single one of this guys tanks had an unlimited supply of shells that by FW rules could push a 500+ fearless unit off the table and out of the game... thats a bit much. And since, its Apoc and one squad probably won't make a world of difference, but he was trying to compare its loss to a 20 point model. Sorry guy.. but that isn't the same, esp when all your tanks can do this all day long.
---
My 40k Deviant Art Gallery
Index Astartes: Aesir Knights
with Battle Blog
Ongoing Projects Thread
Aesir Knights W13 - L4 - D3

---
Yup, I'll agree that sounds a pretty shitty surprise to spring on you - "Oh BTW, all my tanks can push your army over and there's nothing you can do about it..."
Definitely think there's a justification for planning before you start what is and isn't gonna be legal (along with the planning issue of who's bringing the tanks and how early!)
But as I say; don't let it put you off. Back on the horse and all that...

---
"Well it's Forty-one Thousand Nine Hundred Sixty-nine OK -
Gotta war across the Milky Way - "
Iggius Popiscus and the Stoogii, "41,969"
Join Date: Feb 2008
Posts: 288
---
Sounds awful and I would like you to go to the gamesworkshop site and click imperial gaurd somewhere in there the army list rules for an armoured company is there. I agree springing a surprise like that was wrong.
---
Shame he didn't get to flank march onto our left flank... The disruptor beacon put enough of my Battle Company on that side of the table to shred pretty much any tanks that headed their way (since I make heavy heavy use of meltaguns) and the Baneblade and Warhound were over there too. If nothing else, the warhound could kick a tank...

As for the Imperial Armour army list with the special munitions... the guy is sort of a dick anyway. He's a great painter (he does it for a living, after all), albeit the army was in semi-bad taste if you looked at the details-- a lot of SS iconography and stylized swastikas all over the place-- but still very well painted. I don't think he'd played 40k in quite a while, though, and he always was a bit of a power gamer. Just have to roll with the punches.
---
IN THE US? ASK ME HOW TO GET 10% OFF GAMES WORKSHOP PRODUCTS!


---
sounds like a fun battle
---
Violence is never the answer, it is the question, to which the answer is, yes

---
Oh, it was fun, except for the 'debate' part of the fight. And I'd definitely play Apoc again there anytime. Just not sure if I'd want to play it at Origins with people I don't know. I'd probably have to deal with the whole power gamer attitude alot more.

And don't get me wrong, I know I do power game a bit myself. But I honestly try to be friendly and don't try and play an army that is overpowered.

But yeah, I was really hoping for that 3rd turn flank march by the 3rd imperial player. Several devastator squads (mine led by a Techmarine), several dreadnoughts, Terminus, Predator and Warhound... would have lost a 'lil in the initial deployment, but since I reckon most of the opening shots would have been at the Warhound, definitely wouldn't have ended pretty for the Imperials.

As far as the painter. He did seem nice, but I don't feel so bad stating (now that I know your opinion) that he did seem to have a bit of an ego about him, probably cause his stuff was so much 'prettier' then everyone elses. I honestly didn't even know he was gonna be in the game until that day, thought it was just you, the two imperials and myself. Not everyone is gonna be a gem to play against, but as long as you have fun as a whole is what matters. And I personally did. Anyways... enough about him...

Still at work, but I'll endeavor to get the pics up when I get home.
---
My 40k Deviant Art Gallery
Index Astartes: Aesir Knights
with Battle Blog
Ongoing Projects Thread
Aesir Knights W13 - L4 - D3

---
Setup
Marine, round 1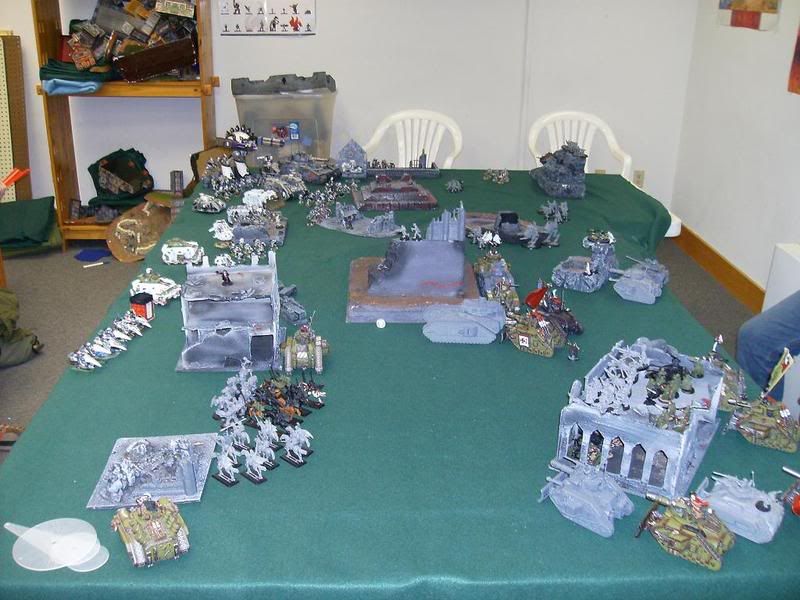 Imperial, round 1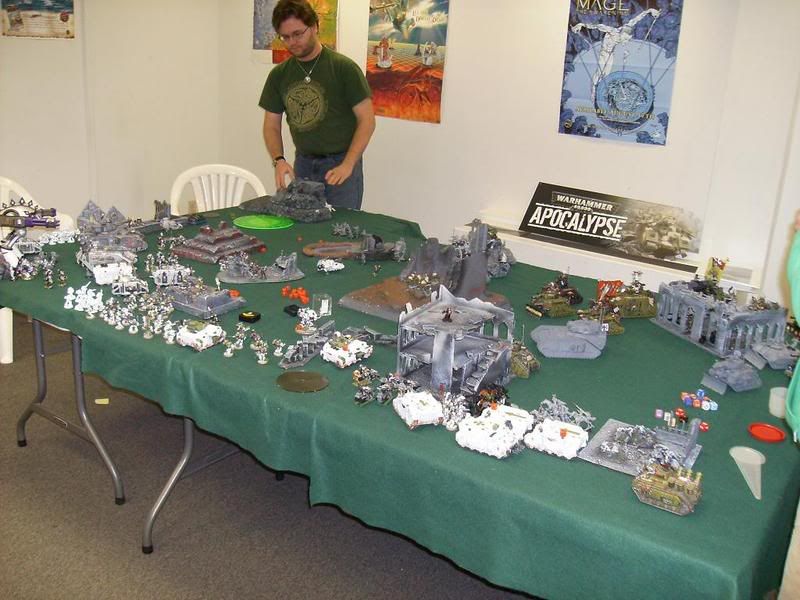 Marine, round 2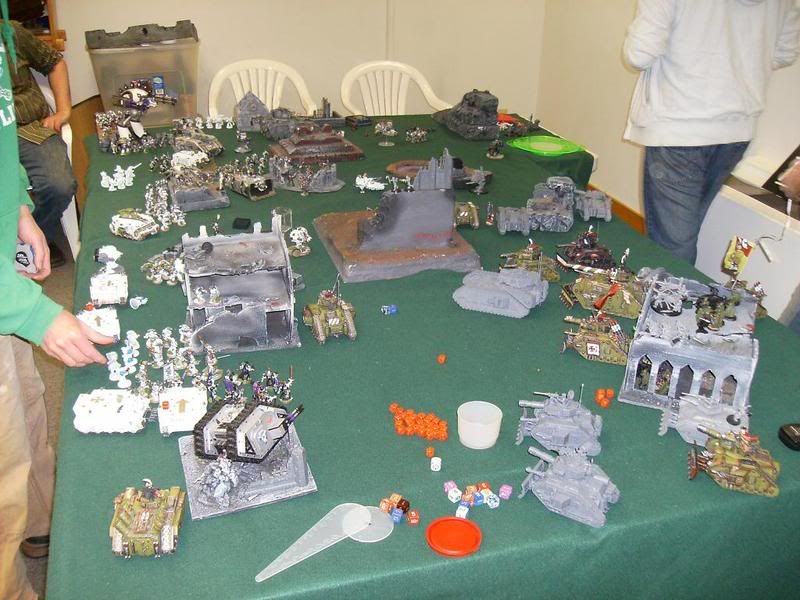 Pics, as promised. I hope I remember the rounds I took them, and sorry for the single angles. The room we plan in was hosting other games as well, and didn't want to get in the way of other people (and players in this game as well).
---
My 40k Deviant Art Gallery
Index Astartes: Aesir Knights
with Battle Blog
Ongoing Projects Thread
Aesir Knights W13 - L4 - D3

Lower Navigation
Tanks.... to many Tanks... ie Marines vs Guard Apoc