H0RRIDF0RMS Weekly Summer Campaign Batte Report
---
I wasn't able to attend the first game for the Summer Campaign at my local hobby shop. Fortunately I was able to schedule in a make up game with another player the following Saturday. Exactly one day for the regularly scheduled match. With the 4th of July celebrations I feared I would be playing on a hang over with little sleep.
To make things worse I brought my sister digital camera that had no batteries in it. So now pictures on the first game
I chose to stick with my Eldar. They've won me 1 tournament and were based off a starter army that I aquired after winning a past Tournament with my Tyranids prior to 5th Edition. With the economy being so wretched it was tough to invest in a new army.
GAME 1 July 4th, 2009
Deployment:
Random
Scenario:
Random
List Total:
1,000 Points.
My List
The Avatar of Khaine
10 Guardians - Warlock w/Embolden&Spirit Seer - Scatter Laser
10 Dire Avengers - Exarch w/Extra Avenger Shuriken Catapult
6 Guardian Jet Bikes - 2 Shuriken Cannons
2 Wraith Lords - Bright Lance, Eldar Missle Launcher, Flamers
1 Fire Prism - Naked
My Opponent Daves List
The Black Tide or so Dave proudly named it.
1 Emperors Champion
1 Chaplain
3 Squads of 8 Black Templars and 2 Zealots - Power Fist, & Meltagun
2 Dreadnoughts - TL Lascannon, & Heavy Flamer
Pregame Thoughts:
Compared to what Dave usually plays his new list was a bit different then past choices. I was used to seeing a Land Raider on the board. I commented on Dave's choice for a 1,000 point army and he explained he was trying something slightly new that showed results against horde builds.
We proceeded to roll for deployment and scenario and came up with Pitched Battle & Seize Ground. I was kind of annoyed knowing that with only 2 Objectives on the board it could be a likely draw.
Terrain:
I placed a 3 step 4.5 inch tall Hill about 11 inches from the South table edge and an 7 inch tall rock formation in the SE corner. Dave placed to Forests on the center North side with plenty of space inbetween them.
Deployment:
I took the roll and chose the side I placed terrain on. I placed my Jet Bikes behind the rock formations the Fire Prism in the opposite farthest corner. While my remaining army was in or behind the tall Hill. My Objective Counter went right behind my Fire Prism. Lets see those Marines walk all the way to it without any hold ups.
Dave fanned out his army across his deployment zone. With his Objective Counter placed in the board center. There were several gaps inbetween units. I found this odd because I probably would've placed my army in a loose block looking straight down the objective.
Turn 1
My Turn
I was weary of spreading out fire power because I didn't want his Black Templars to engage me to fast. So I picked his center most unit in an effort to isolate the 2 would be flanking units. My Jet Bikes failed to get in range of shooting but were able to posture for better shooting the proceeding turn. I give alot of credit to my Prism that shot a Focused Blast and killed 3 Marines right off the bat. My Scatter Laser platform nailed a Marine dead while my Wraith Lords stunned both Dreads.
Daves Turn
Dave pushed into Terrain to take cover from the incoming barrage. His center most unit and his right flank pretty much formed up in 1 of the Forests leaving 1 squad, the chosen, and a Dread completely cut off from support.
Turn 2
My Turn
My Avatar quickly ran towards Daves vulnerable Left Flank with 2 Wraith Lords in tow. The remaining Eldar kept shifting SE while hammering the weak squad of 6 Marines completely annhilating all but the Chaplain and a single Marine. My Wraiths Lords sadly enough failed to deal any real damage to the 2 Dreads due to cover rolls.
Daves Turn
Dave was limping. He had lost a squad and was still a turn away from combat due to my constant shooting withdrawal. Dave held the single Marine in the Forest while his Chaplain took lead with the second squad and advanced well into my deployment zone. The Dreads took shots at my Eldar Jet Bikes and popped 2 with Lascannon fire. At this point I could see Dave was looking to draw with me knowing my Jet Bikes and Prism were my only hope of contesting or capturing his objective.
Turn 3
My Turn
My Eldar Jet Bikes were key to victory so I boosted them from the center board to the East board curving slightly to the objective. Once again I hammered Dave's left flank with my Prism and Infantry block and yielded poor results as I only killed 2 Black Templars. On top of that Dave rolled a 6 and was right on top of my Avenger who had a slim chance to avoid combat again that turn. My Wraith Lords and Avatar melted 3 Black Templars from the lone squad since they were out of cover and about to make combat.
Daves Turn
Dave tried to Burn my advancing Jet Bikes with a Dread Heavy Flamer but luckly failed to wound. The other Dread nailed my Fire Prism and stunned it. No spirit stones so I was out some big shooting next turn. Not that it mattered with so much close combat. Dave charged my Avengers and a Wraith Lord. The Avengers held thier ground losing 5 aspect Warriors to Daves 1. The Wraith Lord also did considerably well taking only 1 wound and killing the Champion.
Turn 4
My Turn
My Jet Bikes wizzed past the slow cumbersome Dreadnought landing right on Daves Objective counter. The remaing Wraith Lord and the Avatar of Khaine rushed straight into the struggling Avenger brawl and really started to make the fight turn. Dave kept on the Avengers and was left with just a Chaplain and a Templar by the end of combat resolution.
Daves Turn
Dave couldn't do much by this point. He would never make my Objective with all the Monstrous Cretaure Blocks and my Guardian Jet Bikes were about to due away with his only contesting Black Templar and hold firmly. Dave chose to run his Dread back to his Objective to hopefully kill my Jet Bikes on the possible last turn.
Daves Chaplain broke while his other squad dealt another wound to my Wraith Lord, but remained locked in combat. Miserable Power Fist rolls. I guess with Wraith Lords that what you expect.
Turn 5
My Turn
My turn went extremely well as I was able to body block Daves remaining squad with my now free Avatar and Wraith Lord while a single Bright Lance shot snipped the lone Black Templar with the burden of holding the Objective Counter. My Jet Bikes dipped over the Dread back shot it for the glancing stun leaving it out of contesting range and so elequently hopped back to the objective. My Wraith Lord who was tied up went down, but Dave would have to franticly push down the board past The unwounded Avatar, a Wraith Lord, and 10 Guardians who were fanned out holding my objective.
Daves Turn
In short Dave ran past my Eldar MC's holding a few inches away from my Guardians and about 10 inches from contesting my objective. The game ended here. With Eldar holding both Objectives and the Black Templar with none.
Conclusion:
I was a little sad that my Avatar couldn't kill the remaing Black Templars. The Eldar remained the Greater Cruelty none the less. Dave told me he was surprised that he did so poorly considering the results he had against Tyranids and Orks at this point level. I told him I thought his deployment was kind of bad for taking my objective and that I was hell glad he didn't Land Raider rush me!!!
---
Game 2 July 5th, 2009
Deployment: Dawn of War
Scenario: Kill Points
List Total: 1,000 Points.
My List (Eldar)
The Avatar of Khaine
10 Guardians - Warlock w/Embolden&Spirit Seer - Scatter Laser
10 Dire Avengers - Exarch w/Extra Avenger Shuriken Catapult
Wave Serpent - TL Eldar Missle Launcher, Shuriken Cannon, & Spirit Stones
2 Wraith Lords - Bright Lance, Eldar Missle Launcher, Flamers
1 Fire Prism - Spirit Stones
My Opponent Kevin's List (Imperial Guard)
Command Squad - Lascannon, & Bring it Down!!!
2 Infantry Squads - Lascannons
3 Scout Sentinels - Autocannon, & Hunter Killer Missle
Lemun Russ Exterminator - Heavy Bolters
Lemun Russ Demolisher - Plasma Cannons
Lemun Russ Demolisher - Plasma Cannons
Pregame Thoughts:
Going into this game I know Kevin as an experienced player and list builder. I knew by all means that this would not be an easy victory for me especially since his search lights on the Lemun Russ would ignore Night Fighting rules for him the first turn.
Terrain:
I placed a 3 step 4.5 inch tall Hill about 11 inches from the South table edge and similiar to my first terrain placement on my last game. I then placed an area terrain Forest with tall line of sight blocking trees along the center line touching the eastern most boards edge. Kevin placed 2 forests capable of holding 12-15 infantry close to the opposite board edge as fast west and east as he could. Pretty much allowing for alot of space inbetween.
Deployment:
Kevin took the roll and deployed his command squad and a infantry squad on the eastern most forest and then placed the other infantry squad on the western forest. I placed my Avatar of Khaine 19 inches horizontal of the lone infantry squad. My Wave Serpent carrying the Dire Avengers held behind the Forest some distance away for some cover while the Guardians set up on the hill in my deployment area.
I then rolled to seize intiative and got a 6!~ I was very happy to take back the turn. Normally players would say why take first turn? My reasoning was that I actually wanted my MC's and tanks on the board to draw fire off my Guardians. Even after going to the ground I was afraid the Imperial Guard would destroy my Guardians leaving my Wraith Lords in delusional acid trip land for the rest of the game.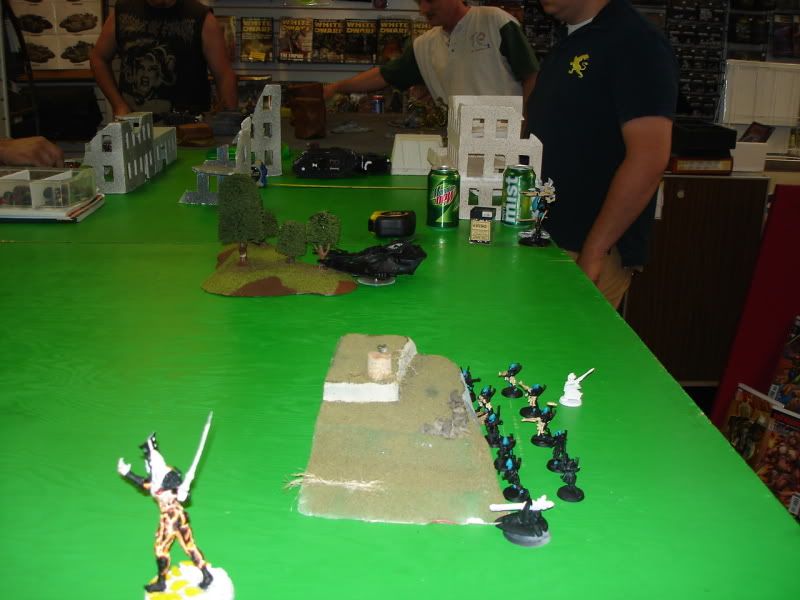 Turn 1:
Eldar
My Avatar moved forward approaching the lone Infantry Squad with 10 Guardsmen then ran for some extra speed. A definate 2nd turn close combat provide the Guardsmen dont budge. From all my experience playing Guard will Eldar if the Avatar succeeded in making it into close combat that early it would throw off his whole game plan. Both my Wraith Lords came up to the hill and took cover. My Wave Serpent darted forward for cover and my Prism entered the board shooting down my table edge for cover. My Guardians failed 2 inches from Scatter Laser.
Imperial Guard
3 Lemun Russ Tanks Moved on the board into the open field between both Forests while the Sentinels stayed in reserve. The Lemun Russ Exterminator shined its light on my Avatar and unloaded crazy shells on it issuing multiple wounds of which the Avatar shrugged off most. Bring it Down command was issued against the Avatar and get this! The Infantry squad that was like 9 inches away which I was certain would run rapid fired on the Avatar sticking 1more wound to it. The Command and Infantry squad on the East board squeezed a Lascannon round off on my Avatar and missed. The Lemun Russ Demolishers both unloaded on my Guardians which went to the ground. 1 Demolisher Cannon round that scattered onto both Wraith Lords failed to wound.
Turn 2
Eldar
Both of my Wraith Lords focused fired on a Lemun Russ Demolisher and stunned the crew. Then my last game MVP Fire Prism took a single shot on the Command Squad killing 3 models which forced the Command Squad to retreat and most certainly fall off the table. The Wave Serpent let loose a missle barrage from cover but failed to pin the remaining Infantry Squad. 1 Kill Point in and an Avatar will begin its cleansing. The Avatar tore the weak Guardsmen to pieces and pushed out of the Forest flanking all 3 Lemun Russ tanks
2 Kill Points!!
Imperial Guard
The Imperial Guard was a nervous wreck. The Sentinels remained in reserve and the Lemun Russ tanks took a poor evasive manuver but continued to bombard my Guardians who in turn ducked stayed pinned behind the hill. One lucky scatter wounded a Wraith Lord. The intact infantry squad took a shot against my Fire Prism and destroyed the Prism Cannon. Better then wrecked I say!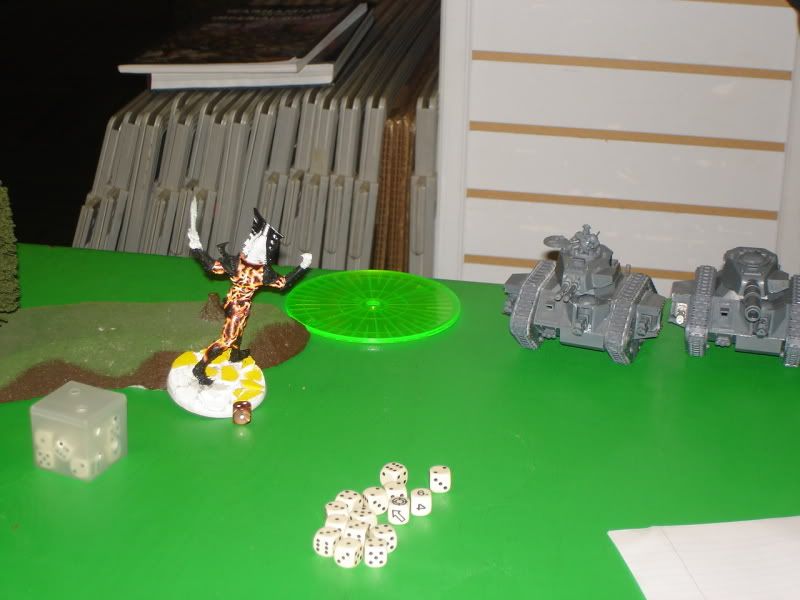 Turn 3
Eldar
I really wasn't sure on what to do with my Dire Avengers because the Lemun Russ would probably nail them off the board so I swooshed both Grav Tanks out to the center (Flat Out Speed) so my Wraith Lords could jockey forward and assist my Avatar with the beat down. Now this is where things begin to get funky. I whiffed my anti-tank shooting phase and somehow my Avatar only managed to destroy some weapons on the Lemun Russ Exterminator. No big deal. I was well protected and in good position.
Imperial Guard
The Imperial Guard Scout Sentinels came on the board and unleashed a furious salvo on my Wave Serpent managing to destroy the TL Eldar Missle Launcher, Shuriken Cannon, and of course stunned. Thankfully Spirit Stones could operate the Serpent. The Lemun Russ Demolishers continued to pin my Guardians who refused to come out of hiding at this point, but really failed to deal real famage.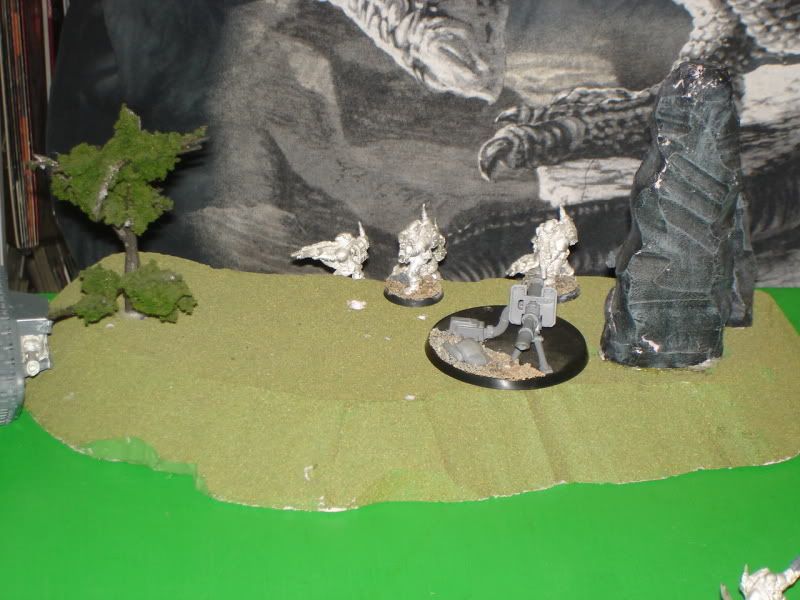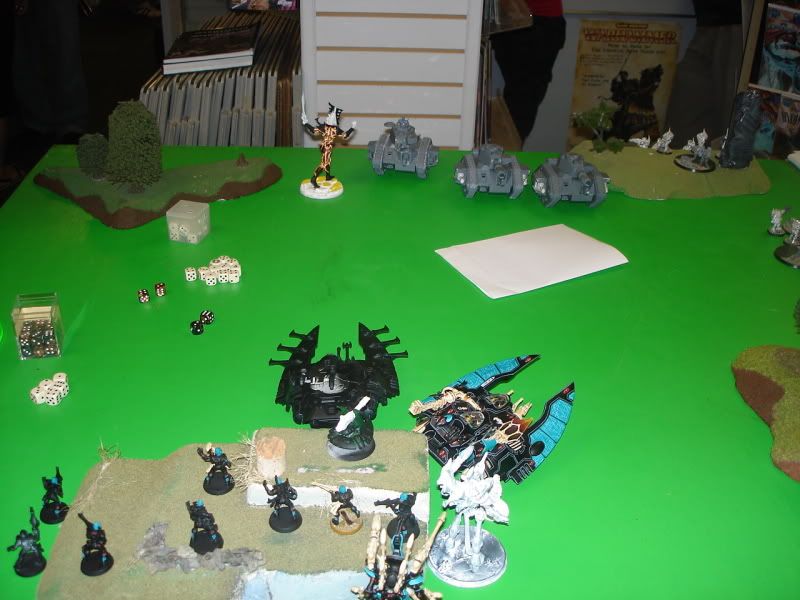 Turn 4
Eldar
So my Wave Serpent and Fire Prism are next to useless, but they're not destroyed so I kept them on the fly to hopefully benifit from obscurement.
Once Again my Avatar moved forward to smah on the next Demolisher but I only managed to immobilze it and stunn the damned thing. Worst vehicle damage rolls ever. Oh and my Wraith Lords who are now out of cover whiff whiff whiff against the Sentinels!!!
Imperial Guard
The Imperial Guard Sentinels drop continue to advance and hail Autocannon fire on my Wave Serpent and destroy it killing 2 Dire Avengers who at least bailed into the nearby Forest. The lone Lemun Russ drops shots against the wounded Wraith Lord and stick some hits but no wounds. Toughness 8 for the win.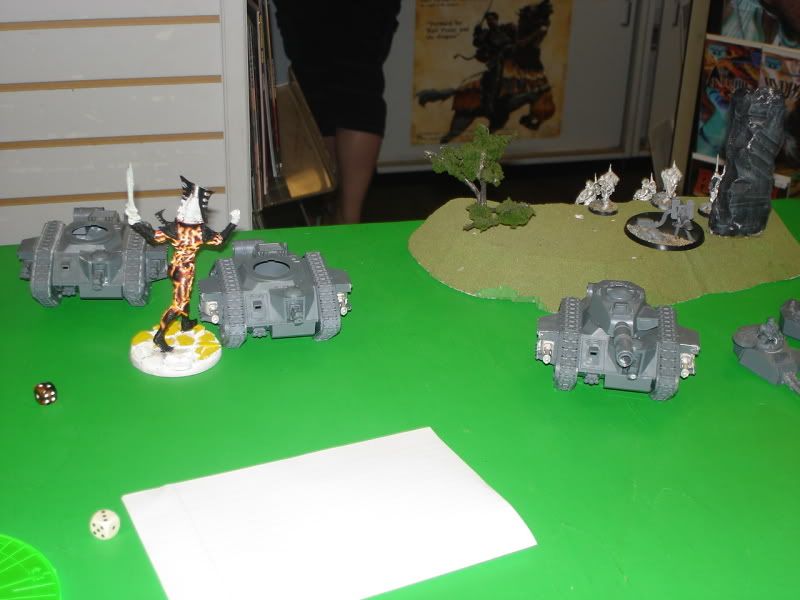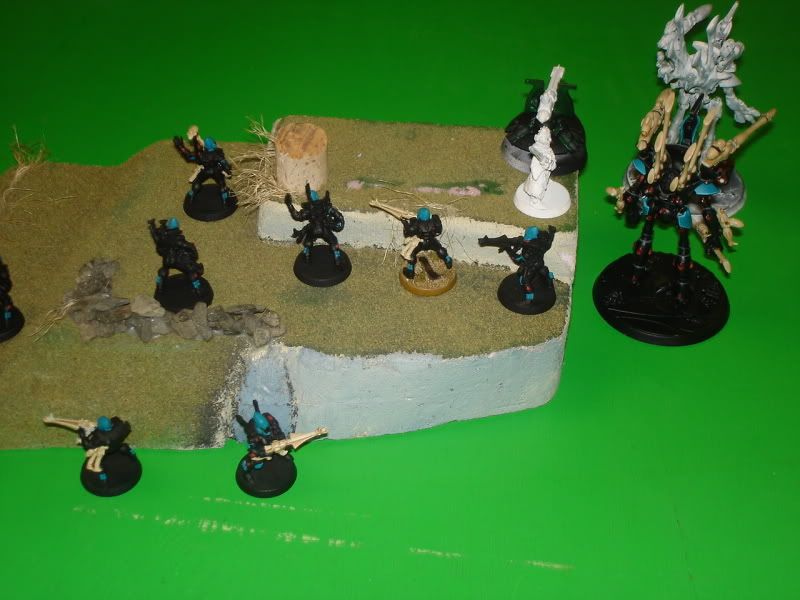 Turn 5
Eldar
So I am ahead a Kill Point have a Frenzied Avatar who is being held back by a surviving Guardsmen in a tank who's boarding up the hatches with spare parts.
The battefield could go to any General. I decide to direct my Wraith Lords shooting to the Sentinels and immbolize kill 1 and shake another. My Avatar continues to wail on a Lemun Russ Demolisher and severs the Demolisher Cannon and hacks apart the tanks treads. My Dire Avengers move to the edge of the Forest and fire into the Infantry Squad scoring some kills. In the end its not enough.
Imperial Guard
So the Guardsmen dont have many options so they continue to focus fire on the wounded Wraith Lord and deal a wound leaving the Wraith Lord standing with a single wound. The Sentinels wise up and combine fire with the guardsmen against my Dire Avengers killing 2 more leaving the squad for slim pickings.
So if the game ends here well I win! I allow Kevin the roll of fate and 5 is rolled. The show carries on.
Turn 6
Eldar
I desperately try to run my Wraith Lord back to cover in an effort to preserve it. I fail short some distance which did make me a little nervous. My Dire Avengers continue to shoot from the woods and kill off a Guardsmen who went to ground, but they held ground. My now free Scatter Laser took some shots against the damned Sentinels and actually Penetrate a hit that gets this! Wrecks a Sentinel! My Avatar proceeded to batter a Demolisher that was down 2 of 4 weapons and immbolized. I rolled something ludicrous like a 1, 2, 2, 4, 2 on the damage chart.
Imperial Guard
The Imperial Guard Lemun Russ fired a lone Plasma Cannon round on the wounded Wraith Lord, Direct Hit, Wound, and Kill!!!! The game is tied.
Kevin gave me the end the game roll and I rolled 5. At this point I admit that I was nervous. Kevin had dogshit for fire power, but I had some vulnerable units. A tactical Draw could become a loss.
Turn 7
Well this picture tells the tale of how the game ends.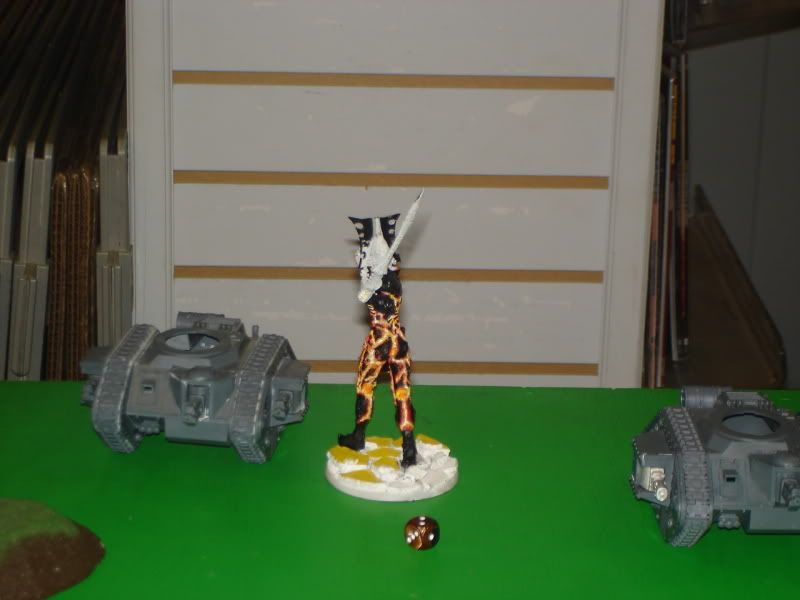 Notice the huge gap between 2 of the Lemun Russ tanks? Thats right! There use to be a Lemun Russ there. About time to because I have no clue how an Avatar ruthlessly struck down these pill boxes for 4 turns and only finished off one.
Conclusion:
Kevin and I both agreed that it was a stressful game. There was so many poor rolls for the both of us. Even though I had the early advantage the Imperial Guard couldn't take back the game due to huge scatters and crappy Lascannon misses.
If you enjoy my battle reports then please continue to enjoy close ups of my WIP Eldar army.
https://www.heresy-online.net/forums/...ad.php?t=41442
---
Last edited by H0RRIDF0RM; 07-14-09 at

02:34 AM

.
---
109 views and no comments!? Does anyone want another report from the campaign because I have one prepared?!
---
Awesome battle reports i was hooked and read them all great gaming keep going !!!! Brilliant
---
WAAAAGH Dragblud
W: 22 D: 6 L: 13
Space marines: Krakens Fury! (TBF)
W: 0 D: 0 L: 0
---
nice batreps, i do have to say though that i hate the avatar and wraithlord combo, but it is a competitive environment so i assume you expected nothing less from your opponents, which is fine. i enjoy reading your battle reports, so could you please post your new one?
---
Quote:
Remember to use the BRB not the SRB from black reach... makes for a much better implement of physical enlightenment through repeated smacking on the head.
Quote:
Ah... the simpler times of the 1960's. When pedophilia wasn't frowned upon.
"Thou shalt not invite a Banshee to Karaoke"
---
I have to agree, these battlereports are quality
---
The day you met me may have been the most life-changing day of your life. For me, it was simply tuesday.
---
I love all of you guys! I havent posted a report in 2 weeks because I thought everyone could care less. I will jump on this right now just for you
---
Game 3 July 12th, 2009
Deployment: Pitch Battle
Scenario: Capture and Control - 5 Objectives
List Total: 1,500 Points.
My List (Eldar)
The Avatar of Khaine
8 Howling Banshees - Exarch w/Mirror Swords, Acrobatics,Warshout
10 Guardians - Warlock w/Embolden&Spirit Seer - Scatter Laser
10 Dire Avengers - Exarch w/Extra Avenger Shuriken Catapult, Bladestorm
Wave Serpent - TL Eldar Missle Launcher, Shuriken Cannon, & Spirit Stones
6 Guardian Jet Bikes - 2 Shuriken Cannons
2 Wraith Lords - Bright Lance, Eldar Missle Launcher, Flamers
1 Fire Prism - Holo-Fields,Spirit Stones
My Opponent Noahs List (Chaos Space Marines)
Daemon Prince- MOS,Wings,Lash of Submission
Chaos Space Marines x 10 - Meltagun, Lascannon
Chaos Rhino
Plague Marines x 7 - Meltagun x 2
Chaos Rhino - Havoc Launcher
Thousand Sons x 7 - Breath of Chaos
Chaos Land Raider
Chaos Predator - Autocannon, Heavy Bolters x 2
Chaos Vindicator
Pregame Thoughts:
I didn't get to bring the list I planned to use, because I left alot of models at my friends house. I had to make due with what was in the bucket. I was somewhat intimidated by Noah's list because mine was definately workable but his was practiced and tough as nails. I knew that I would have to halt his Rhino's fast or his rush on my army could proof fatal.
Terrain:
I placed a large LOS obstructing rock formation on the SE corner area. Noah placed a similiar stonewall 20 inches North of my rock formation. I then placed a large hill with some ducks out on the SW quarter to help block LOS and offer some 5+ cover to infantry on the hill. Noah placed a remote forest due North East of my hill. I placed nice fat ruin in the center board and then Noah placed the last piece of terrain a forest on the NW quarter of the board. Objectives were placed relitively within a few inches of each terrain piece.
Noah's terrain placement seemed somewhat random. I got the notion he was trying to retard my deployment if he won the roll off for first turn.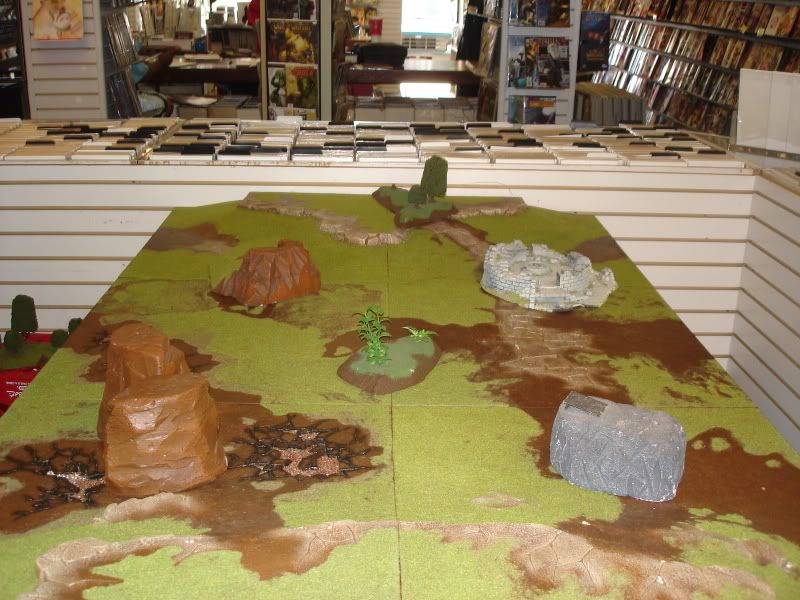 Deployment:
Noahs took the roll and decided to keep the North Long Table edge. A shocking
move on his part since he gave me the 2 tallest chuncks of terrain which is exactly what I needed. Noah Deployed all his tanks in a line a foot off his his table edge. From left to right he placed his Landraider w/Thousand Sons, Rhino w/CSM, Rhino w/Plague Marines, then his Vindicator and his Predator. The Daemon Prince was right behind the Land Raider.
I deployed my Guardians, Wraith Lords, and Wave Serpent directly behind the SW Hill providing excellent cover and saving me from at least a couple turns of fire from his Vindicator and Pred. My Prism wouldn't fit so I crammed it in the SW corner were it was safe. I deployed my Guardian Jet Bikes right behind the large rock formation in the SE. My Avatar played the center field.
The Guardian Jet Bike deployment was huge. For Noah to effectively use his Pred and Vindicator he would have to move diagnol SW giving me clear shots on his side armor with 2 Shuriken Cannons. If he went for my Eldar Jet Bikes I could boost past them and hide behind the rock wall where an objective is.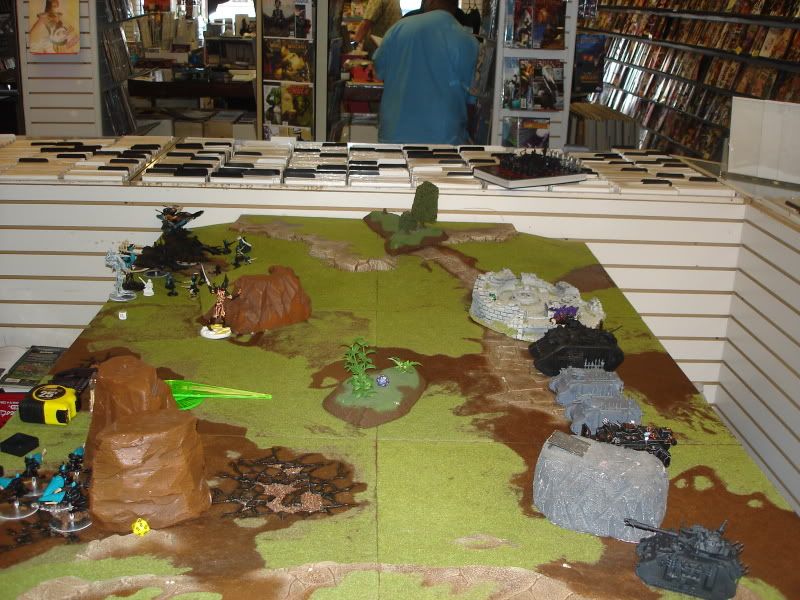 Turn 1:
Chaos
The Chaos Land Raider sat still while the Rhinos pushed forward a little bit. The Vindicator moved fast towards the Eldar action zone while the Predator turned to face off against my Avatar. The Daemon Prince walked into the ruins. Noah botched his first Lash of Submission test ment for a Wraith Lord. I was happy, but knew that luck does run dry.
The Chaos Land Raider unloaded full auto on a Wraith Lord well in cover mind you. Scores to direct hits with TL Lascannon, passed 1 wound and I pass my cover cover. Noah immidiately commented that he hated the Wraith Lord and directed his Predator on the Avatar which pummeled the molten bloody handed god successfully wounding it twice. The Chaos Rhino unhatched its lid and fired a Lascannon shot against of the Wave Serpent and failed to hit.
Eldar
I quickly advanced my Wave Serpent along the West border putting me in range of side armor on 1 of the Rhino's which was covered enough by the Land Raider. At this point I knew the Avatar was a fire magnet and wouldn't get anywhere so I just pushed him into the fray. My Guardians postured for maximum cover benifit while the Wraith Lords took aim at the Land Raider.
My Bright Lances brought the Land Raider down to a stunned result. Favorable, but watching the chances to down the mighty tank was kinda crappy.
My Scatter Laser took pot shots against the open Rhino and failed to damage it while my Wave Serpents missle immobilized the Plague Marines Rhino despite its cover advantage. The Guardian Jet Bikes manuevered behind the rock formation and fired directly on the Chaos Rhino popping it.
and the Fire Prism scattered terribly against the now unprotected Chaos Space Marines.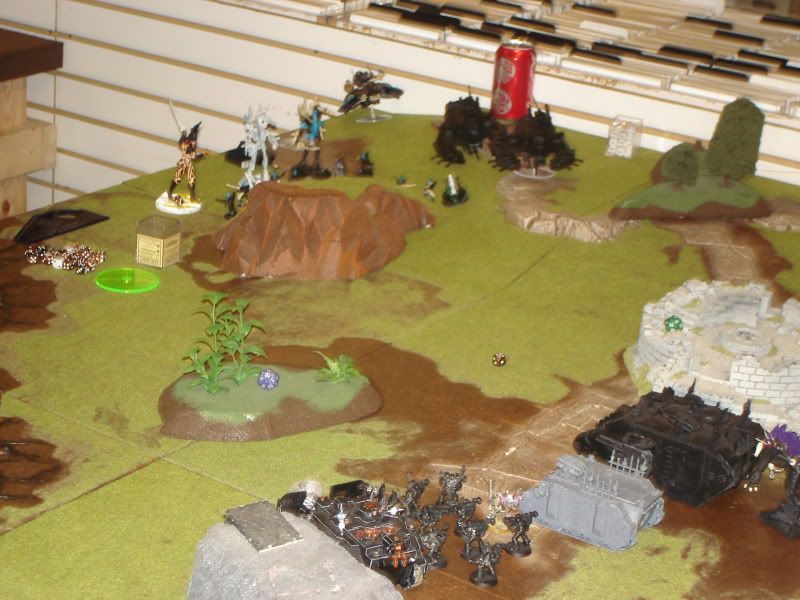 Turn 2
Chaos
Chaos took some damage on the Eldar shooting phase which was incredible so I there weren't many options. The Nurgle Rhino started to advance while the Pred and Vindicator got into full shooting range of my Wraith Lords and Guardians.
The Daemon Prince ignored my Infantry to push my Avatar backwards to protect the Vindicator while Predator continued to nail it dealing a 3rd wound. The Chaos Space Marines tried to put the nail in the Avatars coffin with a Lascannon round, but the Avatars daemonic resilience protected it. The Vindicator scattered against both Wraith Lords who didn't have full cover against the side shot, but the blast scattered and my guardians who were hit went to ground and avoided all damage.
Eldar
My Wraith Lords crept to the far end of the Hill on the west side to avoid side shots while my Grav Tanks all shifted slightly NW just to keep out of melta range. The still alive Avatar was baffled at this point and just rushed East along my table edge to possibly reinforce with my Guardian Jet Bikes.
Now I knew by this point that the Daemon Prince was going to be a problem if left alive so I thought now was my chance to blow it off the table with my Wave Serpent. Lets just say the Daemon Prince really pulled some MVP style rolls as it shrugged 2 Missle Hits with 5+ invulnerable. I stopped for the moment and dropped Bright Lances on the Land Raider and immbolized it.
I've got to say the Bright Lances often disappoint me but today was a whole different feeling of love for the Eldar weaponry. 1 Wraith Lord who didn't fire redirected fire on the Daemon Prince and scored a wound.
My Shuriken Cannons took side shots against the Vindicator and stunned it, but his Daemonic Possession took control where the tank operators couldn't.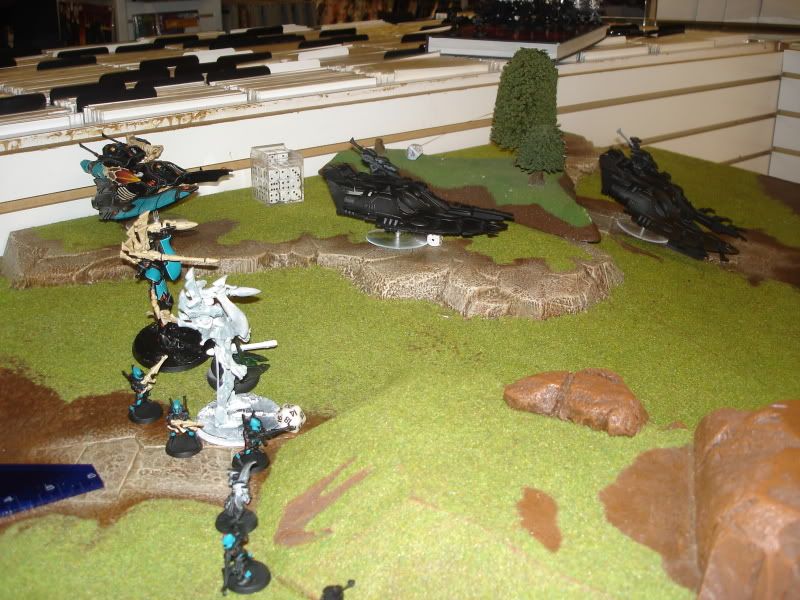 Turn 3
Chaos
The Daemon Prince lept behind the ruins forsaking any chances of using the Lash. Smart move I would say. At this point the Lash would turn into a late game objective stealer and now the Daemon Prince had cover.
The Vindicator kept on the move and was maybe a turn away from getting a shot against my Eldar Jet Bikers while the Pred kept in firing range of the Avatar.
The Nurgle Rhino rushed the center table objective and unloaded the Plague Marines who ran into the little forest. The Chaos Space Marines disregarded shooting to hold the NE objective.
The Predator exploded my Avatar of Khaine while the the Land Raider stuck a wound on a Wraith Lord. Bad move I thought. The Wraith Lords were far off from close combat and wouldn't do well to contest unless the turn 7 rolled around. My Wave Serpent were still flying around untouched and unbothered.
The Vindicator kept on my visible infantry who were fanned out and just kept going to ground for 3+ cover. Nothing like paying 8 points for Guardians in cover
Eldar
So the game was half way over and I still needed to rid the Daemon Prince and secure my Guardian Jet Bikes. I carefully used the dollar bill trick to eye where the Vindicator could go on the board and made sure to really squish my Guardians to get 1 last turn of shooting before I turbo boosted into well.. The Chaos Space Marines lol??? My Banshees in Wave Serpent moved forward someways to prepare for the assualt against the only viable target... The Plague Marines...
I unleashed unholy hell on the Daemon Prince who started off shrugging the first and only missle hit with a 4+ cover. At this stage we laughed really hard at the surviving Daemon Prince. The Shuriken Cannons did reduce the Daemon Prince to 1 wound. I was annoyed to expand Wraith Lords on this crap but I did and in 1 Bright Lance Missle Volley I finished the damned thing off.
My Prism scored a direct hit on the Plague Marines practicly holding hands. I dealt 5 wounds. Noah knew this wasn't good and went to ground losing 1 Plague Marine. I at least secured the assualt and objective contesting for the Banshees.
My Jet Bikes scored some side shots against the Predator stunning it. Huge Huge Huge because now I can assualt move and easily avoid Vindicator death.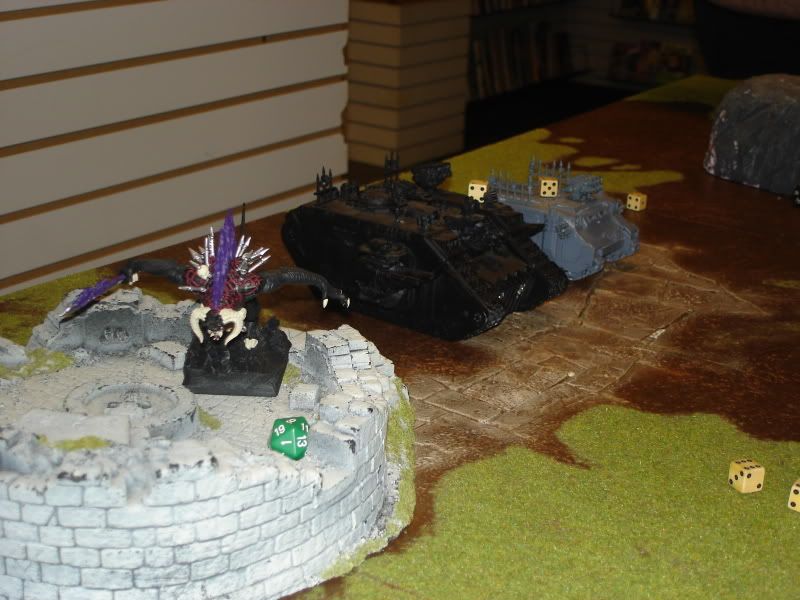 Turn 4
Chaos
With so much Eldar fire power on the board I knew Noah was desperate and would go for the objectives. The Thoasand sons held in Land Raider and. The Plague Marines were in the forest on an objective while the Chaos Space Marines were on an objective and could easily halt me with the Predator and the Vindicator considering that the only unit ready to conest was a about to be empty Wave Serpent and a Guardian Jet Bike unit.
Noah took a full move with the Vindicator and popped smoke insuring that my Guardians would be shot on the last turn while the Predator remained in place. The Land Raider hailed on the wounded Wraith Lord dealing another wound while the Chaos Space Marines went for the finisher but failed on the roll to hit.
Eldar
This was a critical moment for control of the board before random game length and I needed to roll average to succeed. The Banshees deployed and took fleet towards the Plague Marines with some relatively poor cover fire from the Fire Prism. My Dire Avengers deployed and took easy cover behind the ruins that the Thousand Sons were about to contest. My Wraith Lords rushed forward out of cover in an effort to reinforce objective contesting in the later turns.
Now this is where things get hot. Play by play TL Eldar Missle against side armor on the Vindicator and it pops. Double Shuriken Cannon rounds against side armor on the Predator and it pops. Full Bright Lance fire on the Land Raider and it pops!
Then the Banshees assualt the Plague Marines and barely hold ground, but it didn't matter I knew the game was well in my hands.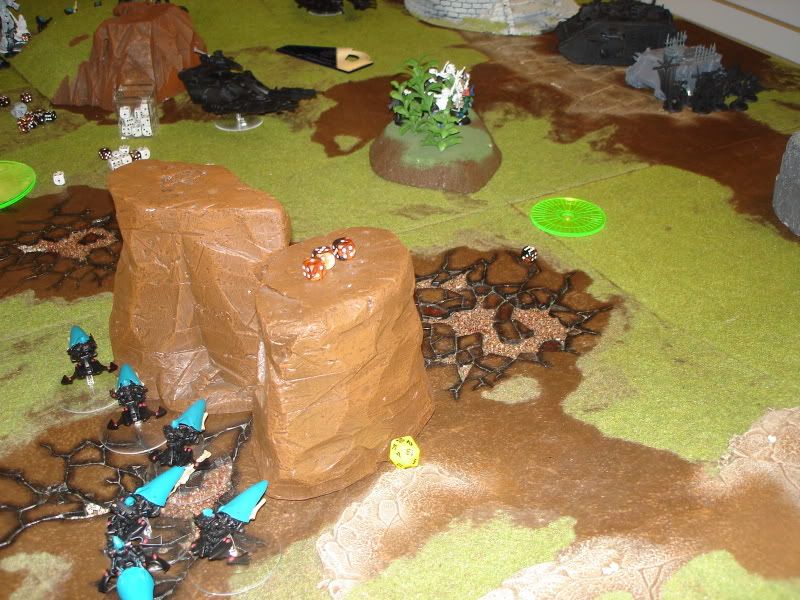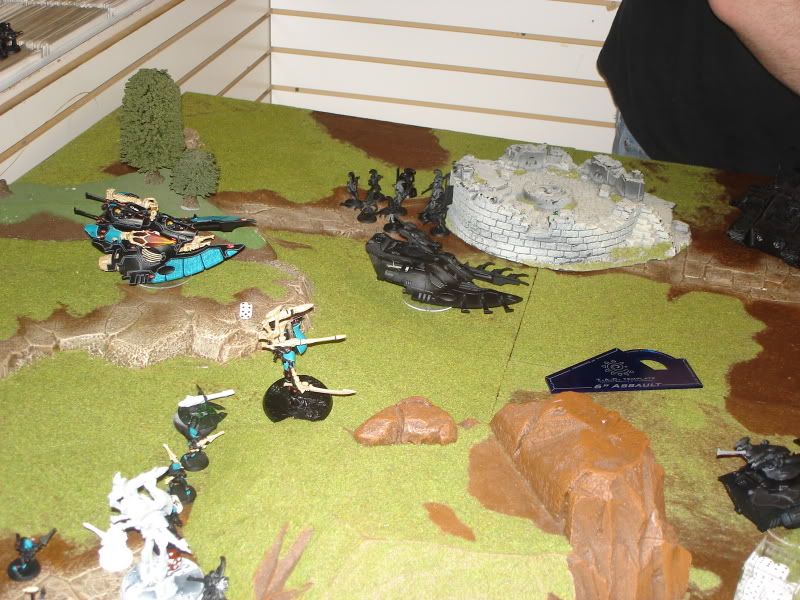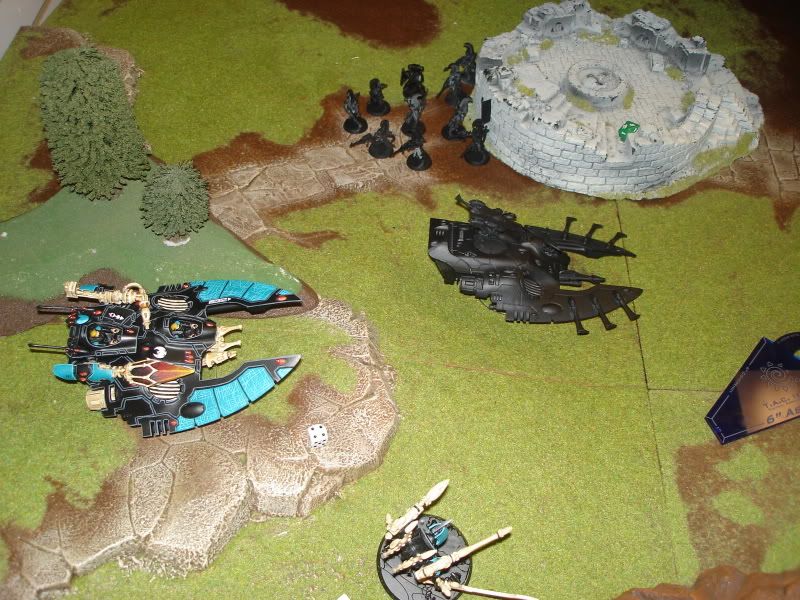 Turn 5
Noah was fubar! The Thousand Sons who were forced out of thier Fortress move out of the wreckage and ran into the ruins objective to square off against my Dire Avengers. The Chaos Space Marines took a Lascannon shot against the vulnerable Wraith Lord and wiffed. The Plague Marines locked in combat against my Banshees traded blows and both units held ground on very even turns as far as unit numbers go. I recall something like 3-3.
My Guardian Jet Bikes held and objective uncontested. My Guardians held an objective uncontested. I flew my a Wave Serpent right up on the ruins objective were the Thousand Sons and Dire Avengers were about to square off. The Prism in tow. The other Wave Serpent moved Flat Out and risked difficult terrain test to reinforce the objective contest with the Plague Marines. Both Wraith Lords moved and ran towards the closest objectives to continue packing on the heat.
My only shooting option was the Thousand Sons so I of course dropped any available fire including a Bladestorm (I admit that 2 of my Dire Avengers couldn't get any line of sight after getting stuck behind the ruins.) All of that shooting and I only killed 3 Thousand Sons. No complaints. Now wasn't the time to care for poor rolls. That was last turn.
The Dire Avengers failed to do shit in the assualt and lost 2 Avengers in the process. Luckily the Exarch kept them all together for sustained combat.
The Banshees and Plague Marines wiffed combat leaving a stalemate on the board.
Noah rolled and the game ended on a 2.
I held 2 Objectives to the Chaos Space Marines held 1.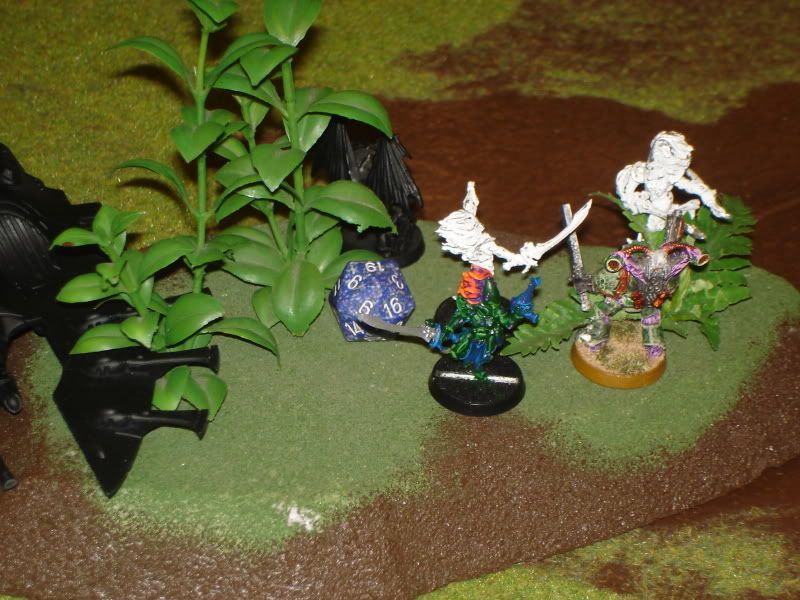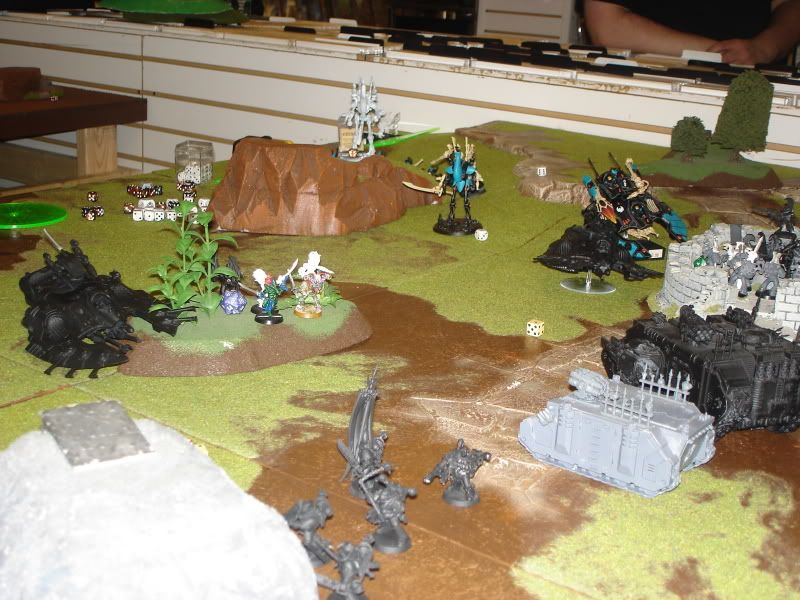 Conclusion:
Noah is an excellent player and deeply enjoyed the game. Noah's experience against the Mech Eldar with Chaos Space Marines was limited as Noah was primarily a Tyranids player. Noah stated that if he could've done anything different he would've rushed my Infantry. We both enjoyed some Pizza after the game and bidded each other good luck on the next weeks game.
---
great game and write up great going!
---
WAAAAGH Dragblud
W: 22 D: 6 L: 13
Space marines: Krakens Fury! (TBF)
W: 0 D: 0 L: 0
---
The Chaos player in that last match confuses me... why put the Thousand sons squad in a land raider, and then just leaving it there.. (given, ofcourse, the immobilize.)

But anyways, sounds like a great match and I hope that pizza was good!

Yet another great read, keep 'em coming!
---
The day you met me may have been the most life-changing day of your life. For me, it was simply tuesday.
Lower Navigation
H0RRIDF0RMS Weekly Summer Campaign Batte Report