Summer Campaign
---
July 13th 2008 Game 1
Eldar vs Black Templars
Points: 1000
Table Size: 4 x 4
Deployment: Pitch Battle
Objective: Annhilation
Special Scenarios: None
My List:
The Avatar of Khaine
Guardians (
Warlock w/Embolden, Spirit Seer, Scatter Laser
)
Dire Avengers x 9 (
Exarch w/Extra Shuriken Catapult, Bladestorm
)
Wave Serpent (
TL Shuriken Cannon, Shuriken Cannon, Spirit Stones
)
Pathfinders x 6
Wraith Lord (
Bright Lance, Eldar Missle Launcher, Flamers x 2
)
Wraith Lord (
Bright Lance, Eldar Missle Launcher, Flamers x 2
)
My Opponent Joe C's List:
Chaplain (
Jump Pack
)
Independant Character (Not sure what it was lol)
Dreadnought (
TL Lascannon, Missle Launcher, Drop Pod
)
Tactical Squad x 5 (
Missle Launcher
)
Tactical Squad x 5 (
Missle Launcher
)
Predator
Storm Troopers x 8 (
Plasma Guns
)
Chimera (
Multi-Laser, Heavy Bolter
)
Attack Bike x 2 (
Heavy Bolter)
Assualt Marines x 4 (
Plasma Pistol x 2
)
Terrain:
I selected 2 pieces of area terrain. Ruins that I placed in the center of my intended deployment zone and a forest that I placed on the East side of my deployement zone. Joe picked an area terrain power field and placed it adjacent to my forest and a medium sized building structure that blocked LOS adjacent to my ruins.
Deployment:
I deployed first and placed my Avatar, Guardians and Wraith Lords inside the ruins. My Wave Serpent holding the Dire Avengers behind the ruins.
Joe placed a Tactical Squad, a Razorback, and his Attack Bikes behind the building structure. His second Tactical Squad and Assualt Squad with Chaplain right behind the area terrain. The Chimera holding Storm Troopers was placed to the flank of Power Field. The Dreadnought in Drop Pod was held in reserve.
Joe failed to sieze the initiative.
Turn 1:
My Avatar advanced out of the ruins and ran to the flank of the building structure. My 2 Wraith Lords wrecked both his Predator and Chimera as they advanced to the edge of the ruins. The Wave Serpent and Guardians Scatter Laser tried some pots shots on his Tactical Squad in the Power Field but didn't deal damage. The Pathfinders on the other hand scored a couple kills on his Storm Troopers who were now exposed after the wreck. First turn and I was up 2 kill points.
Joes attack bikes made a short manuver around the building structure and nicked my Pathfinders, successfully killing 1. The Storm Troopers moved and rapid fired into my Pathfinders but fell short an a couple of inches. Both Missles landed on a Wraith Lord, but couldnt deal any damage. His Assualt Marines walked into the Power Field and then ran for some extra distance.
Turn 2:
My Avatar kept advancing around the building structure but still couldnt reach assualt. The Wave Serpent flew out some ways to prepare for his Storm Troopers and Assualt Marines. I maximized my firepower against the remaing Storm Troopers and caused them to flee. The Storm Troopers were below half and unable to regroup. My Wraith Lords dropped Plasma Missles and Bright Lance rounds on the cluster of Assualt Marines and the tactical squad. I offed 1 Assualt Marines and 1 Tactical Marine.
The Dreadnought stayed in reserve this turn.
On Joes turn he Launched 2 missles at my Wave Serpent and managed to immombilize it. The Attack Bikes retreated back some but kept the Pathfinders in Heavy Bolter range. I felt bad at this point because he landed 5 heavy Bolter rounds on my Pathfinders, and they managed to take cover from each shot. His Assualt Marines flew out of terrain seeking cover behind the wrecked Chimera; luckily for him none suffered a wound from dangerous terrain.
Turn 3:
My Wraith Lords launched an advancing salvo of heavy fire power against the Tactical squad in the Powerfield. At this point there wasn't much on the board to be a threat to them. My Dire Avengers were able to dash away from the immbolized Wave Serpent and Bladestorm the advancing Assualt Marines w/Chappy. OMG >.< I only killed a single assualt marine and just oppened myself up to his counter assualt. My Pathfinders who were also in range had stood still during the movememt phase, but still had a chance to fleet away from the massacre that was coming thier way. Joe made a grave mistake and misjudged the distance between the Avatar and the assualt bikes. I managed to just connect with a bikes and kill 1 leaving the other for the next turn of close combat.
The Dreadnought Landed on the West side of the board and dropped shots on my naked Wraith Lord, failing to wound it. Joe was somewhat demoralized at this point, but he found some retribution in assualt my Dire Avengers and massacring them in 1 pass. His consildation roll left him out of assualt range from my Wraith Lord and somewhat behind my immbolized Wave Serpent which was a bonus Line of Sight Block for him. His missle storm kept on my Wave Serpent and managed to destroy the TL Shuriken Cannon. The Avatar finished off the Attack Bike and ran up on his Tactical Squad that was close by.
Turn 4:
The Wraith Lord closest to his Deadnought took some shots and immbolized it. My Pathfinders who probably should've held ground against his Assualt Marines decided to run into the terrain, but failed short on the fleet roll leaving them open. My Scatter Lasers, Shuriken Cannon, and Wraith Lord artillery hammmers on the last tactical squad leaving it down to the Missle Marines and 1 of his friends
The Avatar jumped into combat with his unharmed Tactical Squad behind the building structure and rolled terrible killing only 1 marine.
Joe was discouraged at this point but saw an opportunity to drive his Assualt Squad into my Pathfinders. The Assualt Marines flew out of hiding and shot at the Pathfinders. I figured maybe they could hold for 1 round of combat so I opted to "Duck for cover" 4+ cover save kept all 5 up, but they got massacred in the assualt phase. Now the Assualt Marines would feel the Wraith of my Wraith Lord.
Turn 5:
The Guardians opened fire on his Assualt Marines and killed 1. My Wraith Lord advanced into the Assualt Marines with heavy weapons and a charge. It went down to the Chaplain holding his ground against the Wraith Lord, but with no way to harm it. My other Wraith Lord killed his Missle Marine and kept marching towards his other Independant character who didn't do shit all game. Joe complained that he had to take this character as part of his companies rules and that the model had limited options. I told Joe, "That sucks man." My Avatar wiped out his Assualt Marines and took a made dash towards the immbolized Dreadnought.
Joe retaliated against my Avatar with his Dread and stuck a wound to it. Definately to little to late. Joe's Chappy was stuck in combat with my Wraith Lord and with no way to wound it.
Turn 6:
Turn 6 & 7 were clean up turns for me. My Avatar destroyed his Dread and his Drop Pod while his Chappy who fought a valiant fight dropped eventually.
It was a good game for the both of us, but I had the advantage of going first with a more competitive list. We discussed tactics for future battles and wished each other luck in next weeks game.
Final Game Stats: Eldar 8 Kill Points Black Templars 2 Kill Points
Sorry if these Pictures suck I will try better next time.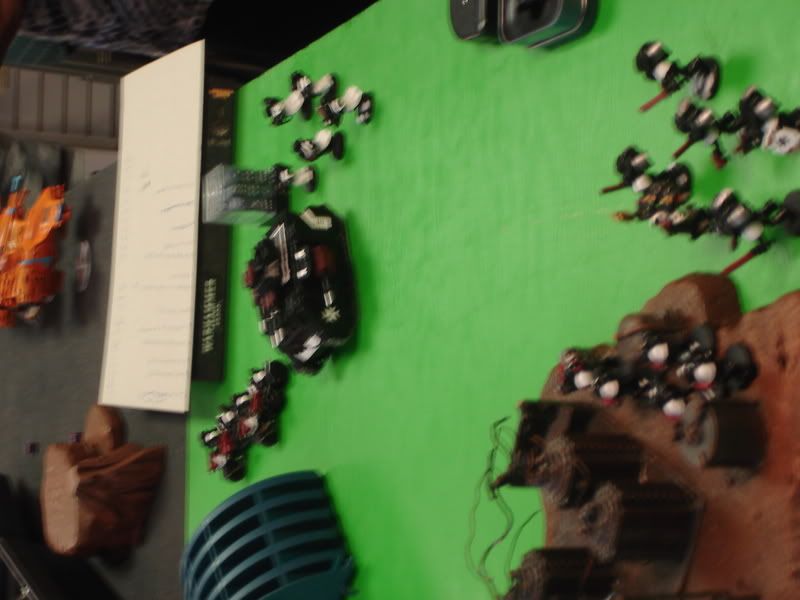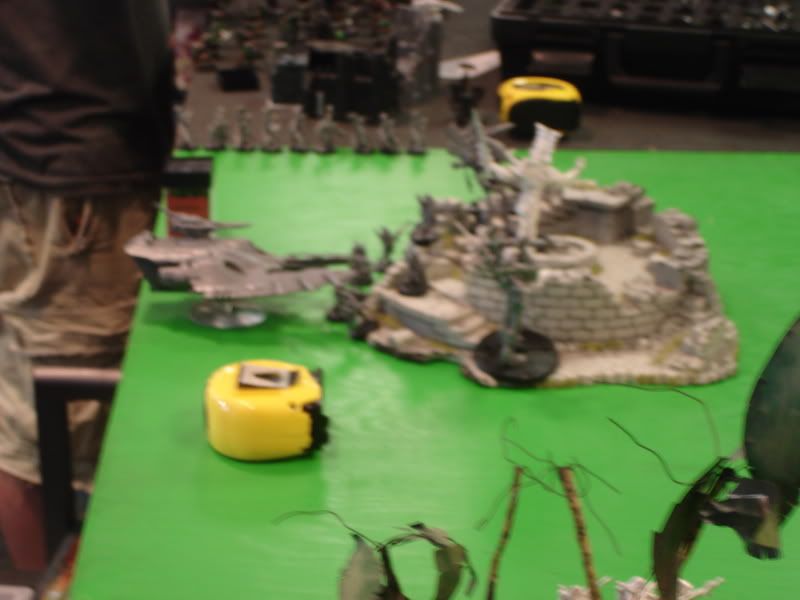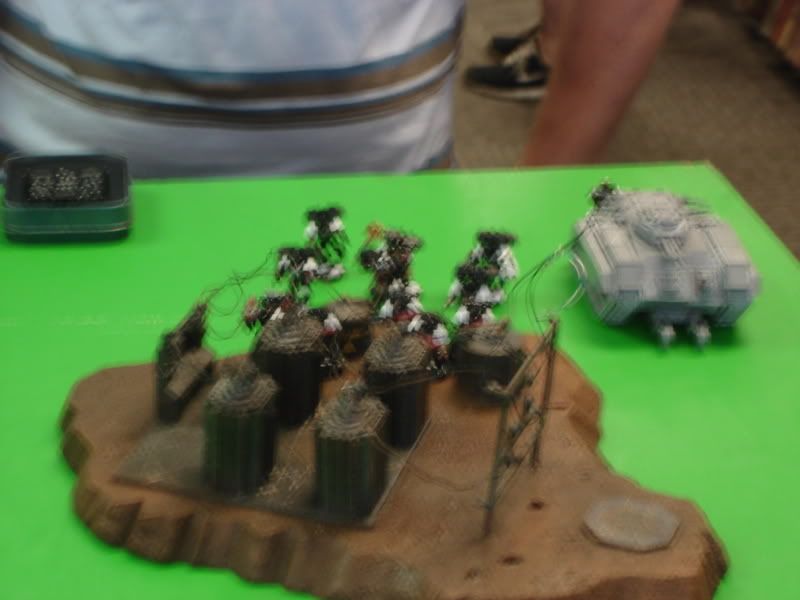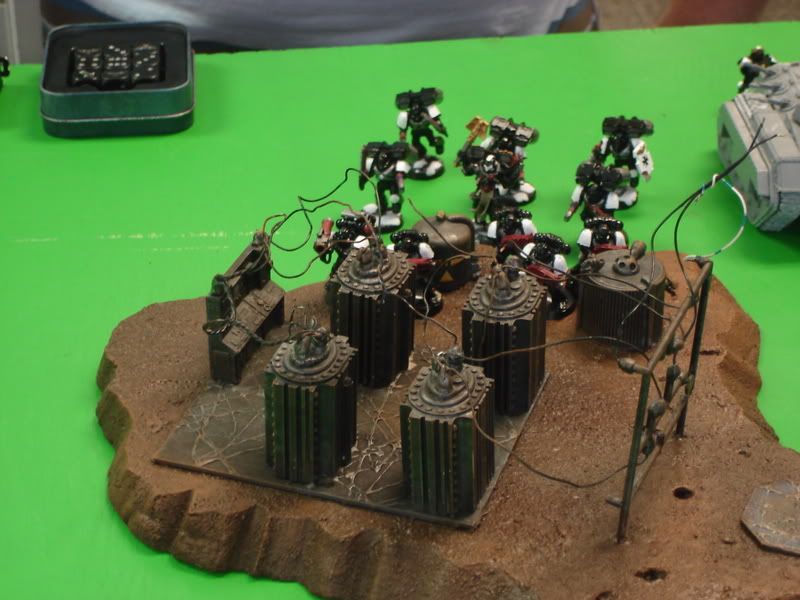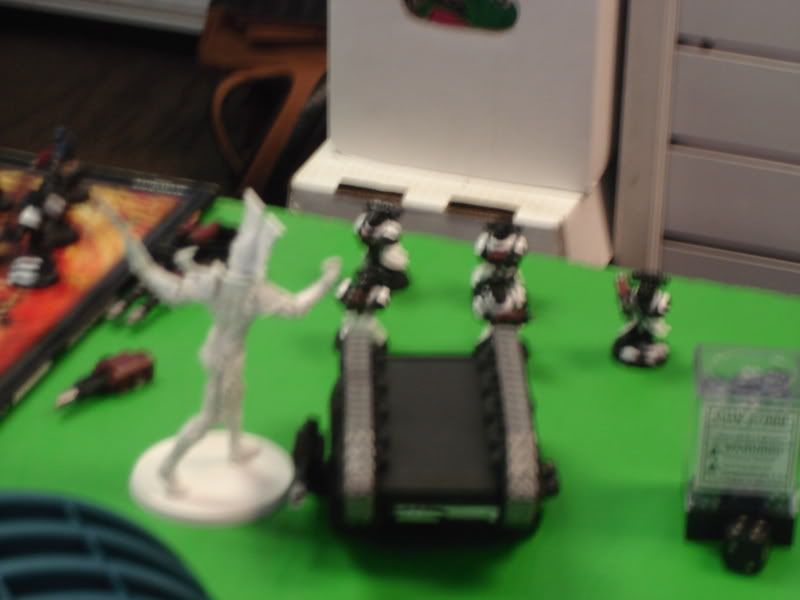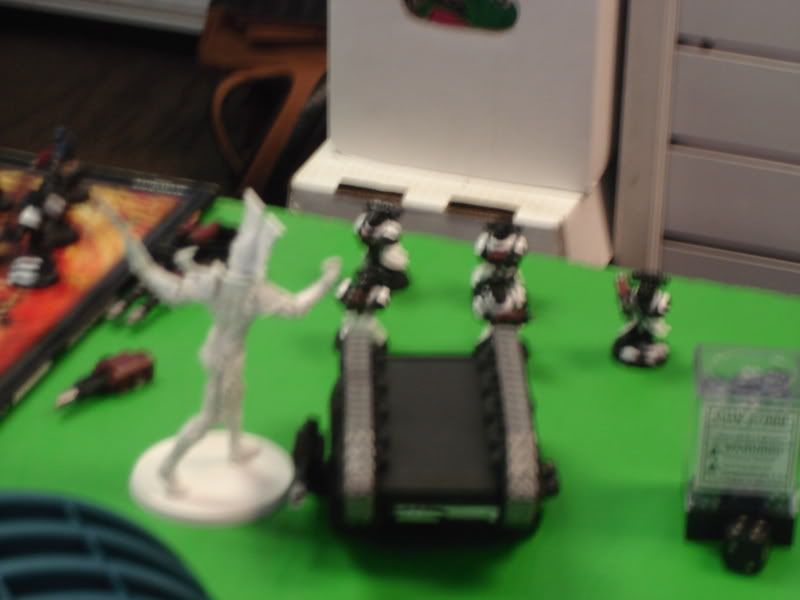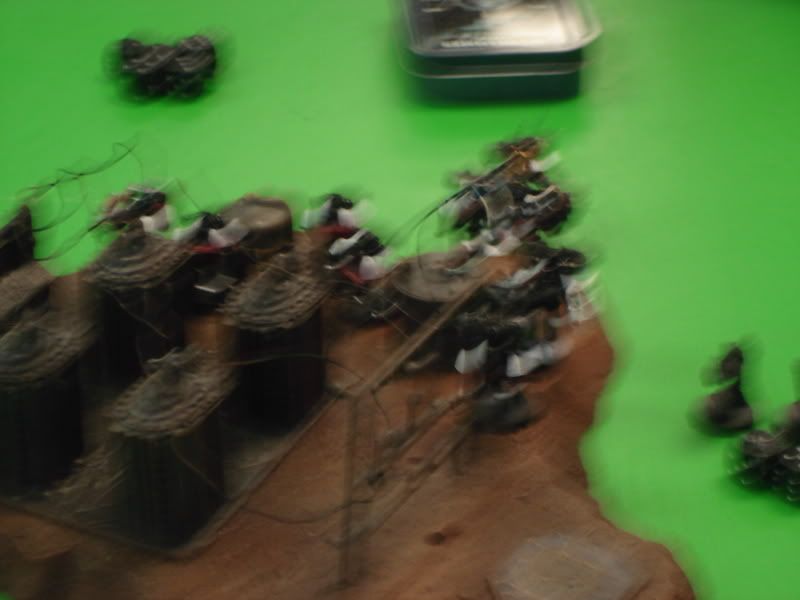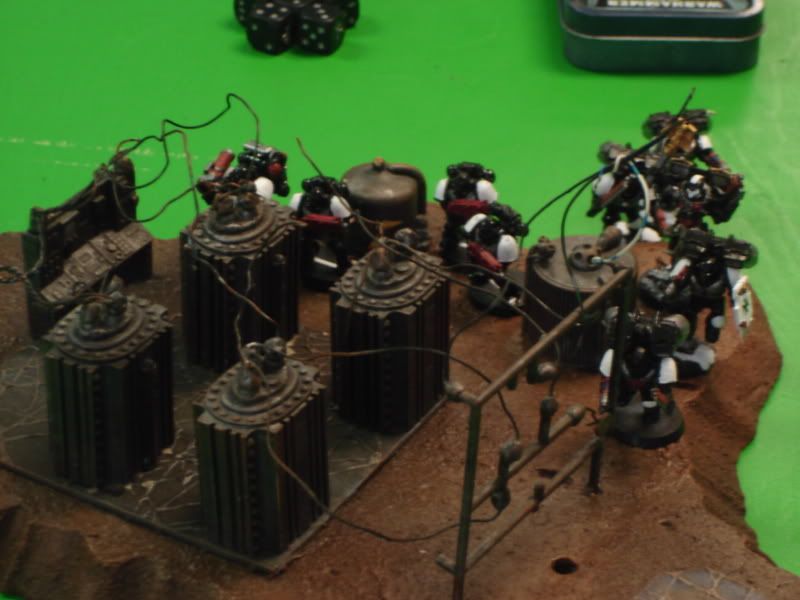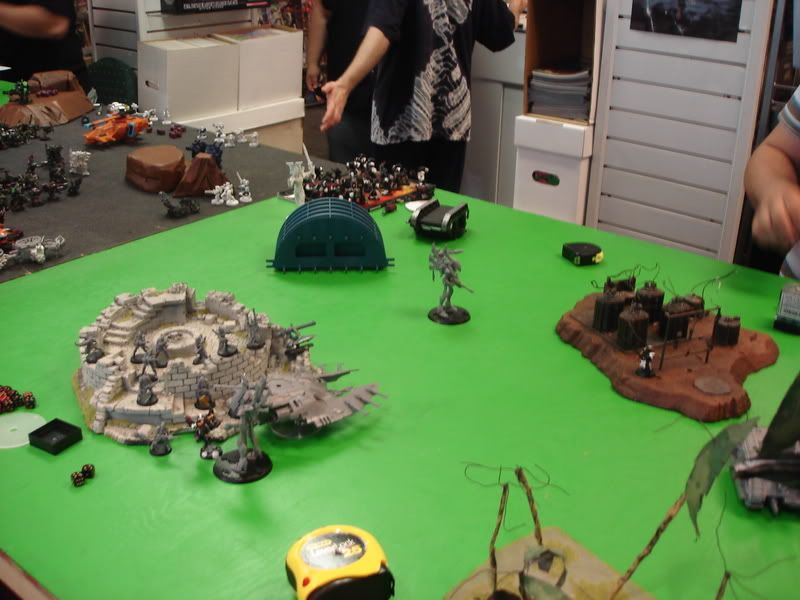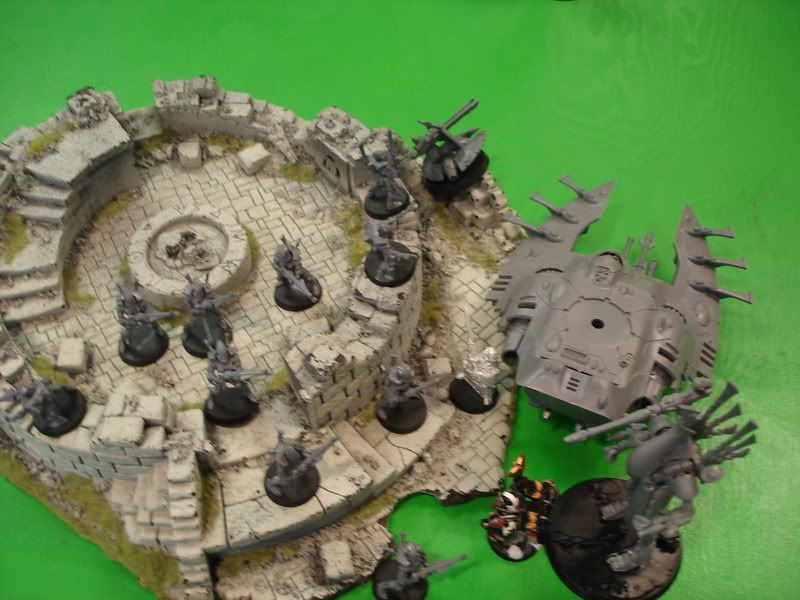 ---
Last edited by H0RRIDF0RM; 07-14-08 at

03:24 AM

.
---
July 20th 2008 Game 2
Eldar Vs Imperial Guard
Points:1000
Table Size: 4 x 4
Deployment: Dawn of War
Objective: Seize and Control
Special Scenarios: None
My List:
The Avatar of Khaine
Guardians (
Warlock w/Embolden, Spirit Seer, Scatter Laser
)
Dire Avengers x 9 (
Exarch w/Extra Shuriken Catapult, Bladestorm
)
Wave Serpent (
TL Shuriken Cannon, Shuriken Cannon, Spirit Stones
)
Pathfinders x 6
Wraith Lord (
Bright Lance, Eldar Missle Launcher, Flamers x 2
)
Wraith Lord (
Bright Lance, Eldar Missle Launcher, Flamers x 2
)
My Opponent Jeffs List:
Command Squad (
Missle Launcher
)
Ratling Snipers x 8
Storm Troopers (
Plasma Gun x 2
)
Storm Troopers (
Plasma Gun x 2
)
Infiltrating Gaurdsmen LOL? (
Melta Guns x 3
)
Weapons Team (
Lascannon x 3
)
Weapons Team (
Lascannon x 3
)
Weapons Team (
Auto-Cannon x 3
)
Lemun Russ
Terrain:
I selected 2 pieces of Terrain. I mountain that obstructed line of sight and a large barren Forest. Jeff selected a large heavily treed forest and a medium sized ruins.
Deployment:
Jeff won the roll and deployed his Storm Troopers into some ruins and some additional Storm Troopers to his right of the ruins. Jeff then placed a Command Squad in a large forest. I chose to place my Avatar behind the mountain exactly 19 inches away from his command squad. I then deployed my Guardians in a cross formation with the Warlock closest to my table edge and my Pathfinders in the same forest just adjacent to them. Jeff placed his objective just behind the ruins that his Storm Troopers were holding. I placed my objective somewhat to close but I didn't care. Jeff had a repuatation for not playing for the objectives so I wasn't to worried.
Turn 1:
A rather uneventful turn. Jeff pulled in his weapons teams right behind the large forest. Some what of a tactical error due to the LOS block from trees. Jeff was already intimidated by my Avatar or so it would seem. The Ratlings came in behind some runes, pretty much giving me cover against them. The Lemun Russ entered in adjancent to the forest so that it could see my objective.
My Dire Avengers flew in on the Wave Serpent behind the Avatar to offer is closing support. My Wraith Lords came in and marched forward towards his objective.
We attempted fire with all possible units but Night Fighting blocked everything. A shooting Stalemate.
Turn 2
After looking at the board I was kinda scared ;( Jeff how so much firepower that I knew his first shooting turn could be really bad for me.
The rattlings shot at the Wraith Lords but didn't pierce the might Wraith Bone armor. Ordanance placed on my Guardians scattered 7 inches past my Pathfinders. I crossed my finger because the Autocannons opened up on my Wraith Lords. No wounds I was still in the good.
Jeffs realized he was LOS blocked on 2 of his Lascannons. He complained and called a judge over to contest my claims that his Lascannons couldn't see through the solid tree mass. Judge ruled that he couldn't so he could only take 4 shots on my Avatar. go figure I rolled double 1's for saves and the Avatar was alrighty hurting big. His Hell Guns killed a couple of Guardians but no big deal.
On my turn the Wraiths Lords tied up his Lemun Russ with a Crew Stunned Result. My pathfinders took pop shots at his Auto-Cannon team but failed miserbly to hit. The Dire Avengers deployed and shot down his whole Command Squad and were well out of sight of his mainstay. My Avatar ran into cover and was within assualt distance of Lascannon team. The Wave Serpent shot down some Storm Troopers, but they held.
Turn 3
Jeff took aim and blasted my Avatar with his Lascannons, maiming the Bloody Handed god and putting him down for the count. This was ok because my Dire Avengers secured that flank and it was worth my investment. Jeffs Auto-Cannons destroyed my Wave Serpents TL Shuriken Cannon while his Ratlings switched targets from my advancing Wraith Lords to my Guardians. Embolden made all the difference on both my Pin check and my Flee check failing the intitial roll. :D Jeff's Storm Troopers took shots at my Pathfinders and to his misfortune both Plasma Gunners died from "overheating"
The Wraith Lords kept the Lemun Russ stunned as they advanced towards the Storm Troopers. My Pathfinders tried to bog down his Ratling and succeded in both killing 1 sniper and pinning the unit. I decided to try something intresting. I moved my Wave Serpent "all out speed" and forced tank shocks on his Storm Troopers, Auto-Cannon Weapon Team, and the Ratlings. I figured I would gain some momentum with my advancing troops and probably take out his ratlings. Go figure leadership checks 5, 3, 2 omg wtf lol? Nadda nothing zilch. The Dire Avengers moved in and battered a Lascannon team who took the option of "ducking for cover." I killed a 3 loaders, but he still had 3 Lascannons on the table >.>
Turn 4
Jeff rolled a 1 on his Flanking suad, failing for the 3rd turn in a row... Pretty Sad really. All of his Infantry turned tail and shot into my Wave Serpent blowing it to pieces. The shrapenl didnt injure any lousy guardsmen. Jeff was kinda stumped at this point because turn 5 was rapidly approaching and he hadn't dealt enough damage to impede my Wraith Lords. His Ratling kept on my Gaurdians and reduced there numbers to 3 + a Warlock.
1 of my Wraith Lords was to far from my Warlock but he didn't succumb to the stuppor and decided just to go all out and strike down the Lemun Russ. I got lucky and wrecked it finally. Only took 4 turns of concentrated fire. The second Wraith Lord dropped a Plasma Missle on his Storm Troopers closest to his objective and caused them to flee off the board. My Dire Avengers mopped up the Lascannon Team with Blade Storm. I figured I could fleet into assualt next turn and possibly start pushing to the seemingly far off objective. My Pathfinders and Scatter Laser bombed in the shooting phase and didnt even so much as scratch a single unit.
Turn 5
Jeff still held his objective and I held mine. If the game ended this turn it would probably be a draw. I'm not sure what they were but some Guardsmen came in from reserve and out flanked the wrong side coming in on my Dire Avengers. I almost felt bad because he needed them on the Guardians side. It would've made a huge difference in the last couple turns for sure. The Gaurdsmen knicked an Avenger and his Autocannons and Ratling finally wounded a Wraith Lord.
On my turn my Avengers charged his flanking gaurdsmen and killed massacre them rolled a 6 and consolidated right back into place. I was really nervous at this point. Should I risk flaming his last storm trooper unit and miss close combat with them? Should I shoot them with my Pathfinders risking the possibility that they flee and then regroup on the objective still. At this point I was certain that the only sure fire move was to assualt them and keep them bogged down. So I did, killed 3 and he held. My remaining Wraith Lord couldn't make close combat but had 3 wounds on him and was rearing for a charge next turn.
and the game kept going!
Turn 6
Jeff was out of options so he tried his hardest to drop his remaining firepower on my 2 scoring units, and once again embolden kept my Guardians on point. YAY Embolden!
My single Wraith Lord mopped up his scoring units and Jeff threw in the towel.
At this point Jeff didn't have enough Fire Power on the board to take down both my Pathfnders and my last 2 Guardians. My Wraith Lords piled into his ratlings and the game ended that turn.
Eldar Objectives Captured:2

Imperial Guard Objectives Captured: 0
My Opponent Jeff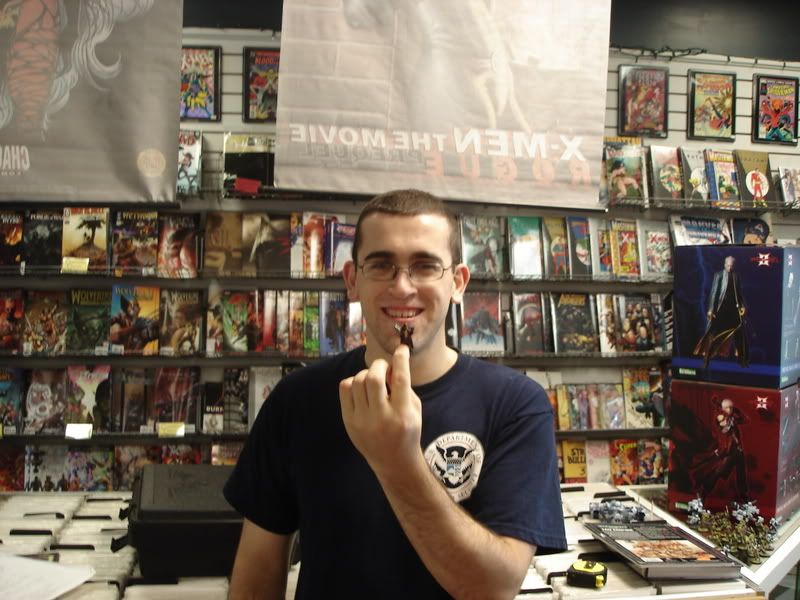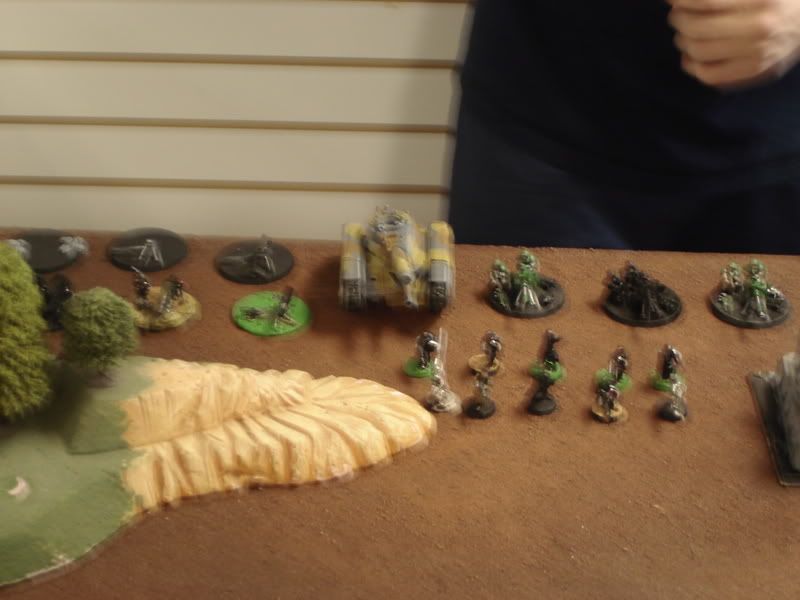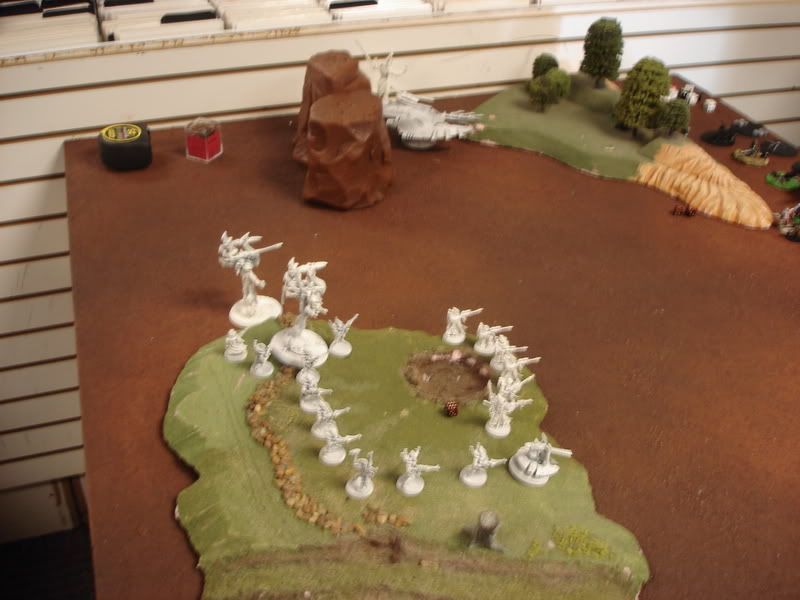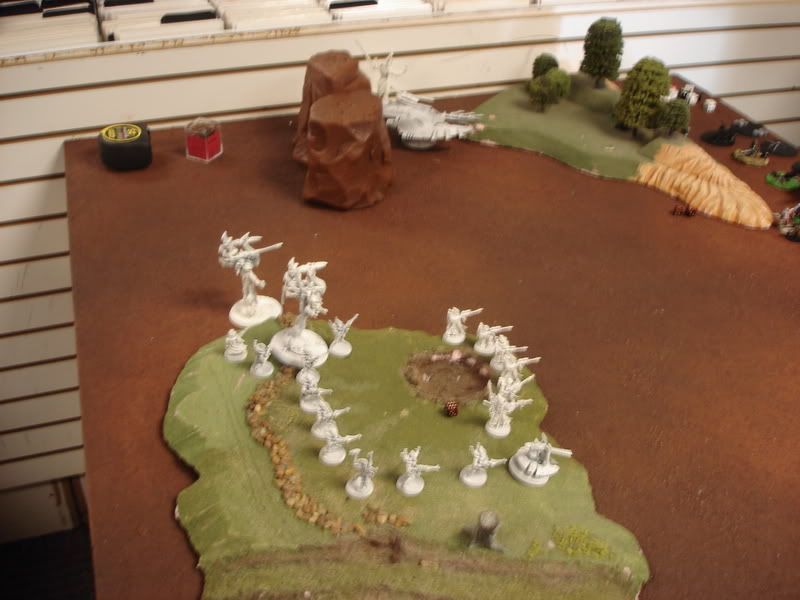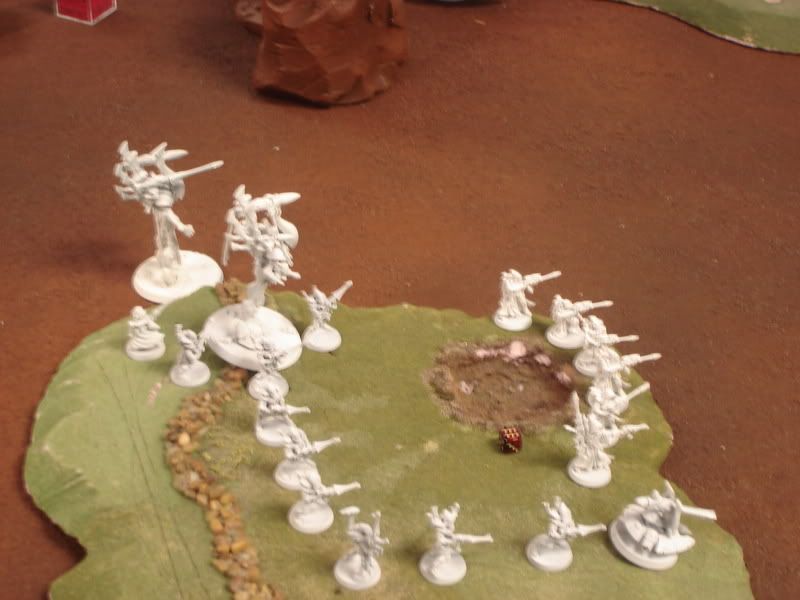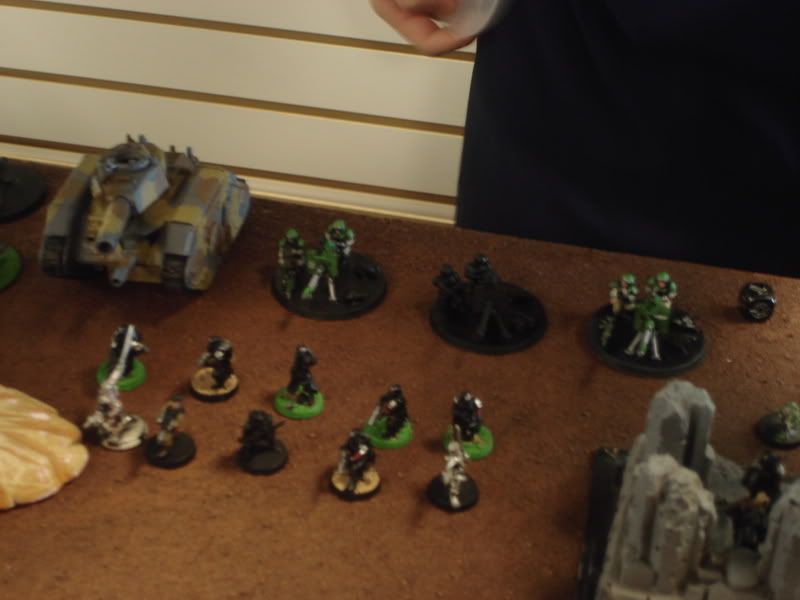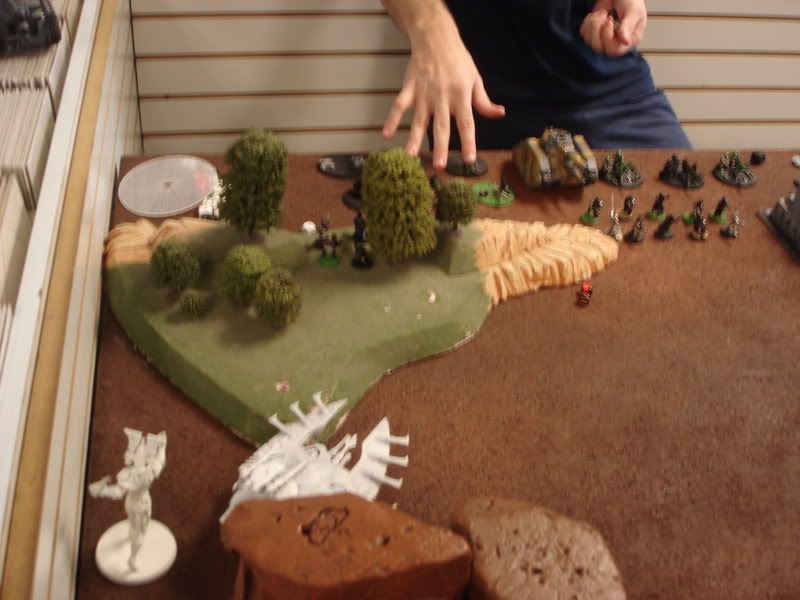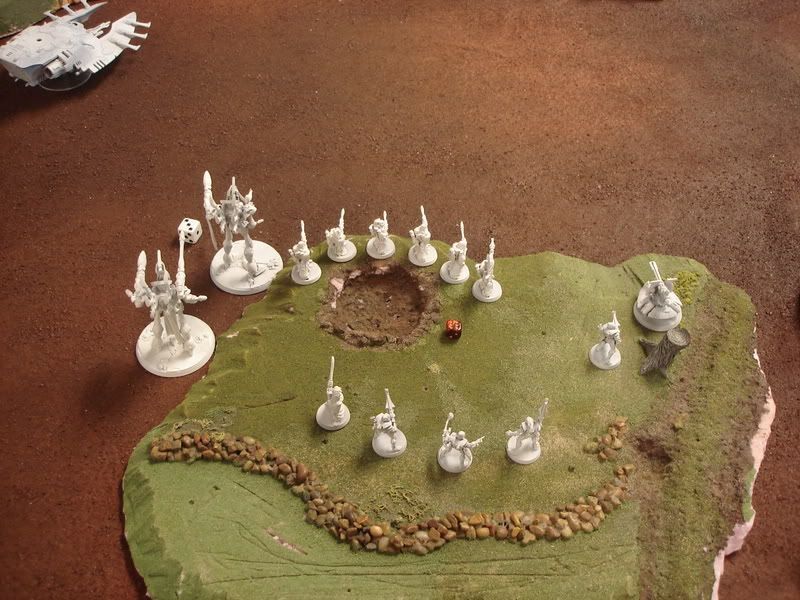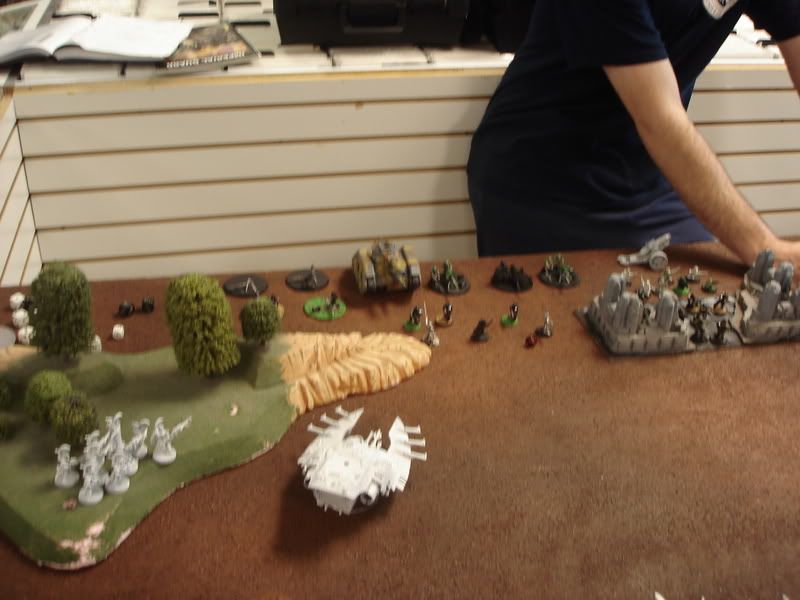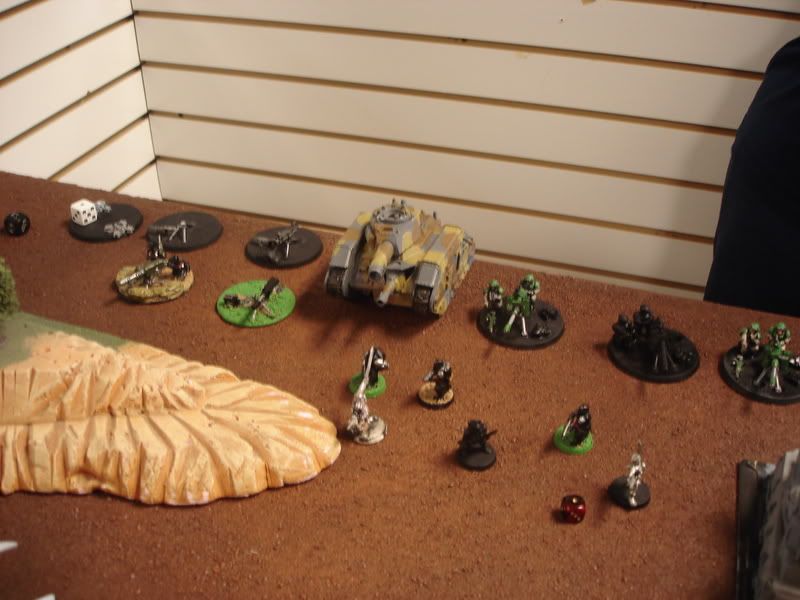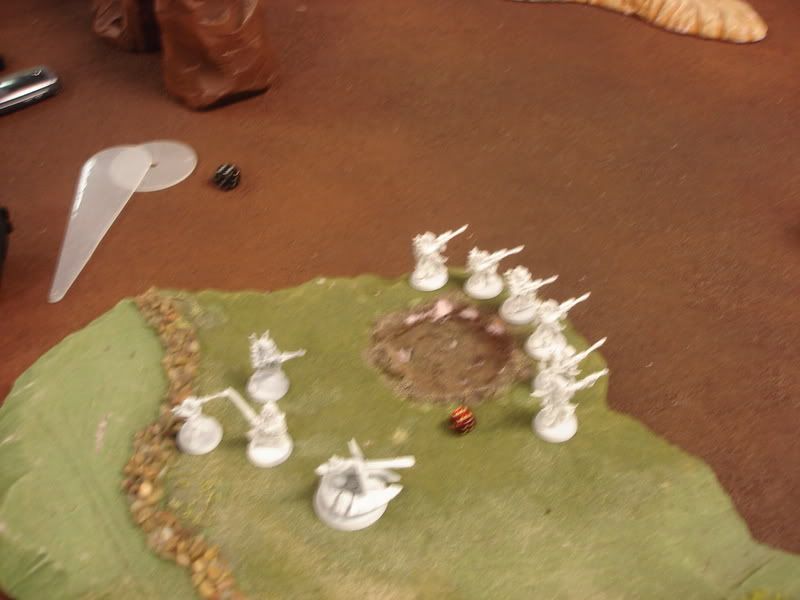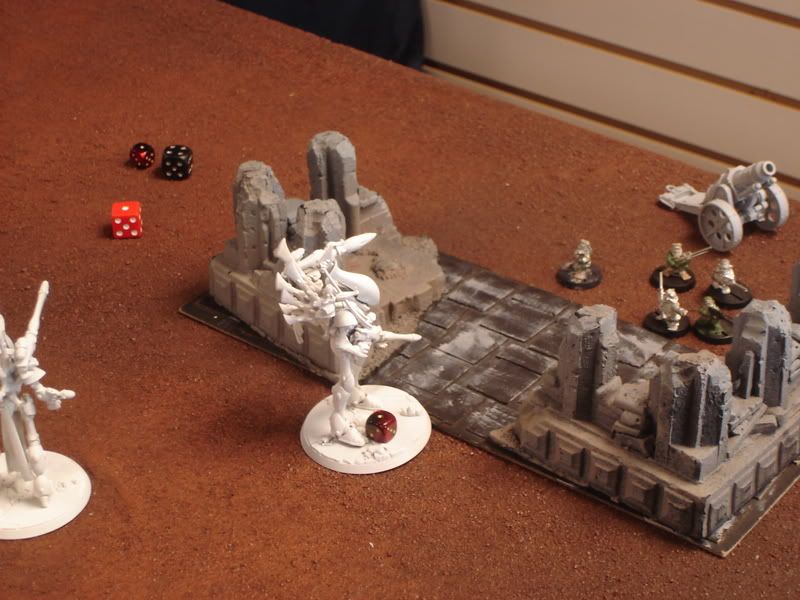 ---
Last edited by H0RRIDF0RM; 07-21-08 at

12:42 AM

.
Join Date: Dec 2007
Posts: 666
---
Good battle reports and pics and good luck with your next games.
---
Thanks for the reply. I feel like a retard when I post these things and they make a 100 views with no feedback. I have like 7 more games to go :D
---
nice reports. Is it just one game a week or something?
---
Seasonal Campaign is a money pull from 2 dozen + players. We campaign for 9 weeks and at the end the Best General, Best Painted Army, and Best Sportsman get 1/3 the money pull a piece in warhammer products. We play once a week on Sundays.
We also do fullscale tournaments on Saturdays.
The campaign is really just a way to introduce new players to the game because we start at 500 points and work our way up 2000 usually. It also promote painting and sportsmanship. Imagine winning an army for brining all your opponents a cupcake and a soda before the match lol?
The campaign usually features special scenarios to add spice to the game.
Here's a link to the 1st Quarter Campaign that won me a really sweet core army for the Eldar I play now.
https://www.heresy-online.net/forums/...ead.php?t=5095
---
O yea i remember that stuff. You had good reports then and u still do. Great stuff.

Do you need to use the same army list the entire time or can you mod it. Specifically i want to know that if as the points go up do u get to completly remake your army or do you just have to add an additional X points to your current list.

Always good to see another eldar player either way. Fairly solid looking list, very similar to what i would run in 1,000. I love WL's.

Well good luck.
---
We are told the objective 1 week in advance. Special Scenarios if any are told on the day of the game. We bring a legible army list on the day of the game and it's stamped by the campaign organizer with a date and signature to prove authenticity. We're then assigned our opponents and play.
Join Date: Jun 2008
Posts: 139
---
Great reports, easy to read, didnt get bored with figures or bogged down in fluff
.
Pictures are a rare treat as well, really helps bring it alive
I'm considering making an Eldar force one day. I think it would probably look something like yours if I did
.
---
Last edited by Canadish; 07-29-08 at

02:16 PM

.
---
July 27th 2008 Game 3
Eldar Vs. Eldar
Points: 1,000
Table Size: 4 x 4
Deployment: Spearhead
Objective: Sieze Ground
Special Scenarios: None
My List:
The Avatar of Khaine
Guardians (
Warlock w/Embolden, Spirit Seer, Scatter Laser
)
Dire Avengers x 9 (
Exarch w/Extra Shuriken Catapult, Bladestorm
)
Wave Serpent (
TL Shuriken Cannon, Shuriken Cannon, Spirit Stones
)
Pathfinders x 6
Wraith Lord (
Bright Lance, Eldar Missle Launcher, Flamers x 2
)
Wraith Lord (
Bright Lance, Eldar Missle Launcher, Flamers x 2
)
My Opponent Armado's List:
Autarch (
Jet Bike,Mandi-Blaster,Laser Lance
)
Striking Scorpions x 6 (
Exarch w/Scorpion Claw, Shadow Strike, Stalker
)
Striking Scorpions x 6 (
Exarch w/Scorpion Claw, Shadow Strike, Stalker
)
Guardian Jet Bike x 3
Guardian Jet Bike x 3
Vyper (
Shuriken Cannon x 2
)
Shining Spears x 4 (
Exarch w/Star Lance, Withdraw
)
War Walker (
Missle Launcher x 2
)
War Walker (
Missle Launcher x 2
)
War Walker (
Missle Launcher x 2
)
Terrain:
Amando won the roll off and immidiately placed a large hill in the NW corner. I chose a tall strip of ruins and placed it in the opposite quarter. Amando then placed a similiar large hill in the NE corner. At this moment I felt kinda nervous because I knew Amando was a damn good player and had gotten the advantage over me several times with careful terrain placement in the past.
I placed some additional ruines in the SW deployment that might just be tall enough to shield my Wraith Lords.
Amando noted what I did and we both went for deployment rolls.
Deployment:
Amando deployed first hiding all of his Bikers, and the Vyper behind 1 tall hill. The Scorpions and Warwalkers were placed in reserve. His careful deployment denied me any real advanatge for my Pathfinders, but I noticed I could get Line of Sight on the SW ruins and if I could sieze the initiative I could probably 1 of his only 2 scoring units in my first shooting phase. If I didn't then they would be sitting ducks for his Flankers. I went with the chance. My remaining army boxed into the SE ruins allowing plenty of room on the Flanks to avoid charging flankers who would arrive on turn 2.
Amando rolled first and placed 1/5 objectives. He made a triangle of objective counters behind the Hill in the NW while I hid 1 in the SW and 1 in the SE. I could see his plan to abuse manouverability unfolding.
Turn 1:
No Sieze the Initiative for me!
Amando's bikes picked up on my Pathfinders and darted away leaving both squads behind seperate hills and away from my LOS.
His Vyper moved out of hiding and took some pop shots at my Pathfinders. Dealing 2 wounds and 2 Kills after a snakes eyes came up.
Oh man I was already crying because I could see this turning into the game of bullshit rolls.
On my turn I packed in my Wraith Lords and Guardians while my Wave Serpent flew out behind the ruins, unloaded the Dire Avengers, and took shots at his Vyper. Crew Stunned was the best I could manage. My Pathfinders immidiately moved through the ruines and opted to run majority behind the Wave Serpent to retain the 2+ cover. My Dire Avengers obscured my Pathfnders flank.
I saw an opportunity to get my Pathfinders onto the high ledge of the SE ruins that would allow me to overlook the battlefield and give me more LOS for the end game fight.
My Avatar left cover hoping to bait his Shining Spears.
Turn 2:
Amando brought in 1 squad of Scorpions with a War Walker on the SE ruins and a 2nd War Walker on the SW open field. The Scorpions were. The Scorpions shot at my Dire Avengers killing 1 model, while his War Walker Missle's Crew Shaken' my Wave Serpent. The second War Walker dropped Missles into the ruines nailing 4 Guardians who were tightly packed. Embolden kicked in and saved them from a failed Pinning Test.
On my turn 1 of my Wraith Lords moved out of the Ruins and destroyed his SE War Walker. The other Wraith Lord was to deep in cover to be of real effect on the SW War Walker, but I managed another Crew Stunned hit on it. My Guardians formed a gun line in the ruins keeping the Vyper Stunned with the Scatter Laser. The Guardians were slowly headed towards the SW ruins for a late game objective garb. My Pathfinders continued moving until they reached the top level of the SE ruins.
My remaining Dire Avengers Bladestormed the Scorpions and luckily nailed 3 and forced them to flee on the LD test. The Fleeing Scorpions lost thier footing on the ruins. My Avatar moved in the support the Dire Avengers.
Turn 3
Amando brought in his remaining Scorpions and the 3rd War Walker who all came in on the NE side. The Scorpions ran in to support his Guardian Jet Bikes who were hiding behind the NE large hill.
The War Walker on the NE had clear Line of Sight to my Dire Avengers and dropped some hurt on them from afar even after they went to ground. My Avengers were in range of the Avatar but took serious blow leaving behind 3 Avengers and the Exarch. The Scorpions regrouped and consolidated towards the SW ruins and then ran in to contest them.
On my turn both my Wraith Lords left the SE ruins and marched. 1 headed towards the SW and the other headed towards the SE
1 Wraith Lord shot down the Vyper while the other took down the NE War Walker. My Pathfinders had no shots, but had 2 out 3 of Amando's objectives completely insight. I would keep them thier to cover late game objective scoring. My Wave Serpent moved out and shot Amando's War Walker once again keeping it Shaken. My Avatar assualted into cover and killed 2 of the 3 Striking Scorpions, and it held.
Turn 4
On turn 4 the Shining Spears and Amando's Autarch charged my Wraith Lord dealing 2 wounds. My Wraith Lord knocked out 1 of the 4 Spears and held its ground.
His Warwalker assualted my Wave Serpent and failed to deal any damage. Then his Scorpion went down to my Avatar and I consilidated 6 inches to close to the Wraith Lord stuck in combat.
On my turn the Wave Serpent nailed the last War Walker finally and my Dire Avengers who were pinned just waited for a chance to run. The Guardians had no real shot at anything so they ran in a conga line to reinforce the objective in the SE that my Dire Avengers were trying to make. My NE Wraith Lord got the NE Guardian Jet Bikes in missle range, dropped a wound on each 1, but cover kept them alive. My Pathfinders head shoted 3 Striking Scorpions and pinned them for the win. God Bless the Avatar for he was able to reach close combat and even after poor rolling killed a Shining Spear lol. The Spears attacked back on my Avatar and dealt 2 wounds. Oh man could this get anymore ass backwards.
The Wraith Lord went after the Autach who survied a brutal attempt to splat him.
Turn 5
Amando used withdraw on his Spear + Exarch at the end of Turn 4 asualt phase and rushed my NE Wraith Lord, killing it with 3 wounds.
Those Damn Spears played well and earned thier points. Unfortunately both my Wraith Lord and my Avatar overwhelmed the single Autarch and rolled high enough to run forward. Both of which had 1 wound, but they were alive and thats all I needed. All of Amando's Guardian Jet Bikes turbo boosted for his objectives holding both by the end of his turn.
On my turn my surving Wraith Lord passed his Wraith Sight assualted the 2 Shining Spears and killed them while my Avatar ran, but failed short of any inch to contest any of Amando's NE objectives. Low and behold my now free Avengers ran and also fell 1 inch short of the objective. My last hope for an early game defeat laid in the hands of my Pathfinders who shot gracefully at 1 bike squadron, but failed to issue any wounds due to the obscuremet of the Bikes boosting so fast.
Turn 5 ended and it was very well played. Amando's forced did what he had planned to do and hold me down long enough to sieze both objectives and leave me with 1. I felt it was a good game and for it to continue would be a blessing, but it was unexpected. I asked Amando if he minded that I rolled for random game length so that I can only blame myself if it ended and he said sure go for it.
Baby that shit went on!!!
Turn 6
Amando carefully moved both bikes out of my Avatars charge ranged, but they had no cover and were open to some punishment.
Go figure my Wraith Lord in the NE failed Wraith Sight and was out of the round.
At this point I claimed the SW ruins with my Avengers and surveyed the Battlefield. I only had to kill 1 of 2 bike squadrons to win, and I thought carefully how I should do this.
The odds of my Wave Serpent combining fire with my Pathfinders to destroy a bike squad were high, but if I failed for any reason my Avatar would be to far off to make a difference with his single melta shot.
So I played by chance and tank shocked 1 Guardian Bike squad with my Wave Serpent, which yes, did force a flee roll and successfully destroyed the bikes and claimed the objective.
After that my Pathfinders and Avatar did infact destroy the other 3 Bikes leaving Amando with 3 Striking Scorpions on the board.
We both agreed on good game and thier was no need for a last turn.
Eldar Wins with 2 Objectives to 0 Objectives: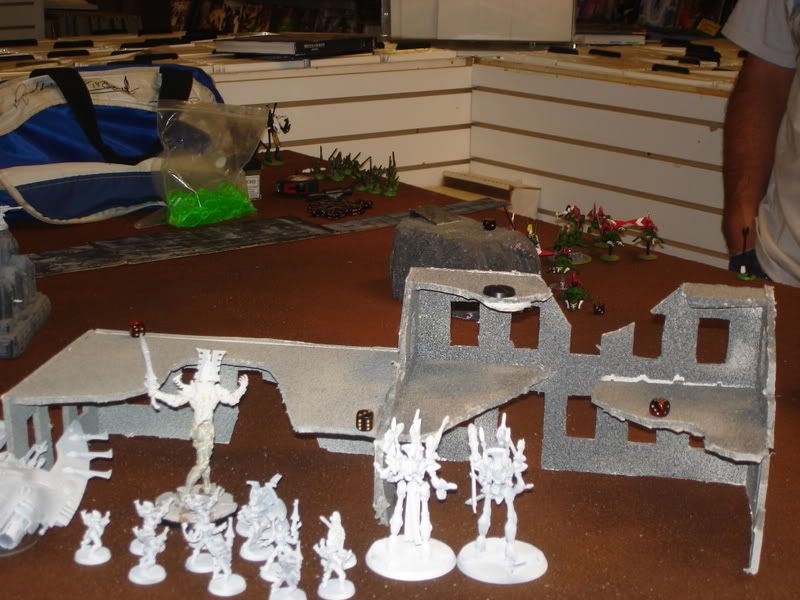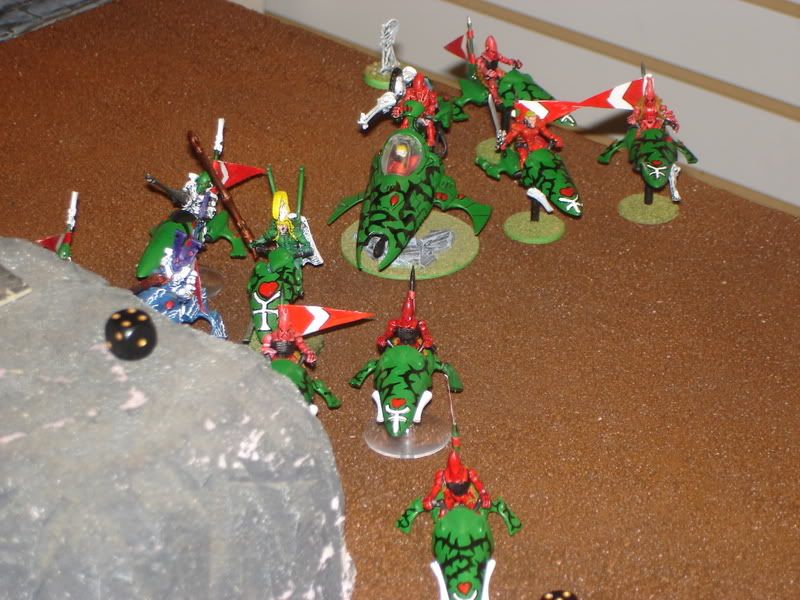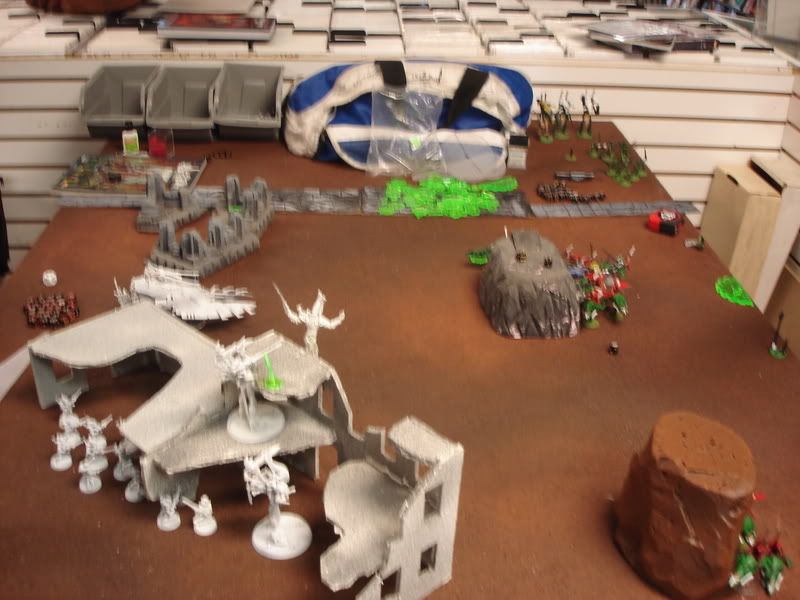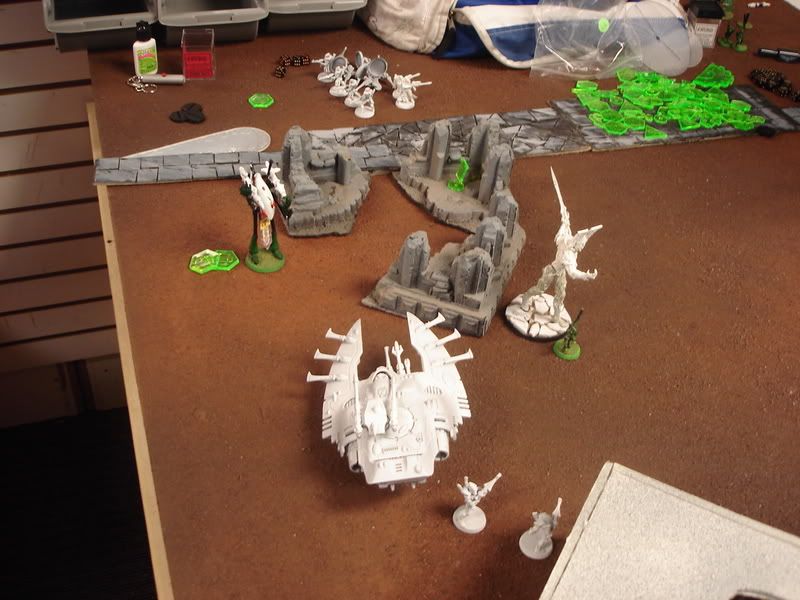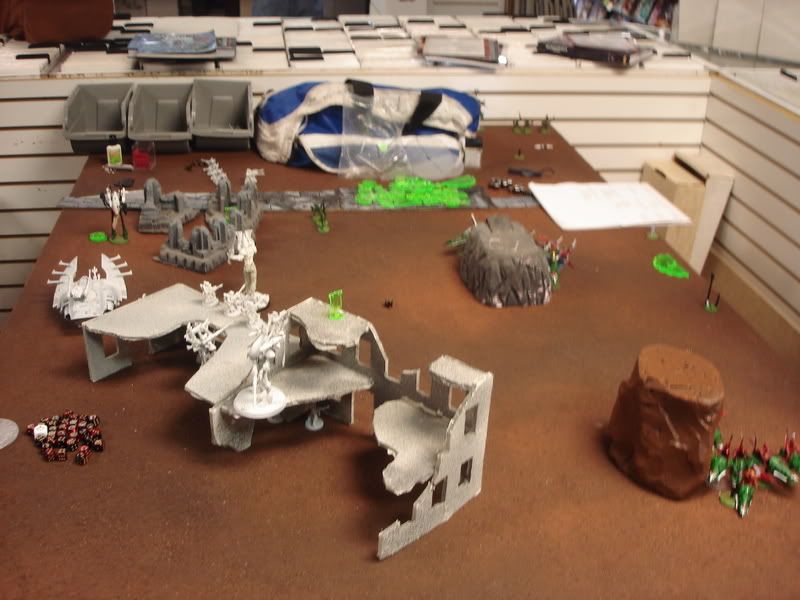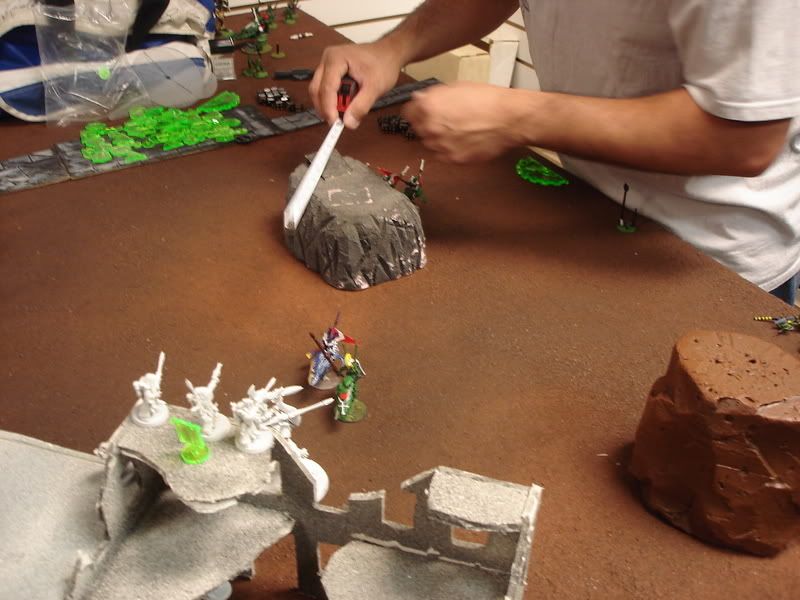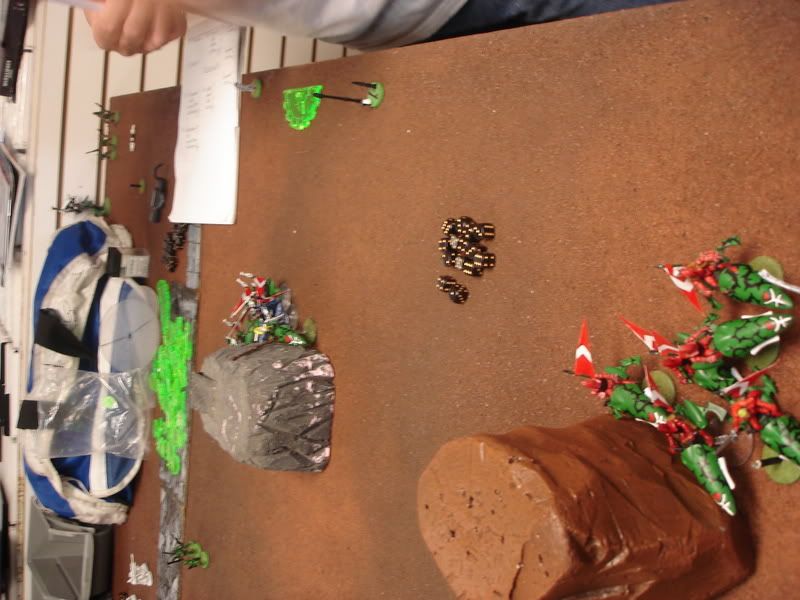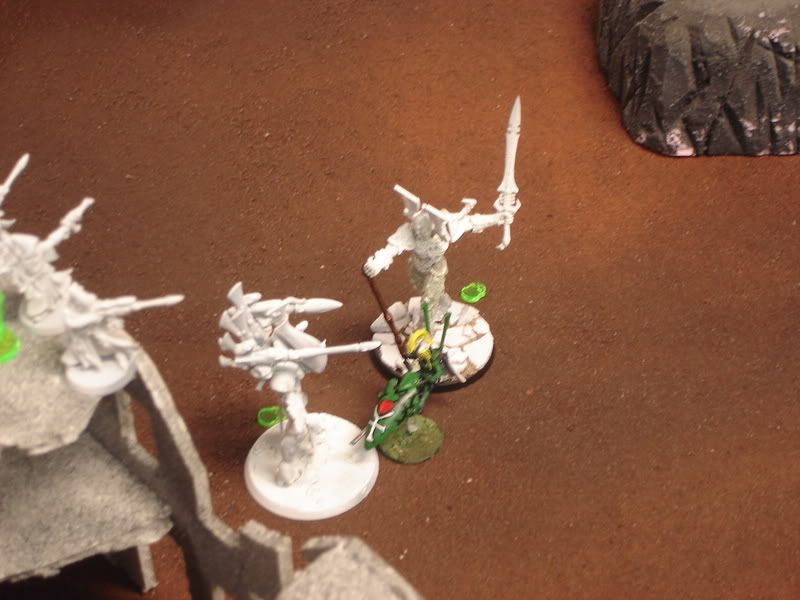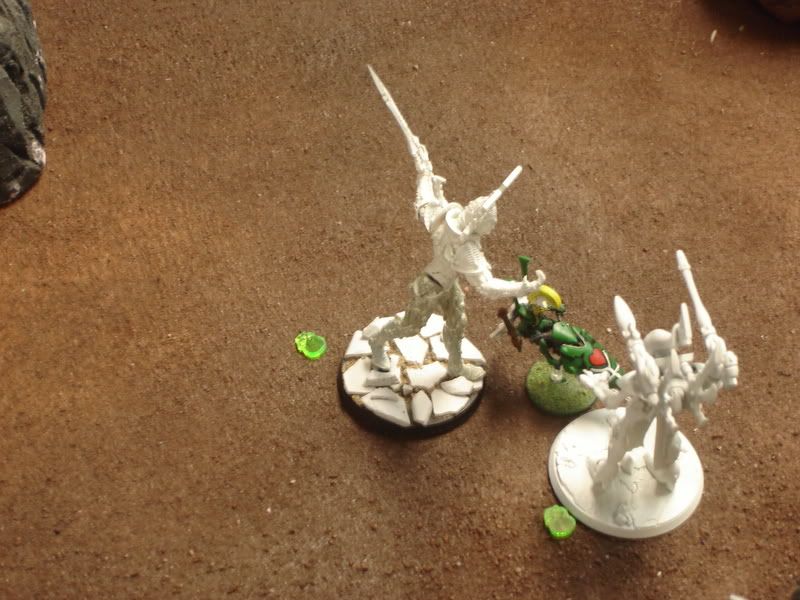 ---
Last edited by H0RRIDF0RM; 07-29-08 at

03:58 AM

.
Lower Navigation
Summer Campaign