Shadow War: Armageddon
---
The sound of this reminds me of Advanced Space Crusade, for any of you that remember back that far. I wonder is it planned as an entry level game for younger players, as we have seen previously seen when scouts are involved. I do hope they come out with some box exclusive scout and ork minis, otherwise I think it might be just another way to shift some under-selling sprues.
Quote:
Breaking news from the Gama Trade Show, a brand new boxed game has just been announced – Shadow War: Armageddon.
Some of the Warhammer Community team are currently at the huge trade show in Las Vegas, and are showcasing some of the exciting new releases on the way over the next few months. The first of these is Shadow War: Armageddon.
Right now we don't have a huge amount of detail on this set (though we will, very soon), but what we do know is that it is a squad-level game set in the Warhammer 40,000 universe. The specific setting is the hive cities of War Zone: Armageddon, and the two forces pitted against each other are Space Marines Scouts from the Blood Angels Chapter and ferocious Ork Boyz.
We think the idea of close-range combat amongst the sprawling ruins of Imperial industry sounds pretty ace.
We'll have more news for you on this game, as well as other new releases, over the next several hours, so stay posted!
https://www.warhammer-community.com/...ma-trade-show/
---
Last edited by Khorne's Fist; 03-14-17 at

08:51 PM

.
---
Hmm looks interesting. Though necromunda is the one that got away for me so is disappointing they got rid of the gang elements. This sounds more like city fight so far.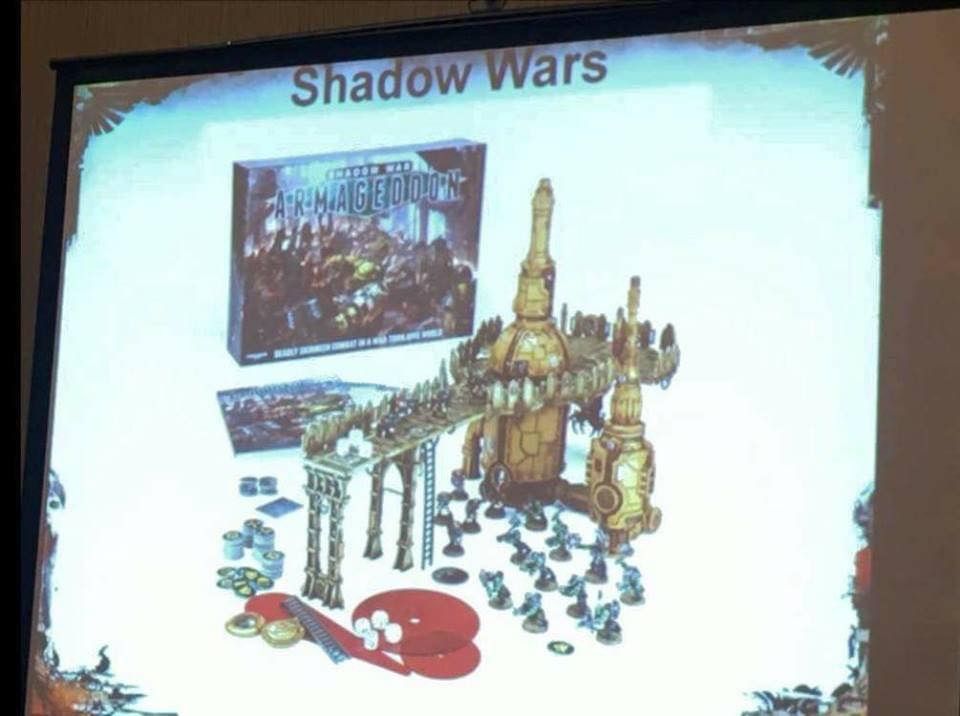 But the terrain looks cool
---
This reminds me more of Kill Team than Necromunda.
---
If you want something like Necromunda, Gangs of Commorragh is pretty much Necromunda with pointy ears and on jetbikes.
---
Ask not the Eldar a question, for they will give you three answers; all of which are true and horrifying to know.
---
extra sweet scenery though
---
The Legion of Perfects Project
Quote:
The calls of Slaneesh stir so deeply within me, as if I was birthed from the very essence of it. For my ambition to infinitely ascend above all is never ending, like fire within it burns me to ever cindering ash. Lord of light and ascension is who I am, realities burn to ash at my very passing. My luminescence is unparalleled for I am luminosity itself, all light is but a shadow of my silhouette
---
I think I'm the only person who would buy this for extra Scouts and Boyz while selling the scenery just so I could get models I'm on the fence about with max savings.

Definitely would keep the rulebook and sexy red templates though.
---
New images of the contents.
---
Last edited by Khorne's Fist; 03-20-17 at

06:42 PM

.
---
looks awesome.
i am hoping that the wife will shell out,
but then again the sun rose again today,
soooo.... maybe not.
Lower Navigation
Shadow War: Armageddon