Television screw up?
---
This thread is for any mistakes that the magical televison has made
(Oh say it ain't so!)

I was watching an old episode of the simpsons (the one where Bart cheats on his I.Q. test and is labeled gifted), anyway i noticed a small error they made when reading his I.Q.
(This is not word for word)
Doc: "We have found that his I.Q. level to be very high as it says here..."
Homer: "912?!?!"
Doc: "No, you're holding it upside down, it's 216."

Anyone else see the problem?
912 upside down is 516
Strange...
DarknessWithin
---
Fear the Darkness Within yourself, for there is no escape, there is no Mercy. Be afraid of the Dark, for it's here...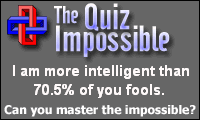 Impossible Quiz 2
Please, I am hungry for mouse. Please let your mouse feed me with it's clicks
Lower Navigation
Television screw up?