---
Yes there is nothing worse than a movie with no kittens in it.
---
Virtutis gloria merces

The major difference between a thing that might go wrong and a thing that cannot possibly go wrong is that when a thing that cannot possibly go wrong goes wrong it usually turns out to be impossible to get at or repair. - Douglas Adams

It's a knife for gods sake, what you been useing to keep your fork company all these years, sharp side, blunt side, what you want a lesson? - Bullet Tooth Tony
---
I demand more of the fuzzys!!!

But really, keep this stuff up man!
---
Fear the blindman!!! ::charges off::
Dude, wrong way
F*sck
---
Yup, that sums it up.
Tonight
In Bruges
!
Sick score on IMDB but Colin Farrel is a cock so I'm not sure what to expect. I don't have many new or pre releases to watch at the moment.
I watched Gran Torino, The Day the Earth Stood Still and Defiance last week. Berty is away trying to get me Underworld 3 at the moment though, hopefully he'll hurry the fuck up.
---
Rip your eyes out of your head funny and bloody good?
DarknessWithin
---
Fear the Darkness Within yourself, for there is no escape, there is no Mercy. Be afraid of the Dark, for it's here...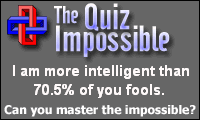 Impossible Quiz 2
Please, I am hungry for mouse. Please let your mouse feed me with it's clicks
---
I'm gonna guess,

-fucked up
-... interesting (not sure about that one)
-bloodly and gorey
-thumbs up
---
can i request Highschool musical 3
---
Quote:
can i request Highschool musical 3
You might see something like this along the pictures:
---
Quote:
can i request Highschool musical 3
I don't think jez would stoop that low
---
Lower Navigation
Jez's Illegally Downloaded Movie Picture Reviews (Adult Themes)