Ironman 2: The Ten Rings Thread
---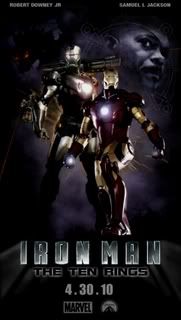 Released April 30th 2010
Now I've just recently discovered this and as a Fan of the first film, I'm really looking forward to this! So here's a thread just for it where you can discuss the first film but more importantly, the second!
Teaser Trailer:

The Teaser Trailer I found has embedding disabled so just type 'Ironman 2' into Youtube and it's the second one down.
---
Regards,
Jake.
---
Last edited by Red Corsairs; 02-06-09 at

02:52 PM

.
---
Your link has embedding disabled and your first link from the link is a Rickroll.
---
That which doesn't kill me has made a tactical mistake.
Rites of Battle
Your source for 40k opinions, news, and hobby updates.
---
Aha, sorry about that. Didn't realise the embedding was disabled on that trailer. Just type 'Ironman 2' into youtube and it's the second one down as it's the only proper one I could find.
---
Regards,
Jake.
---
Sorry to burst your bubble Red Corsairs but that's just the end of Iron Man 1
---
Quote:
Sorry to burst your bubble Red Corsairs but that's just the end of Iron Man 1
Really? I didn't think Nick Fury was in Ironman 1? Jeeze I missed something lol.
Well this threads here anyway for people to discuss and if anyone does have a Trailer they can share with us, go for it
Man this is embarrasing :oops:
---
Regards,
Jake.
---
In the same way that you had the 'extra' in X-men 3- it's after all the credits have rolled, they did the same thing with the Incredible Hulk- Tony Stark cameo.
---
Yeah, thanks for pointing it out
---
Regards,
Jake.
---
looking forward to Iron man 2, since Iron man 1 was the only good movie to appear in several years
---
---
It is worth pointing out that the Avenger storyline is going to be in the Avengers movie, Ironman 2 will have Warmachine in it, who Workload is worse than Stark, and the Ironman 2 film will be Madarin unless Marvel are throwing a curveball to try to keep the real storyline under wraps. I am looking forward to it though, I like Dynamo is the first one.
---
Do not disallusion yourself brothers, today we die, our bodies broken and our souls shattered, we will be remembered as corpses on a battlefield.Raise hell my brothers for one day our great Father will hear of our struggle, and he will be honoured to call us his Sons. In death our Glory shall become eternal.' Karik Farron, 1st Lord of the Dark Scorchers at the Fall of Kempar.
'like a blind man in a dark room trying to find a black cat that isn't there'-imntdead
Lower Navigation
Ironman 2: The Ten Rings Thread