---
I have one thing to say about Morgan Freeman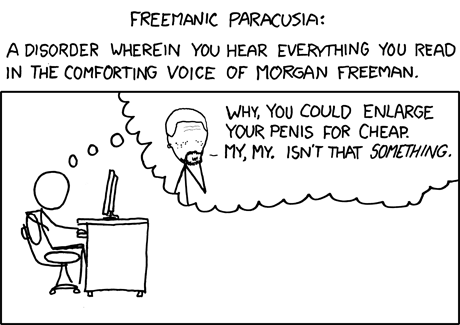 ---
Quote:
*sigh* I have to point out that despite what you see in games, lasrifles win wars. Just because lasrifles suck at killing superhuman killing machines in power armor does not mean that they are bad weapons. You are shooting them at the wrong targets. The most common enemy the Imperium faces is lightly armored humans armed with lasguns or autoguns, NOT SPACE MARINES.
-me
---
toshiro mifune. simply. amazing.

I like a lot of the roles that hugh jackman takes (the fountain is one of my fav movies)
---
"And the seventh angel poured out his vial into the air;
And there came a great voice
Out the temple of heaven, from the throne, saying: It is done."
Senior Member
Join Date: Sep 2008
Location: Hobart, Tasmania, Australia, Hiigara.
Posts: 211
Reputation: 1

---
Stephen Fry cracks me up.
---
All is dust...
---
Quote:
William Shatner... he he... ha ha ha... Hahahahahahahah. . .
Before Boston Legal I'd have laughed along with you, but as Denny Crane he is quite simply brilliant.
---
Figured out who my fave actress is now, and she wasn't even noted in my original post. After seing the Golden Age, its Cate Blanchett.
Looking her up on wiki I also noted a fair few other films I really liked her in as well, Lord of the Rings, The Talented Mr Ripley, The Aviator and Little fish.
Oh and on a unrelated note, by looking at her wiki page I see they are doing an animated movie of Fantastic Mr Fox. Will one of my fave childhood books of all time by ruined by Hollywood or brought to life in a way I couldn't have imagined? Can't wait to see the trailers on this one.
---
Come and join us by the fire, to chat about the games that matter to you at the Roleplay Games Forum
---------------
"I feel I was denied. Critical, need to Know information!"
---
I'd have to agree with all of actors and actresses that have been mentioned so far, but I would have to say that Heath Ledger would have to be my favorite. He was in opinion, one of the greatest actors to grace the big screen with his presecence. I loved him in all his films, and think that his passing away was a terrible, terribble targedy.
---

Quote:
We don't need to use any military force to defeat the imperium, we'll just send GW legal at them. As soon as they see the first sign of a thunderhawk gunship, their IP infringement addled brains will go into meltdown - they'll smash everything out of the sky with cease and desist letters.
---
will smith is an absolute legend!!! i think he is brilliant and i love sean william scott he is sooo funny!!!
---
I have a rendezvous with death, At some disputed barricade, it may be that he shall take my hand, and lead me into his dark land, and close my eyes and quench my breath, I have a rendezvous with death, and i to my pledged word am true, i shall not fail that rendezvous...
Quote:
I won't remove the thread. This is an example of how Heresy members should not act toward other forum members, and seriously, don't pull the free speech bullshit. You're free to say what I allow you to say.
- jezlad
---
Scarlett Johanson, Mel Gibson, Jamie Fox in Jarhead. But my all time favorite actor is Lee Ermey especially in Full Metal Jacket.

"You are not even human beings. You are nothing but unorganized, grab-asstic pieces of amphibian sh*t!" L. Ermey, FMJ
---
Ricky Gervais, Heath Ledger, Megan Fox.
---
The next sentence is true. This sentence is a lie.
"Do not become a link in the turd chain"
- Jezlad

PLEASE CLICK THIS


[URL="http://www.heresy-online.net/forums/%5Burl=http://heresy-online.net/daemons/adoptables/382-dmitry.htm%5D%5Bimg%5Dhttp://www.heresy-online.net/daemons"]
[img]http://www.heresy-online.net/daemons
Lower Navigation
Favourite Actor/Actress