Night Lords, Raptor..Lord
---
Sup peeps. Here's my latest concept. He's my Night Lords... erm Lord. I know i said in the title he's a Raptor lord, but I haven't decided if i should give him wings or use my cool idea of grafted, fleshy/mechanical wings on him. What do you guys think(of the pic and my wings/jump pack dilemma)?
looks good from what i can see, but as there is an advert in the way its not much. Also his bat wingy thingys on his helmet should be bigger
---
Thanks Proccor for the awsum sig
After 10 years of relentless shelling, the hive is reduced to naught but rubble and dust, two years after all signs of life ceased and five years after the hive issued its unconditional surrender.
I dont want to hear any more flashlight joke alright, there just guide lights for the artilery
killmaimburn: My plan is to make a mini of him. I already have the parts in mind that I'll need.
Micklez: I pulled the helmet wings back, cause I don't really like how the regular NL models have them pointing outward.
Thanks for the comments also guys.
yes, please add mechanical + flesh wings.
love the model, and if you get it going do a full WIP of it with pics of every step, if enough people make this model concept of yours, maybe GW might make it into a real model? who knows. i just think that the basis of having the wings on the helm in which dont make the helmet look retarded, like you have it in your drawing, is an awsome idea.

but for your question, fleshy mech wings would look awsome for a night lords imho
Added "fleshy-mech" wings. They're angled back so you really don't get a good feel for them I think.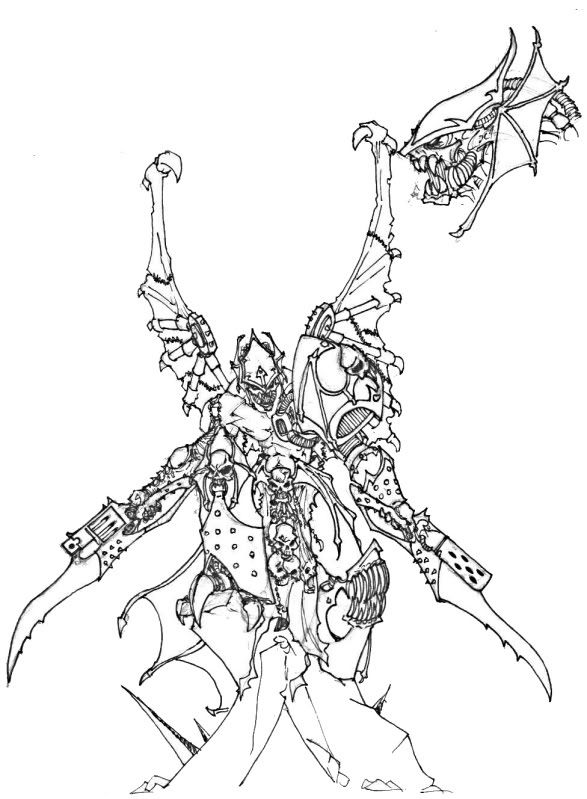 oh man thats a nice pic now, definitly. i cant wait to see how that model turns out in the end for ya man.
Now,I'ma throw it in CS3 and mess with some colors.
Lower Navigation
Night Lords, Raptor..Lord