Not just smurfs!
---
Hey all.
I have been persauded to start a project log for my armies. This first post is mainly going to be my almost complete Ultramarine force (I know, more Ultra's... 2nd company too, how dull). However, I am also starting an eldar force, and once the marines are finished I intend to add detachments of Inquisition and Guard to make it a nicely rounded Imperial army. I'll also probably post pics of some of the generic scenery I'm making here to avoid cluttering up the scenery board with loads of pics of rocks and jungles and the like. Anyhew, on to the Ultra's!
Tac squad from AOBR box: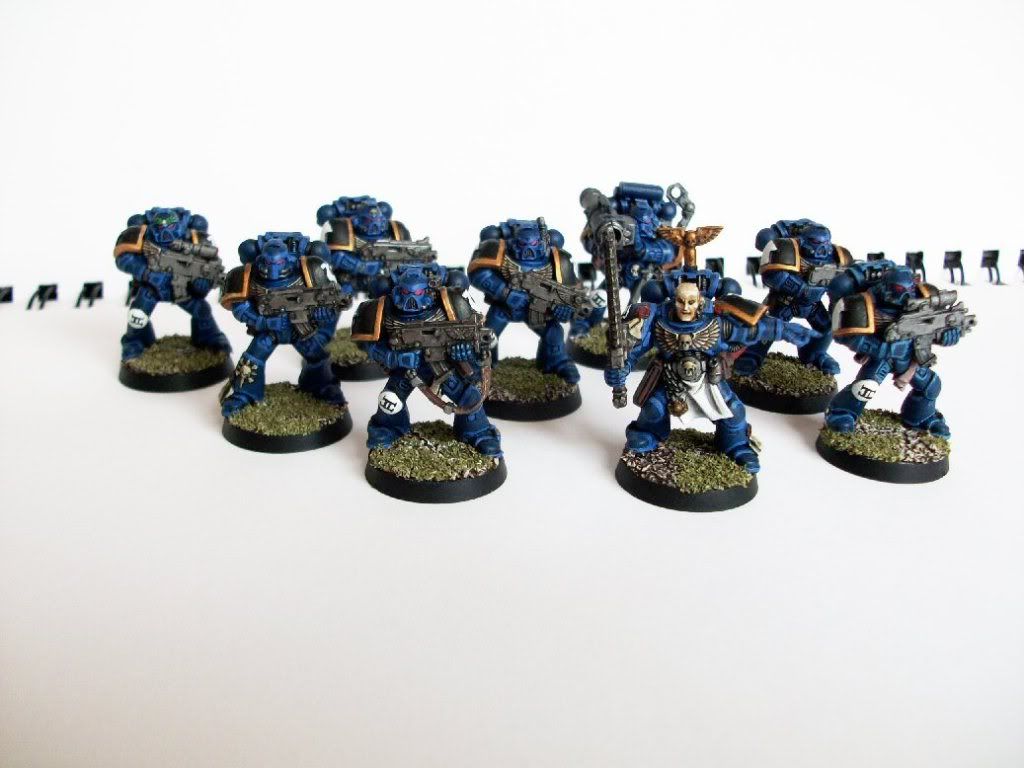 Dreadnought from the AOBR box, which was the first model I painted after a break of about ten years: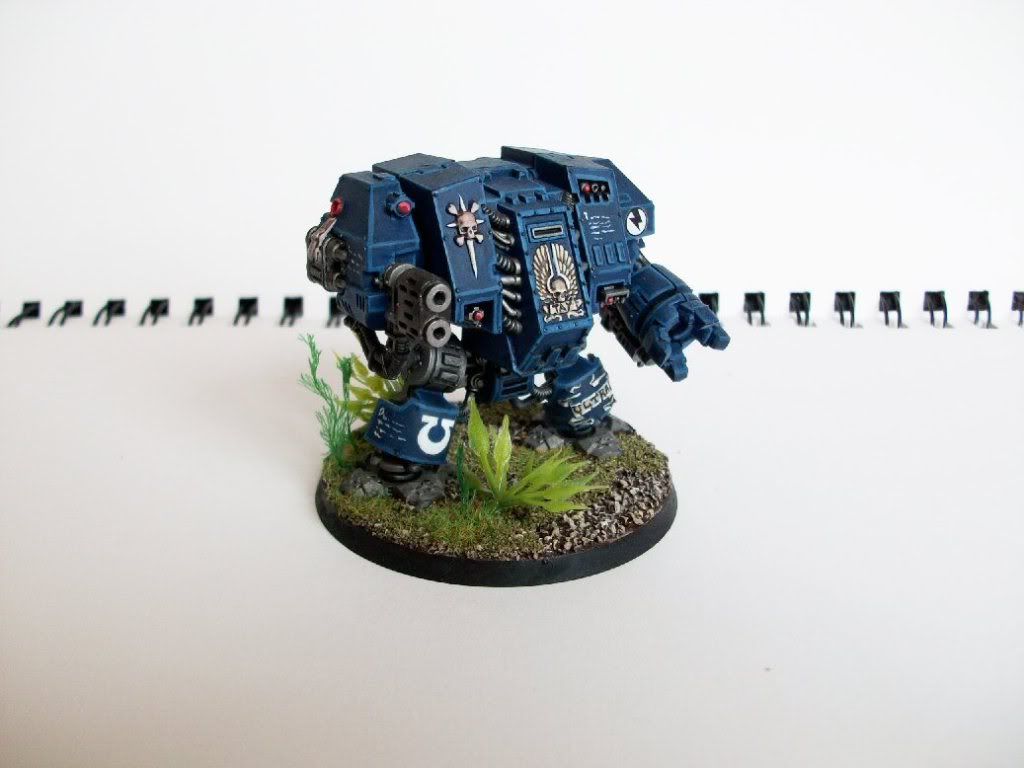 Termies, also from AOBR, but with a badly converted assault cannon:
Assault squad and chaplain: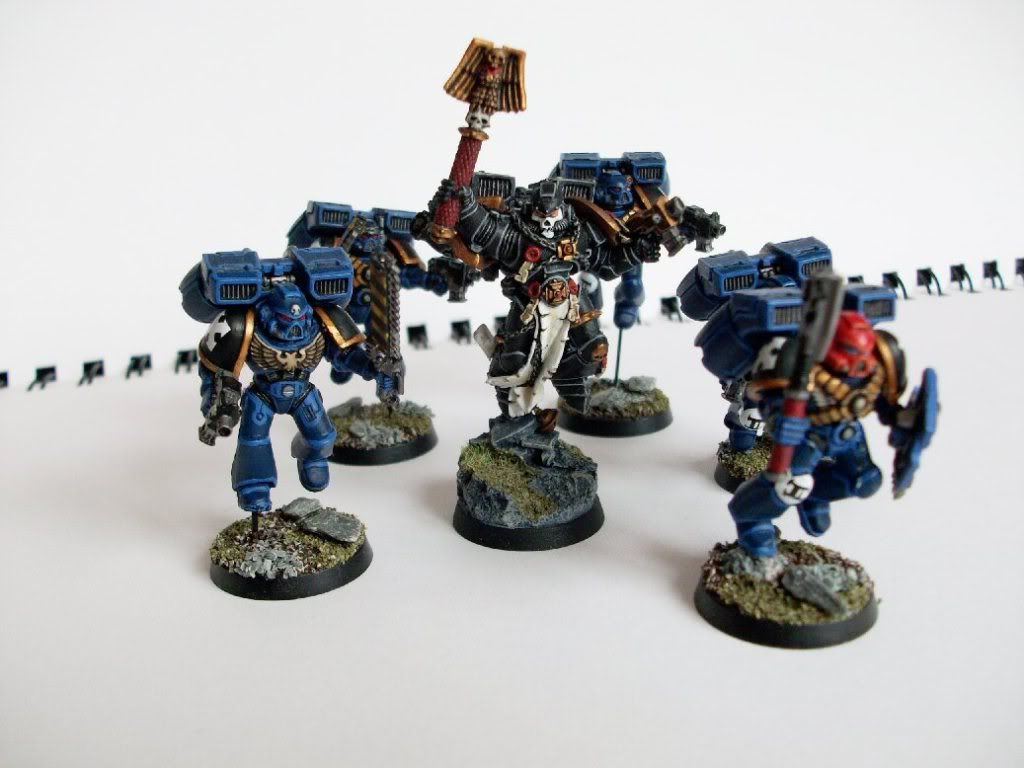 Sniper scouts: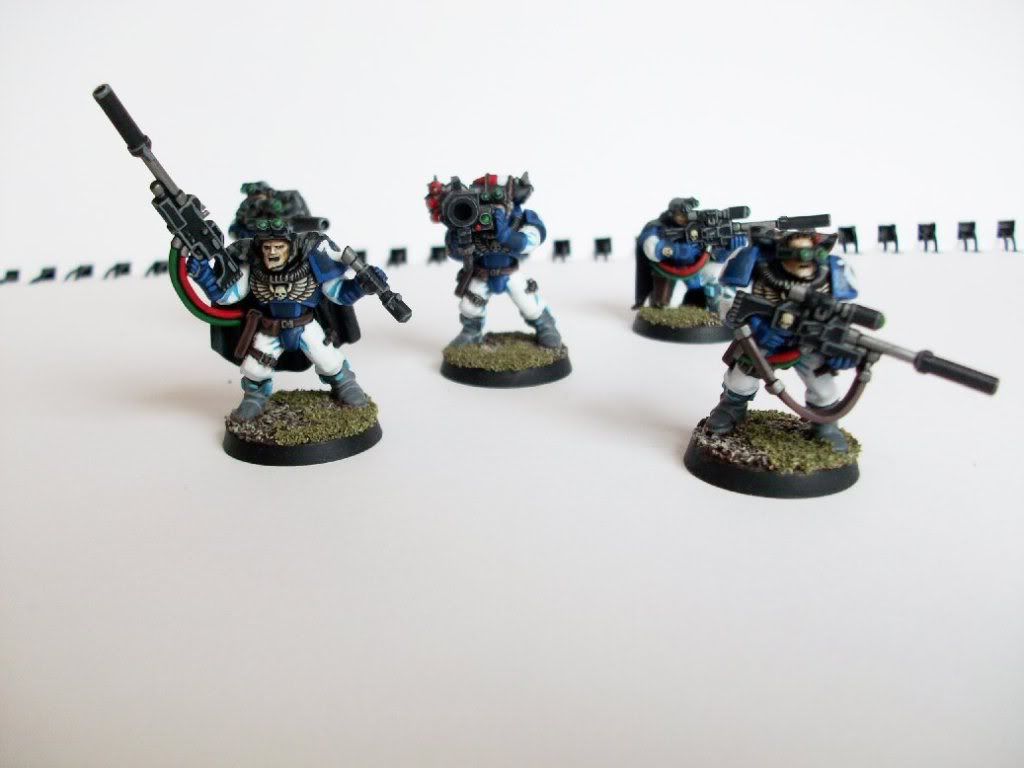 Whirlwind (Which I have found isn't much use against my regular opponent, a speed freak player, so I plan on using it as a rhino in the future, as the launcher is removable. Also, there is a gs Ultra symbol on the side, my first attempt at one, so it's a bit crap):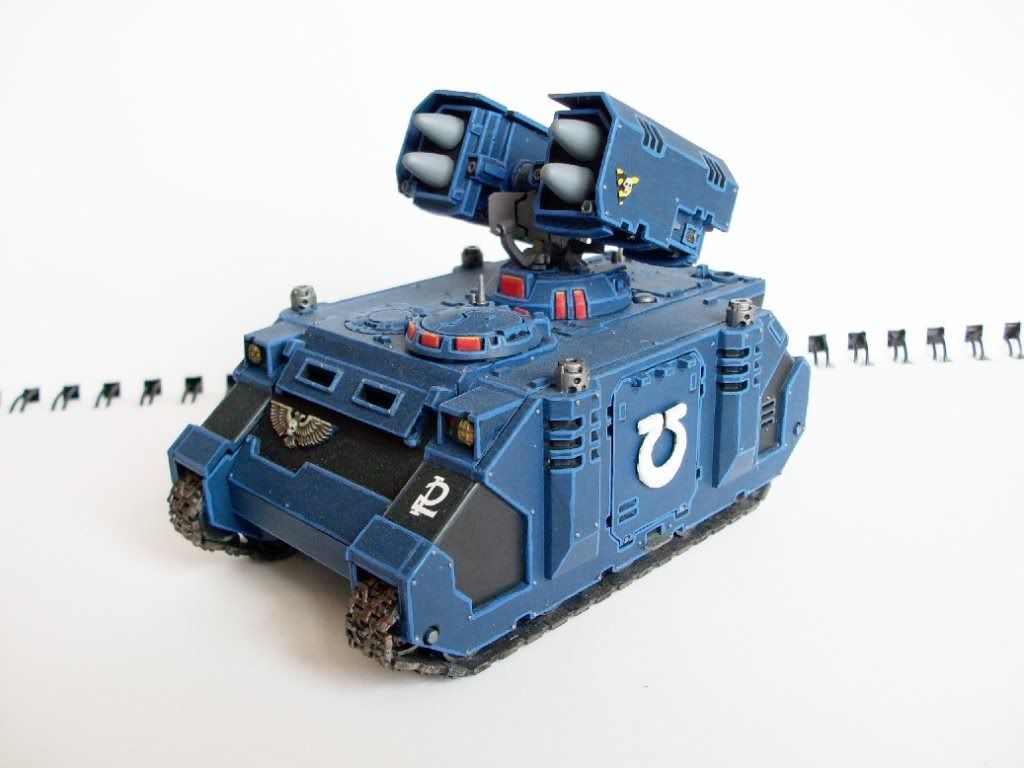 Devastator squad. Still needs basing and decals. For some reason I went a bit mad on the sergeant cos I liked the look of the model. He's probably the best painted model in the army so far, not that the photo does him much justice: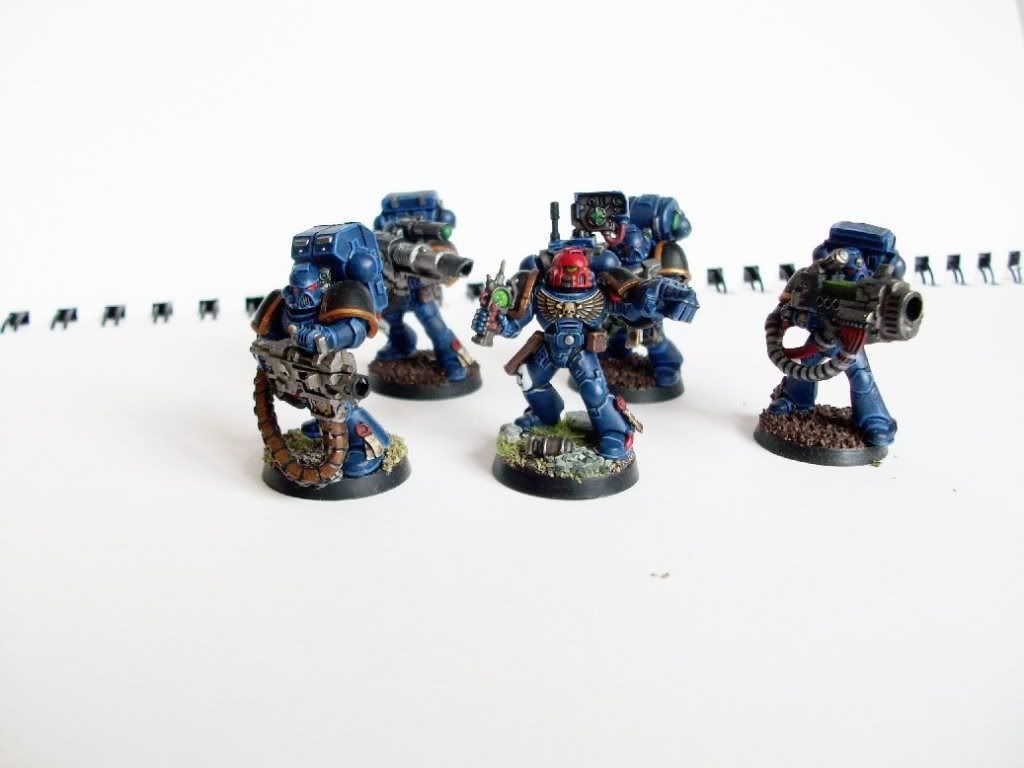 An unfinished bike squad with converted captain on trike. I still have a couple more bikes and an assault bike to paint yet: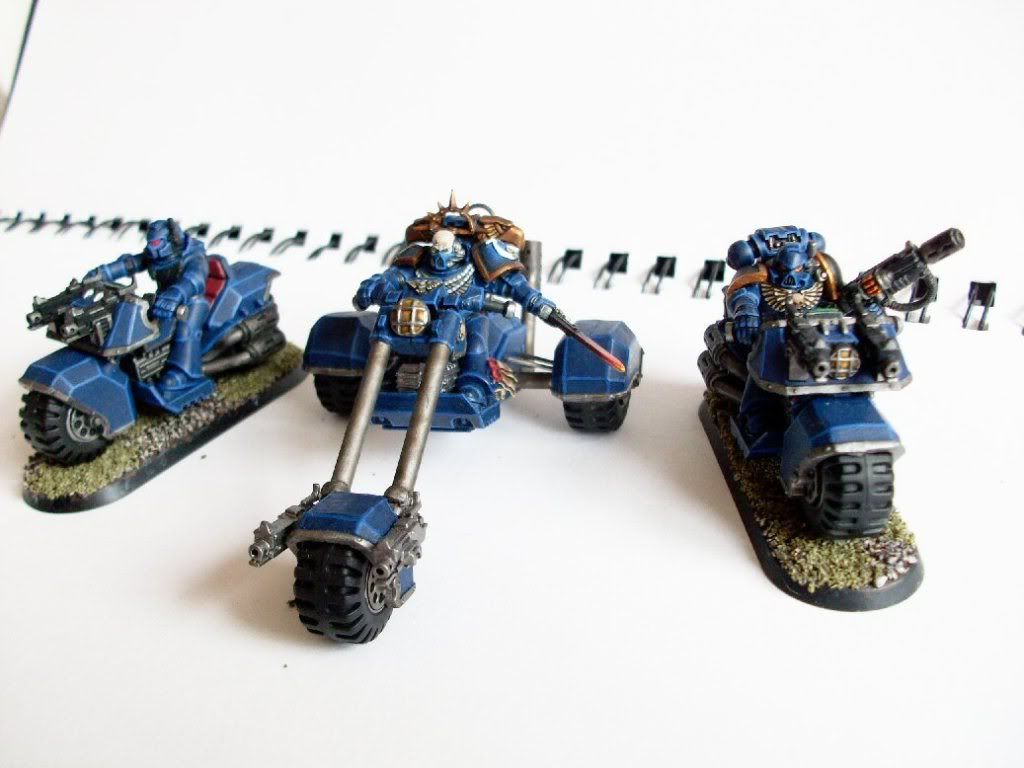 A simple objective marker made from brass rod, a few banner poles from the dark elf warriors box, and some random odds and sods: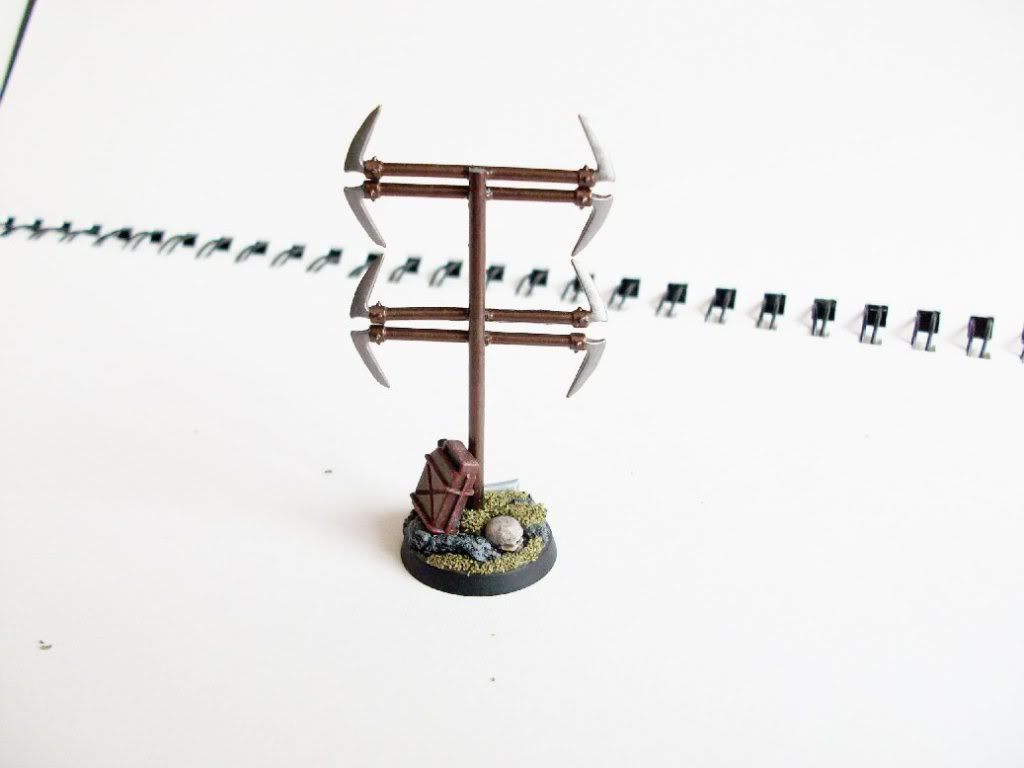 I've just realized that I forgot to take a photo of the landraider. Smeg it. I'll add it on when I can be bothered.
And just to prove it's not going to be all blue, here's the start of my Eldar: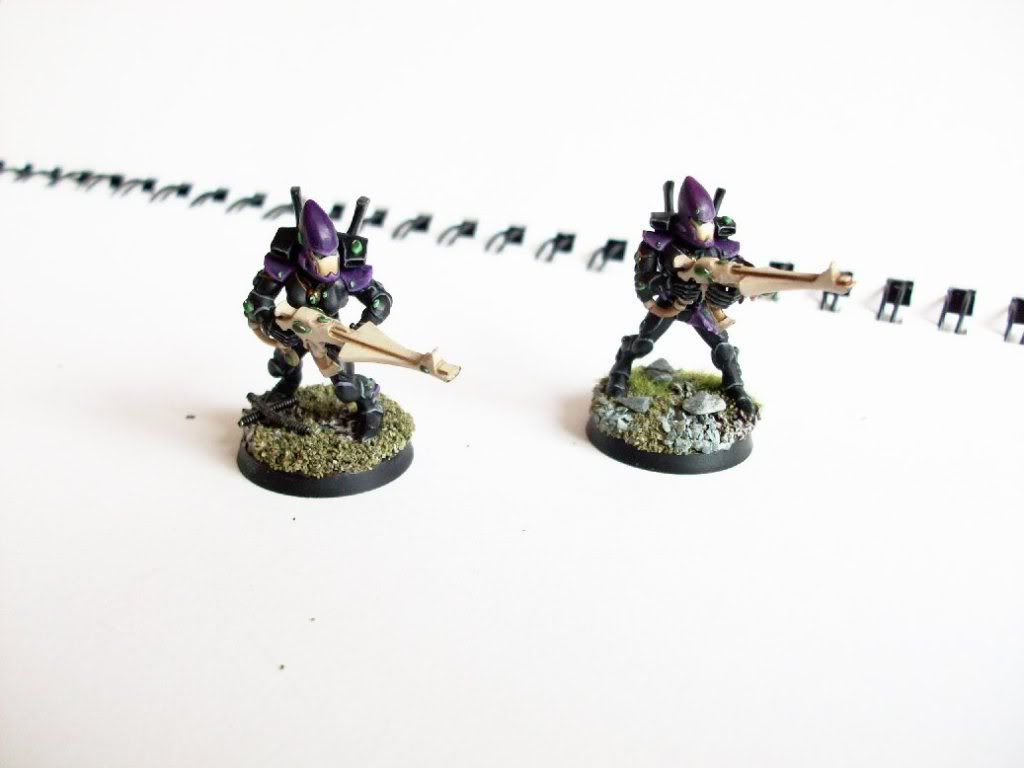 I know 2 guardians doth not an army make, but I am going to be painting these slowly and to a much higher standard than the Ultra's which were done to tabletop quality just to give myself a working army to play with. Hopefully you can see better blending and highlighting on the guardians, and a lot more detail on the bases. Purple and green will be the recurring colours throughout the army, and I'm going to move away from the standard gw colour schemes for the aspect warriors, as I am sick of codex armies after painting Ultra's for six months. I now want to do a load of funky conversions (hopefully) and something a lot more original now I have my hand back in. That said, in order to finish my the smurfs I need one more tactical squad (which I already have, but I'm not unboxing them until my bikes are finished and they are going sloooowly as I'm sick of painting blue) a rhino, a couple of landspeeders and maybe a few more bikes. It all depends on what I can squeeze into my 1750 armylist. Ultimately, I'd also like to round out the assault squad to 10, get a unit of termies with thunder hammers, a techmarine (coz I like the model) and libby, some vanguard vets, and maybe Marneus. But they are way in the future.
That's it for now. c&c welcomed, bitching at the unoriginality of the marines is not
---
Last edited by jpunk; 06-04-09 at

12:20 PM

.
---
ya eldar lk awesome mate
great painting
and don't put yaself down ya smurfs look great to
---
Looks very good so far. I happen to like the Whirlwind though. I have one in every one of my list. Against orks they are particularly useful as the incinerator missiles ignore cover and their armour. So if they have any lootaz around in a support posistion, for example, a well placed shoot from the Whirlwind will dispense of them quickly.
---
Thanks for the comments guys.
@ Imm0rtal.
Thanks for the nudging to do this. I'm quite glad I did already! I agree that the highlights on the termies are so wide you could drive a rhino through 'em, but they were really the first squad I did, and I was a touch rusty. I may go back and tidy them up somewhat, but I really can't bothered for the time being. The highlights on all the smurfs are bit wide for my liking really, but as I say, it was a case of 'get em up and fighting' being the priority.
@ Fist. I've found that when I do get a clear shot at some boys, it works wonders, but that is very rare. The bugger tends to keep all the ladz hidden away in battlewagons right up to the point where they are in combat, and he doesn't use any foot troops at all unless they are in some kind of mobile armour. That's what the bikes and speeders should hopefully sort out. Nip in, pop the battlewagons open with close range melta shots and leave the green swines open to my massed fire. If that works I may consider putting the whirlwind in again, but not before. Plus, it doesn't look nearly as cool as your firey one.
---
Quote:
Plus, it doesn't look nearly as cool as your firey one.
Reply With Quote
Don't kid yourself..., I very impressed with your army. Very clean and very well done!
---
Personally, I love the smurfs. And you've done a fantastic job of painting them! The colour has come out really nicely, +Rep for sure!

Keep up the nice work
---
---
Only thing I can say is tidy some of those highlights up ( on the ultramarines), make the edge highlights a bit thinner. It's really fast and makes them look that much better
Your Eldar is looking spectacular! Love the color scheme and the gems are really well painted!
Keep it up
---
AWSOME ultras. That is all.
---
Quote:
Originally Posted by
Angel of Blood
View Post
They are going to be called in to righteously kick the shit out of deamons and heretics before fucking off back to Titan for tea and crumpets, leaving the chaos gods thinking "I fucking hate those guys"
Lower Navigation
Not just smurfs!