---
Hair dryers were what the FW casters used themselves for part-straightening purposes in the GW mould room...
---
Thank you both. I'll give it a try
Meanwhile, a small update:
At first, the termi-scriptor. The positioniong is a bit unballanced... well, hope he doesn't fall
But after all, cork is really a great stuff and iIll definetively gonna use it a lot in the future.
Next are the scouts, finally. The three snipers on the left are the newest ones. I really love snipers and will add some more plastic-snipers in the future. Right now i have more scouts finished than standard tactical marines. Gonna have to change this soon
Speaking of tactical troops, this is the second squad i finished years ago when i started this project. Just for comparisson...
And this is the first squad. I gave them a little upgrade and spend new bases on them, to make them more fitting to the newer troops. Funny thing, all my corporals have nearly the same pose with their auspex. Seems i need a little bit more creativity. After all these years i'm still pleased with the painting-quality, although i know i could do much better today.
And heeeere we are finally. My first five models from the Calth-box. Really love them and plan to paint a lot more from them.
As allways C&C welcome.
---
That's it with 2016.
Although i was kinda quiet here, it was one of my best years in painting. At first i got over 50 models finished (usually around 10-20) and at second i managed to improve my skills and tried a lot of new techniques. As a sidenote, i sucessfully expanded my colors with lots of stuff from vallejo, and upgraded my work-place several time.
During the last month's i haven't found the time to take instant pictures of all the stuff, so here's what i finished:
More scouts! And still there are 10 more waiting, but i guess, for the beginning i'm done with them ;)
Then, more allies. I had this bunch of MKII Assault-Marines laying around here for ages. Sadly the casts are one of the worst i ever got from FW. For example; you can easily spot the big shift right in the middle of most bolt pistols. I really would love to buy more from FW. But not in this quality. Hope it was a very old cast. Anyway, i used them to try a new color-scheme for me. So here they come a Salamanders.
At first the green and gold gave me headaches (so many mold-lines to paint....) but i'm really pleased how they turned out. Painting this bright green was a lot fun and maybe I'll give a small visit to my first army ever... Orks...
Next comes two more Deathwatch-Members. I painted them together with the salamanders and three other models during december. Guess it's easy to see when i spent my last vacation days that year ;)
The assault guy really was a love-hate-relationship. Sooo many gems and other stuff i only rarely paint. Not that i don't like to paint something different. But with these DW-guys i try to paint as best as i can and push my skills further.
After all i'm very pleased with the hair and face. The gems, robe and ropes could be better i guess, but the OSL on the jumppack turned out better then my first approaches. With 21 different materials, he was really a hard challenge.
Zameon Gydrael (the dark angels guy), was for comparison quite easy, although i planned to do more freehand on his robe. I would have loved to put a small black/white-checker line somewhere on his shoulder-pad or robe. But when i finished him, i was really scared to mess him up with more freehand-attempts and so he was finished.
Five done, six to go and after that the new DW-Members from the Death-Masque-Box set...... Ahhhhhhhh
And now to something less beauty...
Besides DW Overkill, DethMasque, Burning of Prospero and two Betrayal at Calth-Boxsets i also bought Assassinorum Execution Force as the price was lot cheaper than buying the four assassins seperated.
And well... i started with the first assassin yesterday. But last year i painted 10 Renegants and the three chaos marines, my first Chaos guys ever. I fell so... dirty... i want to burn myself...
Tried to give the renegants a dirty fallout-styled look (at first i like this style, at second it was a trick to make it easier for my GF to challenge me, when i finish the box ;) ), but in the end they were lot cleaner than expected. *sigh* Really big kudos to @
DkMiBuch
, he achieved exactly the look i was aiming for:
http://www.heresy-online.net/forums/...ml#post2357002
Anyway, here is what we got:
I struggled really hard with the colors for the CM guys. In the end i decided for WordBearers read. Besides my SoB i never painted a red themed army and i thought it would make a nice contrast to my greyish/blu DarkJusticars and the black DW. When i will find time, i plan to paint some grey-knights in a light grey-tone, so they also fit into the contrast-scheme. But what to do when i will return to my SoB? Changing their red??
Oh and i also painted a few A-Wings, an X-Wing and this lovely bust from Kabuki Models:
Resume from the bust: Really cool thing to paint, but i have to get myself used to painting with an Airbrush! Com on, can't be that hard.
And for more change, i painted some Minis from the "Human Interface Nakamura Tower" board game. I'm totally in love with the cyberpunk design and i managed to paint nearly one mini per evening, what an ease
But i'm still looking for a nice way to base them. Something shiny, glossy that fits this plastic-styled cyberpunk-world.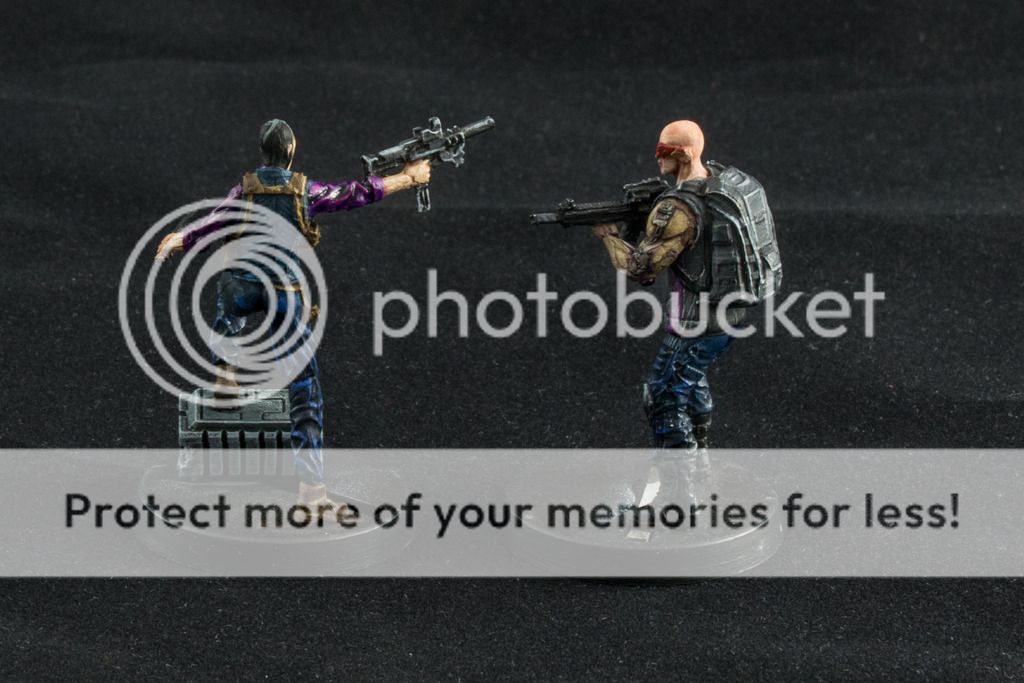 And here is everything i finished 2016 in one big shot:
After all, the core are still my DarkJusticars, but i have to manage to spend a bit more time with them 2017. So now time to clean up the desk and see what i set as my painting-goals for the next years. A year which will bring us finally new SoB-Modells.......
---
Time for my hobby resolution for 2017
After more then 50 minis in 2016 i have to decide what to paint and what not, because beside of painting there is also family (son) and some other stuff i should spend some time too.... (have to find the last bugs in my DIY-Ambilight-Setup...)
Lets see what boxes lay here around (just my favorite collection..)
Want definitively to paint
Would be nice to paint
Maybe
definitively not this year
Already painted (in 2017)
Human Interface Nakamura Tower (in short: HINT)
HINT - Core-Box (15)
HINT - Blackstone Commandos (7)
HINT - SAR Angel Squad (5)
HINT - RAID44 Police team (7)
Assassinorum Execution Force:
- Chaos Kultists (5)
- Chaos Lord & Minion (1.5)
- Assassins (4)- Callidus DONE
(5)
Deathwatch-Overkill
- Deathwatch Marines (7)- Garrus DONE
(5)
- Genestelter Patriarch(1)
- Genestelter Primus (1)
- Genestelter Maus (1)
- Familiars (2)
- Purestrain Genestealers (2)
- Aberrants (4)
- Genestelter Hybrids (28)
DeathMasque:
- Watch Captain Artemis (1)
- Deathwatch Veterans (5)
- Vanguard Veterans (5)
- Venerable Dreadnought (1)
- Eldrad Ulthran (1)
- Harlequin Players (12)
- Death Jester (1)
- Voidweaver (1)
- Skyweavers (2)
Next to these are lots and lots of sprues. Tactical squads, scouts, terminators, dreads, two BaC-Boxes and at least one Burning of Prospero... So from all of this i would like to paint...
- Tartaros Terminator (10)
- Tactical Squads (endless)
- Scouts (15)
- Predator Annihilator (old metal) (1)
- Vindicator (old metal) (1)
- Dreadnaughts (3)
- Land Raider (1)
- Stormraven (1)
- Stormtalon (1)
- Bikes (2)
- Trikes (2)
- Land Speeder (2)
Oh and there is more Imperial stuff...
Grey Knights:
- Squad of Five (3)
- Terminators (10)
- Land Raider
- Dreadnaught
Aaaand finally.... the return of Sisters of Battle.
As its pretty sure that we will get some new models this year, i definitively want to revive my old SoB army. One of the first projects will be to develop a new color-scheme. I'm not sure if i want to revive my old scab-red/regal-blue scheme, or to try something new. Have to confess that i'm not a big fan of the standard black-red-theme.
So, that's it for now. I will update this post as often as i can and see if i will be able to keep some kind of structure in my painting-plans for 2017
---
Last edited by Flatlinerunner; 01-29-17 at

12:34 PM

.
---
With the january nearly behind us, it's time to think about the first branche for 2017.
In the last weeks i painted different stuff, a sixth Deathwatch-Member, the first of four assassins, a SoB test-model (more later) and started working on the last chaos-guys from assassinorum box.
But to get some structure... I want to finish some units this year, but also produce a small number of very fine models, maybe tournament-painting-quality to goal at? So what could be in a first batch, that's not too much, but delivers a solid foundation for this years painting?
- 5 tactical Marines (calth) - Since i only painted 5 models from this box, it's way overtime to get at least a complete squad of ten
- 1 SoB test-model with alternative color-scheme - i already finished a test-model, but that was a very close adaptation of my 2002 army. Maybe it's time for something more fresh
- Vehicle (probably the old metal predator annihilator)
- finish last 5 Chaos Kultists/Renegants
- finish Chaos Lord & Minion
- Bonus: Rebase Tactical squad, add three missing marines for the second ten-man-squad.
Aaaand i think that's more than enough. If i finish this, it will give me three fully equiped, based and finished tactical squads. Together with the 15 scouts, that would be a very solid backbone
I would totally love starting with a complete SoB-squad, but on the one hand i want to give them a real thought-through-paintjob and on the other hand my poor Dark Justicars deserve some love too ;)
Here are some shots from my attempt to revitalize my old SoB-color-scheme. Can you guess which one is from 2002?
And here's some impressions from the other stuff:
Guess right now is a good point for a break from Deathwatch. The models are really cool and fun to paint, but i finshed half of them and want to improve myself a bit more before i return for them.
Yeah and where's light there needs to be dark... aka some guys to shoot at ;)
And at last i went down to grab these sprues from the ceiling. Time to glue some tactical guys
---
So this is the actual state. I'm often slow at assembling my minis, but i try to add some details on them and on the same, not to overload them. Mixed some armor parts from prospero in the set.
Next time i should give them something different to their hands, than just the boltguns, maybe more knives.
Also i try to improve my recipe for the armor color. Right now i only have the base coat and some recesses inked. More to come soon.
Lower Navigation
Dark Justicars - SM Chapter with mixed imperial allies