Painting Bone
---
Bonjour!
I've put together a tutorial on painting bone and bone coloured things - I tend to use this for Terminator honours, chest eagles and I've even used a very similar technique for painting cloth.
You will need:
A normal brush
A (fine) detail brush
Snakebite leather
Bleached bone
Skull white
Chestnut ink/brown ink
Washing-up liquid
A pallet
Step 0:
I start with a black undercoat as it saves you needing to black line later and because you'll be using a few coats of thin paint, it'll easily cover the black.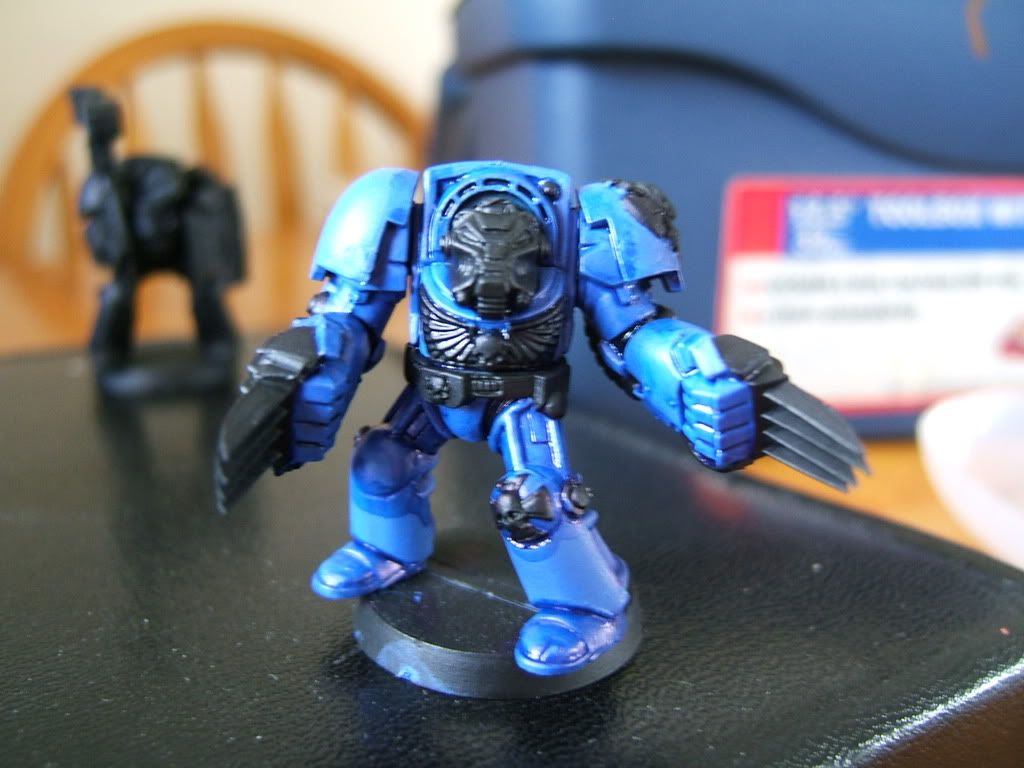 Step 1:
Next step is a couple of thin coats of Snakebite leather. Be careful not to get the paint in the eye sockets and leave any particularly raised areas black or one thin coat of Snakebite if you're not keen on overly dark shading.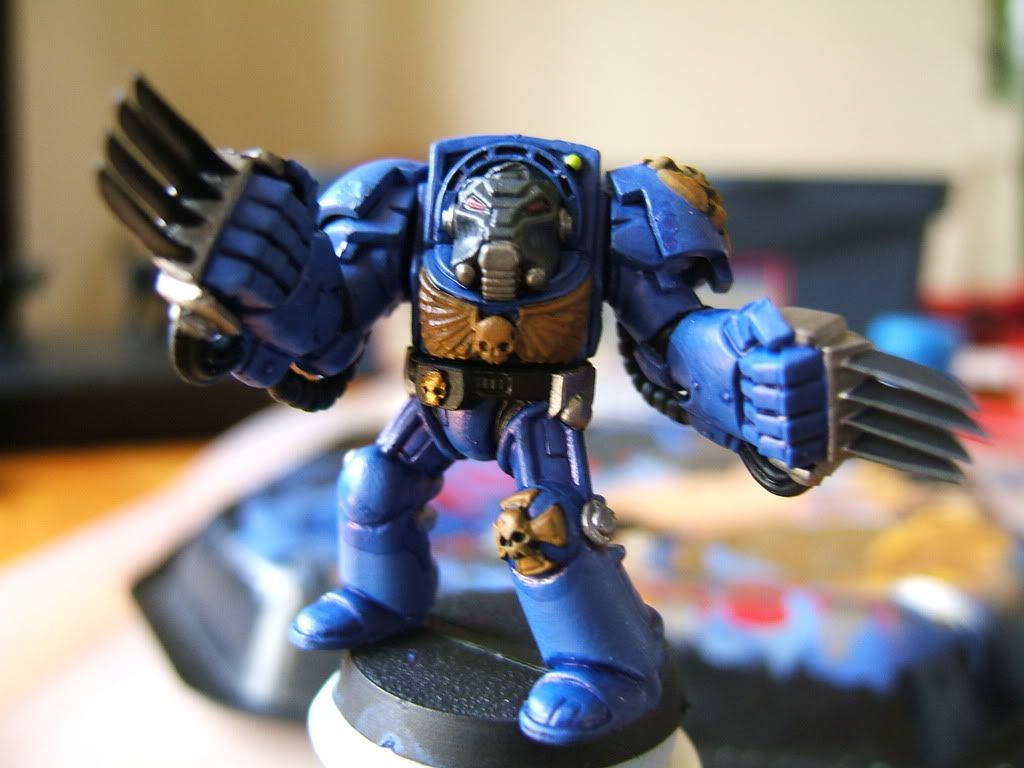 Step 2:
We now are ready to wash the brown once you're happy with the coverage. Go 50:50 Chestnut/brown ink and water. We can always darken later.
This part is important if you're using inks
- add a tiny drop of washing up liquid to the mix! I do this by dipping my brush lightly into the washing up liquid bottle and then simply mix into the ink. You'll notice the ink evens out when used now, although it does take longer to dry.
You'll notice it's also not as glossy. Don't splash it on, apply it evenly, and especially in the gaps.
I don't know about the new washes - you may not need to add the washing up liquid.
Step 3:
Now we're ready to do the highlight. I work with a pallet that is recessed and so collects the paint - particularly if you thin the paint (2:1 paint water).
Step 3a:
Leaving the recesses, use a coat of Snakebite leather to go over the raised sections.
Step 3b:
Mix 2:1 Snakebite:Bleached bone and paint on, leaving some of the previous layer of Snakebite. We're progressively moving away from the recesses now. I suggest using a fine brush at this point.
Step 3c:
1:1 Snakebite:Bone now. Same process as before, leaving recesses and a portion of the previous layer.
We're highlighting away from the recesses up to the raised portions!
Step 3d:
This almost final mix is almost pure bleached bone using the same process as before.
Step 3e:
Pure bleached bone now at almost the tips.
This is why it's important to use thin paint.
It sounds a ball-ache, but because of the way I work, it doesn't take very long to highlight the whole bone bits you want to. You could perhaps miss 3d out if you're not feeling fussy.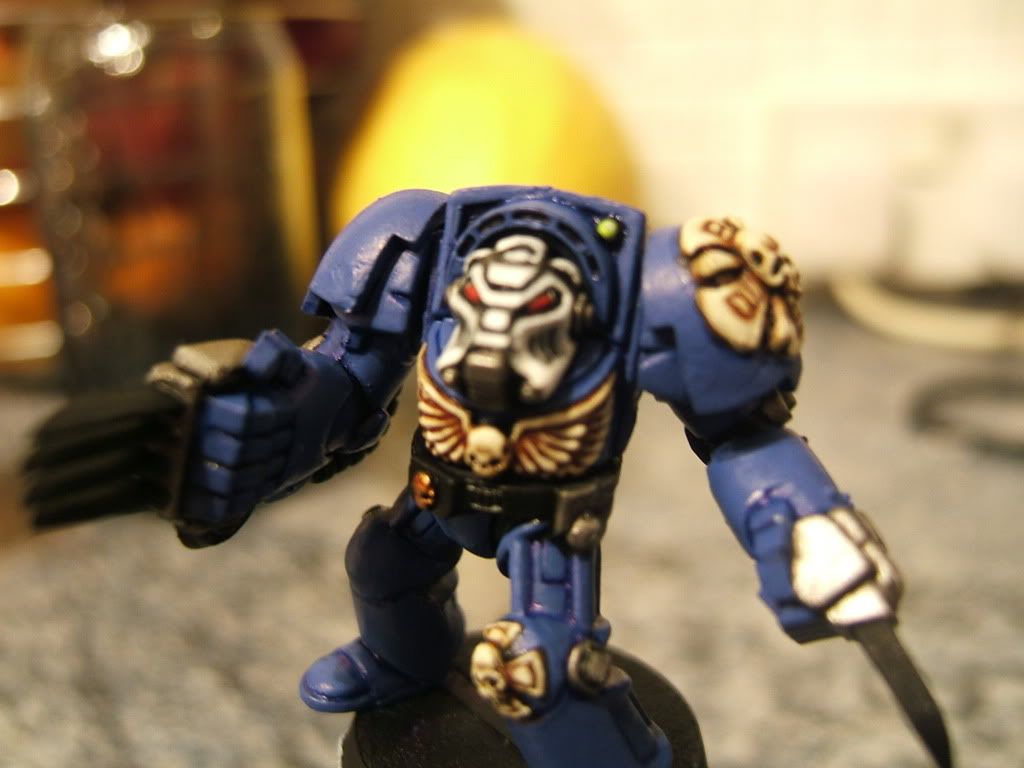 Step 4:
Final highlights, only at the extreme edges, is a mix of 1:1 white:bone.
Done!
---
---
Very nice job man! Looks awesome. Thanks for the step by step.
---
Very informative thank you Very much i will need this once i start on my SM's when the new dex comes out, how do i give rep...i want to give rep!
---
P: 15 W: 12 D: 2 L: 1
Chaos Space Marines DG/IW/NM/BL
---
Quote:
Very informative thank you Very much i will need this once i start on my SM's when the new dex comes out, how do i give rep...i want to give rep!
Top right of my post (it's the little +REP button, middle of the three).
---
---
Nice Termie, good job man!!!!I'll Def use that for something in the future....
---
This is Sierra-259, you got Spartans on the ground sir. We're not going anywhere."
—SPARTAN-259
---
Quote:
Almost exactly how I do mine. Great write up and pics.
I think it's quite an old school way of doing it - I think they use grey on Terminators now to make the bits look like granite/stone.
---
---
Very nicely done, this will be a big help with my Deathwing.
---
great i could never paint bone. I always tryed to paint beached bone, wash chestnut ink
highlight white(it used to look shit!)
Lower Navigation
Painting Bone