Its ugly as sin... but I kinda like it, got a bit of 'character' like a falling down cottage in the country. I just wouldn't want to own it
I've bought a few 'pro=painted' models in the past and then thrown them straight in the stripper... though you gotta admit some of teh pro stuff on there is just unbelievably good.
---
I've always found the pro-painters who suffer from small picture syndrome pretty funny.

They make a fuss about how good their work is then provide photo so small you need a microscope to see what it is, if you were that proud you'd put up a good photo, surely?

The other problem is that the term Pro Painted doesn't actually mean anything, when you consider that I've been paid to paint miniatures and I've done a fair few commission jobs for different people, I'm not an exceptional painter, never claimed to be but I wouldn't be lying if I posted up a miniature as pro painted.

It is irritating
---
Me: To be honest im amazed there isn't a chaos god of not revising or at least chaos god of procrastination

MidnightSun: There will be, when enough people do it. Y'know when the Eldar were all engaging in their hedonism and Slaanesh ripped open the Eye of Terror with his creation? Slaanesh will have NOTHING on the God of Procrastination, and his vile minions will carve the galaxy asunder in a thousand year reign of blood.... Tomorrow
Quote:
Found this one on ebay: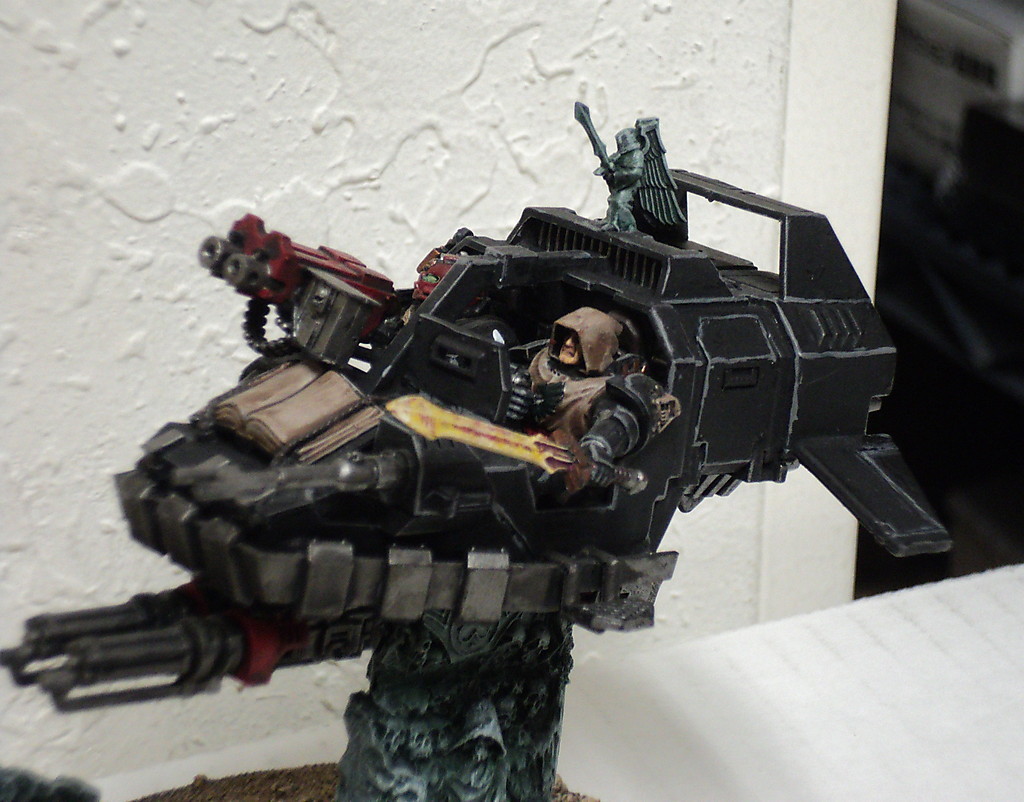 It's not a BAD paint job... but the dude is asking for $94.95 + $7.28 shipping for the fucker, not remotely worth it!
"Edge Highlights by Parkinson's Disease!" is not a good USP

This one looks like he's screaming over his melted face
Burns victim marine to the rescue!
Quote:
It's not a BAD paint job... but the dude is asking for $94.95 + $7.28 shipping for the fucker, not remotely worth it!
This is my issue with some of these. Unless it is a truly excellent paint job, in general a painted mini is less valuable to me than the unpainted one.
That "Harlequin" Wave serpent intrigued me until I saw the $100 asking price...I can buy a new one and coat it in too much paint for less than half that price.
---
Servants of the Laughing God
(Harlequin Themed Eldar Army)
First Eastern Mirage Corps
(C:SM)
I am the Evil Project Log
(All my work since restarting the hobby)
The Crusade of Morr
(WFB Empire Battle Reports)
Dem Bones
(Dice Rolling Program)
Quote:
I'm waiting for one of these guys who painted these to find this thread and be all like "HAY FUCK YOU GUISE I IS PRO!"
So am I tbh!
As soon as you label yourself as "Pro" you need to get a thicker skin. Just because one of your mates payed you 15 bucks to paint a mini of his does not make you a pro painter. There is a guy on TM at the moment selling some of his minis and he quotes the cost of the mini plus 20 bucks as a starting price for a paint job I could do. No. Unless you can paint like Xenobiotic I won't be paying you any more money for a painted mini than an unpainted one.
Lower Navigation
Pro-Painted = seriously?