Junior Member
Join Date: Nov 2010
Location: Canada
Posts: 15
Reputation: 1

Greetings&Salutations
---
Hallo everyone!
I am a complete and utter n00b when it comes to wargaming, I must admit. I had 40k explained to me a few years ago, and became very excited about the Dark Eldar, and decided to play.
"Oh, well they don't do the Dark Eldar anymore, you can play something else"
Well I didn't want to play something else, so have maintained for years that if the Dark Eldar come back, I would play. So whaddayaknow, I have a squad of Dark Eldar Wyches on preorder and am picking them up on Saturday.
So, I am here to be schooled in everything 40k.
ETA: Or I could fill this out.
- How did you find us.
Googled for a 40k forum. I am a forum whore and everything I do must have a forum connected with it. Seemed only logical to find a 40k one.
- Your location.
The Great White North. Only it has been gorgeous and sunny tshirt weather all week.
- High School memories.
Oh god, do we have too? No. Okay.
- Why did you choose that handle (name).
I used to go by MrsKitty in various circles so and it was often shortened to MrsK. Also, my first name starts with K.
- How long have you been playing Games Workshop Systems and Wargames in general
-2 days. In two days I can pick up my first squad and start painting, but I don't suppose I will have started "playing" at that point, just painting. I have played a few quick games at Games Workshop with the predone armies they have there, but that doesn't really count.
- Best memory during a battle. N/A
- Favourite army. N/A
- Regular gaming buddies also on the forums. N/A
- Basically anything of interest to give us a better understanding of who you are and what you're about.
I don't really know what to say at a gaming forum that would be of interest to people here. I am a doula and breastfeeding consultant, spend way too much reading (fantasy/scifi/history) or on the internet. In a group of random people on the street, I am probably the geekiest, but in a group of hardcore geeks, I am probably the least.
- Why not include a picture?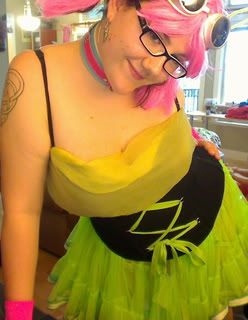 I have come here to chew bubblegum and kick ass...and I'm all out of bubblegum.
---
Last edited by MrsK; 11-04-10 at

08:01 PM

.
Powered by Squig Tea
---
Welcome to Heresy Online.
I expect that the boards will soon be awash with DE as the releases hit the shelves.
It's a good time to join.
Senior Member
---
Hey there.
Loving the pink hair.
Mines blue at the moment; But not for long. :'(
Welcome to Heresy, enjoy your stay. (You'd better, because you can never leave... Bwuwhahaha.
)
---
The guy who wishes he never sold all his warhammer. Haha. Such is life.
Senior Member
Join Date: Apr 2010
Location: Santiago, Chile
Posts: 454
Reputation: 1

---
Welcome, nice of you to be choosing DE. Of course it'll be really interesting to hear your thoughts about them as you know they've been revamped. See you around!

Cheers!
---
welcome to the site mrsk. Glad to have you with us. where abouts in the great white north do you live? since im sure you live close enough to atleast one of our members to get help finding a nice place to game.

Oh, and I apolagize in advance for any flirty behaviour you might find from me, you are quite the looker and I love the pink hair ;) lol
Junior Member
Join Date: Nov 2010
Location: Canada
Posts: 15
Reputation: 1

---
Wooo! My stuff is in and I am going to pick it up today
I am just waiting for everyone to finish eating lunch so we can go to the mall. Then begins the great painting experiment.
Actually my hair is brown. It has been a million different colors over the past 8 or so years, but I decided to go natural for a while. I just go dancing once or twice a month and thats what I wear to the club. It was the geekiest recent picture I had.
I am from British Columbia, Canada
I actually know several people who play, so when I am ready to start playing I will have a few choices of where to play games. With Christmas coming up however, all my extra funds are going into that, so I don't know if I will have an army big enough to play until after January. If there are any locals around though, I am always up for meeting new people
---
damnit, too far for me, Im in toronto, ON
I always enjoy finding new people to play against. oh well. lol
Lower Navigation
Greetings&Salutations