I will probably get the game again soon, played it in the beta and loved it there, will probably have my tank destroyer out again when i start up.
Great Unclean One
I've gotten hooked on this over the last couple of weeks after having it recommended to me by a guy in the GW mould room, can't believe a free game (OK, I've bought some gold to ease things along, but it's really not vital) is this much fun. Currently I have a StuG III and a Grille as my highest vehicles, and am about 5K off getting the Jagdpanzer IV
Bumped into
fynn
in a game in Malinovka tonight, too...
EDIT: got my Jagdpanzer IV now, it's a bit pants with no upgrades (as are most vehicles) but another 1.5K or so and I'll have the better suspension, which means I can fit the L/70 75mm gun (i.e. awesome) and the top engine. Had a killer match on my Stug III in the El Halluf map just now, got my best ever result with 7 kills and the Sharpshooter award :D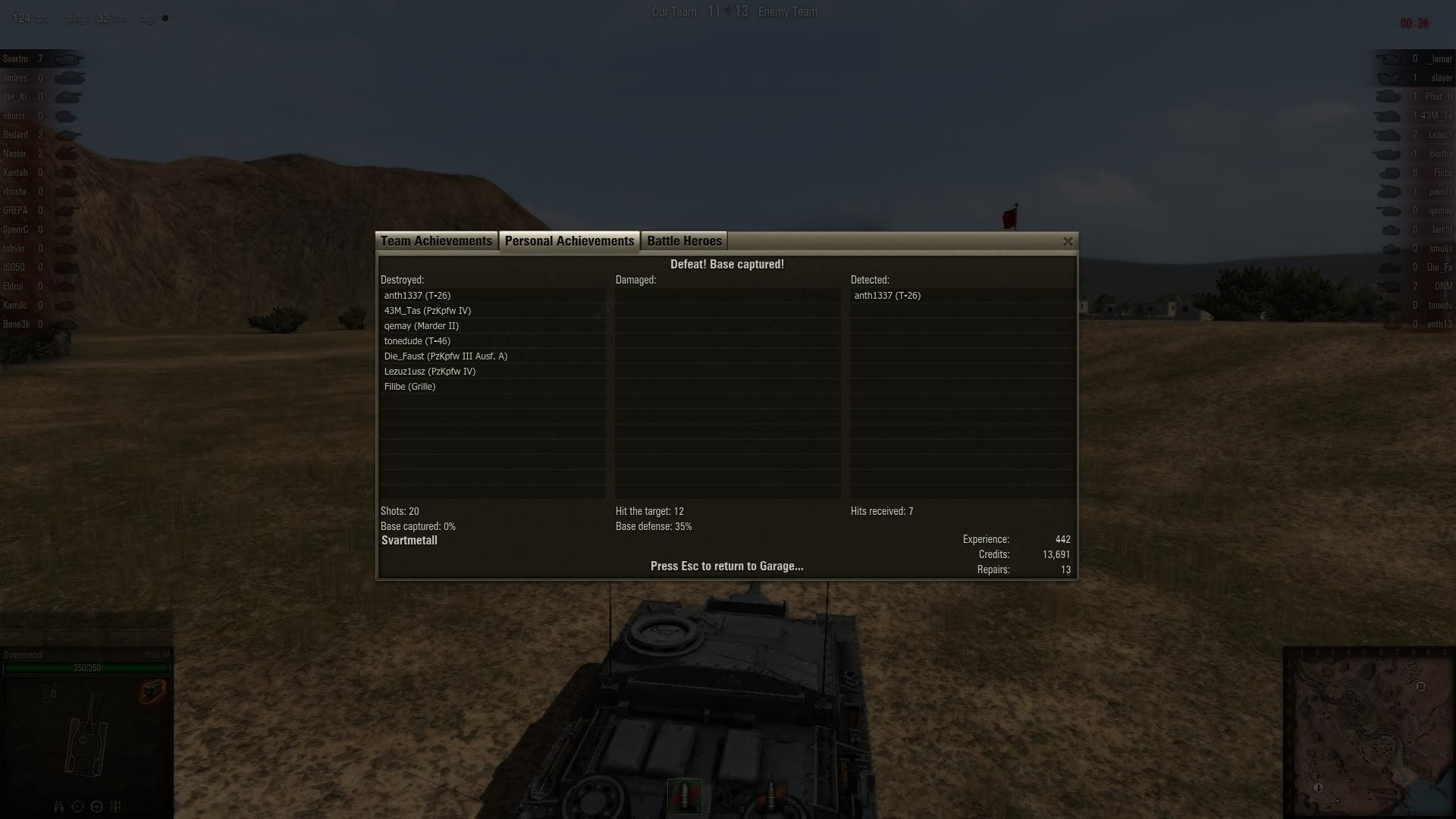 ---
Last edited by Svartmetall; 08-11-11 at

09:37 PM

.
I'm really enjoying it, working on the KV now, aiming to get to the KV-3, just got the sniper barrel for the KV - very nice.

Jagdpanzer IV is a bitch when you first get it, but once its upgraded its a pretty nippy little tank.

Arty however is a bitch to play, nobody sticks around to cover... not fun.
Member
Join Date: Oct 2010
Location: United Kingdom Great Yarmouth (Chavland)
Posts: 41
Reputation: 1

I have a KV and a M7. I absolutly love the game but my PC has now died. I'd love to form a platoon or something but i cant play the game untill i get it back from the repair shop.
But to every one on the EU server. Hope to pwn you soon XD
been playing on and off since may this year, and slowly grinding my way up the tech tree, just anoyed about the last patch though, as they change the layout on the german tech tree. I had a Pnz III, and was grinding for a pnz IV, whic they have now moved to a differnet part of the tree, so am now stuck with the pnz III/IV, also got a BT-7, PNZII, Wesp and a tank destroyer
---

They announced those techtrees atleast 3 months ago already. So you could have propably looked info how things change in tree.

Still games really fun to play. In beta had some experience with top tanks and this second run been mostly going through several tanks at same time.

Currently have:
T32
GW Panther
Panther 2
Ferdinand
OK, I read this thread a few days ago and started playing regularly. Actually a little too regular. I'm hooked. What's not to like a about tanks? The graphics are great and the depth and details make it even more interesting.

If anybody wants a noob for an invite for a game or platoon, my username is MadOgre.
---
Great Unclean One
The new Siegfried Line map is pretty good, actually, works for turreted tanks, tank destroyers and artillery equally well IMO. Looking forward to the new 'fishing village' map in 6.7...
Played it again recently in my tier 6/7 tank and they still haven't fixed the balancing or sight issues.
Lower Navigation
World of Tanks