Steam is taking forever to download!
---
Hey guys! I recently bought Grand Theft Auto IV off of the steam store. Guess what? It's taking forever. It downloaded in 1 hour, installed in three and proceeded to take well over 17 hours to update. Then it wanted to updated again and again! So I uninstalled it then reinstalled it, and i left it to download over the night, at 230 KB/s (don't know how to speed this up). anyway it was at 20% when i went to sleep, and it was 0% when i woke up. It's currently at 23% with about 8-10 hours left, please help me. I've been trying to play this game since 4PM on Thursday.
Thanks
DarknessWithin
---
Fear the Darkness Within yourself, for there is no escape, there is no Mercy. Be afraid of the Dark, for it's here...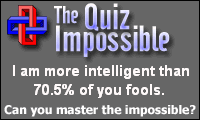 Impossible Quiz 2
Please, I am hungry for mouse. Please let your mouse feed me with it's clicks
Lower Navigation
Steam is taking forever to download!