Just got my PSP! Help me customise it please?
---
Ok I just got my PSP 3000, it's awesome, bright screen, microphone, awesome games, etc. But i was wondering some things:
Can the system be hacked/modded? I know the 2000 series could, but can the 3000?
What are some good quality, long games? I found some awesome games God Of War, Manhunt 2, thing is though, i'm winning them quite quickly. So i need some awesome games that will take a while to win.
Does it affect the system in anyway if it runs out of power halfway through a game? Sometimes i play a game for a while then it runs out of power, when i plug it back in it starts from the point i left it, but is it bad for the system.
Where can a get a ptf. theme for Warhammer 40,000 and/or resistance retribution?
Thanks for any help!
DaknessWithin
---
Fear the Darkness Within yourself, for there is no escape, there is no Mercy. Be afraid of the Dark, for it's here...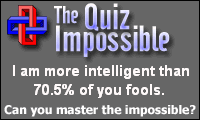 Impossible Quiz 2
Please, I am hungry for mouse. Please let your mouse feed me with it's clicks
---
the newer versions of the firmware had a few security thingies installed so it's a fair bit harder to hack the console this time round. Good long games would be things liek monster hunter if you play online with it, then the RPGs like final fantasy and phantasy star.
Here
is the only 40k theme I could find that was free but I don't have a psp so I wouldn't know many more. Good thing with this one is you can get a proper pc wallpaper and upload it to the psp and use that as a background then....
---
If you shit in one hand and wish in the other we all know which one will fill up faster.

And as I walk in the valley of the shadow of death I will have no fear For I am the scariest mother f*cker in that goddamned valley!

Damn nature, You Scary!!!
Lower Navigation
Just got my PSP! Help me customise it please?