H: Space wolves & warriors of chaos. W £
---
Ok so I am clearing out alot of my armies looking for a quick sell so that's why it is quite cheap

1 chaos dragon with lord ( converted from 2 high elf dragons and the knight kit)=£30
1 wulfricj the wanderer = £8
5 chaos chosen converted to heros £15
1 nurgle sorcerer £5
34 marauders £25
23 warriors £20
1 chariot with new chaos knights horse £12
15 new marauder horsemen £25
8 chaos knights £15
10 warhounds £10

space wolves
ulrik the slayer £8
njal (new) £10
canis wolfborn £15
rune priest £8
lukas the trickster £8
ajac (converted) £10
wolf lord concerted with 2 frost axes £10
8 wolf guard in termy armour varously equipped £25
5 wolf guard variously equipped £15
10 fenris wolves (converted from warhounds) £10
3 squads of 10 grey hunters with 2 plasma guns and power weapon in each squad £10 each
25 blood claws £20
1 drednaught all weapon options £10
3 land speeders with multimeltas £8 each
2 drop pods one converted to take drednaught £10 each
1 rhino £10
1 razorback with lascannons £10
1 attack bike £10
5 long fangs to lascannon two plasma cannon £15
10 scouts £15

I can send you pictures and I do send abroard pm me also I would consider part x for CSM or straight trade for CSM depending on what you have but I would rather have the money
thanks
3
---
[SIGPIC]
---
I am interested in some of the warriors of chaos stuff and i have lots of chaos space marines all built but mostly unpainted. I am a bit skint so i would prefer to give you the CSm or some kind of mis between money and mdels.
I am mostly interested in the marauders as they are new and unpainted.
---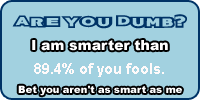 The Dumb Test
95% of teens would cry if they saw the Jonas Brothers at the top of a skyscraper about to jump. Copy and paste this if you are part of the 5% that would yell "DO A FLIP!!!"
---
Last edited by jack; 04-26-10 at

04:00 PM

.
---
I would believe he is based in the UK as the prices are in pounds. Pure conjecture though.
---
That which doesn't kill me has made a tactical mistake.
Rites of Battle
Your source for 40k opinions, news, and hobby updates.
---
sorry guys i have been on holiday i have replied to your PMs now
---
[SIGPIC]
Lower Navigation
H: Space wolves & warriors of chaos. W £