Wanted: Midnight blue paint
---
Hi guys.

I need as many pots of the stuff I can get my hands on because I only just found out they were discontinued awhile back (I know, how on the pulse am i?) and I use it as the basecoat to my entire army.

Anyone got any spare pots of the stuff? I'll gladly trade or buy them off people.

Thanks!
---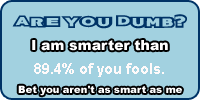 The Dumb Test
95% of teens would cry if they saw the Jonas Brothers at the top of a skyscraper about to jump. Copy and paste this if you are part of the 5% that would yell "DO A FLIP!!!"
have you seen if necron abyss would work? its their foundation paint, it makes an excellent base paint. so far ive liked all the foundations for base, that ive used, from the colour comparisons Ive found, they look almost identical, and the foundations are FAR better.
Lower Navigation
Wanted: Midnight blue paint