Huge 40k+ Vallejo Paint 500+ gotta go.
---

For every 25$ you buy from me... I can give you a free vallejo paint of your choice ;P

Buy 50$ from me... get a free AOBR Ork Warboss or AOBR SM Captain.


40k Daemons Codex - 16$ shipped

Apocalypse Rulebook (Hardback sealed) - 35$ shipped
Apocalypse Template
5x 5th Edition Mini Rulebooks - 9$


Warboss - 4.50$
100x Ork Boys - 10$ per 10x
30x Nobz - 8$ per 5x
40 Deff Koptas - 4$ each

SM Captain - 4$
15x SM AOBR Terminators = 15$ each 5x

these are rough approximates, i have way more, lmk what you think



2x Tyranid Hive Tyrants - Bare Metal - 31$ each
1x Tyrant Guard - Bare Metal - 14$
12x Tyranid WArriors - New on sprue - 20$ every 3

Land Raider (Lascannon) - 40$ Shipped
10x Vangaurd (NIB) = 23$ every 5
10x Devastators (NoS)- 24$ every 5x
5x Assault Terminators (NoS) - 37$
5x Asssault Terminators (3x Hammers 2 Claws) = 35$
5x Assault Terminators ( 3x Claws - 2x Hammers) = 35$
8x Sternguard (Primed) - 36$ shipped




Imperial Guard Lot - 28$ shipped (Primed white-assembled)
1x Cadian Lascannon team
1x Cadian Autocanon team
14x Cadian Lasguners
2x Cadian Flamers


Gamesday 2005 Marine - Bare Metal - 23$ shipped




Web Exclusive SM Captain - $35 OBO







Titan Tech Priest - 16$
I'm more than willing to trade paint for models.

I repeat - if you want paint, i'll trade you for models.

They retail for 3$ each.

Vallejo Paint: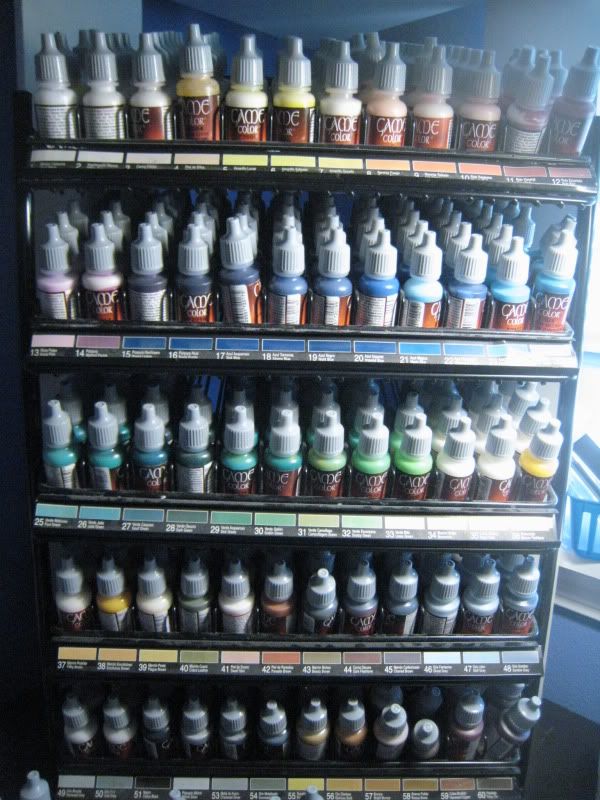 The vallejo Game Color line is specifically designed to match the Citadel GW's paint in almost every way, with some minor variance.

To understand what Vallejo Game Color paint matches GW's, please use the link below:
MiniatureWargaming - Vallejo - Citadel Paints Comparison Guide



How many do I have? Too much!
I didn't take a quantities list - pretty much, pm or post here, with a name of what colors you like. Then I will get back to you if I do, or dont have it. Either provide the VALLEJO name, or the GW CITADEL colors you want me to match up. (If you are too lazy to convert..)


Price: $2.25 USD per bottle or 1.50 GBP use www.xe.com for conversions. Why use vallejo paint?
Vallejo Dropper bottles means that it does NOT DRY UP in the case. GW paints do. YUCK!
They also come in 17ml versus Citadel's 12ml. You get more paint.
They are thinner paints, and are not thick.
Valllejo Game color is designed to match GW paints.
Its cheaper.
Lower Navigation
Huge 40k+ Vallejo Paint 500+ gotta go.