Vallejo Game Color Paint - SALE!
---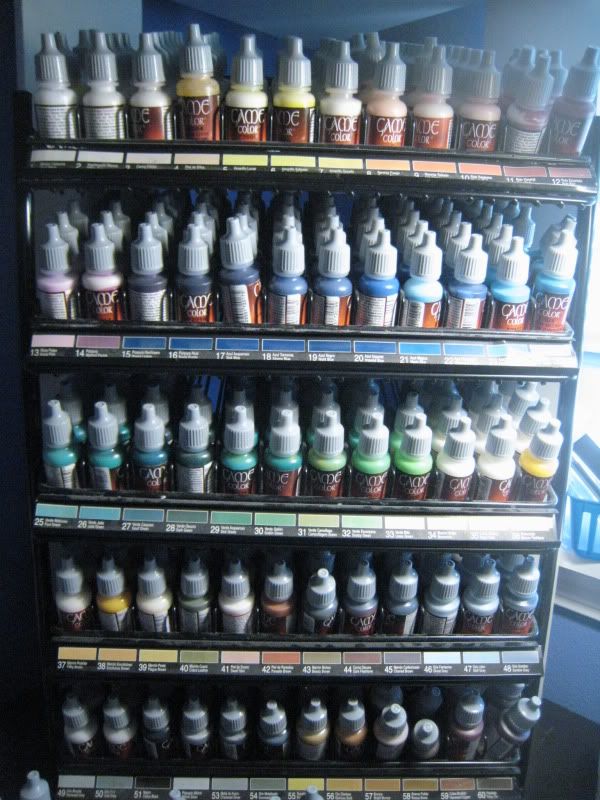 The vallejo Game Color line is specifically designed to match the Citadel GW's paint in almost every way, with some minor variance.
To understand what Vallejo Game Color paint matches GW's, please use the link below:

http://www.miniaturewargaming.com/index.php/mwg/comments/vallejo_citadel_paints_comparison_guide/
How many do I have? Too much![/B]
I didn't take a quantities list - pretty much, pm or post here, with a name of what colors you like. Then I will get back to you if I do, or dont have it. Either provide the VALLEJO name, or the GW CITADEL colors you want me to match up. (If you are too lazy to convert..)
Price: $2.25 USD per bottle
use
www.xe.com
for conversions.
[/B][/COLOR][/SIZE][COLOR=White]
Why use vallejo paint?
Vallejo Dropper bottles means that it does NOT DRY UP in the case. GW paints do. YUCK!
They also come in 17ml versus Citadel's 12ml. You get more paint.
They are thinner paints, and are not thick.
Valllejo Game color is designed to match GW paints.
Its cheaper.
---
Last edited by Izual; 05-10-09 at

10:07 PM

.
Lower Navigation
Vallejo Game Color Paint - SALE!