Chaos Space Marine Possessed Head D needed!
---
Hi Folks,
Please can anyone help? I really need 4 of the
following heads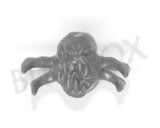 They are found in the Chaos marine possessed box set.
They sell for about 50pence each on the online stores. But I have cleaned
out all the online stores already so thats why I'm begging for help.
I am happy to pay £1.50 per head, thats 3 times the price, plus pay for the p&p.
I have a pay pal account so I am happy to make payment that way as it's quick and secure for everyone.
Please PM me if you can help, I am online most days so I will get back to you asap.
I can also do swaps if you like Orks, I have 3 AoBR deffkopta ork heads, the AoBR ork warlord head, 5 AoBR nob heads, (this are not for sale only for swopping of the possessed head). Thanks if you can help.
- Boomer.
---
Wrong forum, this needs to be in trades.

GL on finding them.
Lower Navigation
Chaos Space Marine Possessed Head D needed!